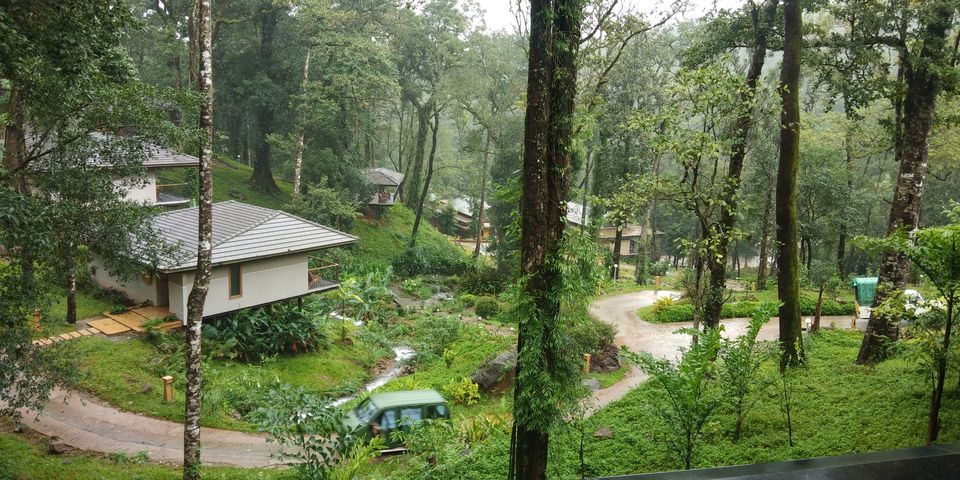 #BengaluruIndha, for a typical bangalorean, favorite weekend destination during post monsoon period could be a visit to coorg or chickmagalur. these places are at its best post monsoon, decked up with fresh green coat,added by small drops of water which seems like they are sprinkled all day on them, aided with chill breeze and near to full capacity waterfalls ; and hence i had my eyes this time on Mallali waterfalls !!!! and after some quite a research on places to stay nearby, i zeroed in on Ayatana resort for their distance from mallali waterfalls ( 2 km ), a decent abbi falls alike private waterfalls at the resort and to its ambiance, the feel of it from the pics and reviews on the same,though its on the higher side on the price scale, i wanted to give it a try and booked for an overnight stay 3 weeks before my travel date.
Unfortunately," monsoon" ,which was almost getting to over, picked up at 5th gear and it started to pour nonstop from Maharashtra to Kerala. The rains did cause havoc and i was constantly following up the news for updates to cancel or postpone my trip, and the day before the trip i called up the resort and checked with them on the conditions over there and he gave me a heads up with tagline of "drizzle all day", nonetheless he also provided me with route update to the resort to avoid any water logging .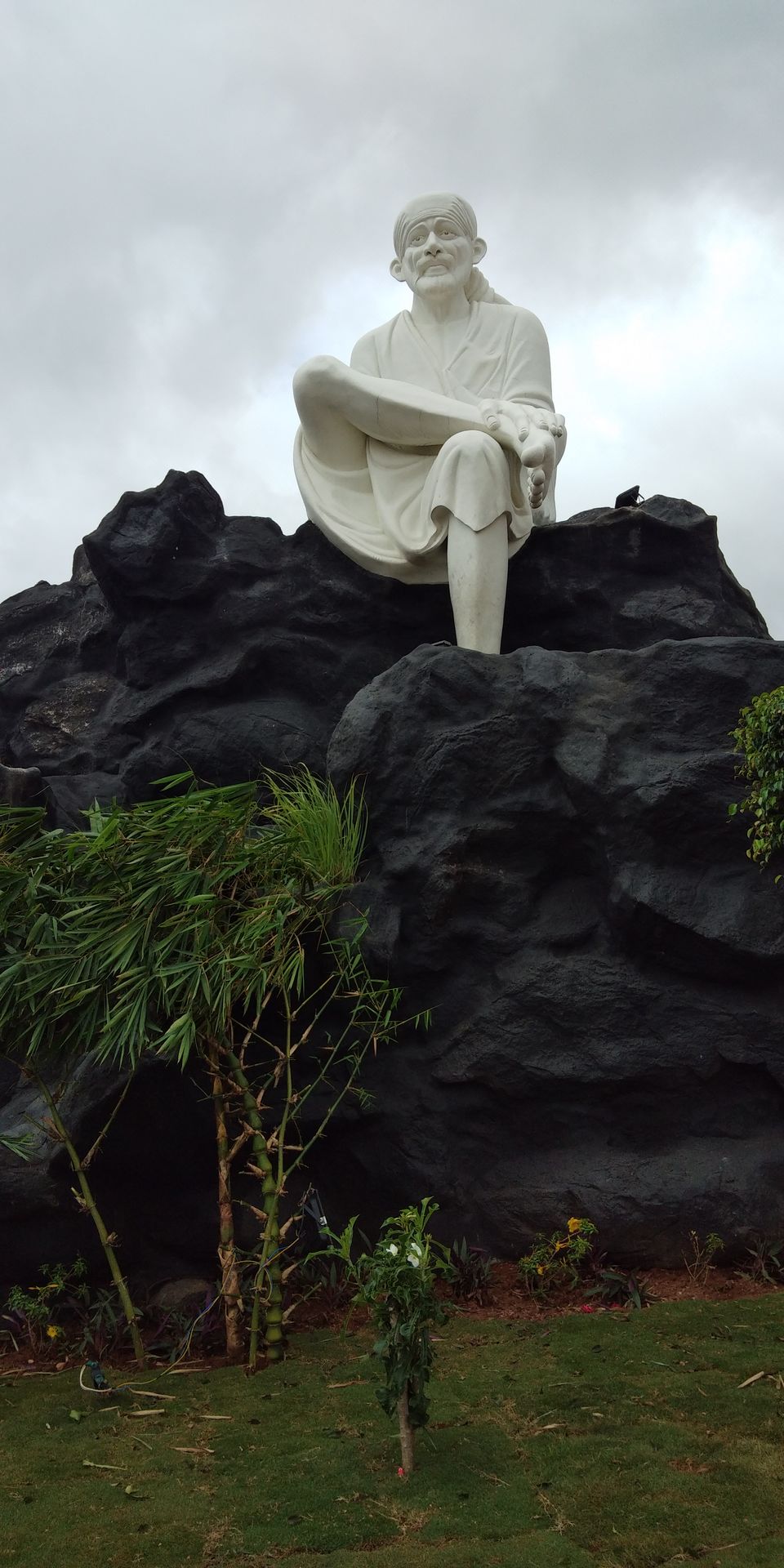 Started at around 7 am from bengalooru with plans for breakfast at swati restaurant near yediyur en route chanraypatna, and then took deviation to somwarpet via holaenarsipura->arkalgudu>shanivarsanthae>somwarpet>Ayatana . It was a pleasant drive with little breeze, until our drive came across an overflowing bridge at holaenarsipura and we took a detour of 1 km and got back to our planned route . Roads do get narrow with lesser traffic post somwarpet, and its 70 min drive from here with some bad patches ; one can see few streams passing by the roadside and some on the road itself to give you a preview of whats in store ahead.
as we got closer to the resort also mallali falls, i lowered down my car window to take in the fresh air and to get accustomed to the weather outside and then i hear a shout from the tea stall beside the road that the path to waterfalls is flooded and the falls is not accessible, it was big turn off, cause trip was planned at first with this waterfalls as main attraction and then after all pros and cons i was convinced it was not good decision to go against the locals advice to visit the falls which was at 2 km distance from where i stood and eventually we passed the deviation to waterfalls and continued our way to Ayatana which was 10 minutes away from that junction.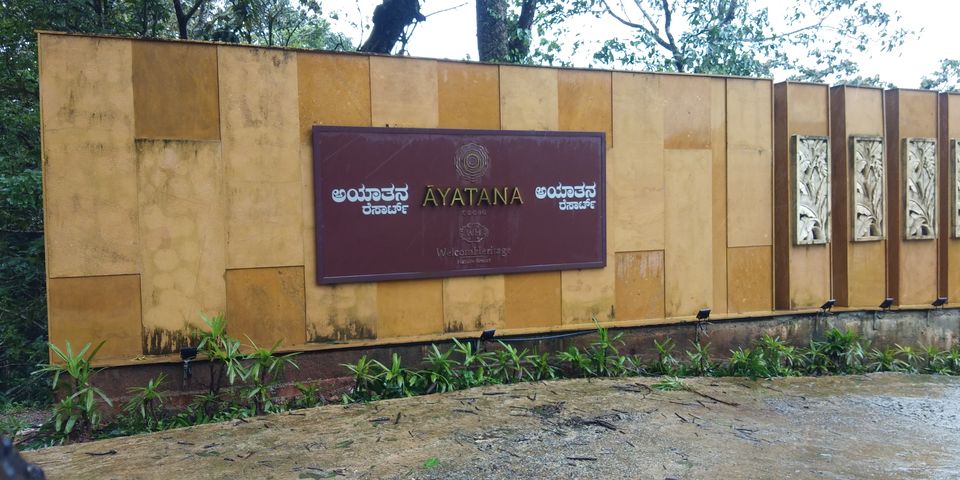 We were only let in after the security confirmed our stay was booked and the reception desk also advised us against visiting mallali falls amid the higher than normal water sighting in that area while serving us herbal welcome drink . And then we made our way to our room, which was on the side of a cliff looking down at other cottages down the line. room was fantastic, the chairs in the balcony were well made and added luxury feeling to it and the view from the balcony accompanied a roar of water falls somewhere near by which was my primary reason to select this resort for the stay, a private waterfall :-)
We freshened up and made our way to the restaurant while it drizzled all the way, we were driven from our room to the restaurant in the resort club cars, and the roar started getting louder and louder as we approached the waterfalls and then i get to look at the falls which is now like 50 times more water than what it looked like in previous pics on net. looked like abbhi falls to me at first and i stood there watching at this incredible and same time unnerving fall of a water, after some stare to it the drizzle got heavy and we made our way to the in house restaurant next to the falls and my eyes were still on that magnificent view.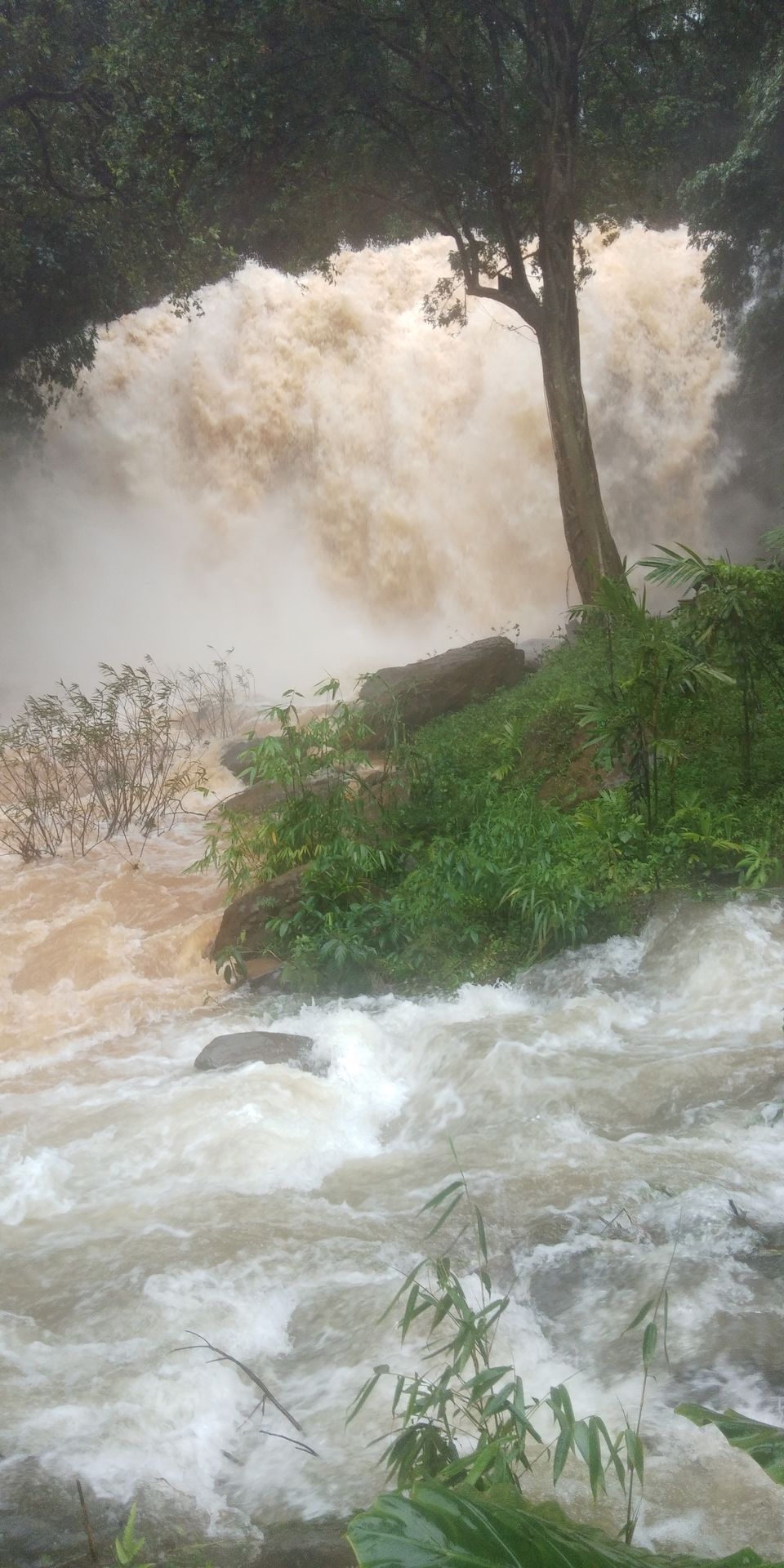 after filling our stomach the drizzle also got lighter same time and i made my way more closer to the waterfalls and got a full view of it added by infinity pool beside. if not for the incessant rain around the area , we could have walked up to the base of waterfalls and sat on the wooden bench there facing the falls, that would have been perfect table to be reserved for oneself .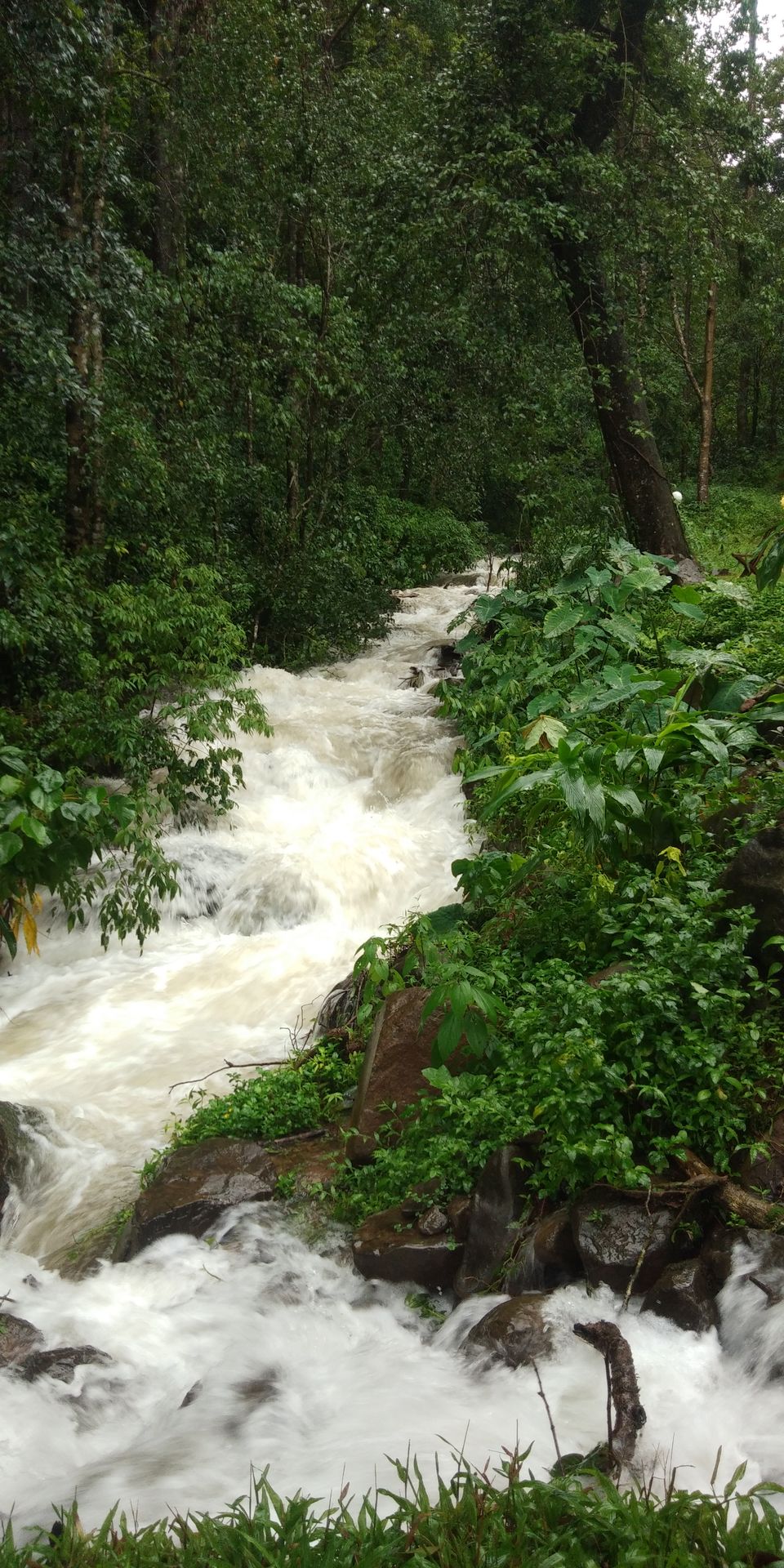 There are this lovely small white water streams around the main waterfalls which add white touch to the greenery around, Indoor games to keep one engaged if he got bored of waterfalls are just around the corner overlooking the falls.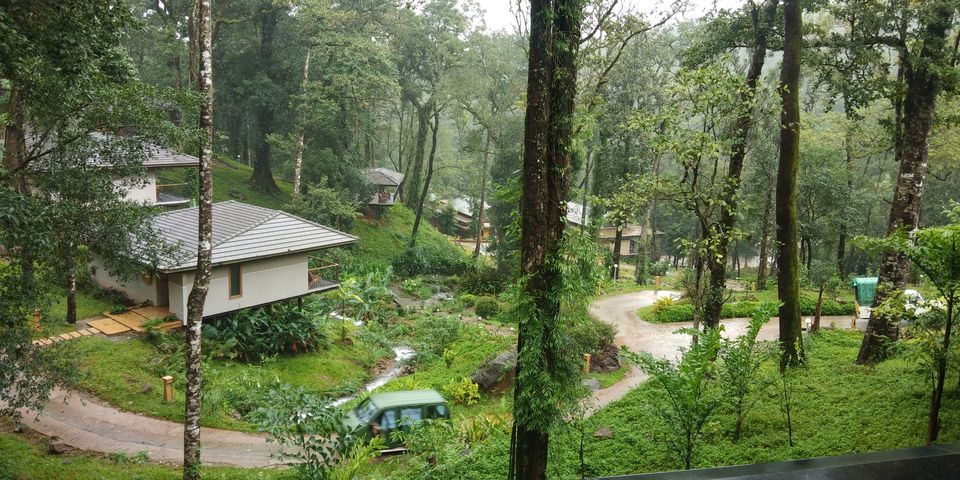 next morning we did walk tour of the resort and were amazed by the beauty of its flora and the early morning fog which just flows through you, giving you the feeling of being among-st the clouds, after a few photo session we packed our bag to our hometown and again the resort guy tipped us to make a little but deviation to our incoming route to avoid water-logging at holaenarsipura.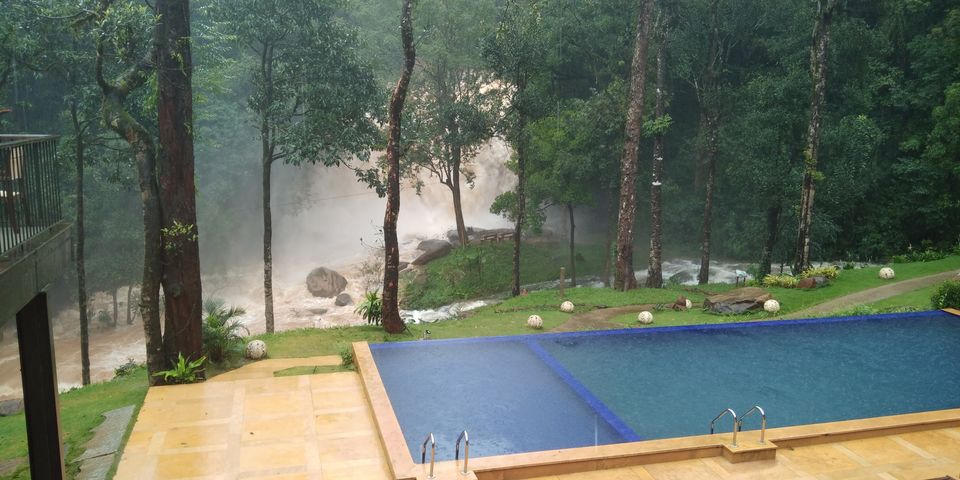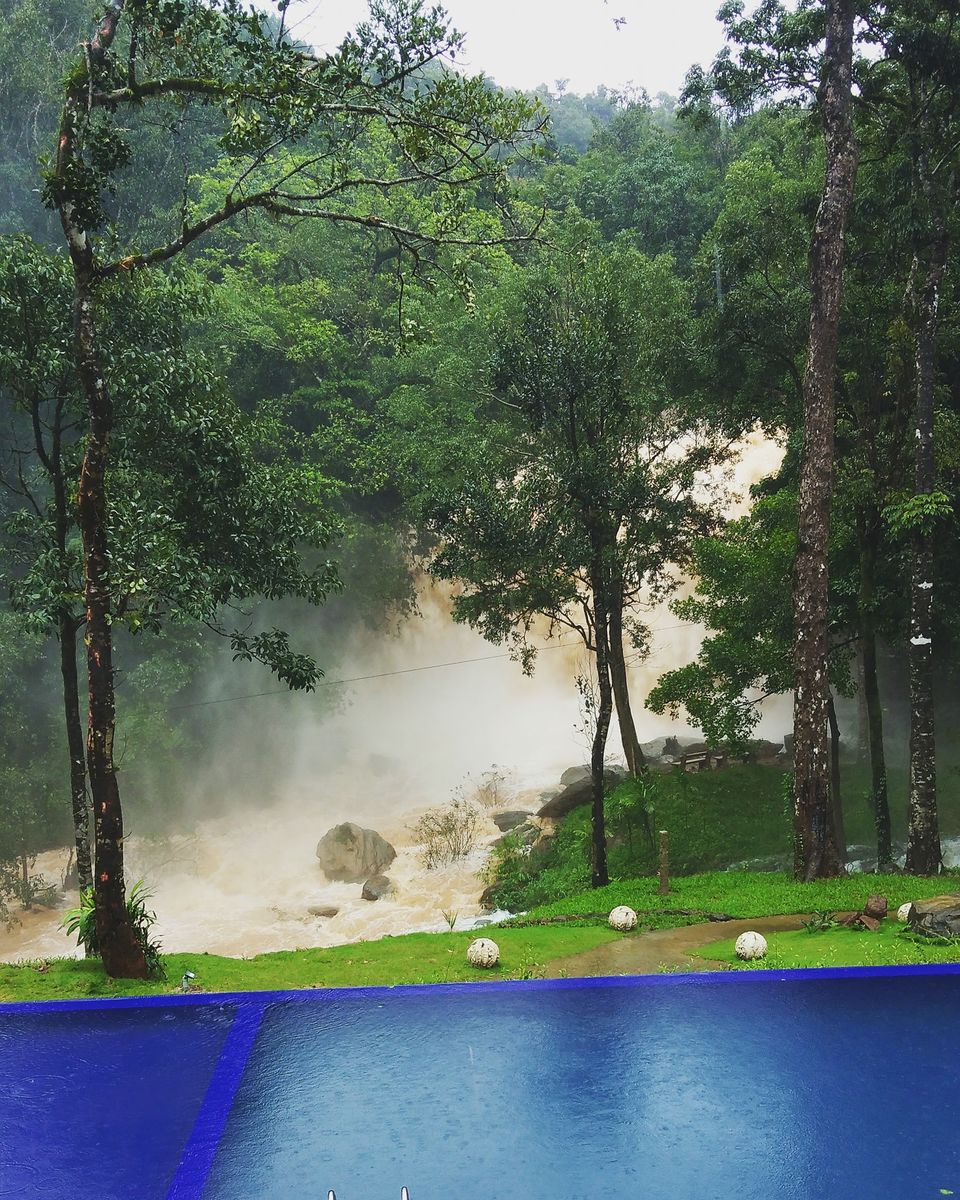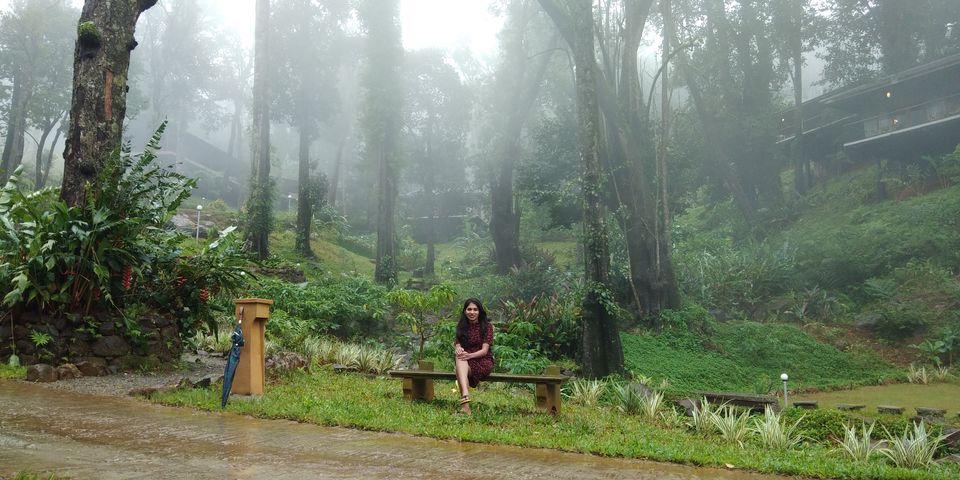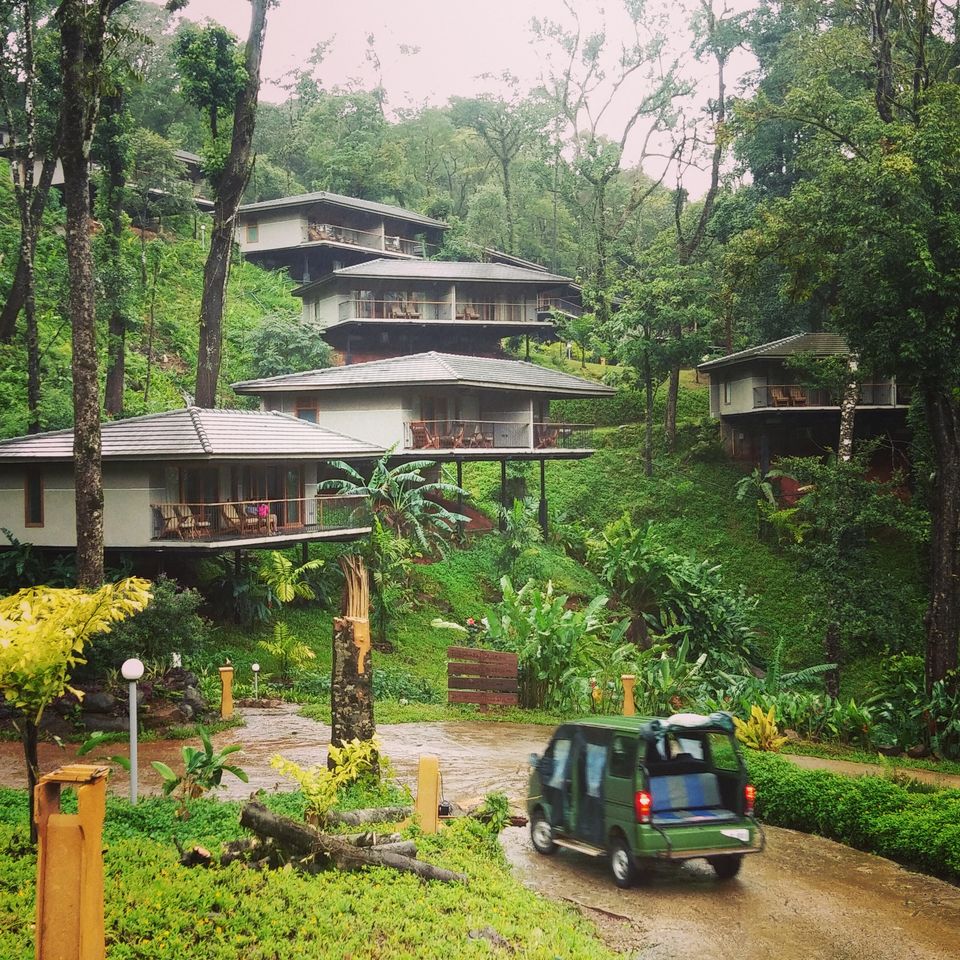 we had to take hassan route from arkalgdu to reach blore by avoiding holaenarsipura ,though it was bit longer route we were in for a twist here . As we made inquiries locally about the route and made our way to hassan, there was a red stretch on the google map in mostly green stretch unlikely and mostly opposite to what we see in bengalooru . as we approached the red stretch, we saw quite a few cops dispersing crowd and not allowing vehicles to park, at first i thought might be an accident and as i moved ahead i could see a bridge over looking hemavati dam and the dam gates were opened and the red stretch was due to people visiting dam to get glimpse of water rushing out of the dam gates.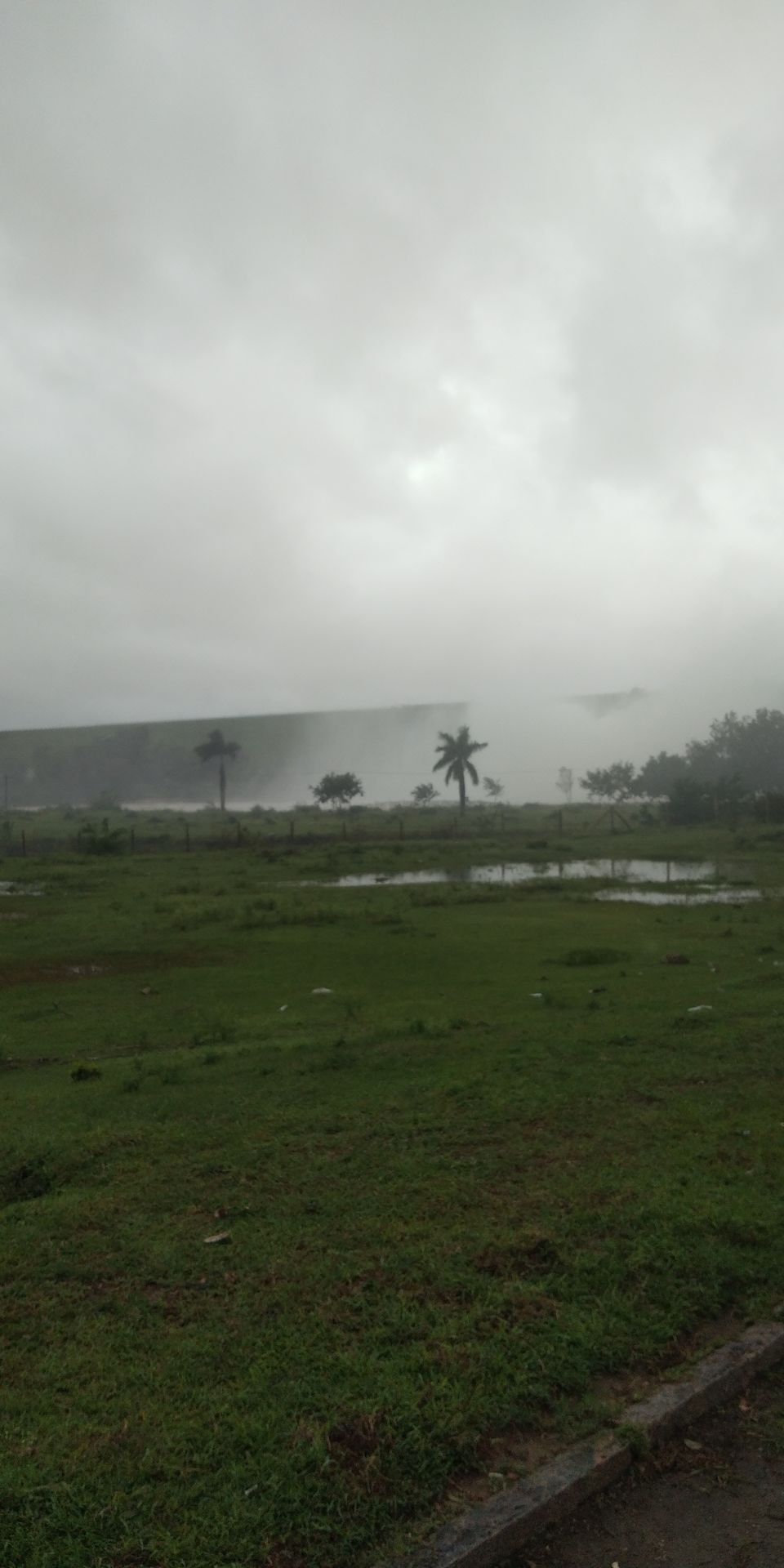 we still had time on our side to reach bangalore and we planned to have a quick look to whats it which is getting so many people attracted towards it and made our way to the dam gates, and to my horror the sight was scary at first,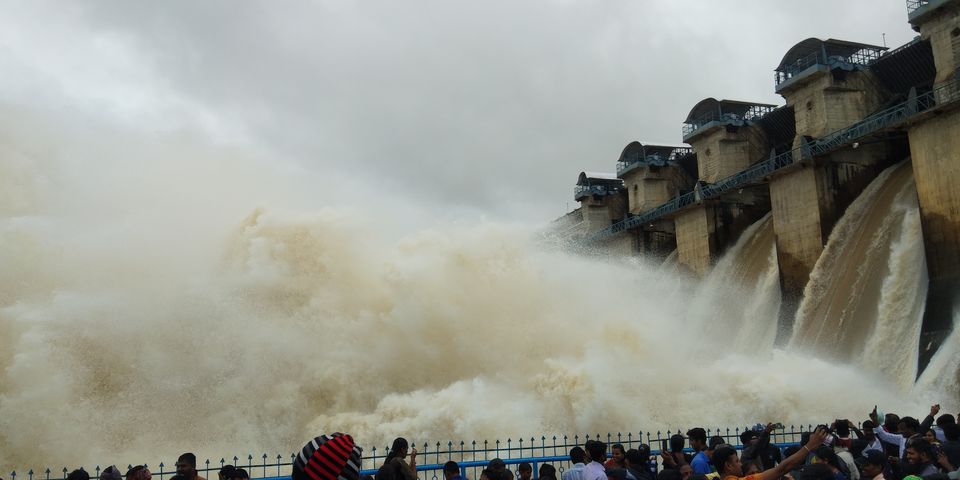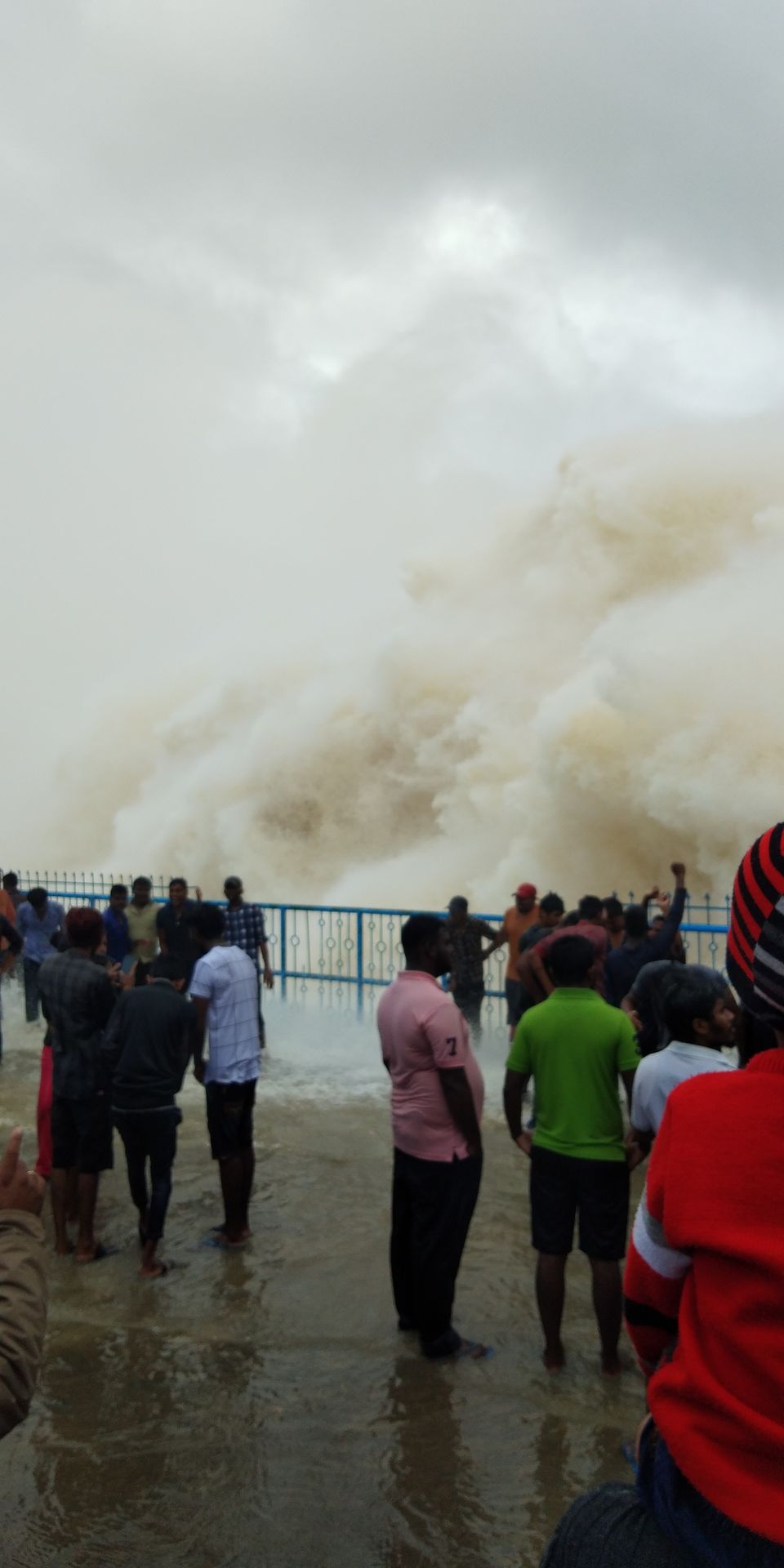 that rush of a water from so close distance was a first for me, i stood there for few minutes to make sure going ahead was safe and sound and was also amused by looking at people who are so close to the gates and uninterrupted by the sight of the water force around. Nevertheless it was worth taking the longer detour and making a stopover . We reached hassan at around 2 , had lunch and made our way to bangalore on one of the fine roads in our state .
Though i could not accomplish seeing my primary target "Mallali waterfalls", was happy the way it turned out to be with the astonishing view of private waterfalls at Ayatana resort and the waterflow from the hemavati reservoir .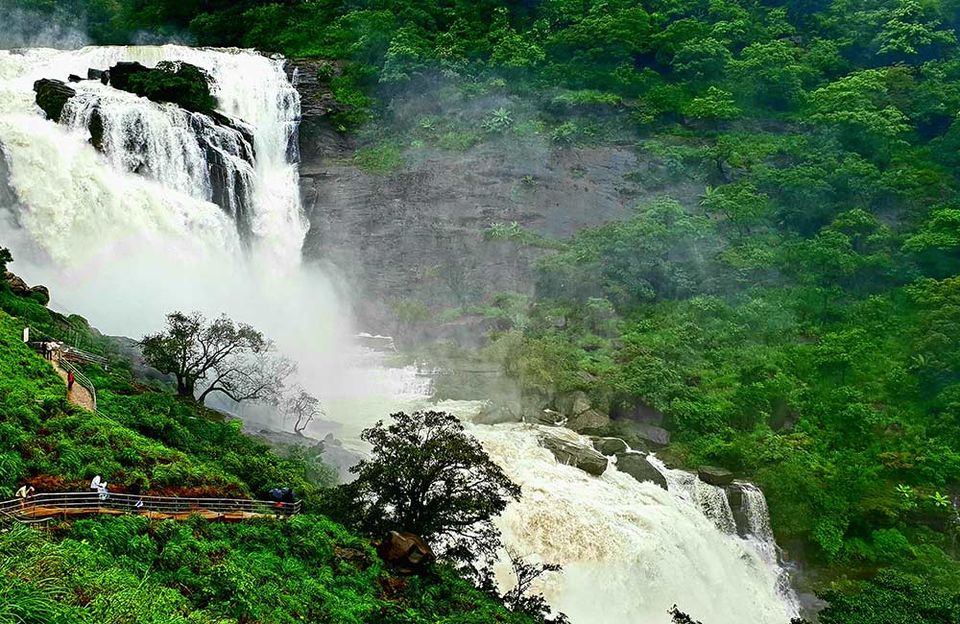 first attempt at writing a travel blog :-) all the feedback's are welcome .
Summary : overall distance covered : 550 km ; many good restaurants on the way until chanraypatna, there are other cheaper stay options near by mallali waterfalls, but no big shops around, nearest town in somwarpet which is 22 km from the falls, the falls can be covered in one day visit as well if left early in morning from bangalore. roads are good all the way until last 5 km stretch to the falls . #coorg #ayatana #mallali #hemavati #bangaloregateway #weekendgetaway #waterfalls