It had been more than two months since I had taken a trip out of Bangalore. I needed some time to while away, to just sit and relax, read and binge watch. As a result, the major part of winter, also the most apt for travelling, raced away while I sat ensconced in my room. Only when the summer had come that I started to feel the 'itch' to get out. It signaled that hibernation time was over and so I zeroed in on North Karnataka's world heritage site, Badami. I chose Badami as I had only one day to travel. The only problem was that right now Badami would be hot as an oven. But I had to step out anyway, so I got ready to be roasted. Unable to find a companion, a solo trip was my only option.
Badami, about 450 km from Bangalore, is located in the rocky hillocks of Bagalkot district. The miles of emptiness is in contrast to what was earlier the capital of the Chalukyas, who ruled from this place during 6th–8th century AD. Chalukyas left their indelible glory through the rock cut caves of Badami and nearby temple sites of Pattadakal and Aihole.
I booked my bus tickets and fished out a sealed copy of Premchand's 'Vardaan' for the journey. I boarded the bus at night on Saturday and reached Badami around 9 in the morning on Sunday. Badami is a small town and one can walk across its length in half an hour. It is one of those towns whose main street is packed with hotels, autos, restaurants and fruit sellers, while the inside alleys are empty. Relieved to get off the bus, I refueled myself with a plate of idlis and rushed off to the famed Badami caves.
My plan was to finish Badami by midday and then visit the nearby sites of Aihole and Pattadakal by evening. I had to return by 7:00 p.m. to catch my bus back to Bangalore. Unlike the famed Ajanta and Ellora caves in Maharashtra, Badami caves are smaller and fewer in number. However, unlike others, they are carved in a beautiful location, just on the edge of Agastya lake. On the lake's left are the caves and on the right are the old fortifications. The Archaeological Survey of India (ASI) museum is nestled at the root of the fortifications.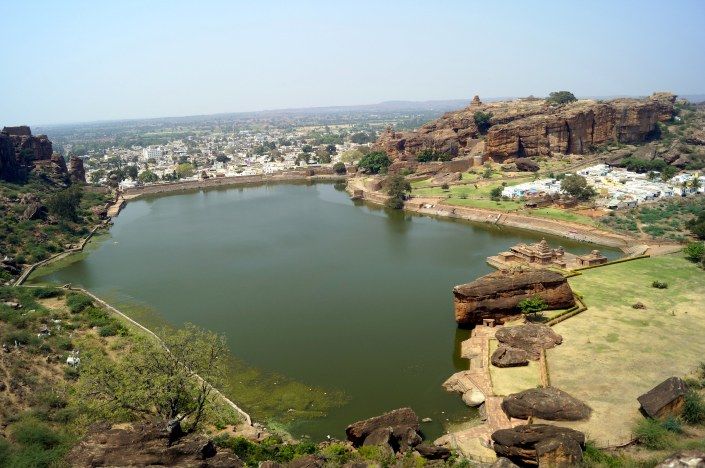 The locals were really friendly and guided me by just looking at my confused expression. After all these years, they have come to anticipate questions on a traveler's mind by reading their faces. For me that is the real symbol of a community's embrace of outsiders and their eagerness to share their heritage.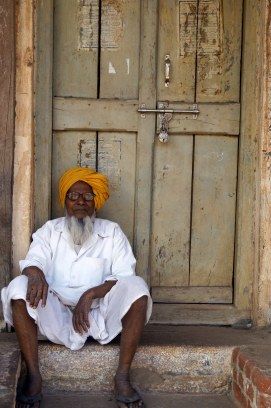 The Badami caves are small but they have beautiful sculptures. I was astonished by the beauty and fineness of some of the sculptures dedicated to Shiva and Vishnu. I am not a great follower of religion, but anyone could appreciate the architectural perfection of those stone figures.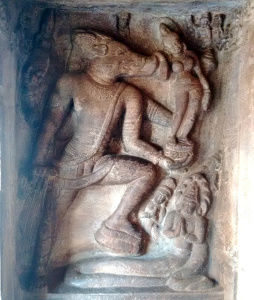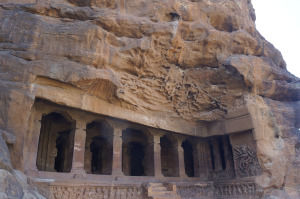 Then there were those neatly polished pillars. With their sharp edges, they looked as if they had been cut out yesterday. One has to touch and feel their surface to appreciate the craftsmanship bestowed on them. The fine lines, the polished surface and the coolness of the stone fills you with soothing pleasure and reverence.
It being hot as hell, the place had few visitors, although the same could not be said about the monkeys that inhabited the caves. Thankfully, the monkeys were quite tolerant of our presence and I did not witness any food snatching incidence regarding which I had read quite many warnings.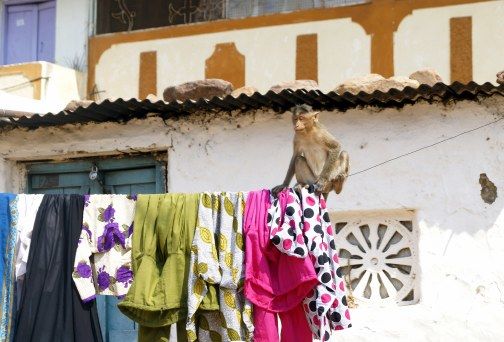 Done with the four caves, I went down to the lake and walked across its edge to visit the ASI museum. Unlike other sites, locals here continually intermingle with the site, using the lake to take a swim in the hot weather or wash their clothes. There was a great temptation to follow, but considering my questionable swimming skills, I held back.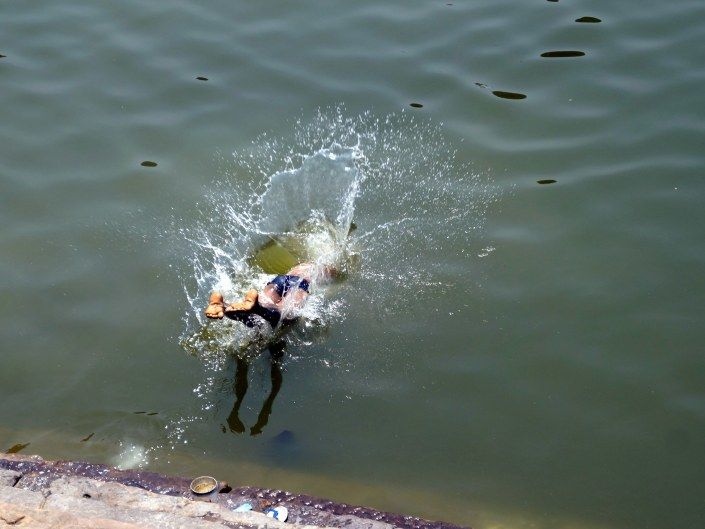 The museum has some really nice sculptures and old photographs. However, the most striking was that of a tribal goddess named 'Lajja Gouri', associated with abundance and fertility. Her sculpture was carved naked, in a child birth pose. Instead of having a human's head, it had a lotus, depicting birth and flourishing of life. Lajja Gouri is still worshiped in many parts of Karnataka.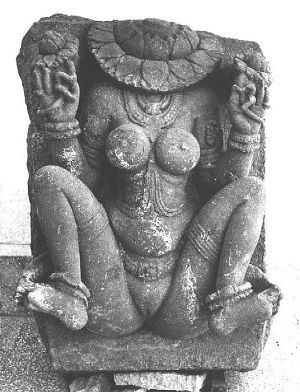 Done with the museum also, I walked outside to visit the Bhutanatha temple, situated on the edge of the lake.
'Anjhu', a local kid gestured to me and pointed towards the hill to ask whether I had climbed to the hilltop in which the caves were carved. When I shook my head, Anjhu offered to take me there. I readily agreed.
While climbing I tried to talk to Anjhu by asking about his school. Initially he didn't say anything and I thought he could speak neither Hindi nor English. It was only after he pointed his hand to his ears that I realized that he was actually deaf. But he sure could shout loud enough for the whole town to hear. I tried to keep up while he kept hopping like a little mountain goat. Meandering through rocks, when we finally reached the top, the view was breathtaking. We sat in the canopy of a big rock and I felt the wind blowing from the lake, up the hill, brushing past me.
When we decided to descend, Anjhu pointed to a different trail and like a true disciple, I followed. Soon, I was regretting my decision, as the trail was little dangerous, with very steep rocks and narrow paths. I was really happy to finally get down in one piece and sent off Anjhu with 50 rupees (which he initially refused to take). With it getting hotter, I decided to wrap up the visit and moved towards the museum again to climb the steps to the fort. Its not exactly a fort but just some walls and fortifications left intact from medieval times. However, from here one can get a bird's eye view of the town of Badami. The houses are laid out like matchboxes, in rectangular pattern of different colors.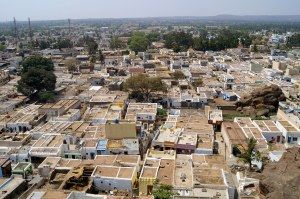 Exhausted by the climbing and the heat, I decided to finish my Badami schedule with a lunch. I visited the same restaurant as in the morning and drank a special type of buttermilk to cool myself down. Feeling energy creeping back into my legs, I stepped out around noon to start searching for a ride to nearby sites of Aihole and Pattadakal. There are no public transport to these places and your only hope is an auto or a taxi.Both of these will cost a bomb, until and unless there is a group to split the costs. Being a lone rider, I bargained a return ride from Pattadakal at Rs 350 and gave Aihole a pass. The sites close by 5:30 and I had only enough time to properly visit one of them.
I set off for Pattadakal through narrow village roads and was glad to share my ride with locals wanting to visit neighboring villages. Pattadakal is different from Badami. While Badami's hallmark are its caves and sculptures, Pattadakal is a big complex housing several temples built with exquisite carvings on the outside. While inner pillars also have various mythological scenes, it is the external beauty of the temple tops and the external walls that demand greater attention.
The complex had large green lawns and tired with my wanderings, I lied down on the grass, under the shade of a tree. Before I knew, I slipped into a short siesta. When I woke up, the hot afternoon had given way to a sweet cold evening, with relaxing sound of playing kids and family conversations in the background. The clouds in the grey evening sky made the Patadakkal temples look majestic.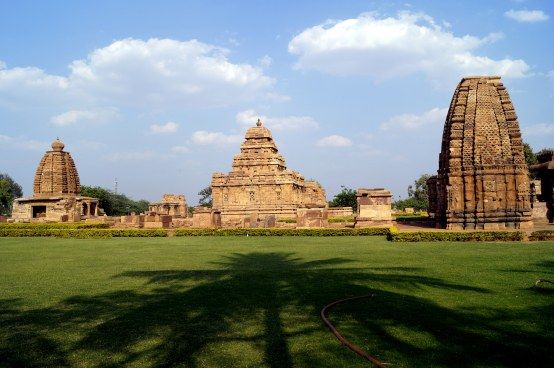 Relaxed and content, I got back up to make my way out. The ride back to Badami was full of thoughts and contemplation. It would have been even better if the auto driver hadn't resorted to repeatedly play some loud Kannada songs. I finally reached Badami by 6 p.m. and stepped out of the auto; just in front of a local bar.
With nearly one and a half hour to kill, I found myself with two options. Either I could go back to the bus shelter and read my book or walk inside the bar and end my hot and tiring trip with some chilled beer. Mulling over the options, I finally went for the latter. After another one and a half hour and numerous beer bottles, with a head rumbling with thousand thoughts, I managed to find my way to the bus and collapsed on the seat. Next time my eyes opened, it was morning and the bus had already entered Bangalore. I felt the 'itch' to be easing up a bit.