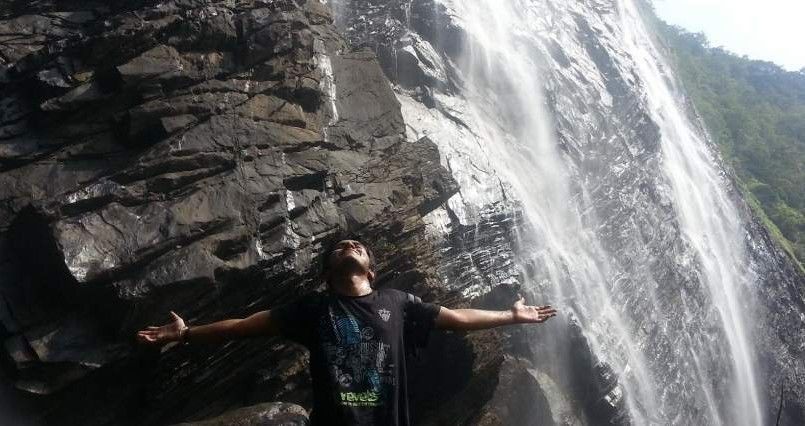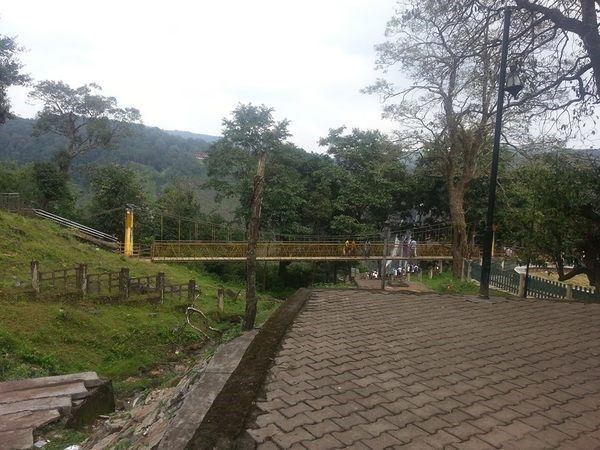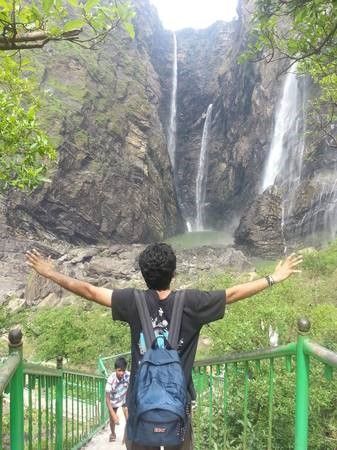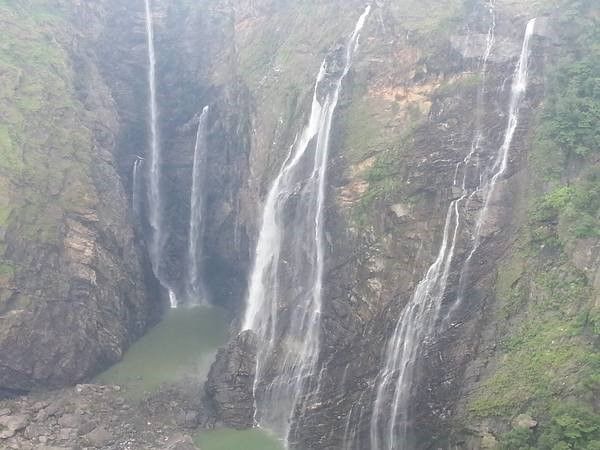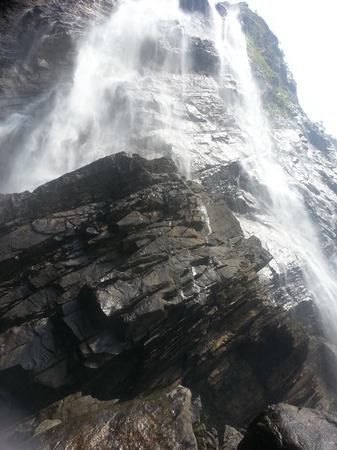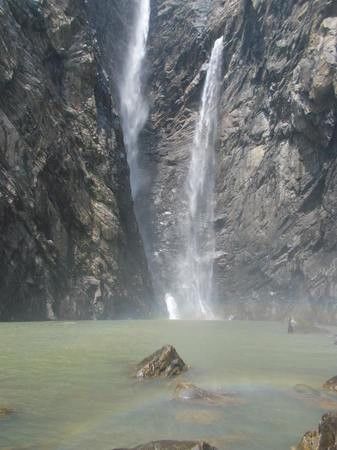 What is a waterfall? Is it a miracle or just a spectacular, calm wonder of nature (if it's a desktop waterfall probably cute ;). I got the answer to my question when I had a chance to visit the second largest waterfall in India (boasting a height of 830 feet!!!) The Jog Falls, which is 190 km from Manipal, a small town located in Udupi district. The journey began at 8 a.m with sandwich, halwa and chips. This place is located in east of Manipal. On the way we passed places such as Parkala and Agumbe which are 20 and 45 km respectively from Manipal. We had our breakfast at a hotel just before the Agumbe bus stop. Neer dosa, buns and tea. We got a total bill of 250 which is quite cheap. There's a sunset point nearby and Kundadri falls 8 km away. You can check them out if you manage to return on time. This is also the route to Bangalore. Thirthahalli, Anandpuram and Hebri also come on the way. You will find many shops throughout the journey where you can get things like chips, coke, sutta, etc. You can get out of your car, to get an epic DDLJ like pic in the paddy fields. There is a large farm of rubber trees. White polythein wraps around the trees, (no leaves in some of them) to collect white-liquid. You should pray to God that weather is pleasant and there is no sun. After 4 long hours we reached our destination. We came across a quiet decent entrance to this place, gave 30 bucks for our car parking (it depends on vehicle).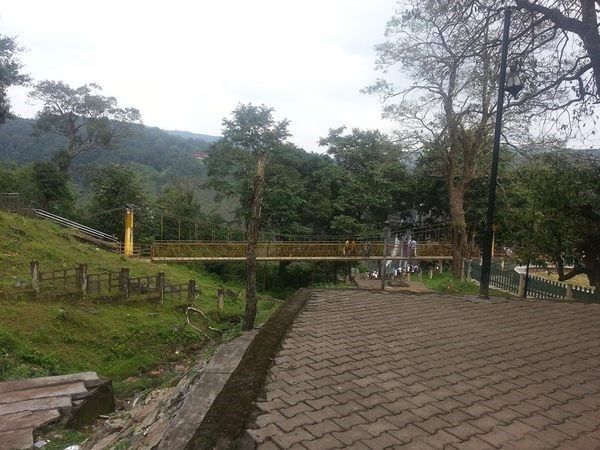 There are lots of monkeys around, you can get pictures with them too, if they are in a mood to pose. Proper guest house, shopping complex, food stalls, small restaurant, museum by JMA (Jog Management Authority) are located there. Ten years ago it was nothing, just a place for travelling enthusiast, who have to trek down around 2km. Right now there are some 1440 steps.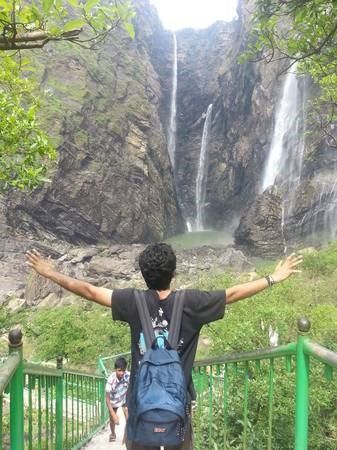 Round and round down to the bottom. There are pineapple stalls (2 for 10), lemonade, water, cold drink, bhelpuri, biscuit, chips stall at regular intervals on the way down. Descending is easy and quick but on the way up you have to keep motivating yourself with Jai Mata Di chants :p. A water-bottle seems like a life saver. So after you get down the stairs, which was just a start, you face the real challenge up ahead, slippery rocks and water. Tighten your shoes and bags straps.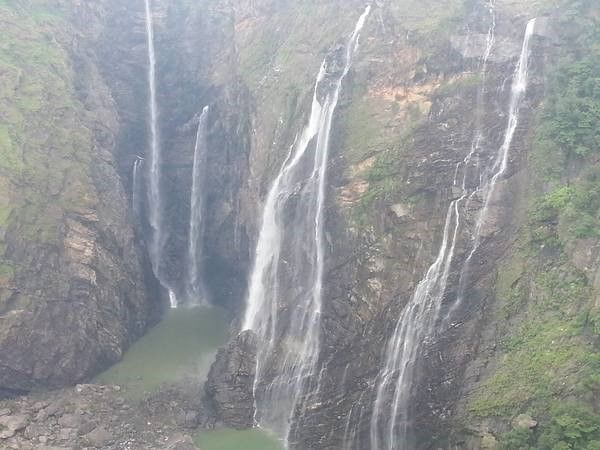 Water from Sharavathi river comes down in form of 4 distinct falls. The Raja Fall pours in one stream till the depth. Half-way down it is encountered by the Roarer, which falls downwards to meet the Raja. The Rocket, shoots downwards in a series of jets; while the Rani, moves over the mountain side in a sheet of foam. Some of its names are Gerusoppe falls, Gersoppa Falls and Jogada Gundi.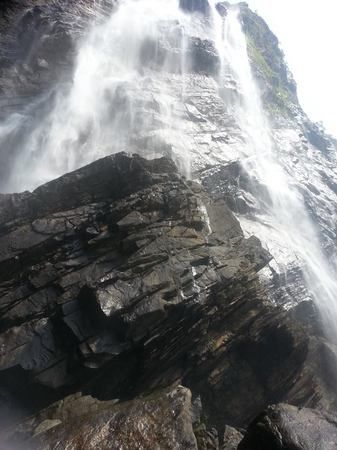 With adventure mode ON, find the most difficult way(rock) out to reach the place you want to, because I am damn sure you will return by an easy way, without giving a second thought. That's what travelling is all about. You can have 2 paths in your memory rather than same boring one. You will come across a big rock, either sit on it with legs hanging and gaze the falls, or dry yourself after you got all drained (that's what I did). You have to be damn careful while climbing some of the slippery rocks. Keep your footsteps properly and hands in synchronization with your steps. You can even slide on rocks, to safely cross them. There is fungus deposited on few, but the falls is a magnet that will attract you to experience its magnetic force.
Open your arms and feel the falls. This is something that is out of this world. Water drops smash on your face and hands. Many Rainbows can be seen in the water.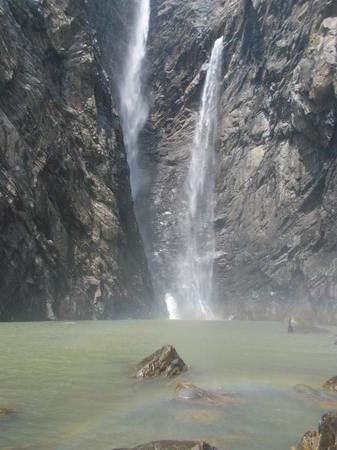 Look Down Carefully!!!
Seriously, go as far as you can, explore the place. Leave no rock untouched. Later you can sit on a rock and let sun soak yourself and your camera lens's water. Help people if you have time, even small kids are there to trek with their family. Kids you have my respect, they are much more enthusiastic than my generation. Unexpected rain turned up, and some of my genius friends had umbrella. We rushed till we reached the steps. Low on breath and energy we started climbing the stairs. Where the hell is my taxi? An uncle, coming from up asked me how much down is left. I was so annoyed, that i nodded my head and said "bahut bahut baaki h.." So keeping up our baby steps we managed to reach the top, Umbrella Raised! Food is the thing we needed the most, hence Parle-G to rescue! And while we were buying stuff, many tourist buses and tempo traveler were entering the arena. People stay here overnight and then visit the falls early morning. KTDC lodging provides room and hostels @Rs 300-800. You can go to the mouth of falls i.e. Linganamakki back water, a lake, sharavathi river and Vadanbail Jain Temple, which needs a special pass to go there, but the road goes worse in rainy seasons. I saw a BMW r120 gs bike, rode by travel-freaks with proper uniform and safety pads, helmets. Wish I could get a chance to ride. We got inside our car, little exhausted. We had our snacks at Madurai hotel in Sagara 29 km away. Bonda soup and garlic masala dosa, with filter coffee, a perfect combo. Winding up this day of restlessness, curiosity and fun, we headed towards our hostels, still thinking whether any rock is left?
Travel tips
Keep a pair of spare clothes, you never know when you will be wet.
First-aid is a must, no rock is your friend, that will take care of you.
Wear shoes with good grip or go bare foot, avoid slippers and heels.
Carry umbrella or raincoat, unpredictable rains.
There are slippery rocks, sit or slide on them with proper grip of your hands and body balance.
Stay alert as there are many local boys seeking you for arranging homestays. Since the homestays can be quite far from the falls and the surroundings may be sparsely populated.
Carry the crap in your bag, do NOT destroy nature.