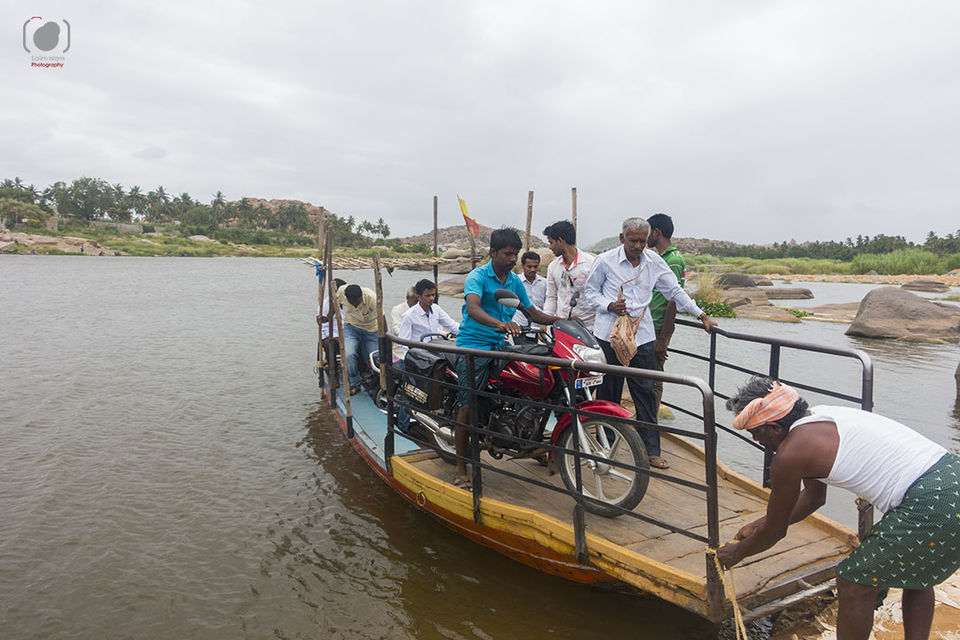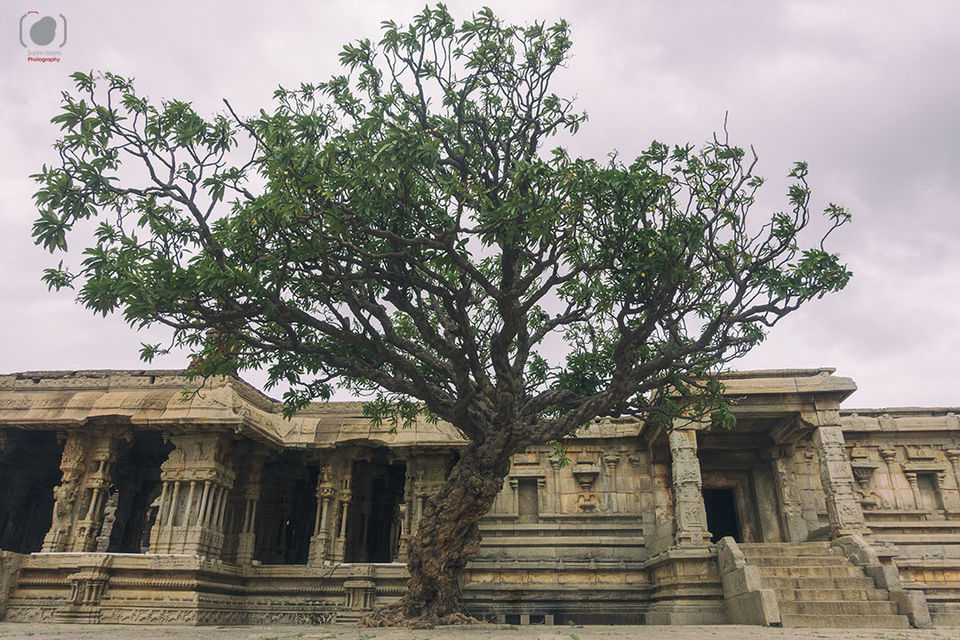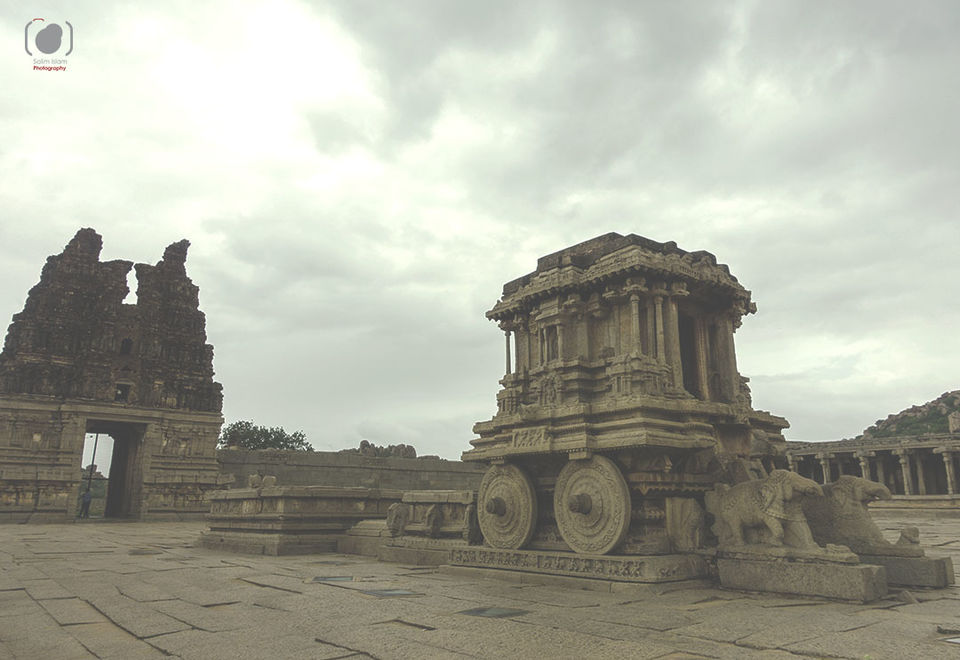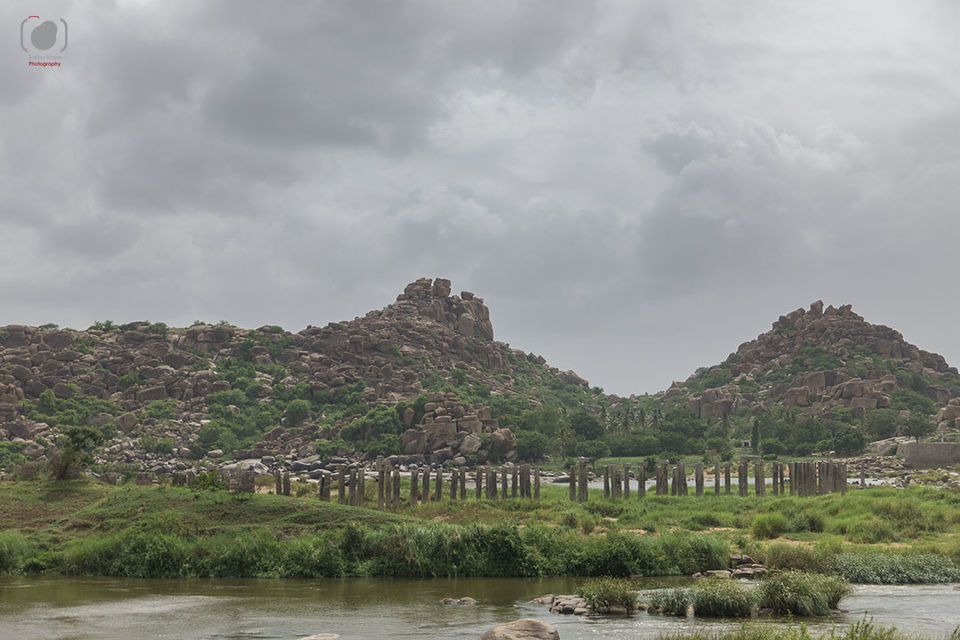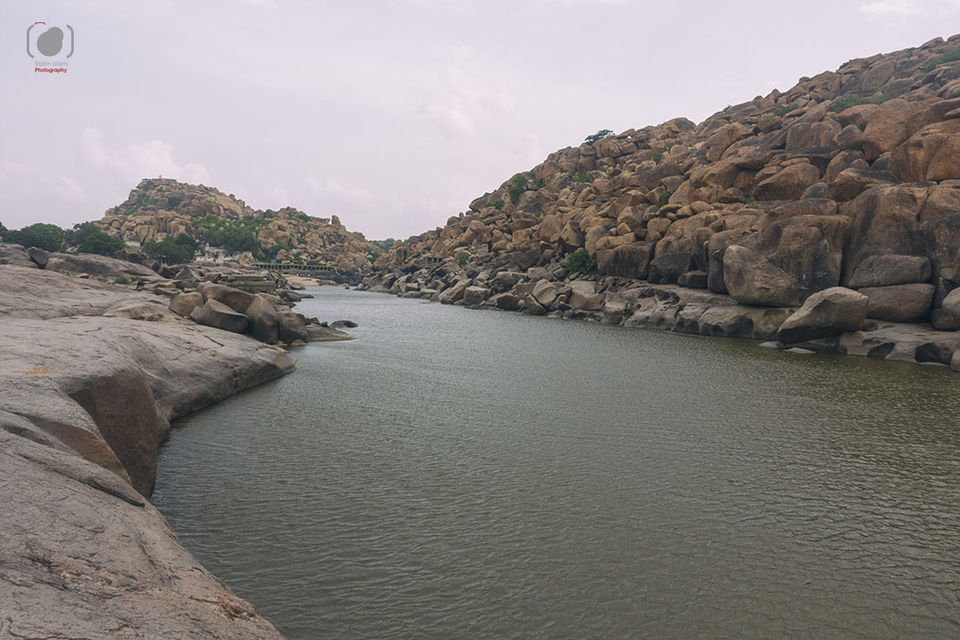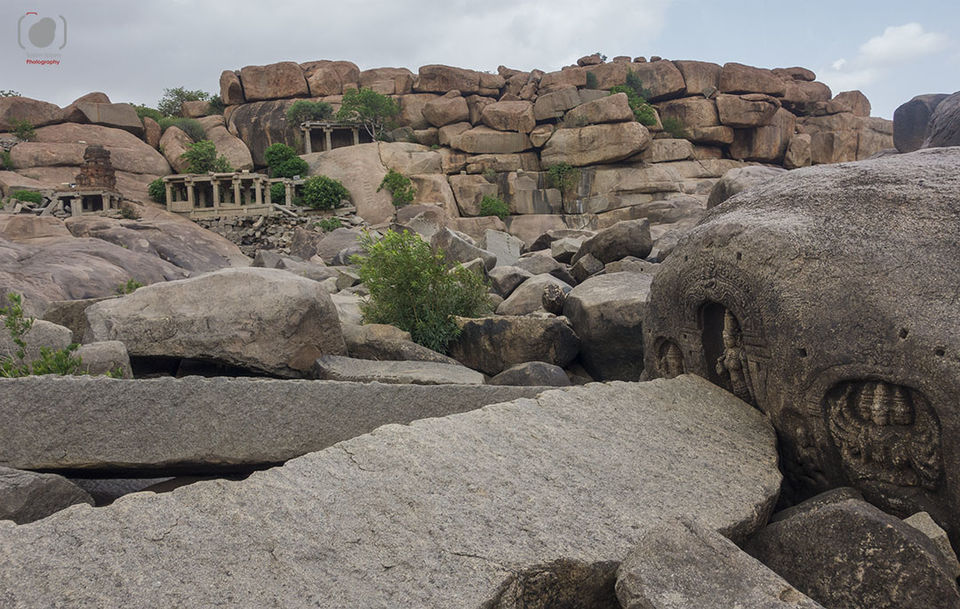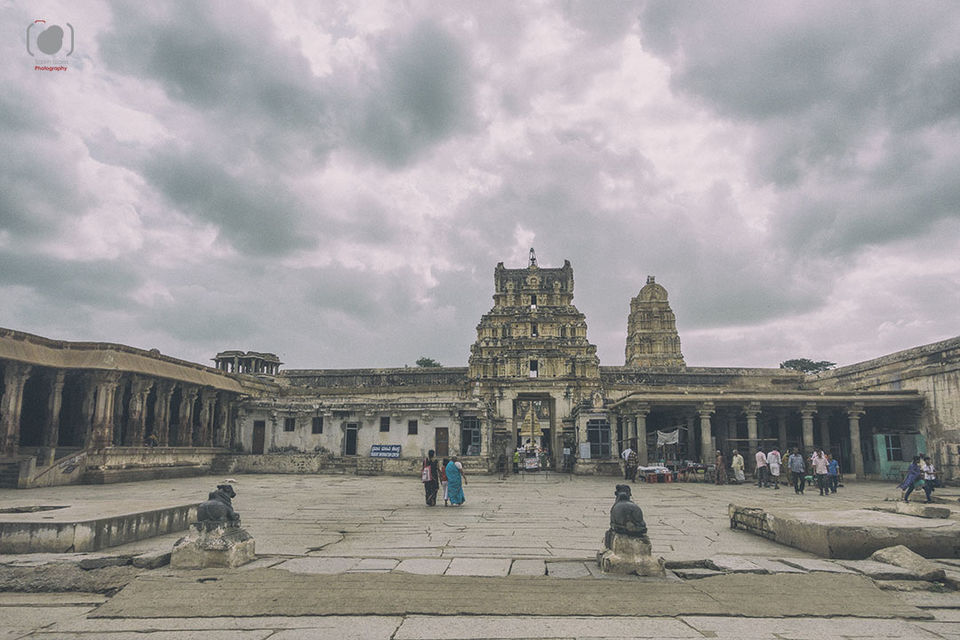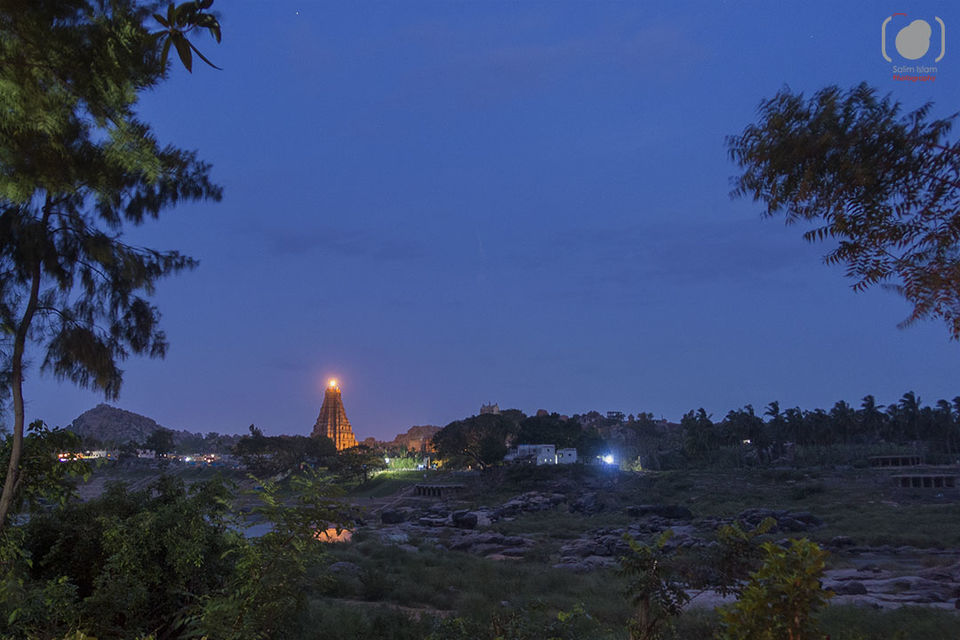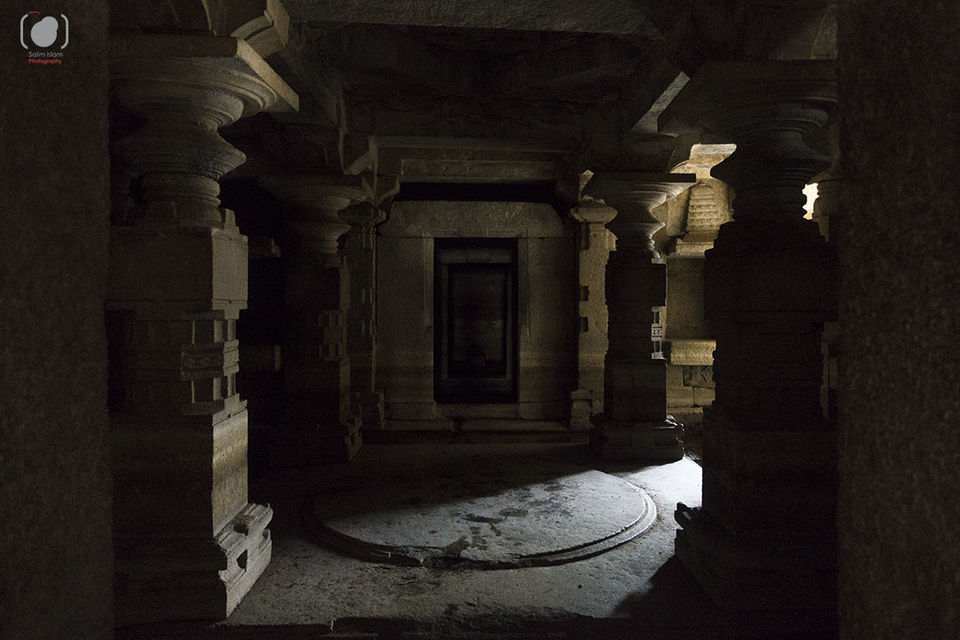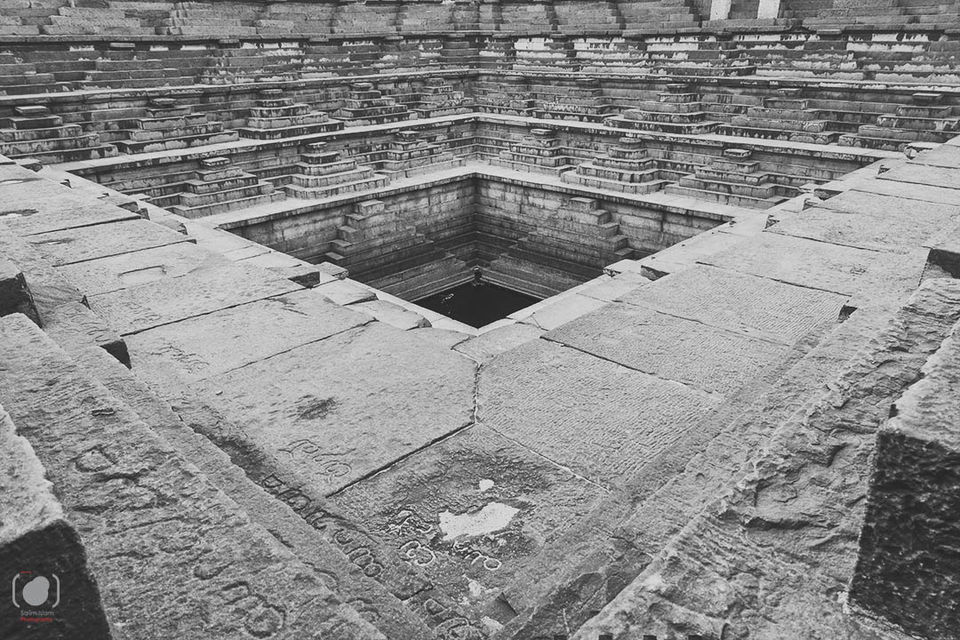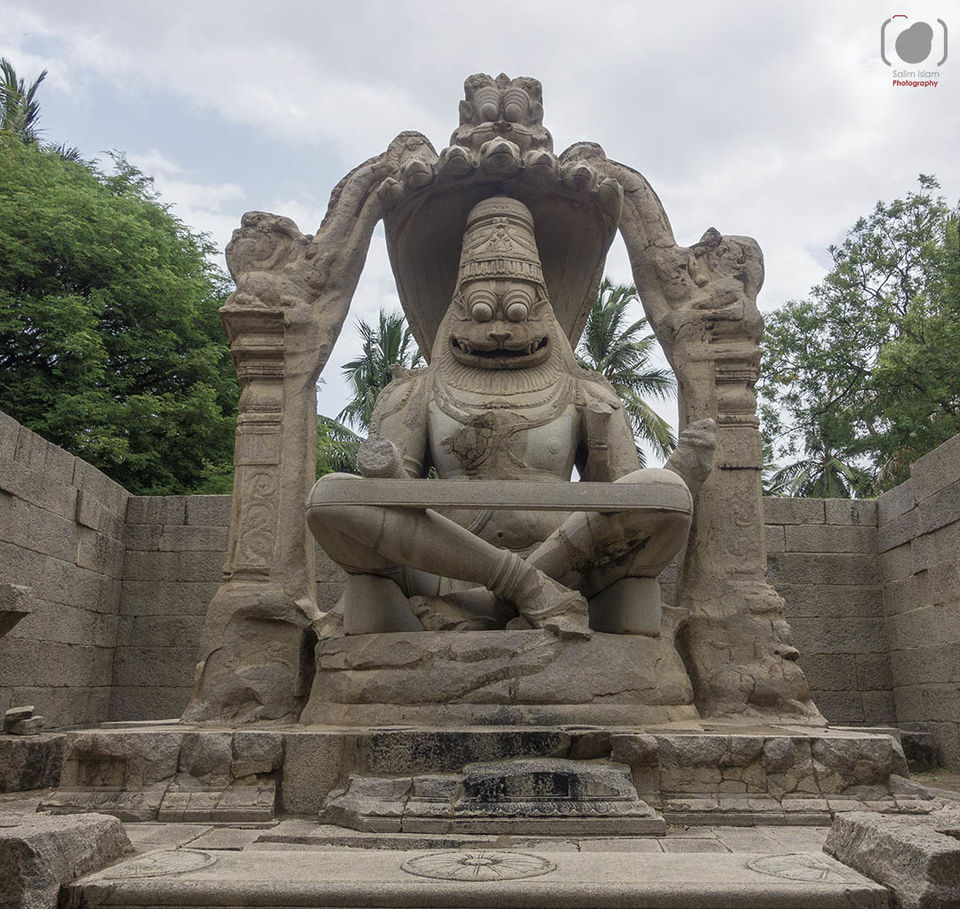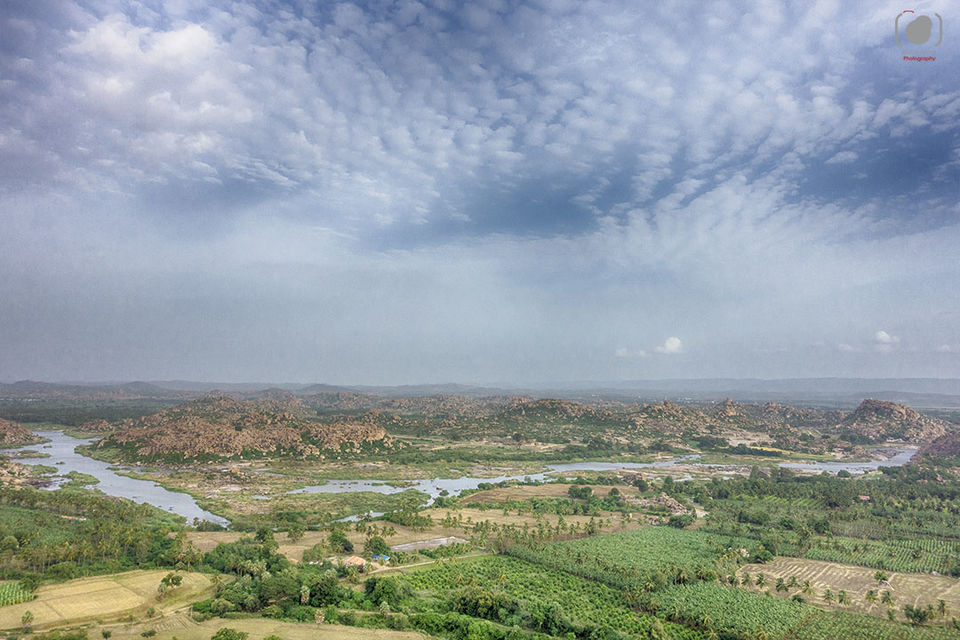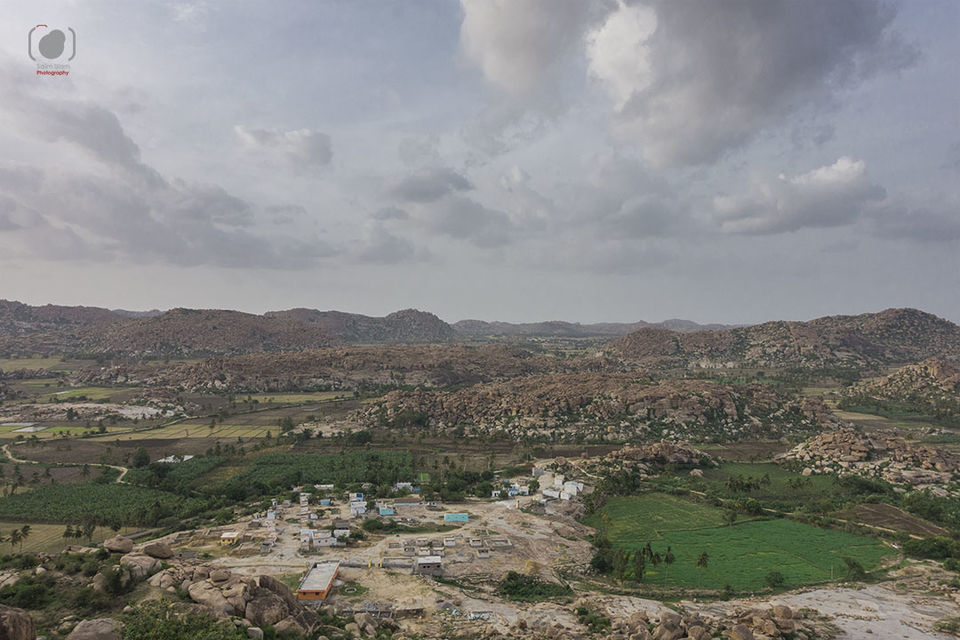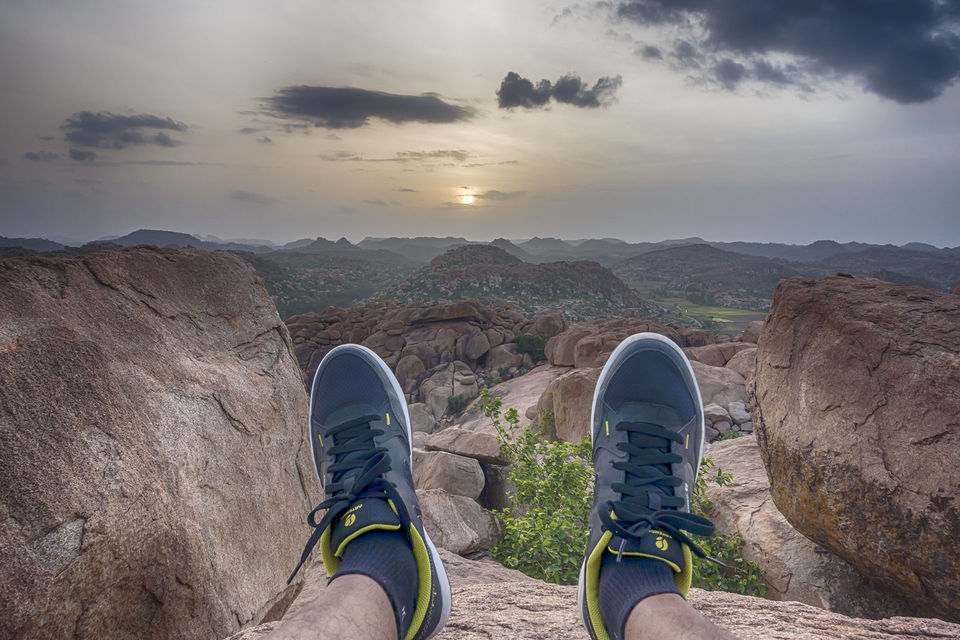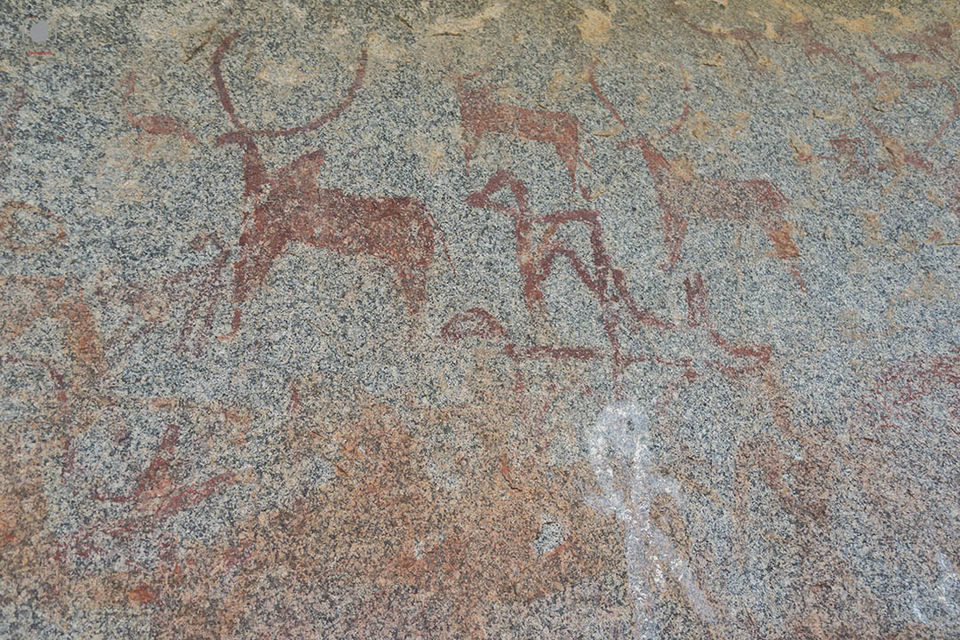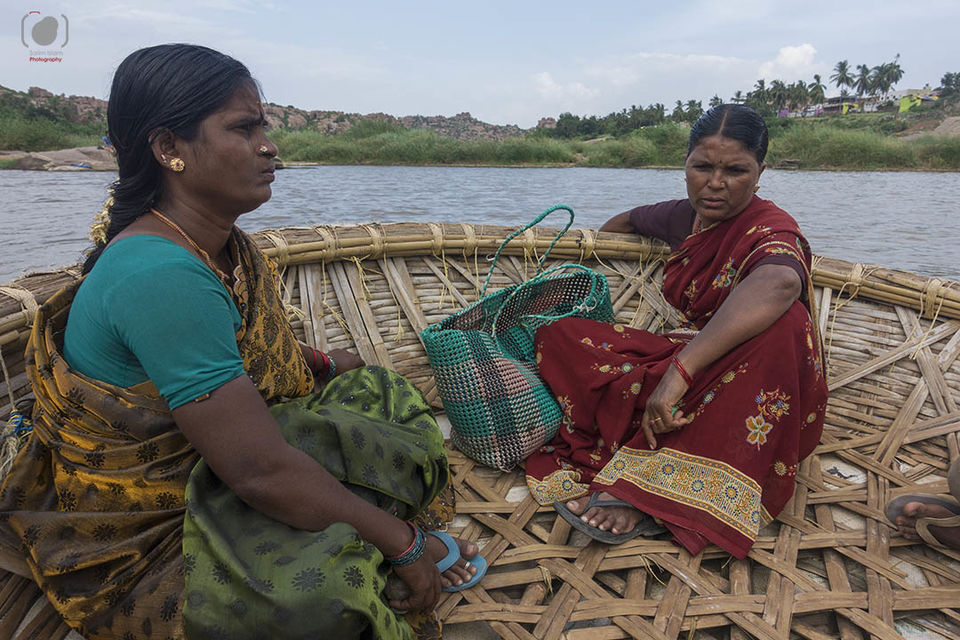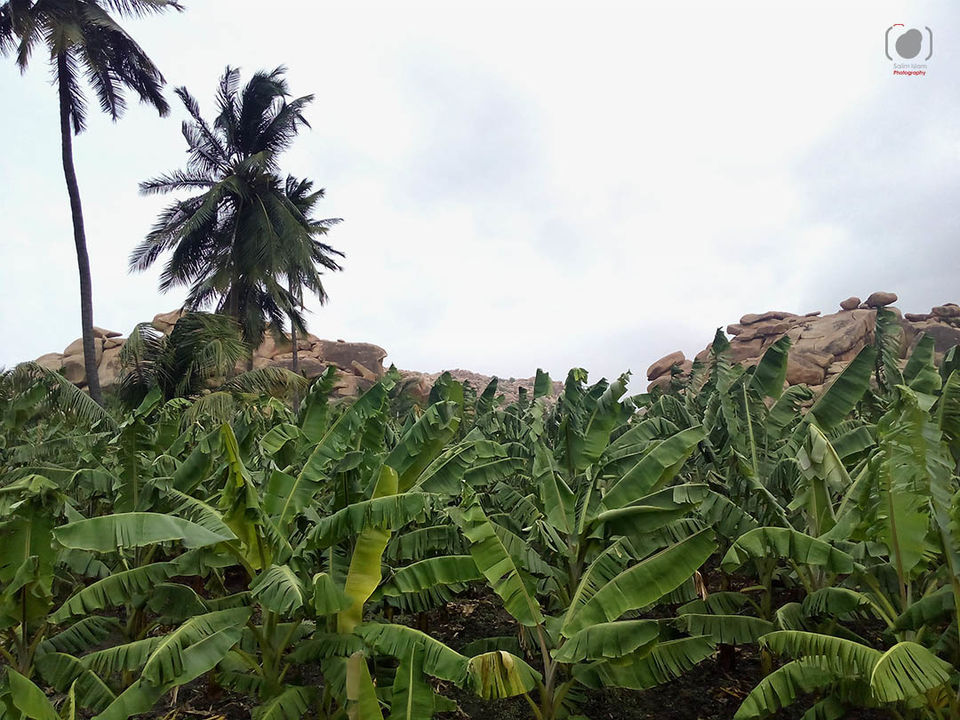 As a traveller, you really grow sceptical about the places you hear a lot about. The "over-hype" associated with different places really makes you nervous. More so if you are a traveller who visits a place for the way it makes you feel inside. Then again you realise, you always find your spot as a traveller in the place, no matter the hype. That eerie feeling is just a phase.
If I have to cover a large area then I prefer to stay close to the cluster of hotels as it eases the tussle for transport. Moreover, I just need a bed to sleep on and have nothing to do with the hotel itself. In Hampi, however, I decided to stay at the village of Anegundi which is a little farther away from the town. I had no idea how Hampi was. I had only heard of it but never researched. One of my fellow travellers had provided me the phone number of Siraj who was a manager at the Uramma Heritage Homes. I called him up booked a dorm at the Cultural Industries Center Dormitory. With everything under control and the bag at my feet, I dozed off to the swinging of the train. Well I slept too well I guess and I woke up to find I had missed my station. Though I missed it by just 2 stations, I had to do a fair bit of travelling by buses and auto-rickshaws to reach Hampi.
The scent of the heat was creeping in and the bus wasn't moving. As luck would have it, it waited for quite some time but couldn't gather much passengers and off it went. From the dusty town now it moved closer to the hills. Different they were. Plantations of bananas weren't allowing me a full sight of them but the green of the fields made me happy. I love it when places are green. The rocks on these hills seemed like shapes. Stacked atop each other, balanced in a precarious manner. 'A strong wind and they will topple', I thought to myself. Turn after turn, all I could see was more plantations and hills around them. The sky was gloomy, something which I totally adore. Small pillared structures (called 'mantapas'), all made of stone, with a roof on the top, were installed irregularly at these fields and some deeper towards the hills. When you see ancient structures in the middle of a farming field, your mind drifts towards negligence of the authorities but it wasn't so in this case. They were well maintained and now assimilated in the daily lives of the people of the region.
Small hamlets passed by and I finally reached the gates of Anegundi. Boxed shaped small houses of concrete, with mud still in use, were strewn on both sides of the road. A wooden chariot, which looked ancient, was installed at the crossroad. When inquired, I came to know that on certain festivals the chariot is dragged out, painted and used in ceremonies before being taken back to the shed. On asking for directions, a villager offered me to drop me to my accommodation on his moped.
Patches of green on both sides as the rice fields are ploughed and some plots used for sowing, with the green sprouts. A huge foreyard dotted with coconut trees welcomes you to the Uramma dormitories. Siraj, with his huge smile, welcomed me and showed me to my 3-bedded dorm. On the backside there were around 7-8 bathrooms, all lined up under a single roof separated by concrete walls. He asked me to come to the Uramma cottages (the higher range accommodation option) for using the wi-fi and for having meals if I wanted to as I was the only guest in the dorm.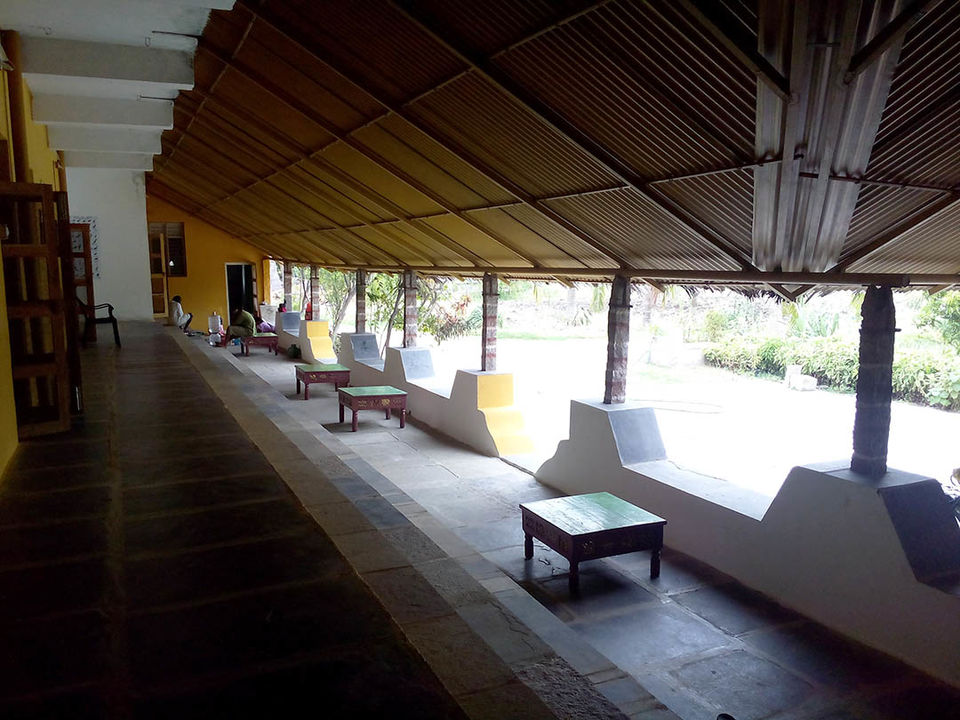 I had my fair share of sleep so I just took a bath and went out to explore a part of Hampi with a map given by Siraj. There are two ways to do this, you either take a longer route through buses, autos and mopeds or you hike through the boulder strewn edges of the Tungabhadra river. I chose to hike.
Got on a boat and crossed to the other side of Tungabhadra from Anegundi. Went near the pick-up point where a bus ferries you towards the Vittala temple. Well this is where the famous stone-chariot is located, the one you saw in your school-textbooks. Elephants seem to pull the chariot but the original architecture had horses pulling them. You can still see their hinds if you look closer. I rambled around the beautiful complex and piggybacked a local guide. "There is no holding agent between two stones. The pillars are just standing without any adhesive agents". I looked closer and there they just stood and held tons of weight without anything to keep them in place. If this wasn't amazing enough, the pillars also produced musical note when struck with the hand.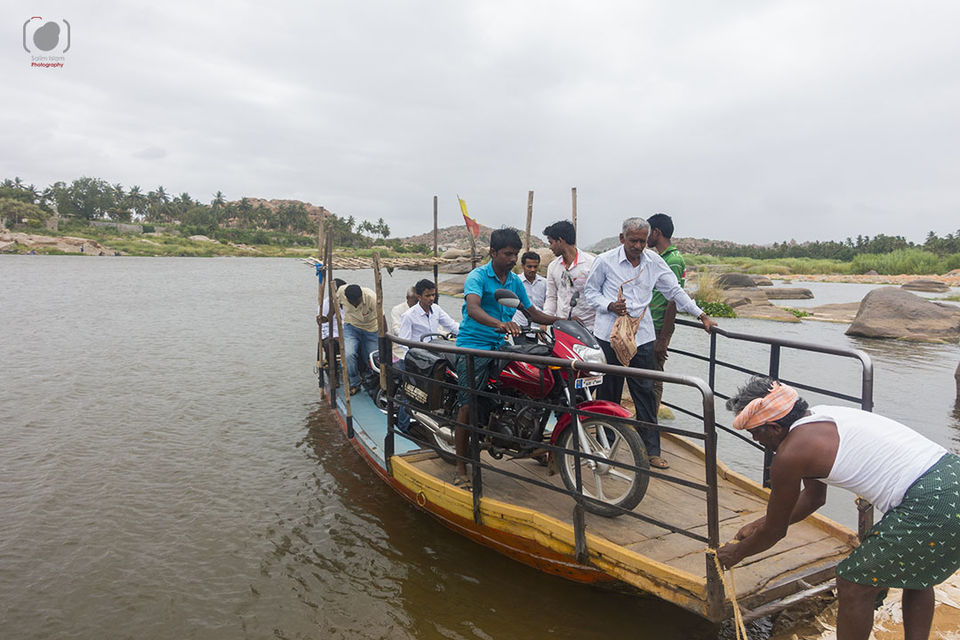 I went downwards to meet the river again and was warned by the signboards for the crocodiles in the water. Walked up to the boulders and passed many a mantaps. Right near the gorge created by Tungabhadra, I found innumerable carvings of gods and small mantaps scattered about. This was one of the most impressionable moments (there are a lot coming up) that I had in Hampi. I sat there for an hour, just watching the river and the sun rarely shone, with the clouds making my day cooler. I walked right upto the Virupaksha Temple and the river was still on my mind.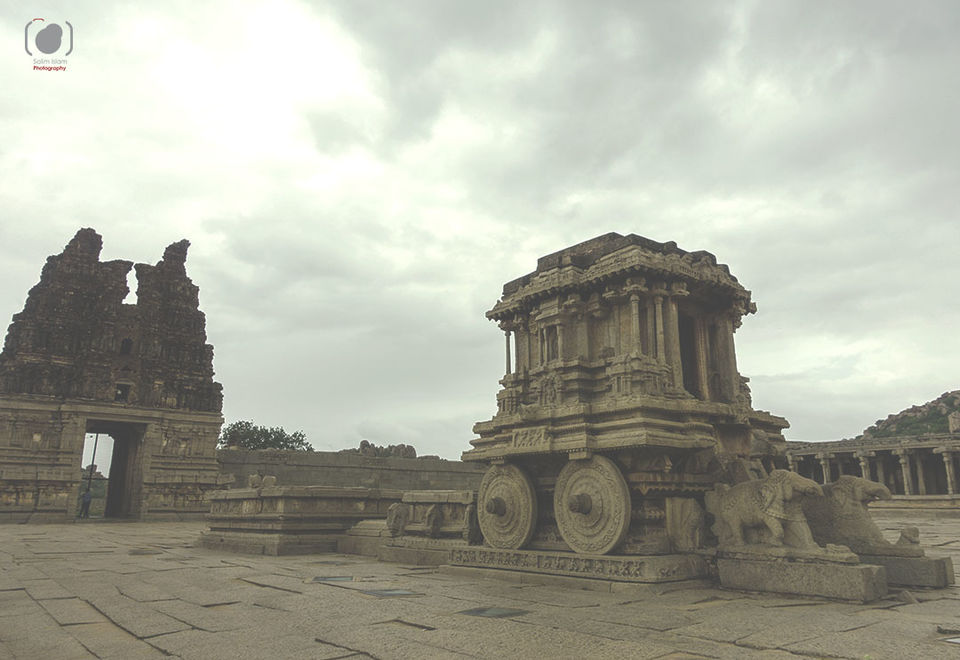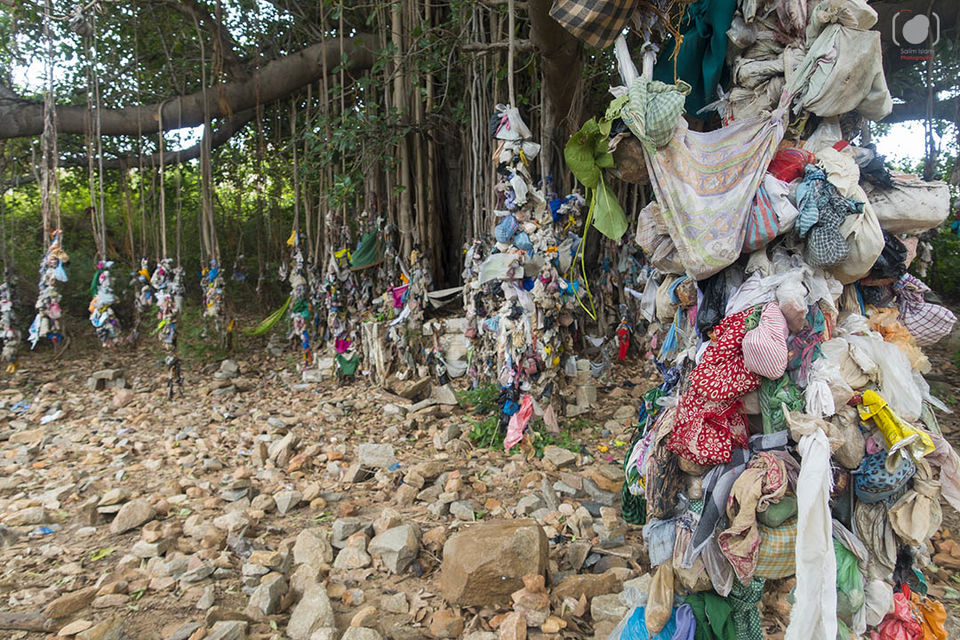 The side of the river which houses the Virupaksha temple is the main Hampi. The other side of the river, right across the temple is Virupapur Gadde; a backpackers abode. Unlike Goan beach paradises, this place still hasn't lost its rural heart. Cafe's and guesthouses are lined up across the higher banks facing the Tungabhadra. An actual pretty sight it is, with the paddy fields and the muddy roads meeting the new-age backpacker guesthouses and cafes. I booked myself a moped for 150 rupees and set out to hunt for some food. My first stop was the Laughing Buddha. Low tables, lounging mattresses facing the river, beer and Indian college kids trying to conjure up some stupid conversations with the white-skinned backpackers. Here I met two very interesting people, one of whom I'd meet again in my second trip to Kerala. Anurag had travelled to Hampi before and had just accompanied his friend Aakash this time around. Chatted for a bit and I took off looking for a new place for dinner as the dumb charades of the annoying Indian kids was really getting irritating and I could only feel sorry for the white couple who were dragged into this ordeal.
Drove towards the main road passing through small villages and the candy addicted kids. I reached the aqueduct, looming large over the depression, crossing the tarmac and on to the fields below. I saw a small shop, right at the junction where the gravel road meets the larger tarmac road, with thatched roof and a mother and son pair serving some late lunch to a handful of people. A small water canal flowed by the entrance of the shop. I parked my bike and entered for a cup of tea. Little did I realise that this shop would be centre point of my Hampi trip.
Only 4 tables under the thatched roof of Amma's cafe (well I called her Amma, hence the name). I sat on the last one. The table was almost the height of the half-wall erected towards the side which ran parallel to the street. Tea and Gabriel Garcia Marquez kept me busy till it was nightfall. First came Steve; sat beside me and rolled a joint. Sunil came in a little later with his loud chants of "Jai Shiva" and finally the last table came to be occupied by Kavita and her workmate.
Kavita and her workmate were conversing in Malayali and suddenly her mobile rang. Fluent German she spoke and Steve asked her history and Sunil joined in. The food was spicy and Amma was laughing at my constant attempt to gulp it down with water. Suddenly all of them took part in the amusement. I introduced myself and then conversations flowed through the night.
Steve is from Malta, but has leased out a property and runs a guesthouse known as 'Bobby One Love'. He was a music producer back home and is an avid Pink Floyd Fan. He has attended around 14 of their concerts.
Sunil was a hardcore alcoholic. Had massive brawls daily until one night he saw his mother suffer because of his antics. He has never touched alcohol since. He now runs a guesthouse called the Whispering Rocks near the Sanapur Lake.
Kavita, an Indian origin girl educated in Germany and now lives in Goa. She teaches at a 'democratic school'. Well these are schools where the children decide the curriculum themselves. They do whatever they like and the teachers mould as per their interests and teach them through that medium. Cool, isn't it? "Let's educate and not preach", she said
We sat together for long, discussing schools, music and exchanging a few sermons on life. It grew late and we dispersed. Another surprise was in the store. I reached the cottages and Siraj asked me to park my scooter and hop on to his. He was shifting me from the dorms to one of the high-range cottages. I told him I was fine living alone but he insisted that I stayed in the cottages. He didn't charge me anything for the switch and I was now residing in a big cottage, all by myself.
Next day, I crossed over from Virupapur Gadde to Hampi, rented a bicycle and set off to see the excavations and the sites. Met Aakash and pointed him towards the bicycles and so I had company. Photos would sum the day better.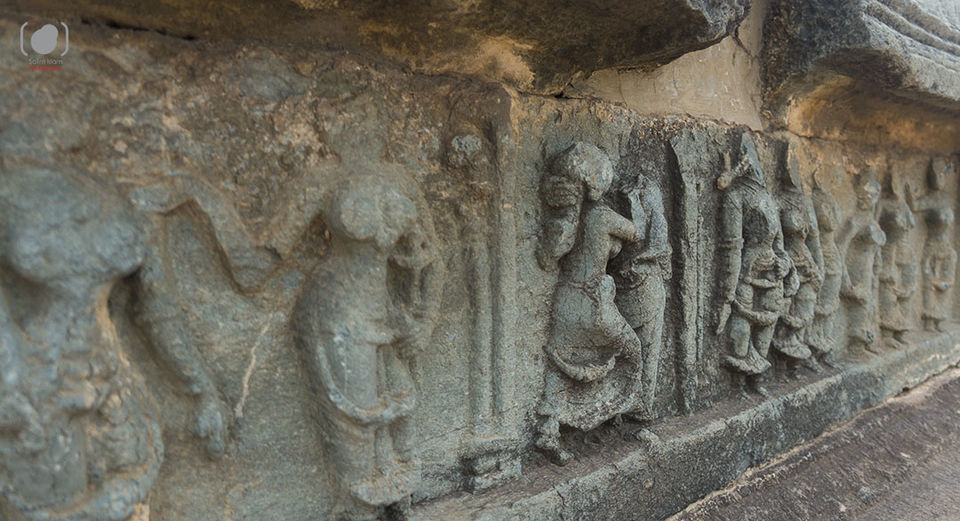 Rest of my 3 days in Hampi were spent following a similar routine. I would have my nice spread of breakfast at the Uramma cottages, head out to explore the region around Anegundi on my hired scooter. Walked through the paddy fields, stopped by the banana plantations and sit on the boulders. A greeting smile and chat with the villagers that I passes by helped me locate a cave with Neolithic paintings on rock boulders. I would climb up the 576 steps of Hanuman mandir and sit on the high builders and watch the sunset with the threat of gathering clouds, watch the Tungabhadra meandering through the Hampi landscape, feel the breeze on my face and feel insignificant. It's lovely to feel insignificant compared to the vastness of the nature. It makes you feel at peace, helps to puncture your bloated ego and connive with nature to be content.
I would then head straight to Amma's cafe and enjoy my conversations about food with Amma, about music with Steve and about nuances of life with Sunil. Amma now cooked special meals for me with little or no spice. I would go back to a smiling Siraj taking care of guests arriving at the cottages, drop my bag at my room and head out again on foot with a flashlight on the moonlit streets and paddy fields of Anegundi.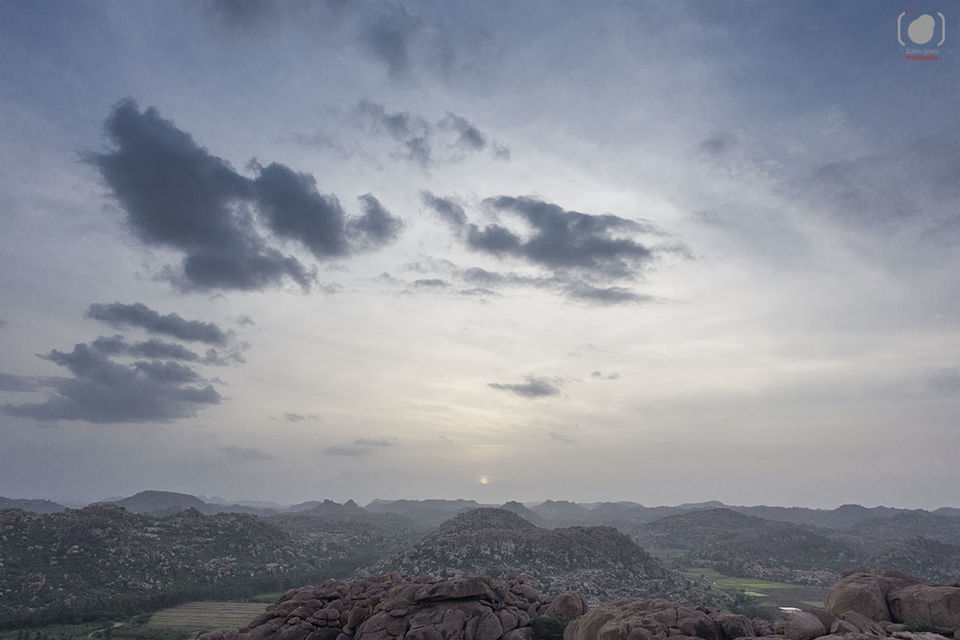 Hampi was not even an iota of what I had imagined it to be. The decadent state that I was wishing to find it in was a hoax. Hampi has left a mark; it has enabled me to tone down my notions, my judgements, to embrace differences and feel contentment.
A teary goodbye from Amma was something that I wasn't hoping for in the end.