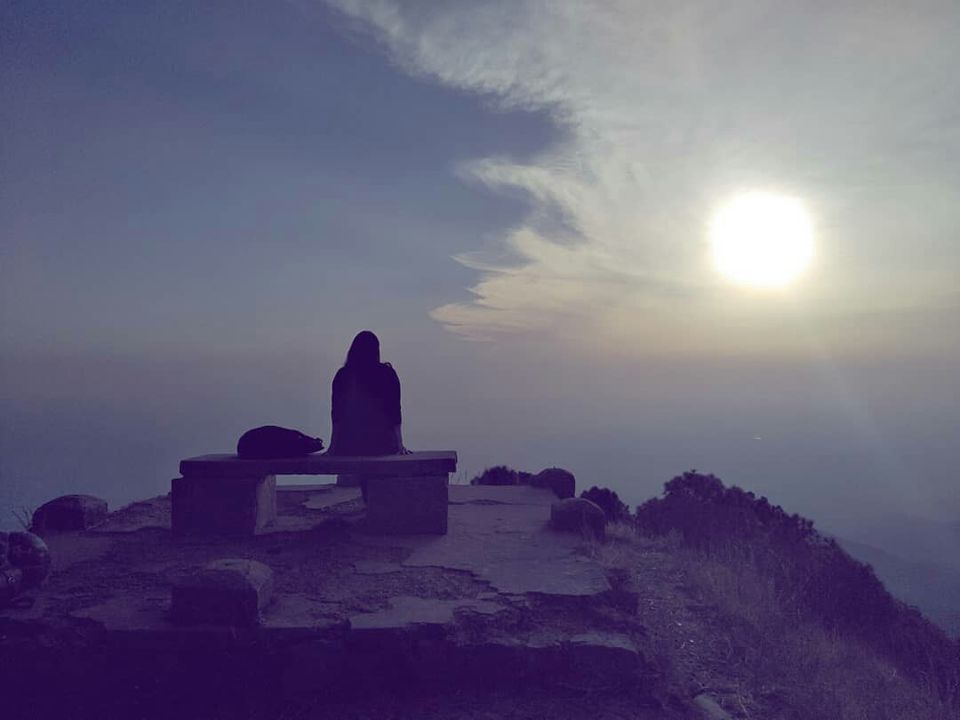 Not everyday you find yourself sitting and writing under the sky, amidst the mountains sipping coffee and munching on omelet. For past few days I had been aching to travel to 'some place nice' and came across this little town- Kasauli. I kept wondering why it is not so famed despite being so near to Delhi and this is how Kasauli was zeroed down.
Kasauli gets its name from a flower called 'Kasool', holds true to its name- pristine and totally unspoiled beauty. This little strikingly beautiful town, almost at a height of 1,927 m from the sea level, will give you an unparalleled magnificent view. The history of Kasauli dates back to the Ramayana time. It is believed that the place came into existence when Hanuman set his foot to rose high to get Sanjeevni booti for Laxman. This 'picture perfect' town tucked between the Shivalik range offers you a glimpse of British era. The colonial ambience is quite evident from the architecture of hotels, residential buildings, shops, churches, clock towers even the little dustbins and post boxes. Everything about this town will take you down to the colonial period.
I had two days to cover everything and absorb every bit of this place exhibiting the old world charm in the most literal sense. This being my first solo trip startled me to a great extent. But despite being scared and imaging everything that could go wrong, the fear started vanishing gradually once I reached there.
Why Kasauli is Different: What sets this place apart from other hill stations is that it is not commercialized. You will not see retail food chains, or any fancy restaurants or ice cream parlours. They are replaced by tiny shops & cafes along with a few hotels in the town. The minimalistic concrete helps in retaining its natural beauty in the best possible manner. Being the military area, the pathways are well maintained with no sign of traffic jams. Kasauli proves to be a poster child for other hill stations in terms of maintaining cleanliness, minimal commercialization and best use of natural resources (the place is free from open defecation along with mass usage of solar heaters). Unlike other hill stations, Kasauli is free from hustle bustle, the rush and usual cacophony and best preserved relics of British period. It is one of the few places that was built up by the British kingdom during the peak time in India.
Kasauli- A Natural Beauty: Being a home to many flora and fauna, it is surrounded with pine and oak trees and this place looks utterly beautiful in the spring. One can also find Chir pine, Himalayan oak and huge horse chestnuts trees. The wild deer 'Ghoral' and Jackals are quite common in the forests.
A little Tibet: Kasauli has two markets- the Pine mall and the Main bazaar. The bazaars boast of tiny Tibetan styled shops, offering handicrafts, Tibetan food and one can find a lot of Bob Marley posters inside almost all the cafes. The market is famous for locally maid fruit wines and local sweets made up of fruit pulp like grapes, plum, apples and one can definitely indulge in savouring dumplings and thukpa.
The Gothic Styled Christ and Bapist Church – The Christ Church is the first thing you'll see after entering Kasauli as it is situated near the bus stand. It is said to be the oldest church in Himachal. The grey colored, gothic styled architecture, with green window panes and mirror work is something you can admire. The structure includes a clock tower with a sun dial in the front with beautiful stained glass windows. The church is surrounded by a cemetery with graves dating back 1850s.
A walk towards the breathtaking vistas- Gilbert trail: Kasauli is a walker's heaven and is best covered on foot. The Gilbert trail is a kutcha walkway stretched around 1.5 kms, walled with thick forests, offers a panoramic view. The end of the trail makes up for everything which was nothing less than spectacular. After walking rather stumbling for 30 mins I reached the end of the trail. I can't really say why but admiration for life has to offer to you and all I could understand the literal meaning of 'living in the moment'. On your way to Gilbert trail you will find sun set point and lovers point too. The Gurkha Regiment also holds a flag hosting and lowering ceremony every day. The ceremony is open for general public which one should definitely see.
Man-ki- Point: Or the Monkey point this is the highest peak in Kasauli and is 4 kms away from the bus stand. A small temple dedicated to Lord Hanumana is situated here and attracts a lot of tourists. The top of the hill is in the shape of a foot and is flocked by monkeys. The view from the top is mesmerizing and you can have a glimpse of Sutlej river.
After spending 2 days in Kasauli I can surely say that Kasauli is quite under rated and definitely deserves much more appreciation. Though it is difficult to remain objective when you are in the middle of a picturesque, living your dream but without any kind of biasedness, it gave me what I was looking for. It felt like home. 48 hours of utter adventure and jaw dropping view were coming to an end and I was not ready to leave. It does sound funny but you take so many days to plan a trip, visualize it a hundred times in your head, your soul is brimmed with exhilaration and these dreamy days get over in a blink of an eye. But you eventually realize that it's important to move on. To a new place, to encounter another thrilling experience, to happiness and liberation. To Kasauli. Cheers!
Do share your experience and feel free to ask any questions!
*****