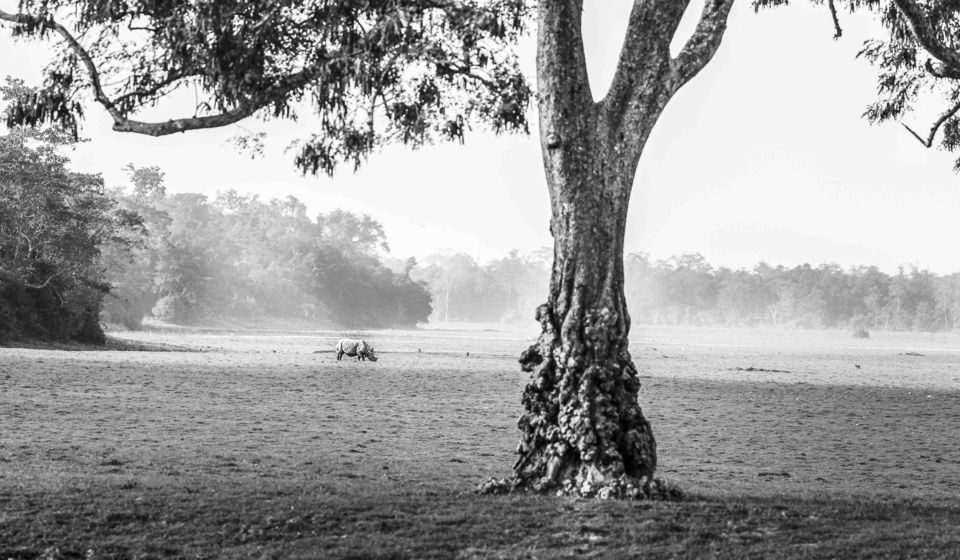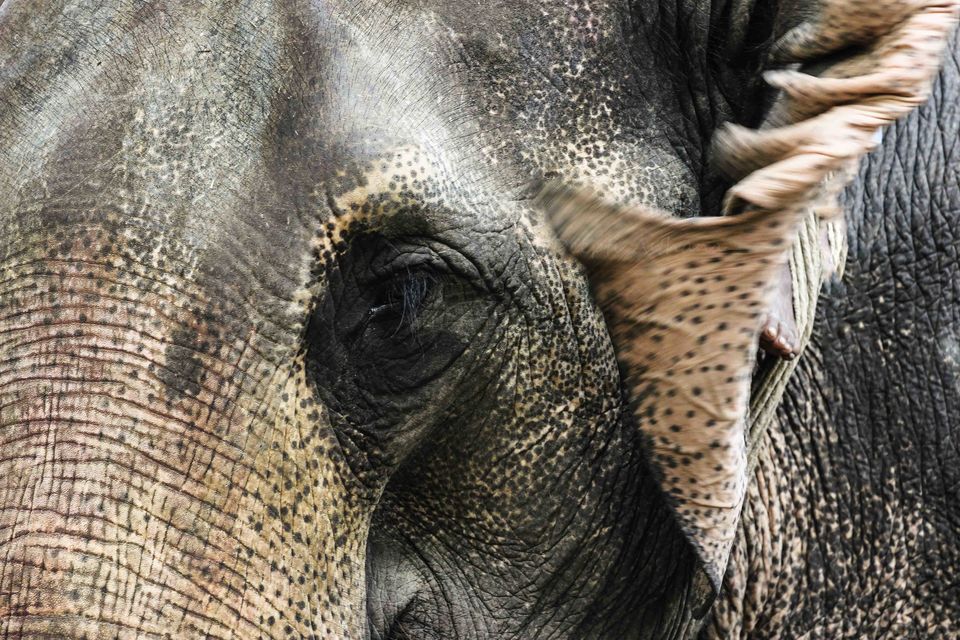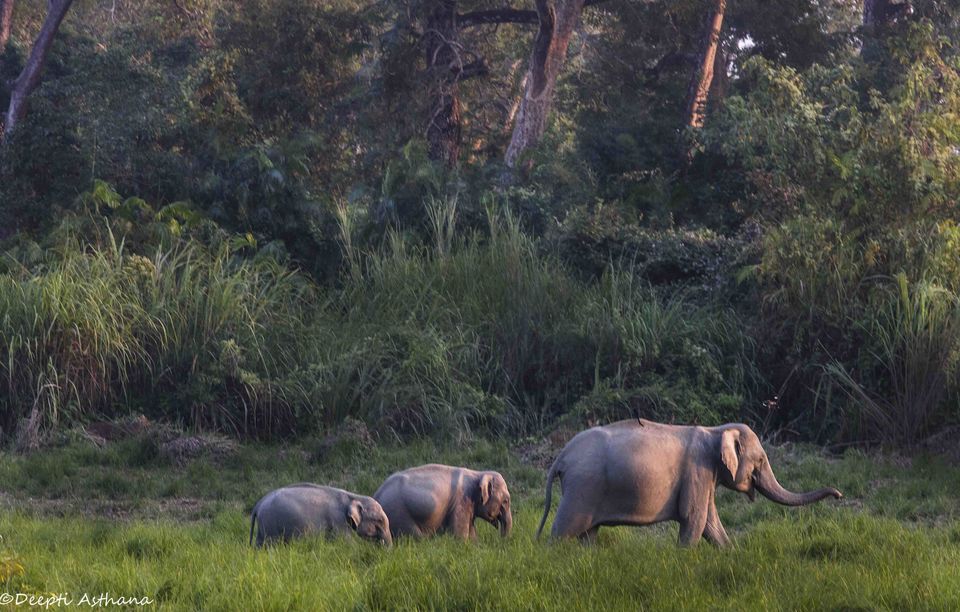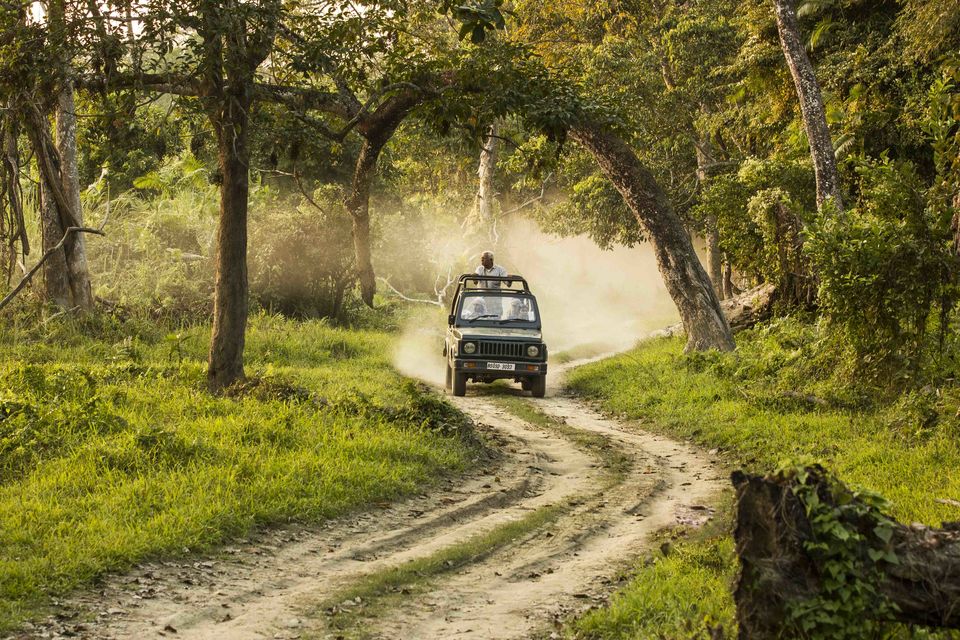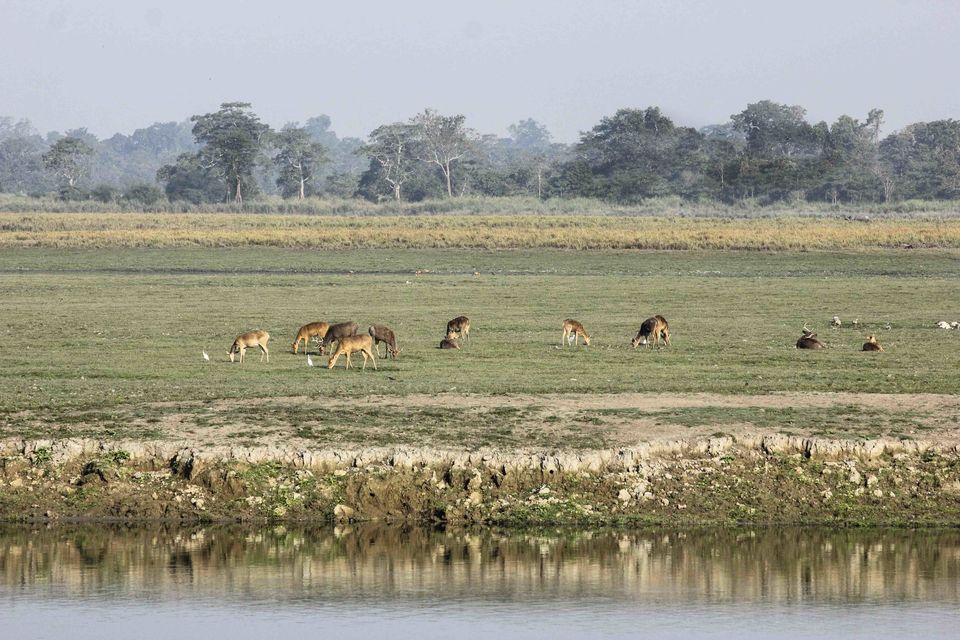 As a traveler, you'd often hear this question where people would want to figure your 'personality type' or perhaps as a conversation starter: "what do you like most mountains or beaches?" Well, I'd be the happiest in a jungle, listening to the little movements in its deep silence, observing the amusing wild life. The tall trees touching the sky, the huggable wide trunks of trees, the sun rays filtering through green leaves, the dry leaves of different shades and sizes spreading on the path like a mildly crunchy carpet, while the birds play hide and seek with the other free spirited animals. My recent visit to Kaziranga National Park was one of the most memorable experiences I have ever had. It was like being in an animated movie and you watch these characters in flesh and blood right in front of you!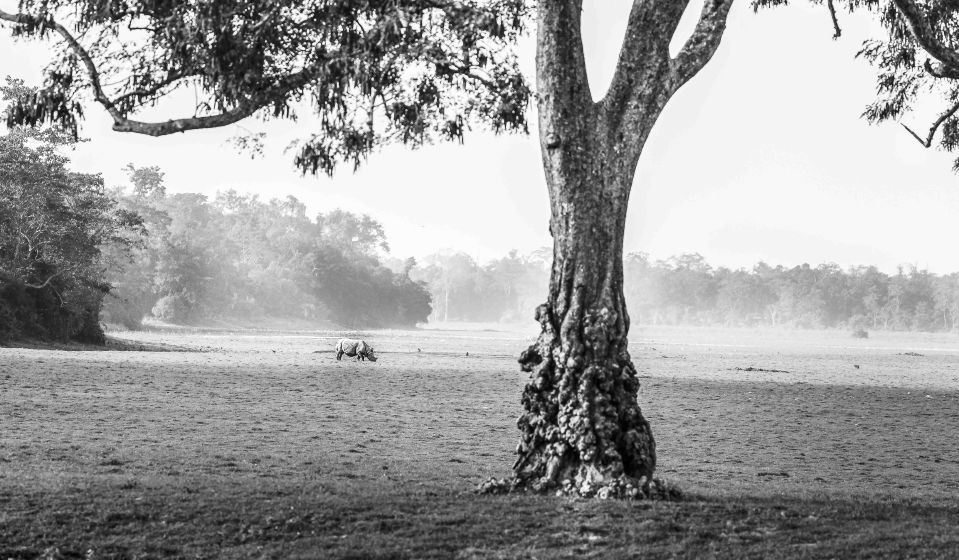 Kaziranga National park is home to over 80% of the world's one horned rhino population and it will definitely make you spell bound in its serenity. Saving a day from my Northeast circuit, I planned to touch upon Kaziranga while returning from Majuli. I had one day and I opted for morning elephant safari in Central Zone and evening jeep safari in Western Zone to taste both the flavors. Although excited about my first visit to the park, I was clueless about what to expect the next day. I packed my camera bag with sufficient battery backup, memory card and zoom lenses. I made myself comfortable in the government lodge named Bonani , preferring it over the other jungle resorts; it was near central range. I woke up early morning when the sun overcame the darkness and we moved to the central park for elephant safari. It was a beautiful morning, a slight chill in the wind and the sky looked baby pink and blue at 5:30 am. Soon a herd of elephant arrived and we were asked to sit as a group of four people on each elephant. Crossing the tall grass we could see rhinos drinking water from what seemed to be a small tributary of a river. They were too far to be seen clearly with naked eyes. It seemed even the rhinos were eager to see us and we spotted at least two of them moving towards us while we moved to the water body. It is a pretty sight when you spot a rhino moving while it separates the tall grass of marsh land. Sitting on an elephant we had an advantage of having a clear top view. Soon there were these big, heavy animals all around us, eating the grass. The forest officer sitting beside me, explained the behavior of rhinos and it was quite predictable indeed. We spotted almost 6-7 rhinos and couldn't be happier about the sightings. The sun was quite high now and view was clearer. Before I could realize what a paradise it was, 45 minutes were over and the elephants started to move back to the gate.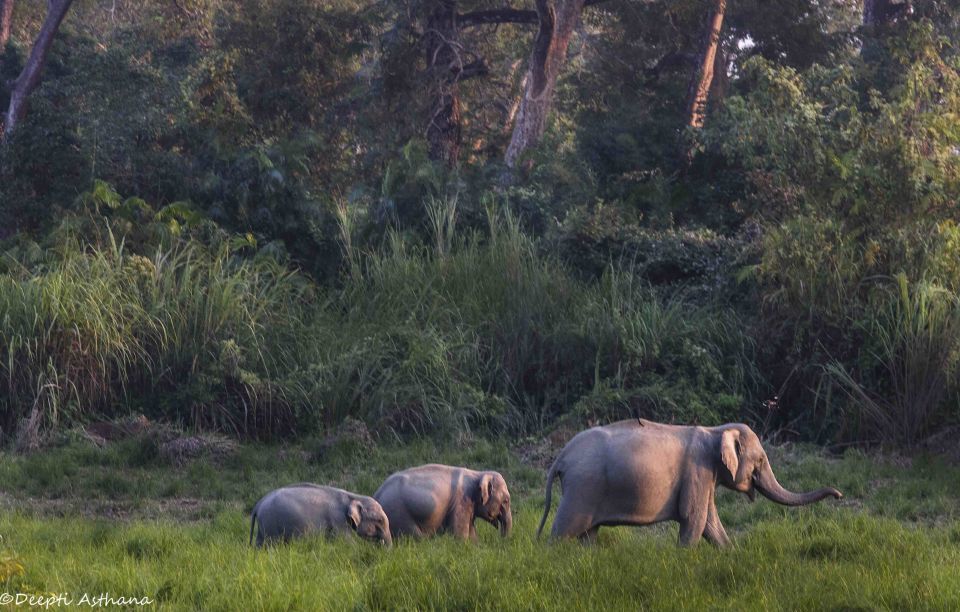 I had a great Assamese lunch in a nearby restaurant among the many situated on both sides of the national highway. Hoping to have more fulfilling experience and an extra time in the jeep safari, I took a power nap back in the lodge. My driver set the expectations about eastern zone explaining- It is a bit farther and not many people go there, so expect an exclusive time being in the jungle rather than a traffic jam. And he also advised me to keep ticket from the morning safari to save some money and I had to buy only the additional jeep safari charges. Each jeep is for 1500 and could be shared with four people or more. It was the best light of the day as we entered the jungle. Now this one felt like the real thing, driving along the lake, we spotted many m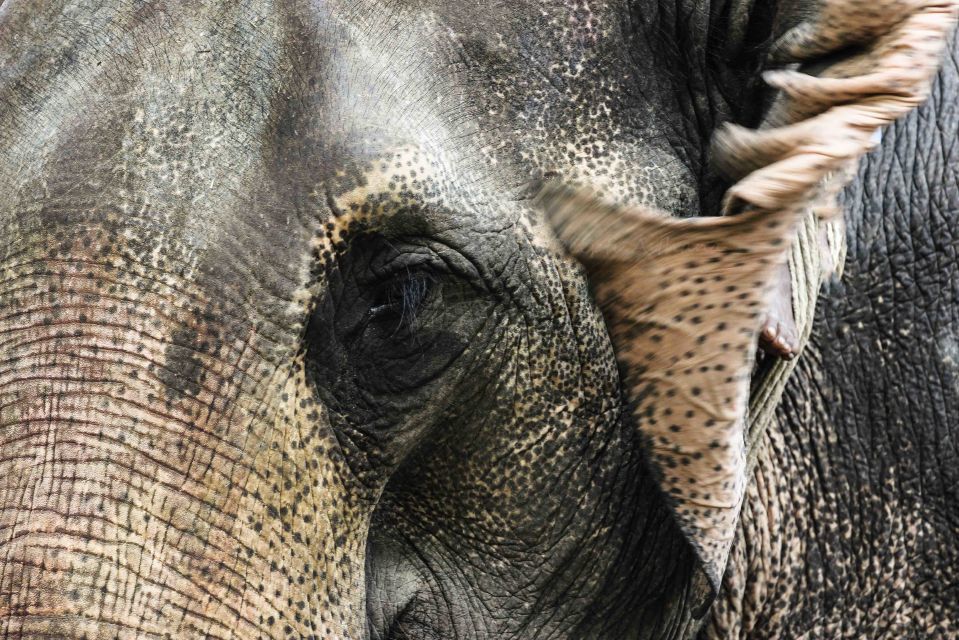 igratory birds. I am really bad with names; a few I could recall seeing are pelicans, red-crested pochards and northern shovellers. Suddenly we were stopped by forest authorities, alarming that a herd of elephant was crossing the road. It was such an amazing sight to see them crossing while they sniffed out the water and dust from the trunk.
At every few meters there were surprises waiting for us, a baby elephant with its parents having a stroll while the birds picked up food from their bodies. A group of sāmbhar deer gazed at us from far and made quick moves alongside us responding to our movements. We also spotted bison, swamp deer (barasingha), bear, langur, otter, and jackal. The sun was setting down and it all turned into a magical fairy land . Sad that everyone needs to vacate the place by sunset and I so wish I could stay back and listen to all the musical symphonies of jungle which were constantly becoming louder and clearer now. The jeep started to return filling the way with the golden dust. Waving good bye to the safari, I promised to be back here soon. But for now these two visits were soul-soothing and enriching. I am not quite a wildlife photographer but I clicked a few snapshots to give you a glimpse of this unearthly world.
Important info-
Kaziranga National Park has 3 entry points for safaris- the Western Range, Central Range and Eastern Range. Each of them falls in a different district. While animal sightings are the norm at the Western and Central ranges, the Eastern range is mostly visited by bird enthusiasts. It's one of the most famous national parks and a photographer's paradise indeed. The park is open to visitors from October to April /May. Situated in the middle of the Brahmaputra valley, it is one of the wettest places in India and river waters flood the grasslands during monsoons forcing the animals to move to the mountains for the rest of the year .The park remains closed during this time. It offers a wide assortment of accommodations, as well as alternative accommodations like homestays which cost anything between 800-1500/- only. I stayed at the government lodge which had old British architecture with a huge garden. The place was pretty clean and spacious and the room cost was 800/- . Just do not expect room service.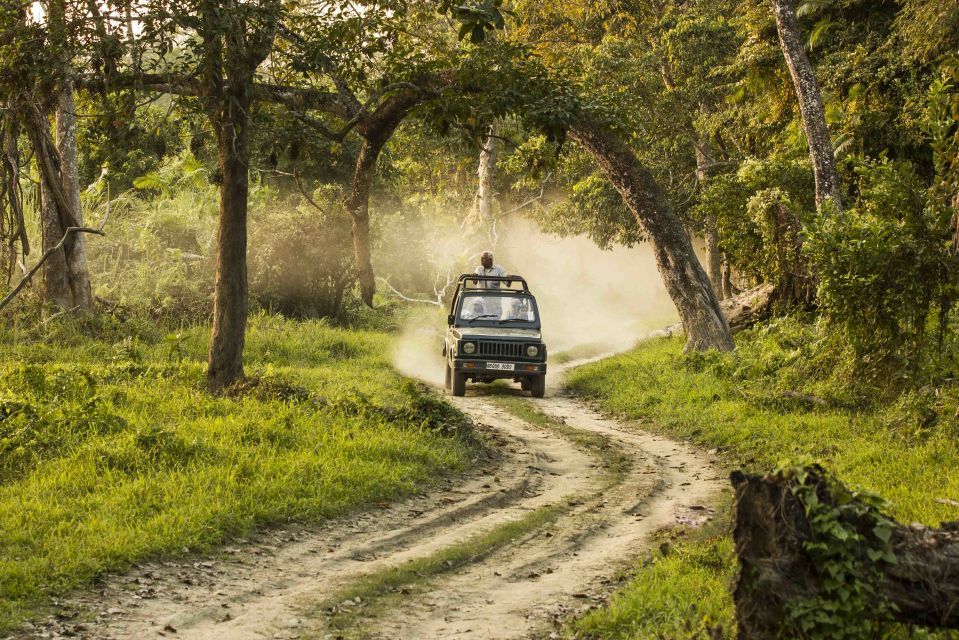 How to reach-
Reaching Kaziranga from Guwahati is pretty straight forward and the bus services are really good, costs around 300/-. It takes almost 5 hours or less to cover the distance of 250 kms. Jorhat is the nearest airport almost 90 kms away. Another option is to reach by train to the nearest station Furkating. I highly recommend this gem of a place to nature lovers and photographers.