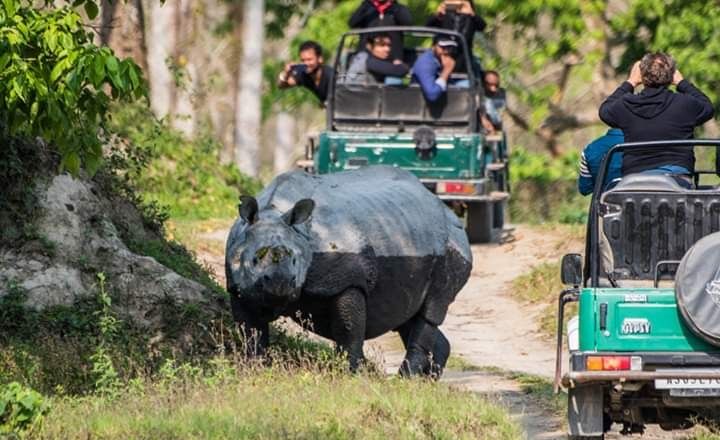 Tourists visiting Kaziranga National Park requires to hire a mode of transport to explore the jungle in depth. Four wheeler Jeep Safari Tours in Kaziranga is one such mode of transport that is helpful in exploring every nook and corner of the park. It is considered most feasible option if tourist wants to explore more area in less time. Another most thrilling option available is Elephant Safari. Wildlife enthusiasts are able to spot fauna species from a close distance with this option.
Kaziranga Jeep Safari Ranges and Designated Routes
Kohora (Central) Range
Mihimukh-Kathpora-Daphlang-Diffolu River Bank-Mona Beel-Karasing & back
Note: Elephant Safari is carried out in only Kohora or Central Range and Bagori (Western Range) while Jeep Safari is permissible in all four zones.
Kaziranga Jeep Safari Charges Detail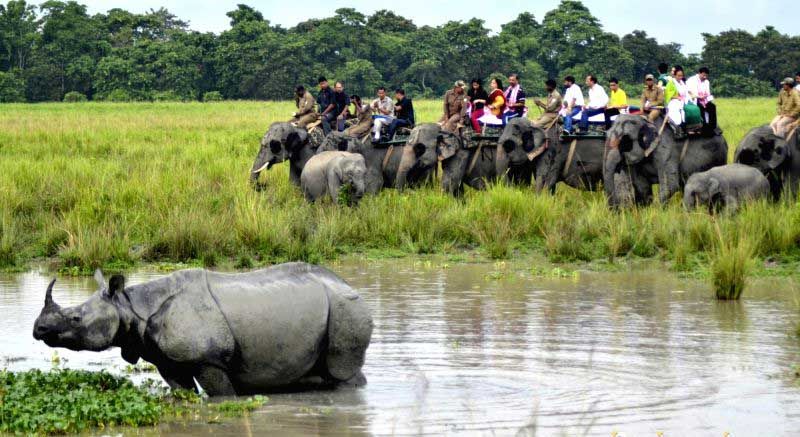 Kaziranga Elephant Safari Ride Charges Detail
Safari Zones in Kaziranga National Park
Kohora (Central) Range - The Central Zone in the Kaziranga National Park is one of the core areas of the park and most preferred zone for Jeep and Elephant ride. The probability of seeing Tiger, One-Horned-Rhinos, Wild buffalo and Swap Deer is high here.
Bagori (Western) Range - Bagori Ecotourism Range of the KNP is also considered the best zone for wildlife sighting. The zone has the magnificently beautiful landscape with an abundance of wildlife species and lush greenery.
Agaratoli (Eastern) Range - Eastern side of the Kaziranga National Park along the national highway is Agaratoli Range. One Jeep Safari ride is permissible here. It is noted zone for wildlife photographers.
Burapahar (Ghorakati) Range - Burapahar is located around 40 kms from Central Range. The entry gate of this zone is located in the village of Ghorakati on the National Highway. It is best known Zone for Jeep Ride only.
Important Note:
Safari Ride & Safari Zone is given as per subject to availability
Once the safari voucher is issued then amount is non-refundable
In case your safari is not booked due to reasons like technical error or non-availability of seat, we will refund the whole amount in your given bank account. The same would be communicated accordingly
Elephant Safari Zone is communicated a day before of your exact safari date
For elephant safari ride please make sure your arrival at the safari point at sharp time provided by safari management team as per govt. rules
Pick up facility is provided to the tourists staying around two kilometer from the safari entry gate