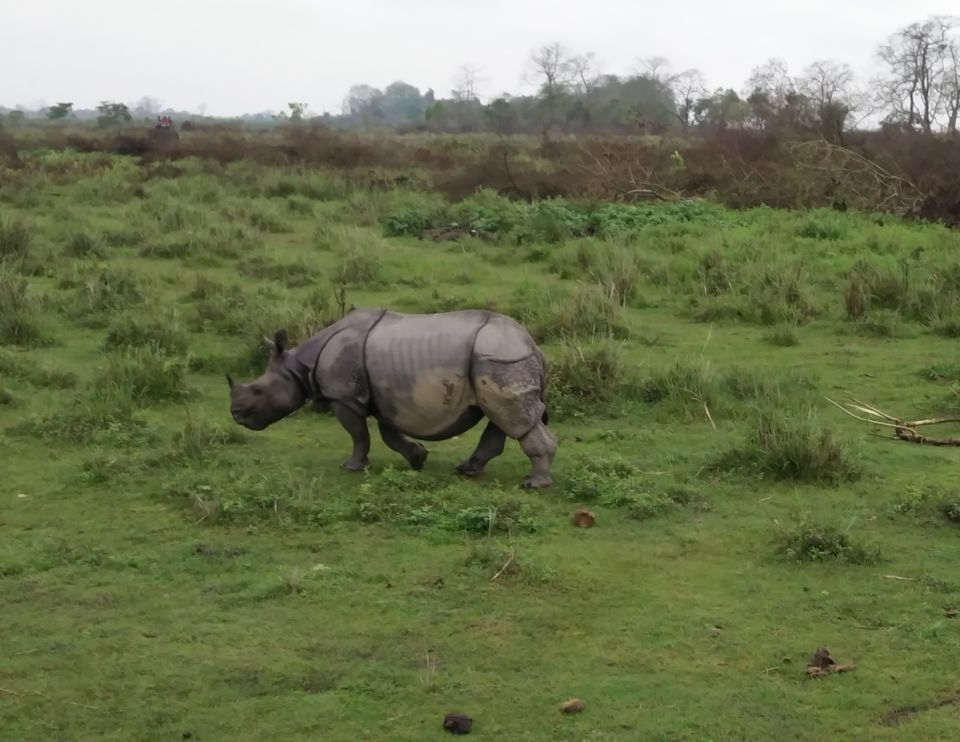 Kaziranga National Park in the North-Eastern state of Assam, is a world heritage site. All those who have thought Indian one-horned rhinoceros only existed in Jurassic-era, then a trip to Kaziranga is a must for them. One of the most sought after wildlife holiday destinations in India, Kaziranga National park's 430 square kilometer area sprinkled with elephant-grass meadows, swampy lagoons, and dense forests is home to more than 2200 Indian one-horned rhinoceros, approximately 2/3rd of their total world population.
Kaziranga National Park is located at a place named Kanchanjuri which is at a distance of 193 km from Guwahati. It takes about 4 hours to reach Kaziranga so it is better to start early in morning by 8 AM. On the way, you will cross the capital city of Dispur, Nagaon and finally reach your destination. The park is also the breeding ground of elephants, wild water buffalo, and swamp deer. Over the time, the tiger population has also increased in Kaziranga, and that's the reason why Kaziranga was declared as Tiger Reserve in 2006.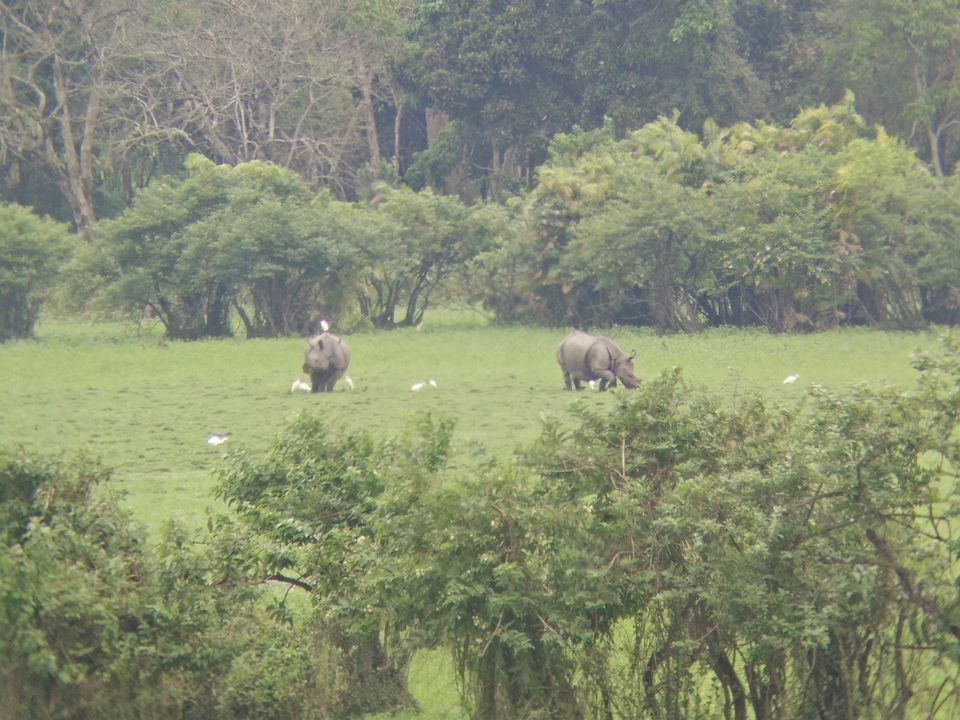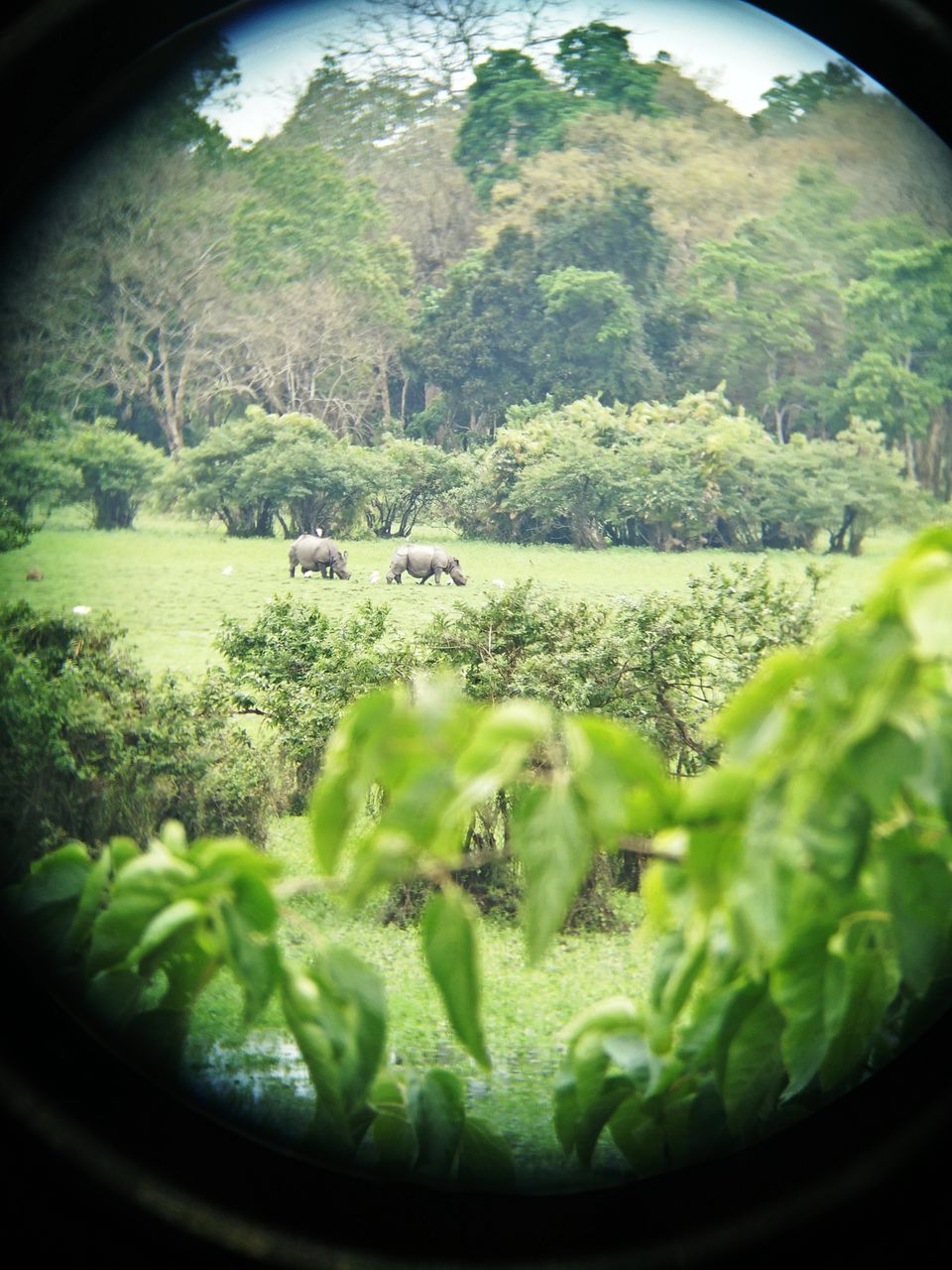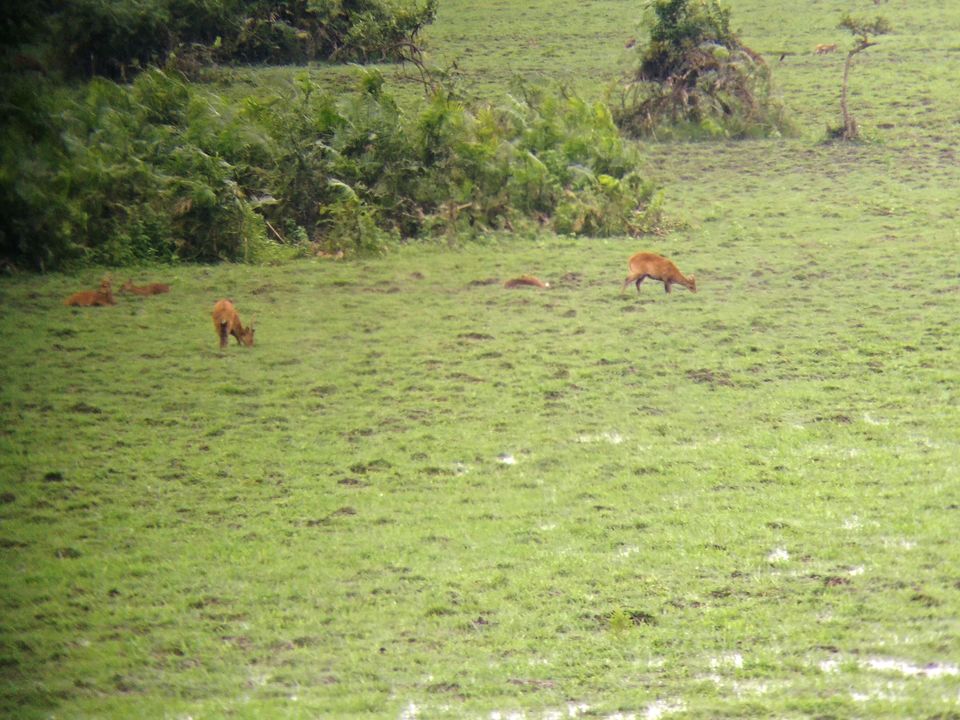 On your way, you will see a few points where you get binoculars on rent for just Rs. 10 /- each get a glance of these huge mammals from a distance. You can also spot a few deer grazing in the distant grasses. This will increase your excitement and make you eager to reach your hotel. Checkin to your cottages and get ready for the evening Jeep Safari after a quick lunch.
Hotel Recommendation: Dhanashree Resort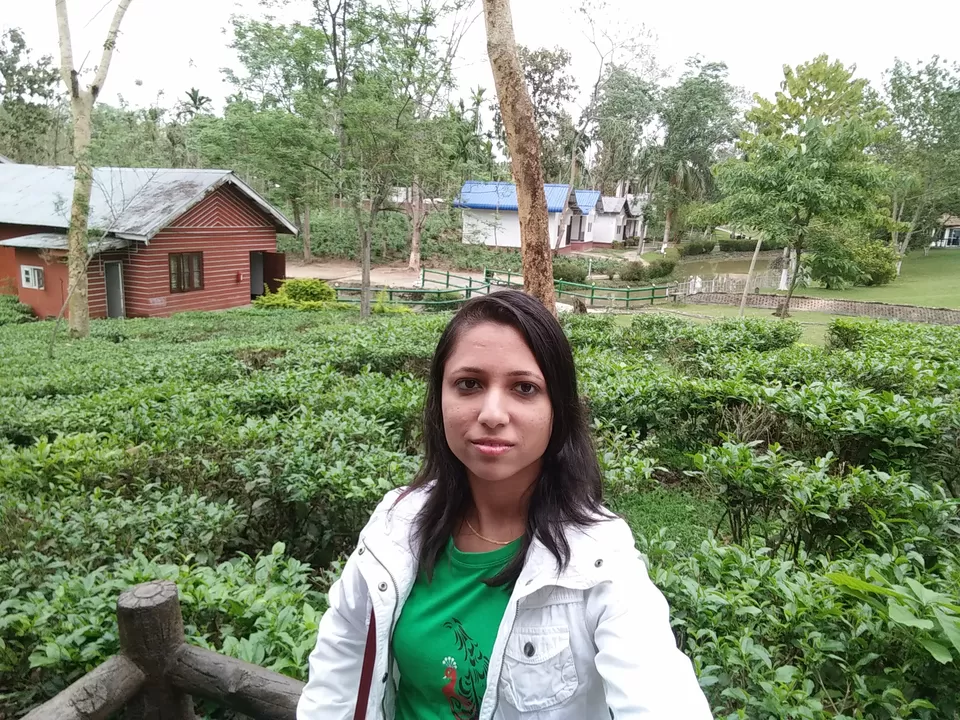 The Jeep Safari takes you to all the four zones of the park which are the Bagori Zone, Kohora Zone, Agaratoli Zone and Burapahar Zone. As you drive deep in the jungle, you will see small herds of deer, elephants bathing in the small ponds and hear the beautiful birds chirping. Beware not to step down from your jeep other than the designated points as the beasts might just be hiding in the bushes ready to feast on you :P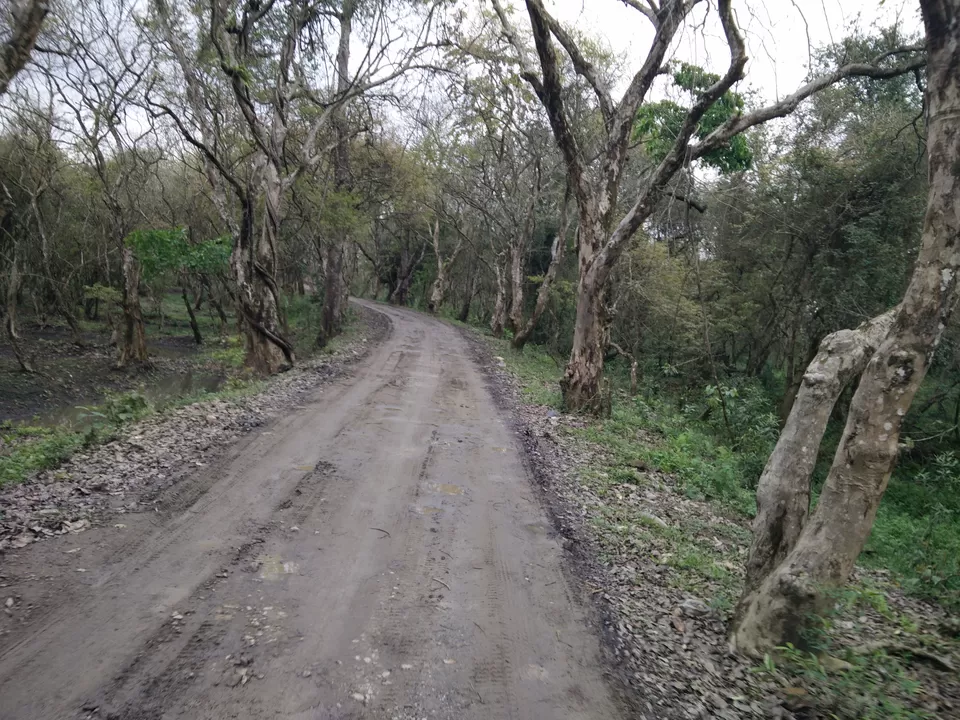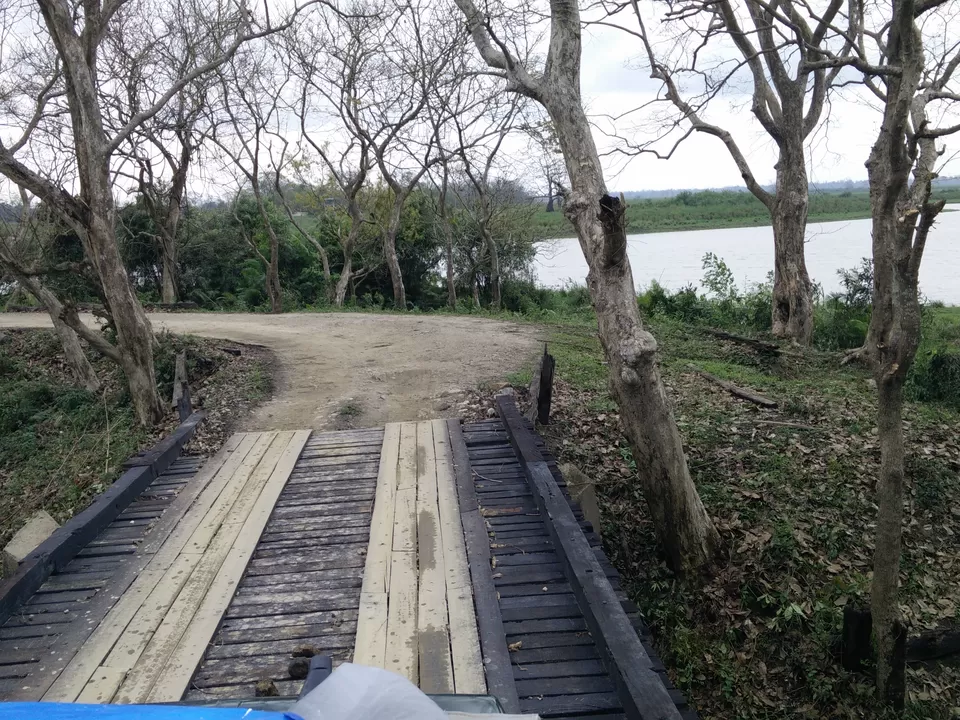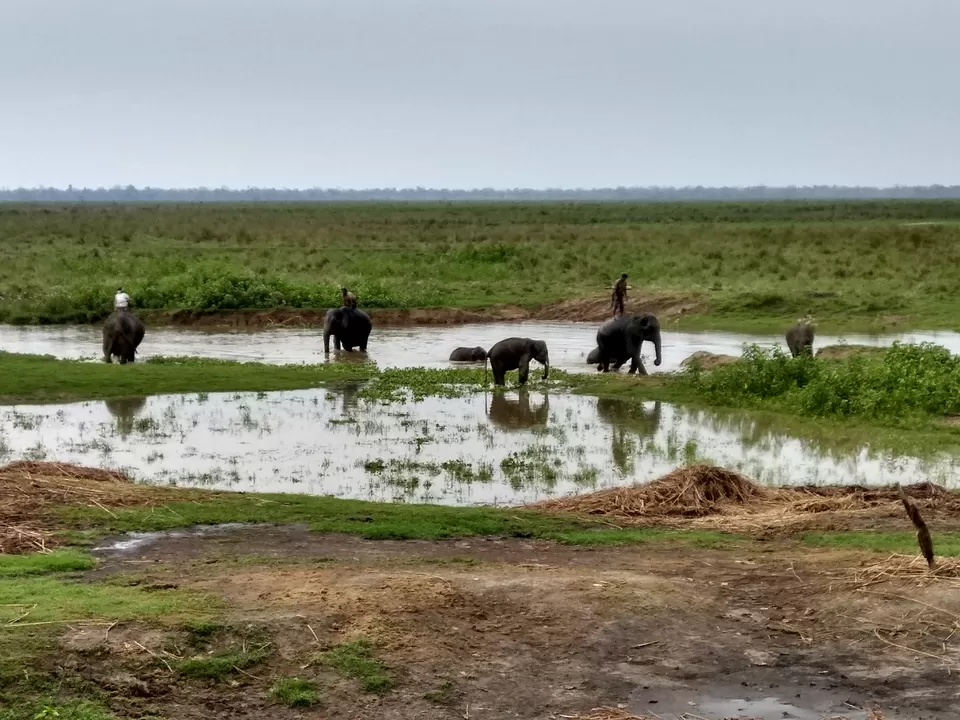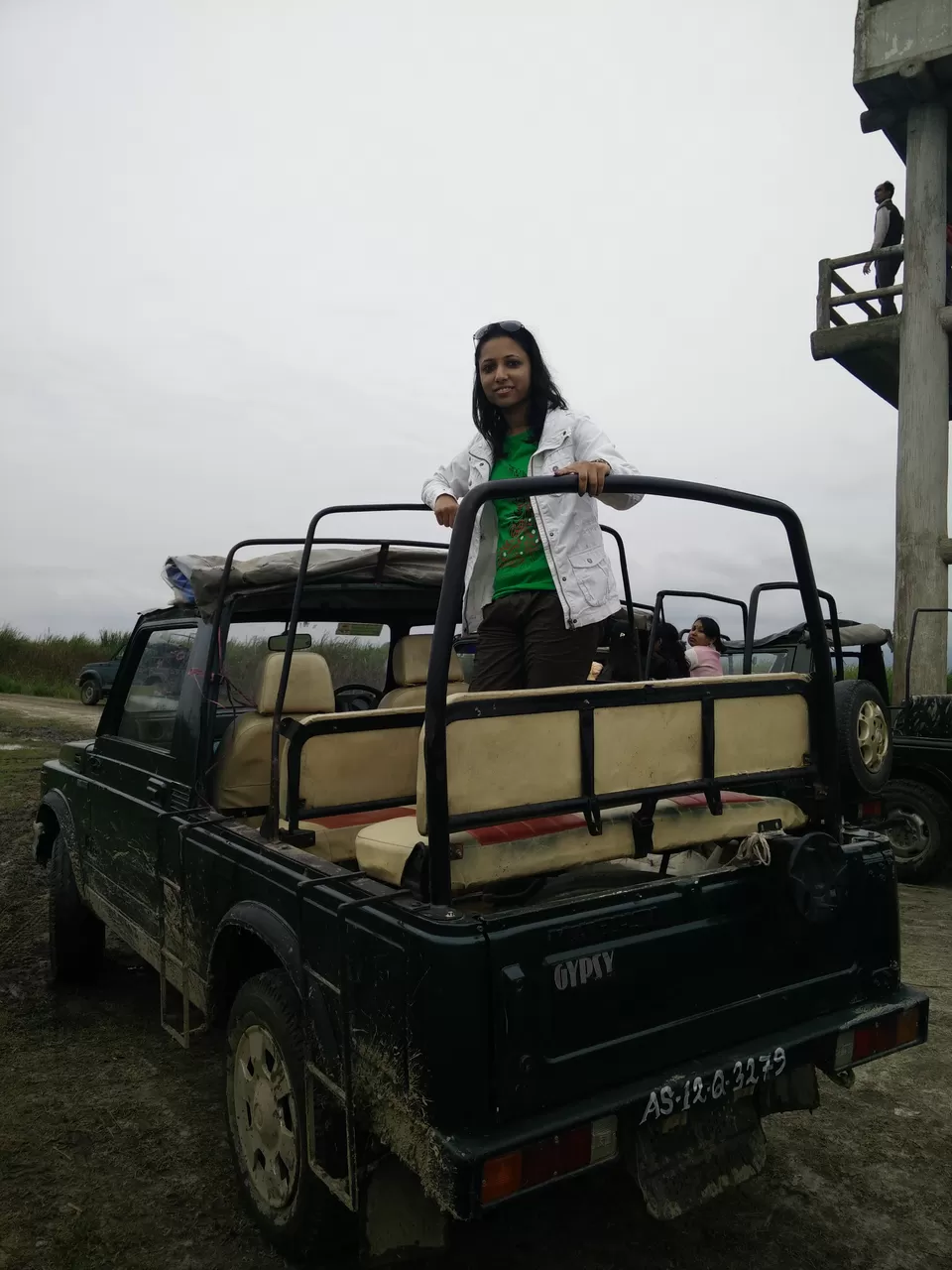 The Jeep Safari takes about 2.5 - 3 hours with tall wooden watch towers built at various towers. Say Hello to the forest dwellers and enjoy the ride. While returning, you can shop for wooden miniatures of rhino, deep, hornbill, etc.
Jeep Safari Cost: Rs. 3600/- per Jeep (5-6 people)
Online booking site: http://www.kaziranganationalpark-india.com/online-kaziranga-safari-booking.html
Return back from a memorable ride and refresh yourself with some much needed snacks. In the evening, get ready to view and move your feet to the soulful Assamese folk songs and Bihu Dance at the Kaziranga Sandhya - Euphoric Cultural Extravaganza of Assam programme. There are graceful dancers performing to the melodious songs sung by local singers. After about 45 minutes, you can also join in the performers and enjoy yourself.
Cultural Programme Cost: Rs. 100/- per head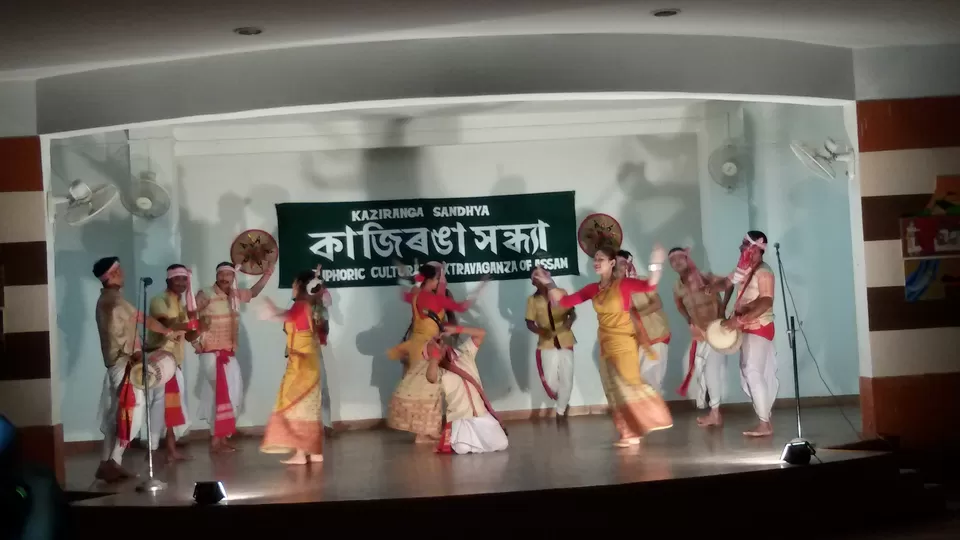 After an adventurous day, return to the hotel and rest for the night. The next day starts with a thrilling Elephant Safari through the Kohora Zone and Bagori Zone in the National Park. Reach the designated point at 5 AM in the wee hours of the morning after a short drive. You'll see a herd of Elephants waiting to mount you on their back and take you on an early morning tour.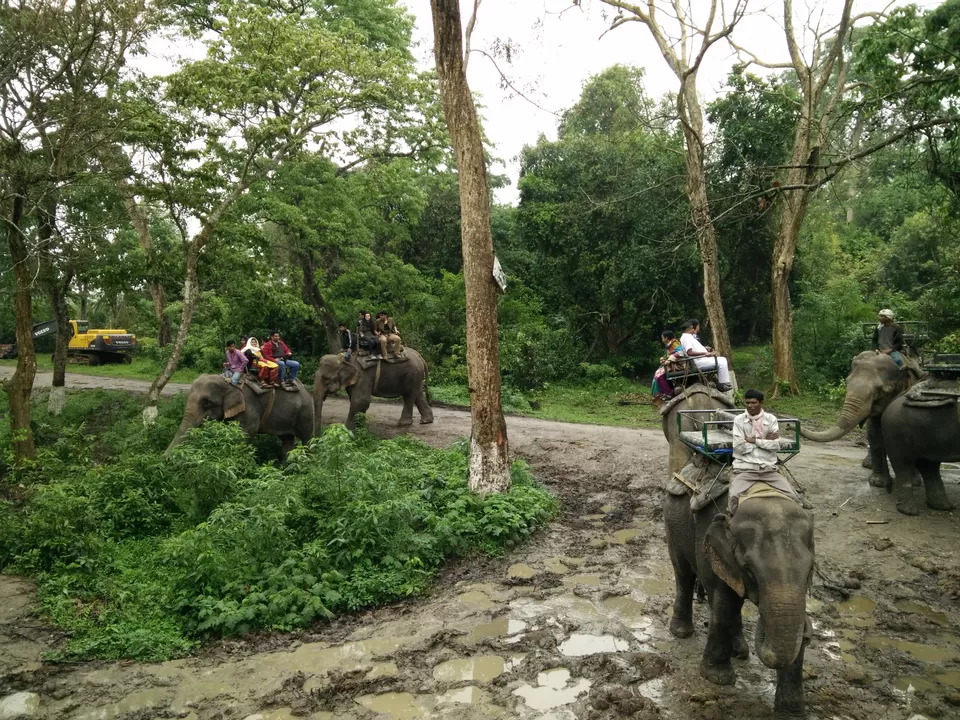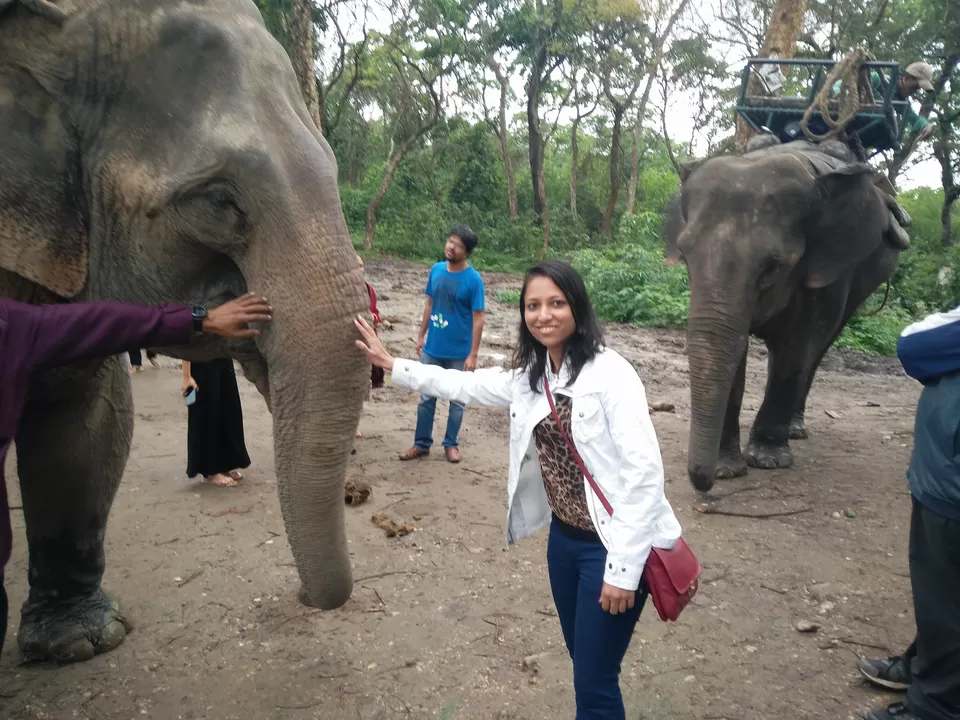 Get on to your favorite one and set off to an offbeat ride in the deep jungle. These elephants are quite naughty and are fond of green leaves and bushes and try to halt at every opportunity to eat some. As you move towards the interiors, you can see more Rhinos and deer running around. Stop for a while and watch them move freely on their homeland. If you are lucky enough, you will even spot a tiger, but it is a very rare sight. Chat with the Mahout (elephant trainer) during the ride to understand the insights of Kaziranga and its dwellers. After almost an hour of exhilarating ride, return back and say goodbye to the lovely creatures here.
Elephant Safari Cost: Rs. 1500/- per head (max. 4 adults can ride on one elephant), online booking available
Get energized and start on your return journey even if your heart doesn't want to leave the serenity. Make sure you click a few memories in the alluring surroundings before you leave.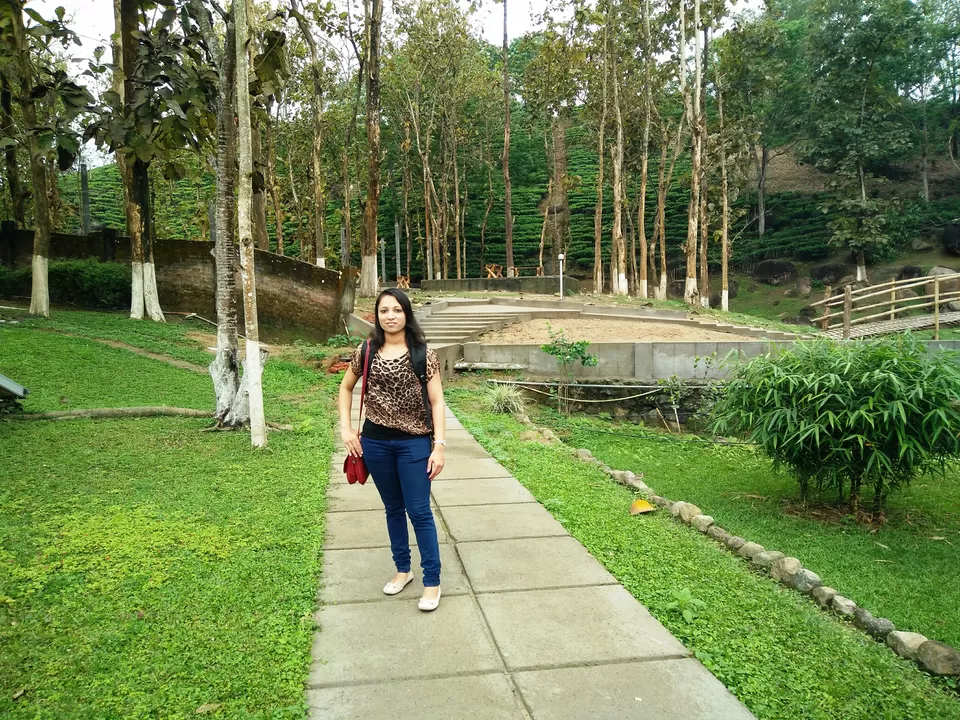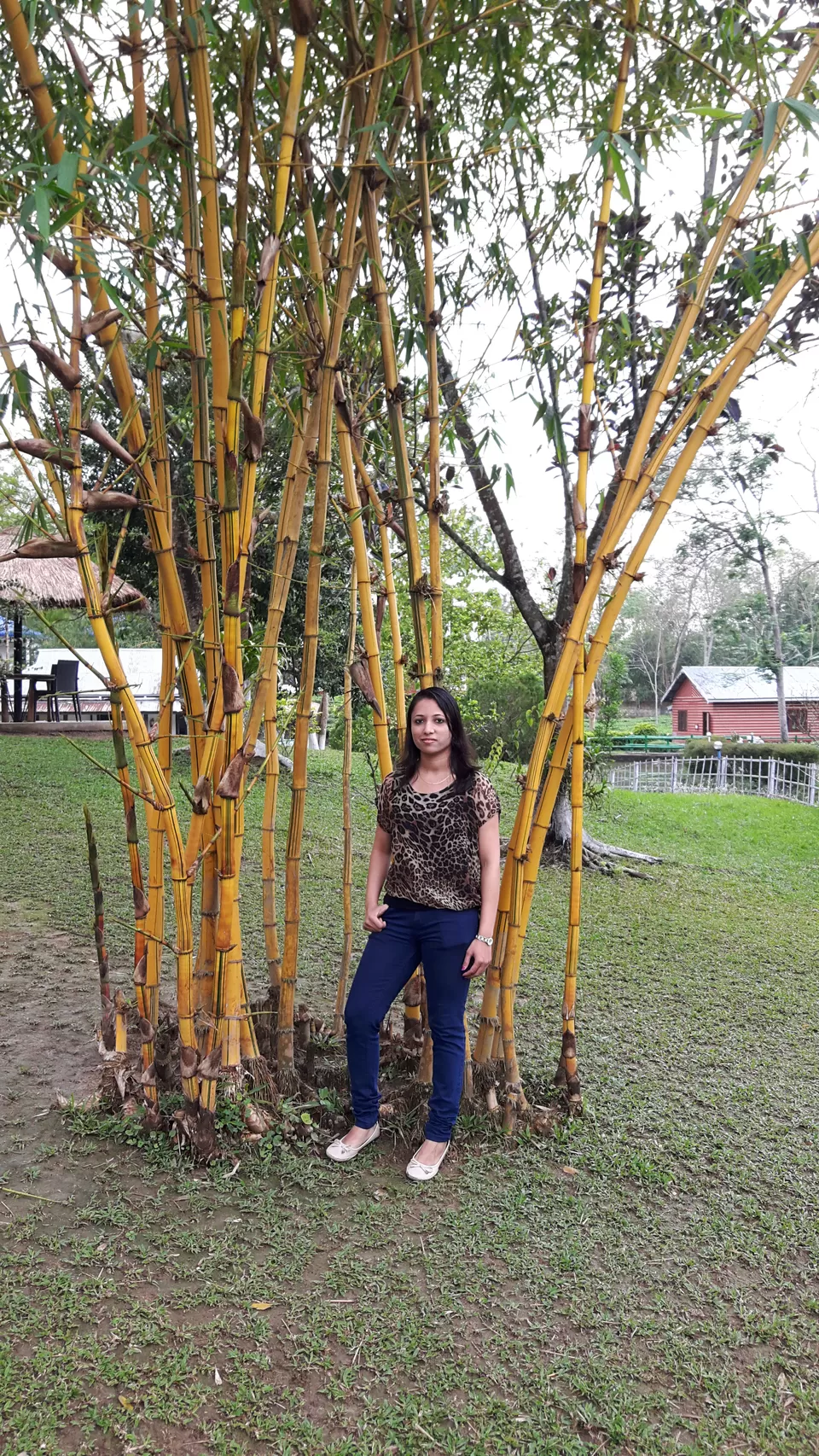 Stop by one of the Famous Tea Gardens and view the lush green tea plantation on your way back to Guwahati. This will give you the real feel of Assam.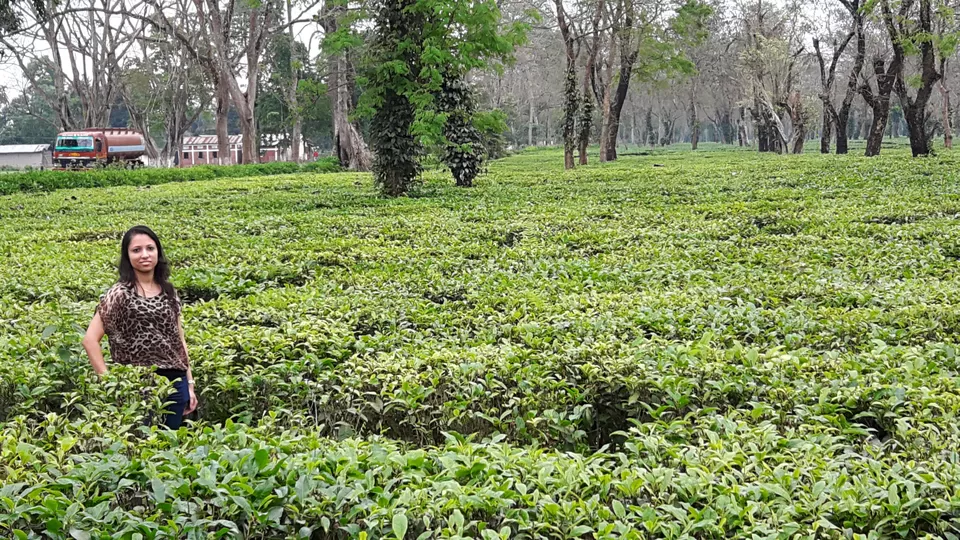 This two day trip to the Kaziranga National Park will bring you very close to nature. It has been rightly said:
"Kaziranga excites the senses, arrests the soul. It beckons a visit"
Frequent Searches Leading To This Page:-
kaziranga national park in assam india, about kaziranga national park in assam, kaziranga national park distance from guwahati airport, the kaziranga national park is located here in assam, kaziranga national park assam is famous for