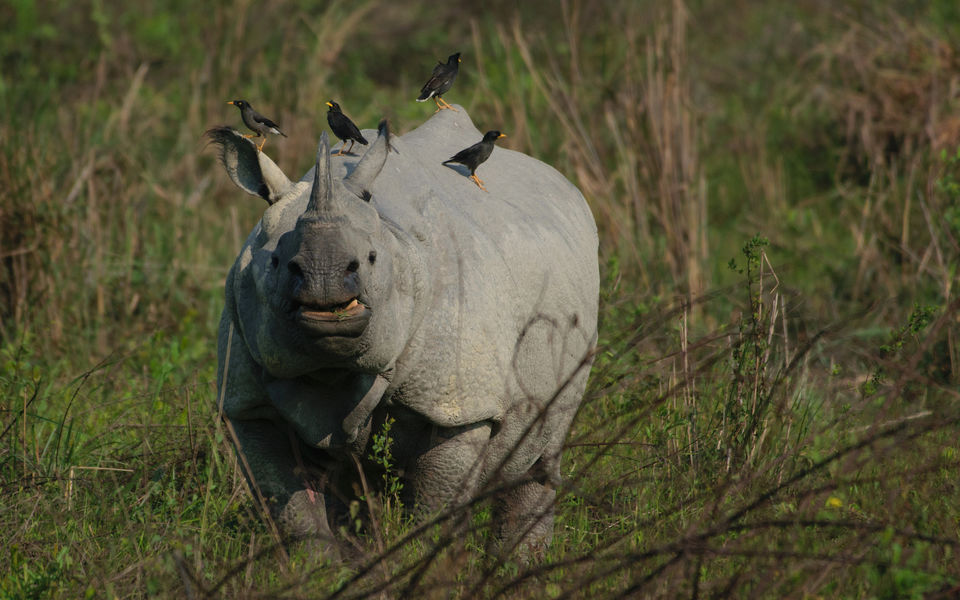 The banter between the birds is musical. The rhythmic sway of the elephant's gentle walk, through the dense grasslands, while you sit tight on his back, allows you to explore this gorgeous forest in Assam and experience a breathtaking sunrise and the warm glow it casts on the forest. It is when you are almost approaching a gleaming water body that the grass parts just a little bit to offer you a glimpse of grey. The first few seconds of spotting the elusive one-horned rhinoceros, are an ecstatic blur. Remember the look on the faces of the team that first arrived in Steven Spielberg's Jurrasic Park? The feeling is somewhat similar. That's when you realise why Kaziranga is one of the most sought after national parks in India.
Conservation call
Located at the edge of the Eastern Himalayan biodiversity hotspots, Golaghat and Nagaon district, Kaziranga is spread over a 430 square kilometer area that consists of elephant-grass meadows, swampy lagoons, and dense forests. It is home to one of the most protected animals in the world and is also one of the most successful conservation stories you'll come across. There are more than 2200 Indian one-horned rhinoceros (approximately 2/3rd of their total world population) in this park. Over time, the tiger population has also increased in Kaziranga and it was declared a Tiger Reserve in 2006. The most serious threat to rhinos still comes from poachers, which is why Kaziranga has nearly 600 guards posted on the field, operating out of 130 camps.
The park is also home to significant populations of other threatened species including wild elephants; Asiatic wild water buffalo (the largest remaining population anywhere), hog deer; barasinghs, swamp deer, elk-like sambars and hundreds of wild hogs. It is also an important area for migratory birds like lesser white-fronted goose, ferruginous duck, Baer's pochard duck and lesser adjutant, greater adjutant, black-necked stork, and Asian Openbill stork, that specially migrate from Central Asia during the winter season.
Due to the difference in altitude between the eastern and western areas of the park, you can find alluvial inundated grasslands, alluvial savanna woodlands, tropical moist mixed deciduous forests, and tropical semi-evergreen forests. Kumbhi, Indian gooseberry, the cotton tree, and elephant Apple are among the famous trees that can be seen in the park. A variety of aquatic flora can be seen in the lakes, ponds, and along the Bramhaputra's shores.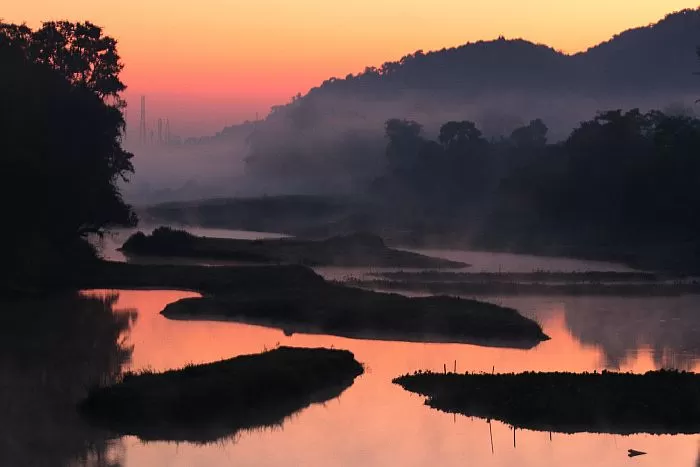 The back story
Formed in 1908 on the recommendation of Mary Curzon, the park was declared as a World Heritage Site by UNESCO, in the year 1985. It is said when Mary Curzon, the wife of the then Viceroy of India, Lord Curzon of Kedleston, visited the park to see Indian one-horned rhinoceros, she wasn't able to spot one. She then persuaded her husband to take urgent measures to protect the dwindling species which he did by initiating planning for their protection. The Kaziranga Proposed Reserve Forest was then finally created with an area of 232 km2 (90 sq mi) in 1905.
Safaris
The park is split into four areas; each with its unique topography and characteristics. This gorgeous forest can be experienced in various ways. The Kaziranga Park authorities organize jeep and elephant safaris at different times of the day.
There are jeep safaris at 8 am 10 am, 2 pm and 4 pm. These safaris usually begin from Mihimukh in Central Range at Kohora, Bagori in Western Range at Bagori, Agaratoli in Eastern Range at Agaratoli, Ghorakati in Burapahar Range at Ghorakhati.
You can sign up for an elephant safari at 5:30 am and 6:30 pm. The timings in summer and winter may differ slightly, so do confirm this at the time of booking. The elephant safaris come highly recommended as the experience is quite surreal and allows you more intimate access to the park in all it's glory. The elephant ride would cost you around ₹900 per head, while the jeep safaris at priced at ₹2500 per vehicle. Safaris can be booked at ticket counters of respective forest gates (eastern, central and western). There are limited seats for the elephant safari. Tickets for this are booked the previous day. You can also request your hotel to arrange them.
When To Go
The Kaziranga National Park remains closed from June to September, every year. The region receives heavy rain during this time (approximately 2,220 millimeters/ 87 inches). It often witnesses the flooding of the Brahmaputra river. It's summer in April and May and the climate remains dry and windy. It's easy to spot animals around the water bodies, at this time. November to February is the best time to visit the park as the climate is mild and dry. Chances of spotting rhinos are more in winter as the grass burns off and the background becomes clearer.
Getting there:
By air: There are no direct flights or trains or buses between New Delhi to Kaziranga.The convenient and fastest way to reach from New Delhi to Kaziranga is to take a flight from New Delhi to Guwahati then hire a cab from Guwahati to Kaziranga.
By train: There is no direct train between New Delhi and Kaziranga. You can take a flight from New Delhi to Guwahati then take Rjpb Ntsk Exp from Guwahati to Hojai then take a taxi from Hojai to Kaziranga
By road: There are buses to Kaziranga from Guwahati (217 KM, ₹500), Jorhat (96 KM, ₹70), Nawgaon, Dibrugarh, Tezpur (75 KM, ₹50) or Tinsukia. Get down at Kohora, which is nearly the central part of the park on Guwahati-Jorhat route, it would be around 6 hours in bus. If visiting Kaziranga from Arunachal Pradesh, Tezpur is the best destination from which to catch a bus towards Kaziranga. Bus fare varies between private services and Government service buses and are usually comfortable. Buses are also preferred to avoid any unwanted disturbances in the journey as they are considered safer.
Accommodation