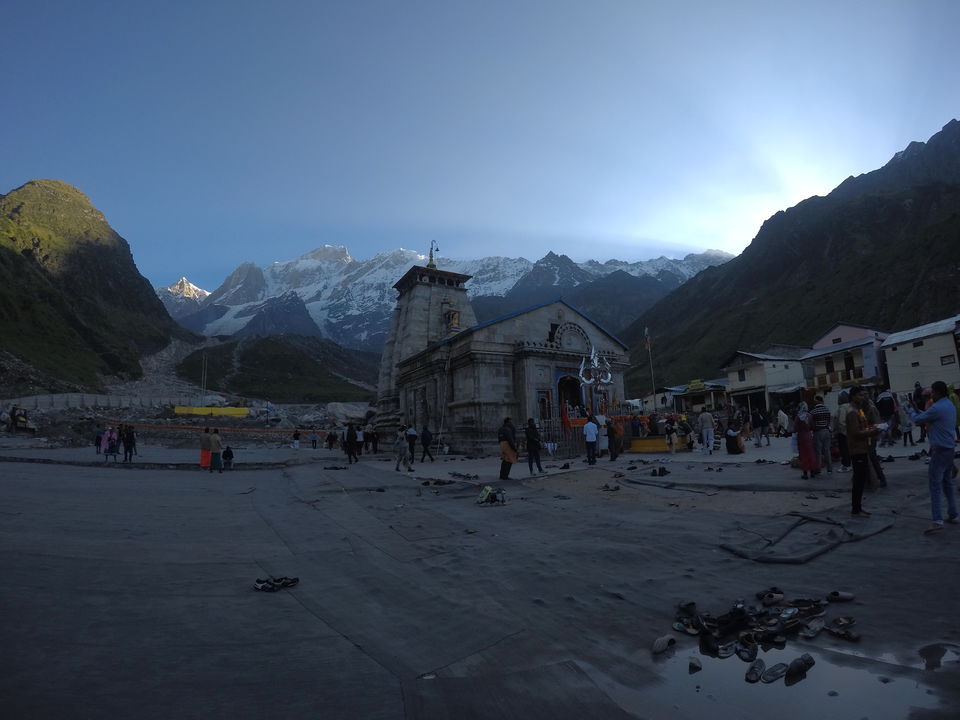 Before I start, let me begin by myself that I am not a particularly religious type of person Though I have always been intrigued by Spirituality and would consider myself more as a spiritual seeker rather than as a religious person
Last month I started my journey from Delhi to Char Dham's of Uttarakhand on my motorcycle. The Journey was not only liberating for me but I experienced that all the Char Dham's had a different aura with them which was refreshing for me.
I want to share my experiences when I reached the Kedarnath Temple. The journey included an 18km trek which took me around 7-8 hours to complete. I managed to reach around 7:30 PM, precisely before the Aarti was to begin soon everyone started chanting, the whole temple was decorated with lights with mighty Snow Capped Himalaya's in the background which looked mystifying.
It was raining while I was trekking and wearing only a t-shirt meant that I was totally drenched when I reached Kedarnath, As, I moved higher in altitude towards Kedarnath with increase in altitude along with thunderstorms the temperature soon dropped to 5° centigrade. But somehow the willingness and excitement to see Kedarnath Temple kept me going and when I actually saw the temple all my pain and cold simply went away.
The Place itself had curative powers of its own!
The temple looked not only attractive but had a distinctive aura of its own which made it difficult for me to stop gazing at it. I wanted to simply stand in front of it for days to come, trying to absorb its positive energy. My mind was filled with multiple questions regarding who actually constructed this temple in middle of nowhere at the footsteps of Himalayas and perhaps why? For the first time in my life I was not unsettled with the questions coming in my head. I sat at the backside of the Temple in Meditative Posture trying to absorb as much as positive vibes from it.
Later my eyes stopped on the giant rock boulder on the backside of the temple which came along with gushing water during the 2013 Flash Floods and diverted the flow preventing any major damage to the temple. I don't know what it was but I felt something unique about both the temple and about the whole place. I had never felt this type of energy in any other place and temple in my entire life.
At last, It doesn't matter what religion you follow, if you are a spiritual seeker then do visit this place atleast once in your lifetime.
To feel the energy, To know your ability and To find your path to become a hero of your own life.
I realised that all of us are Mahadevs, All of us have Gods within us.
For his most magnificent temple, finest mosque and greatest church exist within our souls.
So first Love yourself, Respect yourself and believe in yourself!!
The universe bows down to Lord Shiva, I bow to Lord Shiva.