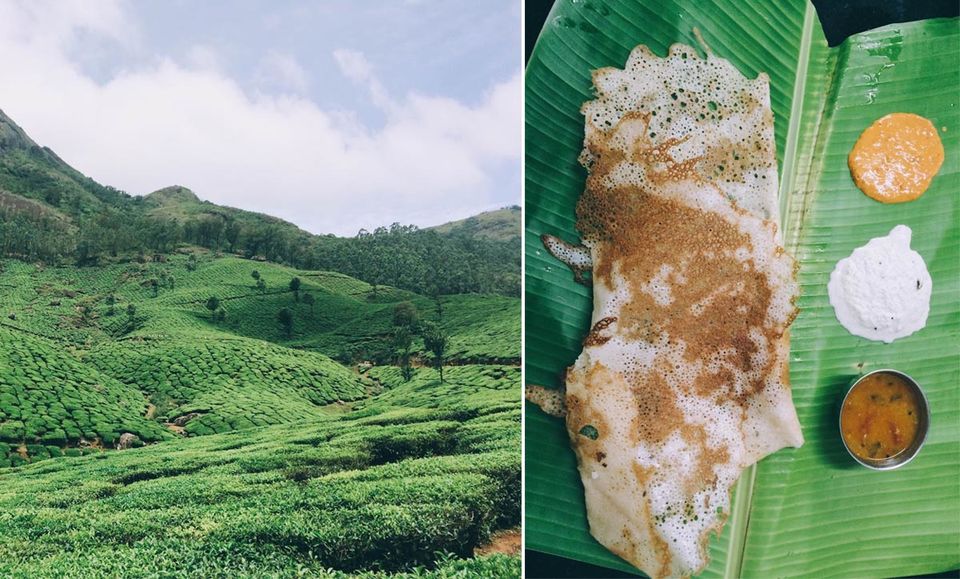 The lush-green town of Munnar is characterised by its rolling hills and mystical weather. But few people know that this beautiful hamlet has so much more to offer! During my recent visit, I got a chance to interact with the locals and try authentic food at their house. And it was one of the sweetest memories from my trip to Kerala.
I came to Munnar from Kochi, because of which my expectations for the food here weren't too high. But boy was I wrong! After a long and tiring journey, all we wanted was a comforting meal. We ended up going to a small dhaba-like restaurant on the recommendation of our hotel receptionist where we ordered prawn curry, rice, and a veg thali (for one of my friends). The food was simple, wholesome and delicious, but the highlight of our meal was a local family we met at the restaurant – a woman who was there for lunch with her husband and daughter.
She saw our enthusiasm for food and sparked a conversation. After we chatted for a bit, she invited us to her house for breakfast the next day. The sheer love and warmth she exuded was overwhelming and we couldn't refuse.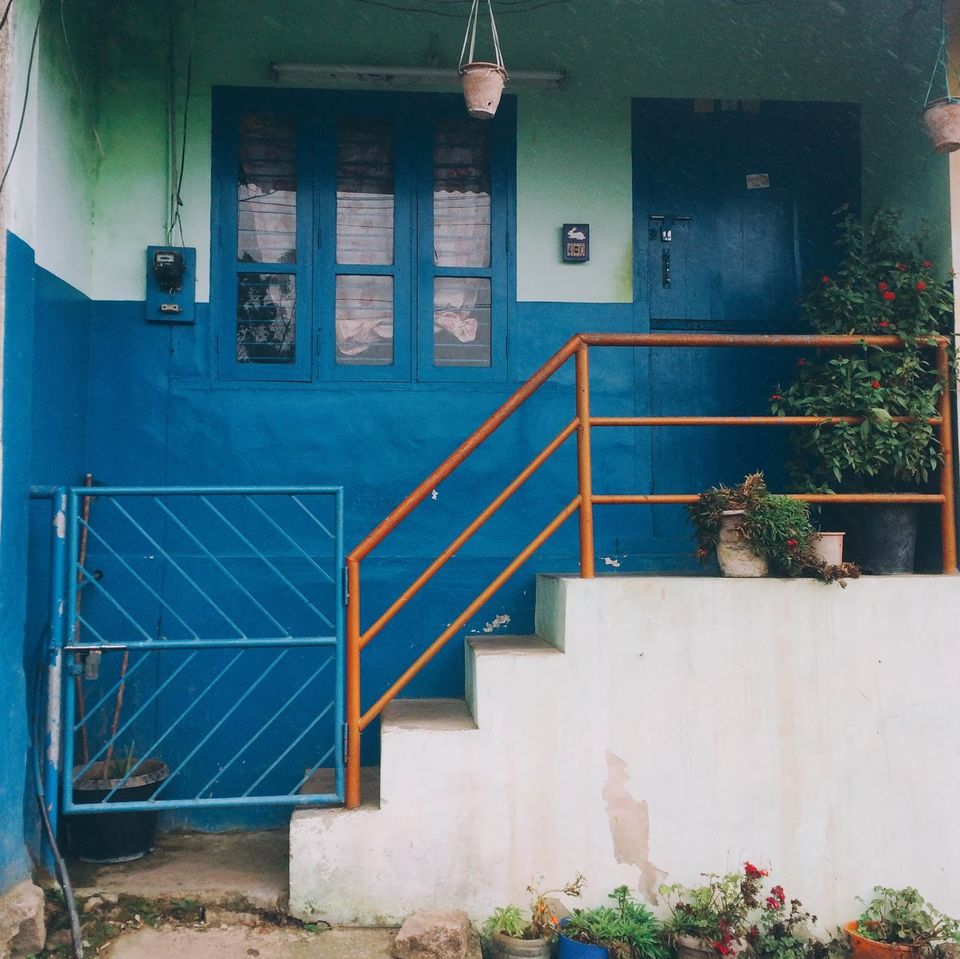 That evening, we went out to the Munnar Market, a narrow street lined with colourful shops, mostly frequented by locals. We were just planning to have a casual look around, mostly to get an insight into the life here, but to our surprise we ended up shopping quite a bit. All three of us bought spices and I also purchased a set of essential perfume oils. But the most exciting part of this outing was the discovery of the local chocolate-making industry in Munnar. I naturally bought about a kilo of handmade almond chocolates to take back home.
It was quite late by the time we got back to the resort after dinner. We immediately went to bed because we didn't want to be late for our exciting breakfast the next day.
In the morning, we set out from the hotel, Alka's address in hand. Her house was located just outside the main town on the side of a hill. As we arrived, we were welcomed by a huge kitchen garden and I was mesmerised. My friends had to pull me to take me inside. Alka was waiting for us with a kokum drink in her traditional sari.
She asked us to get comfortable while she set the table. Meanwhile, her daughter took us outside to show us the garden. She told us about the family's initiative to grow and use their own produce for their meals.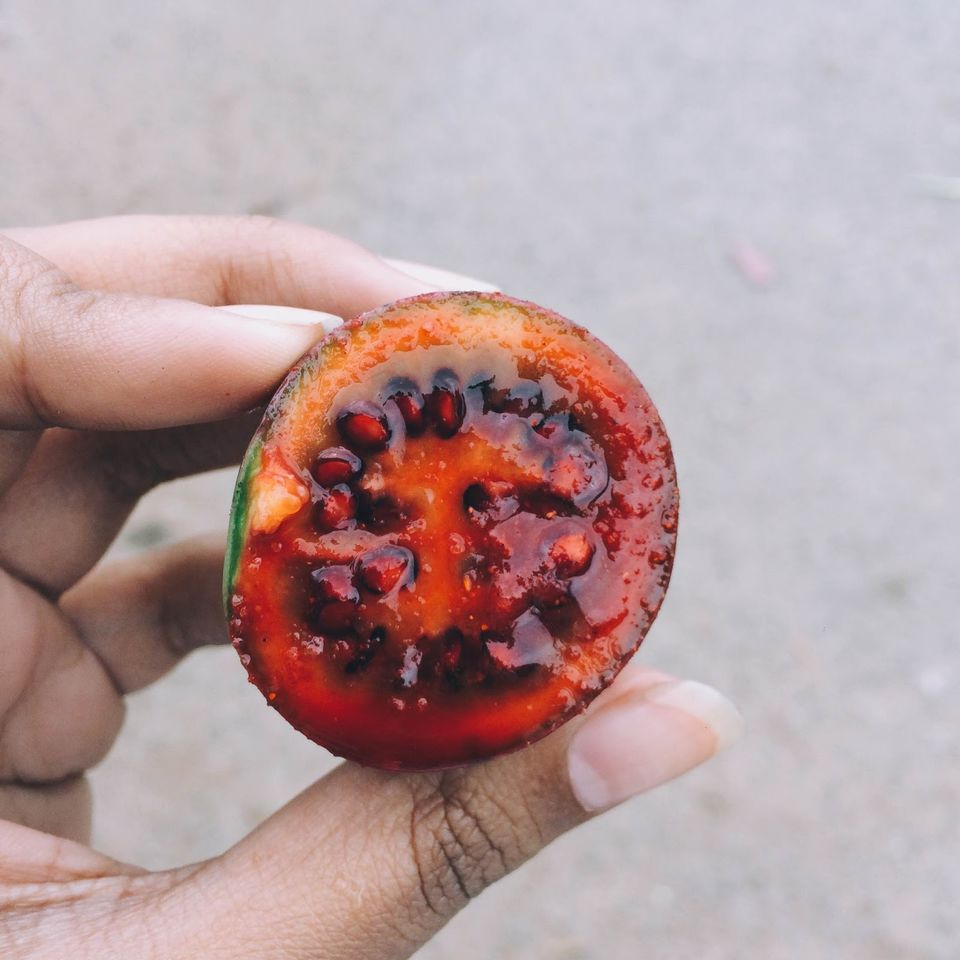 During our exploration we came across a unique vegetable – the blood tomatoes. Small and orange from the outside, they are red on the inside and extremely sour in taste. And they are apparently excellent for digestion. Being the curious person that I am, I took a bite of the fruit against the little girl's advice. My mouth went numb with the sourness. My friends couldn't help but laugh at my helplessness as I waited for the sensation to subside.
Thankfully, right then, Alka called us inside. Breakfast was ready! We were welcomed by heavenly aromas and the sight of a fully spread-out table. There was sambar, vegetable stew, and a myriad of chutneys kept next to dosas and appams. Each of us even got a fresh banana leaf from the kitchen garden to eat on. By this point I was already overwhelmed with this family's way of life, but as soon as I tasted the food I was transported to heaven.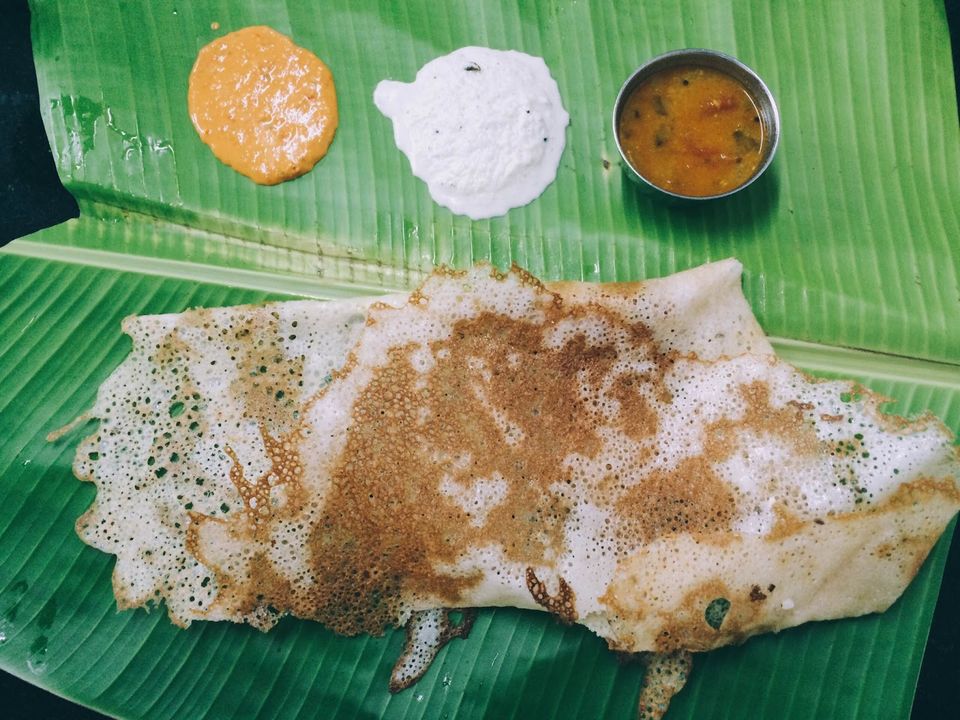 Now, I love South Indian food and have had my fair share of dishes over the years, but nothing comes close to the breakfast I had there. The dosas were crispy but melting in my mouth, the stew was so complex in flavours but so comforting at the same time, and I lost count of the number of appams I ate.
As we wrapped up our breakfast, it started raining again and that was our cue to get on with our journey to Meesapulimala. But before we left, Alka lovingly packed us something for our journey ahead – sweet, golden, fried-to-perfection banana fritters! Despite having stuffed our faces with so much food, we couldn't resist the aroma and dug in right there. I don't think I can ever forget the taste of those fritters.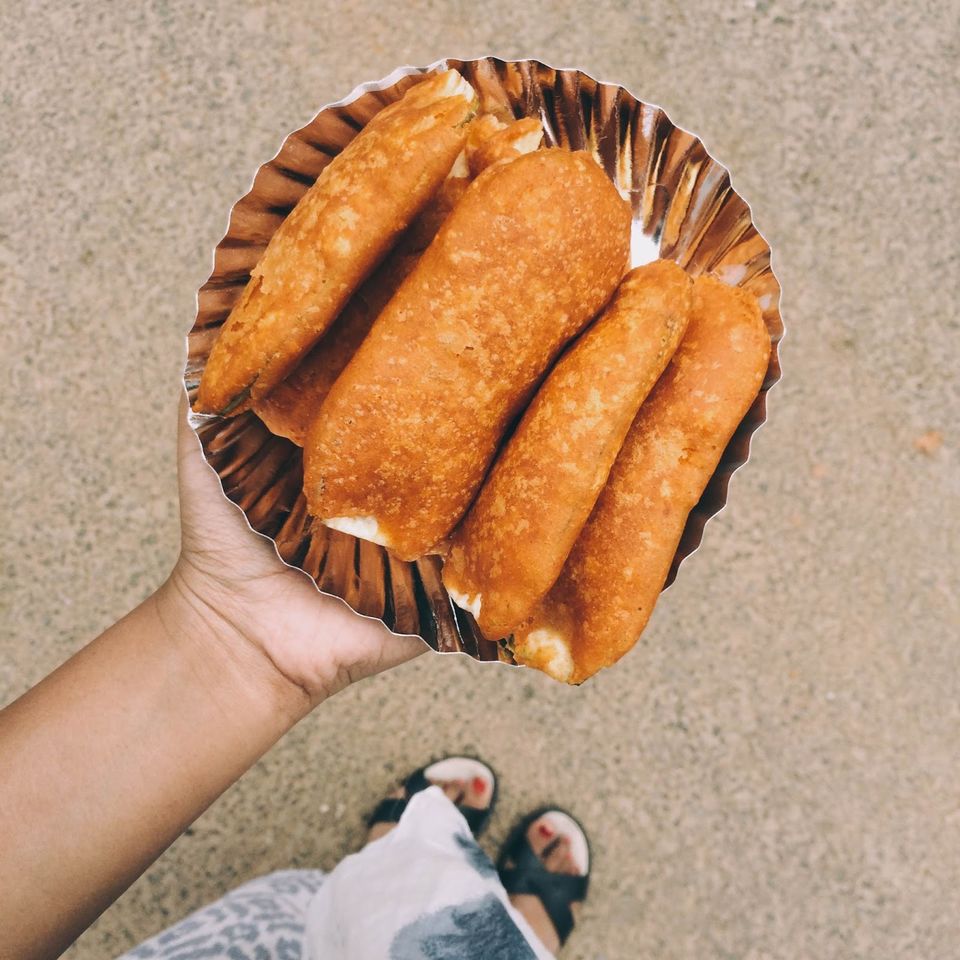 We were so overwhelmed with the love and warmth Alka and her daughter showered on us I couldn't help feel a little tinge of sadness while leaving. In an effort to reciprocate some of their generosity, I took out the bag of chocolates I had bought the previous night and handed it to the little girl. Seeing her gleeful smile and the sparkle in her eyes was like a cherry on top of this beautiful morning.
With that our food journey in Munnar was over. To everyone who thinks this town is just for sightseeing, should definitely experience the food at a local home. It will change your perception for ever.
How far and wide have you travelled for food? Share your experience with us here.
Looking for more off-beat destinations to visit around the country? Check out Kitkat Travel Breaks on Tripoto here.
The readers are hereby informed that the views, thoughts, images and opinions expressed in the article belong solely to the author, and Nestlé India Limited assumes no responsibility or liability for any errors or omissions.