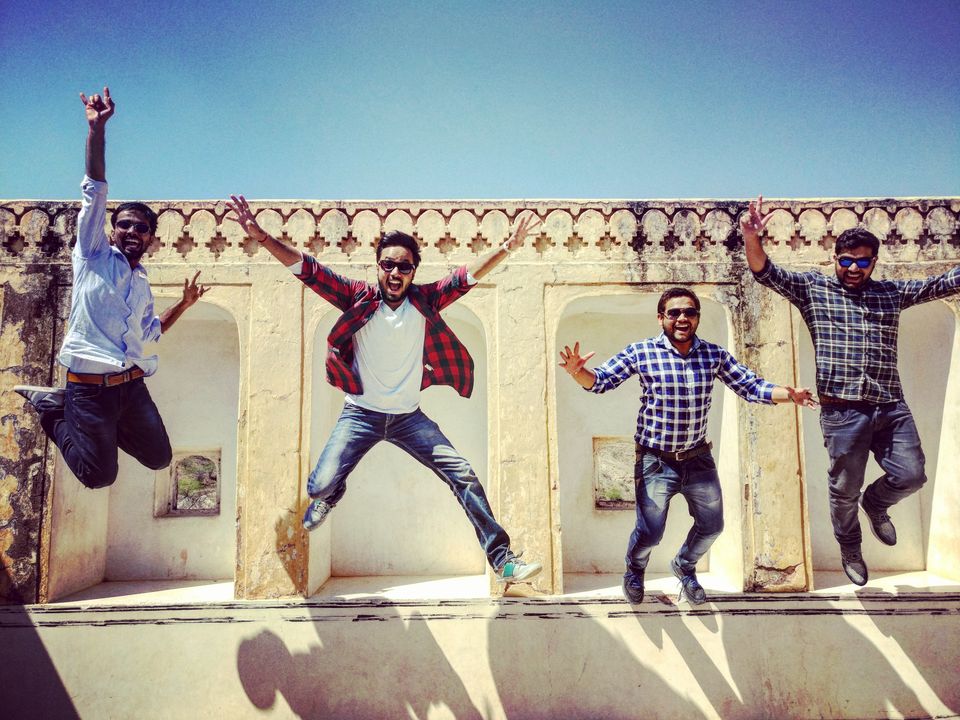 #Jaipur, the pink city of beautiful state Rajasthan is a sign of magnificence and vividness. It is a first planned city of India and largest city of Rajasthan. However, state Rajasthan is a complete place for its visitors as the beauty and essence of rich traditional culture can be found in each and every corner of the state. But Jaipur established its recognition as a versatile tourist destination as it offers superb fortresses, serene temples, amazing havelis and royal palaces.
If you are a lover of culture and architecture, like me then you would surely love this royal place. Jaipur is also well-known for its handicrafts and the amazing collection of jewelleries. This fabulous landscape is a perfect blend of palaces, art, culture, and rich Indian tradition. Jaipur is the right place for photographers to capture the beauty & culture of this historical city. If you really want to know about the roots of Indian culture and tradition, then you must visit this place.
#How to reach Jaipur:
Jaipur can be reached from anywhere in India due to its good connectivity. Jaipur is well connected to all the major cities of India; you can either go by train, by air or by airways.
>>>Through Train:
You can easily get various trains for Jaipur from Delhi, Agra, Lucknow, Patna, Ahmedabad, Mumbai, Kota and many other popular cities of India. Jaipur has three railway stations, Jaipur Junction, Durgapura and Gandhinagar. Jaipur Junction is a main stoppage of all trains and few trains also stop at other two stations as well.
>>>Through Airways:
Jaipur airport, situated at Sanganer offers frequent flights to and from many major cities of India, including the national capital Delhi.
>>>Through Road or Buses:
Rajasthan State Road Transport Corporation offers excellent bus services for Jaipur to Delhi. You can easily get many A/C and non A/C buses on every half an hour. Apart from Delhi, many express buses are also available to and from Jaipur. Jaipur has a good and well-connected highway so you can go by car or taxi as well.
#Places to visit in Jaipur:
I have visited this royal city before 2 months and really this was my most memorable experience of touring Jaipur. Jaipur city has beautiful historical palaces and forts which gives the glimpse of old Indian Architecture design. Here I have listed some of the most important charms of Jaipur, that can't be missed if visit jaipur.
>>>Amer Fort:
Amer Fort is one of the prime attractions of Jaipur and located 11 kilometers from Jaipur. This fort is also called as Amber Fort; a beautiful fort is well-known for its majestic surroundings and spectacular palaces. If you like to experience the Hindu and Muslim architecture together, then you would surely love it. The red sandstone and white marble pavilions are the most delightful experience of this fort.
>>>Jaigarh Fort:
This beautiful creation of Maharaja Jai Singh is just located at around 900 meters from the Amber Fort. This spectacular fort is standing on the hilltop so you can explore the entire city of Jaipur from its top. The panoramic views of the pink city can be best seen from this fort. Jaigarh Fort is also called as Victory Fort.
>>>Hawa Mahal:
This is a most important attraction of Jaipur, located on the southern part of the city. This amazing five storied building contains a well designed museum, depicting the past and present of Jaipur. The stunning Hawa Mahal can be best visited at the morning time when the golden rays of sun touches to it. Hawa Mahal is also known as the Palace of Winds.
>>>Nahargarh Fort:
This glorious fort is located on the edge of Aravalli Hills. Nahargarh depicts the royal legacy of Rajasthan. If you are a wildlife lover, then you must visit this place while touring Jaipur. It is believed that this fort was considered as a hunting residence of the kings.
>>>Jantar Mantar:
This is one of the most beautiful places of Jaipur, crafted with marble and local stone. Jantar Mantar is declared as a national monument where you can explore a vast collection of astronomical devices that help to foresee eclipse, find earth orbits, track stars and much more.
After exploring these magnificent places, don't forget to visit other beautiful charms of the city like City Palace, Jal Mahal, Albert Hall, Govind Devji Temple, Raj Mandir Cinema, Laxmi Narayan Temple and so on.
#Nearby Places to visit:
>>Bagru:
This is just around 28 km away from Jaipur, located at the southern part of Jaipur. This place is mainly known for its hand printed cloth industry.
>>Sanganer:
This is located at a distance of 15 kms from Jaipur. Sanganer is well-known for its traditional crafts. You should also visit a beautiful temple of Lord Parshwanath.
>>Ramgarh Lake:
This Lake is found at the 35 km north east of Jaipur. It is a good picnic spot for tourists.
>>Samod:
It is situated at the 40 km northwest of Jaipur. It is an old place where you can experience the great Rajput haveli architecture.
Ranthambore and Sariska are the renowned wildlife sanctuaries situated near to Jaipur. All the nearby places can be easily reached from Jaipur either by bus or taxi.
#Place to Stay in Jaipur:
There are many option to stay in Jaipur, you can pick any of the option as per your budget. You can choose 5 star hotel, 4 star hotel, 3 star hotel, 2 star hotel, Budget hotel, Guesthouse, Apartment and so on. All the hotels are quite luxurious and provide all essential amenities, depending on their charges.
The Raj Palace is a most luxurious 5 star hotel of Jaipur but quite expensive as well. If you can afford this, then you must stay over there to live royal life. Hotel Meghniwas, Clarks Amer, Hotel Bissau Palace, Dera Rawatsar, Saba Haveli, Hotel Om Tower, Hotel Mansingh, Mandawa Haveli, Jaipur Inn, and many more are the budgeted options to stay in Jaipur.
My visit to Jaipur was amazing and I am sure you will also equally enjoy this place as I did. Make sure you don't miss the must seen places of Jaipur. Shopping was the other most interesting part of my visit; in fact it was a real treat for me. There are many fabulous places that offer many high quality items. You can visit Anokhi, Kripal Kumbh, Art Chill, Gem Palace, and Hot Pink. These are the best places to shop. So, plan your trip to Jaipur and enjoy thoroughly.
But yeah i would suggest you to stay at Zostel Jaipur.
It's a nice and big property, beautiful location with everything just minutes away. The common room and everything are beautifully equipped and the best part is the kitchen and the coffee machine. Terrace is nice, but would have been nice if decorated like Rishikesh zostel.
Zostel is India's first chain of backpackers' hostels. Hostels for travellers are a popular concept across Europe (not to be confused with school/college hostels). They are budget accommodations which are perfect for people travelling on a shoe-string budget. They go beyond accommodation and focus on travel as a lifestyle. Zostel is a facilitator that helps people gather new experiences and to #LiveItNow.
PS: This is not an advertisement for Zostel. I just loved staying with them. Hence sharing the experience.
PPS: We also rented activa for the city tour. It's one of the best way of exploring in the most original and beautiful way.
Have a nice Jaipur trip!