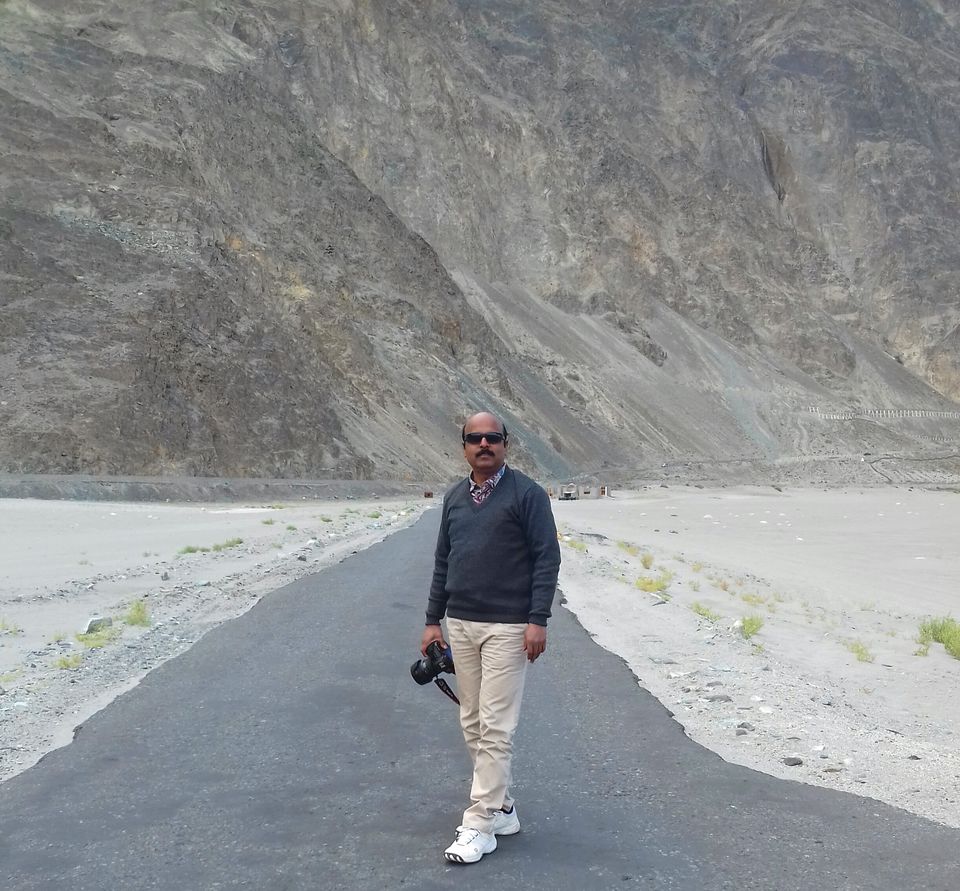 "The mountains are calling and I must go."
I love to visit many scenic, historical and tourist places in the World. Travelling is my passion. "To travel is to live." Till to date I have visited many states in India and 27 different countries. I have prepared a list of places to be visited, Ladakh was one of them. It was decided to visit Ladakh since last few years and that moment came in the month of September2017.
"Wheresoever you go, go with all your heart." I always plan trips / tours for myself so that I can choose my favourite spots, hotels, vehicles, cosine, comfort, safety and duration of tour. My planned journeys become not only effective, customized, comfortable but also economical.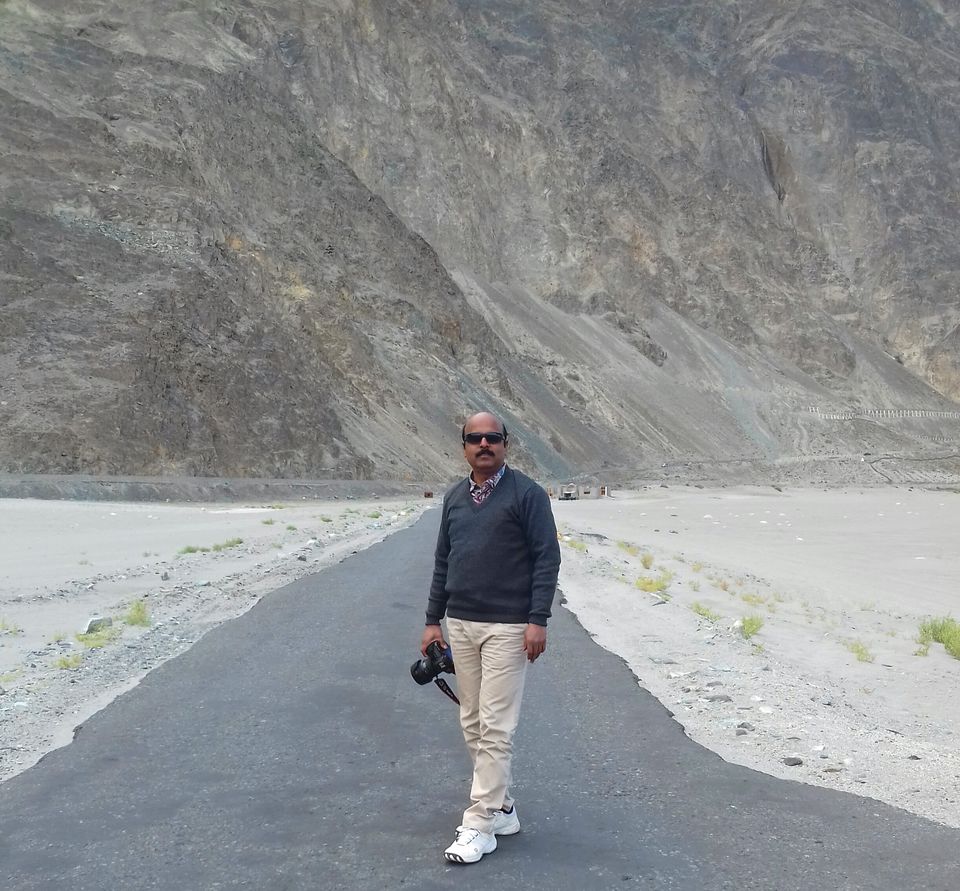 I was on two missions for the Ladakh tour, first enjoy nature and second landscape photography. I went on this mission with my complete set of Canon cameras; Canon 1 DX, 5D Mark IV Body with lens 24 mm to 105 mm and tripod. I have travelled from Mumbai to Leh by aeroplane. In the flight I have done revision of my tour itinerary and read all the information about Ladakh. There was tremendous eagerness, curiosity, expectations and excitement about tour. The moment I have landed on the Leh airport, I got good vibrations from this beautiful land.
"The Earth has its music for those who will listen."
Ladakh comes in the state of Jammu and Kashmir. Leh is the largest city in Ladakh, which is situated at an altitude of 3500 meters (11,500 feet) above sea level. Travelling to Ladakh is a big challenge, because there is low oxygen in the atmosphere, curvy roads, uncertain climates, tough roads, fear of landslides and lack of facilities on roads.
Even if you walk fast, climbs staircase, our climbs on mountains you will become breathless and get palpitations. Before going to this place, I have done breathing exercises as well as fitness exercise. This preparation made my journey very smooth and comfortable. People who have heart disease, blood pressure, lung disorders etc., it is advisable them to travel with the advice of a doctor.
Day 1:
On the first day, it is necessary to give the full day relaxation for acclimatization. In the evening, I have visited the "Shanti Stupa". Shanti Stupa is situated in the high mountains of Chanspa.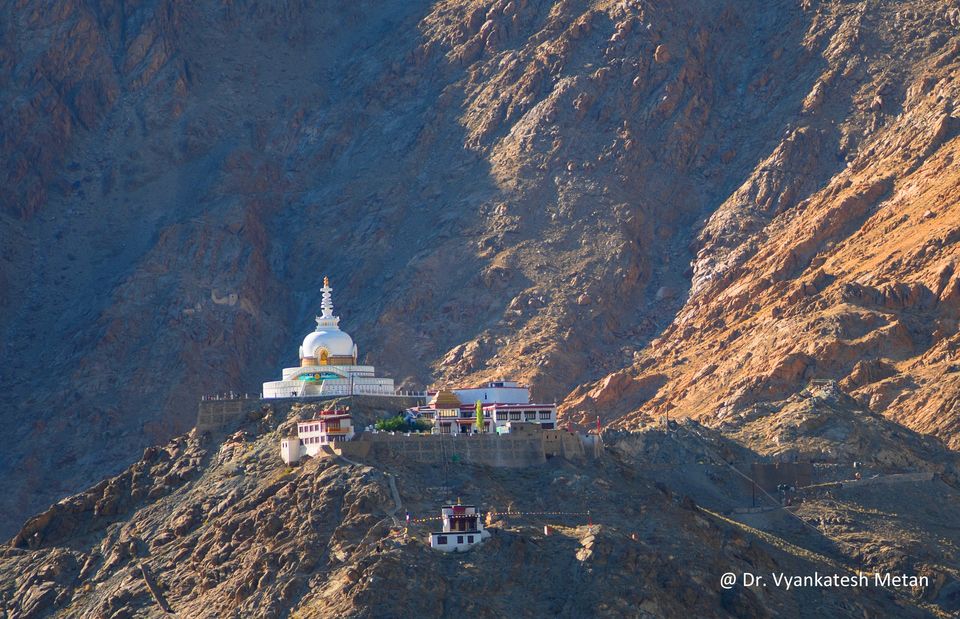 Dr. Vyankatesh Metan:From this place you can have a bird's eye view of entire Leh town, Leh Palace, Tsemo Monastery, Khardung La Pass and mountain range covered by snow.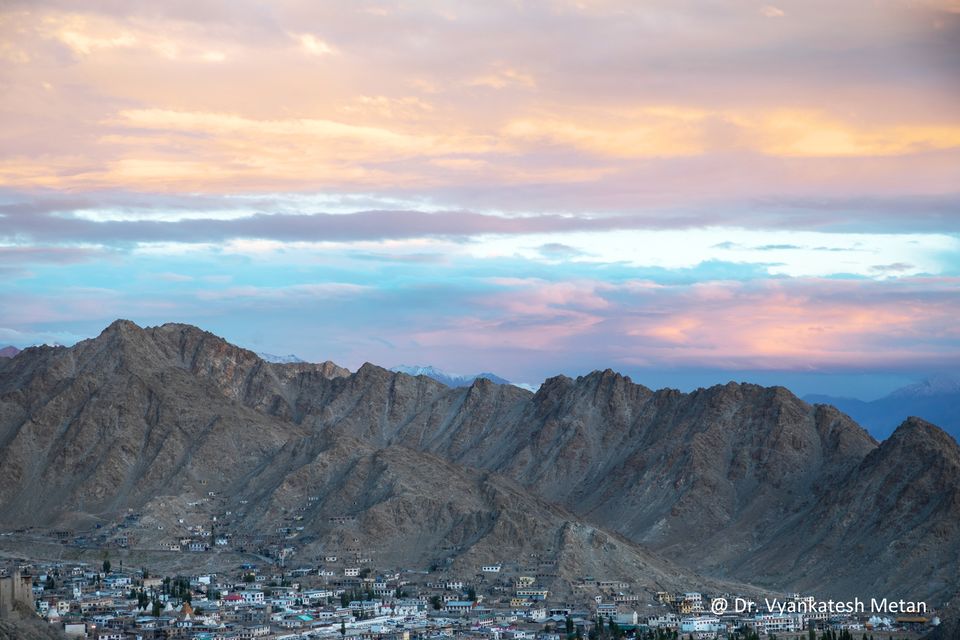 BDr. Vyankatesh Metaneing an evening time, I got a golden light for photography and got nice photographs from there. This place gives you real happiness and peace to the mind.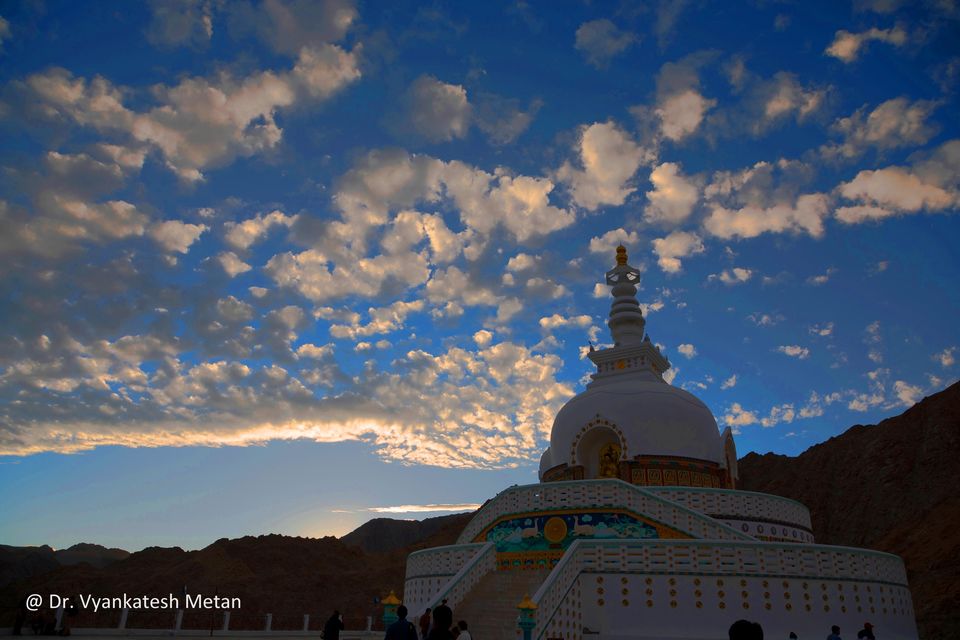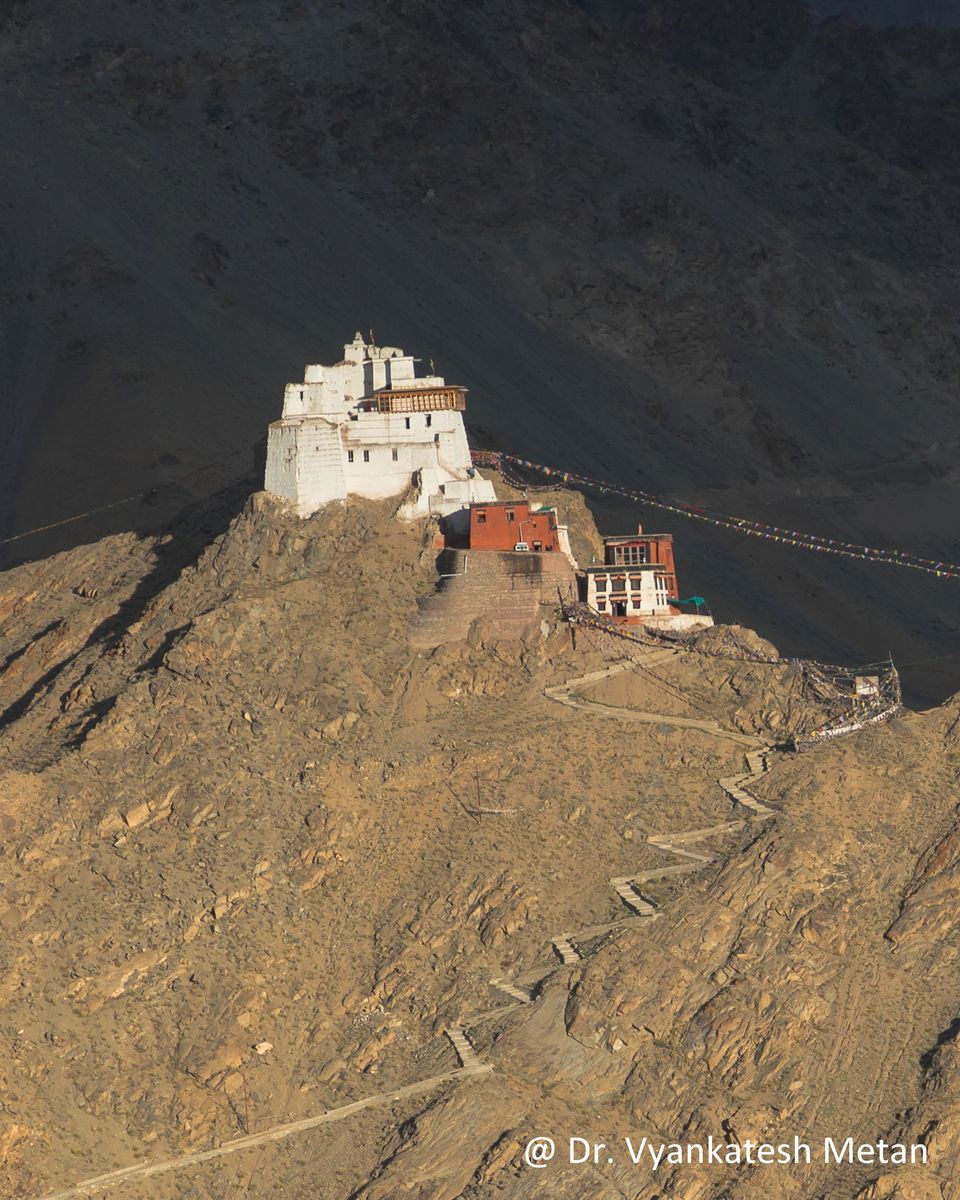 Day 2:
On the second day, in the morning, I have started towards Alchi Monastery.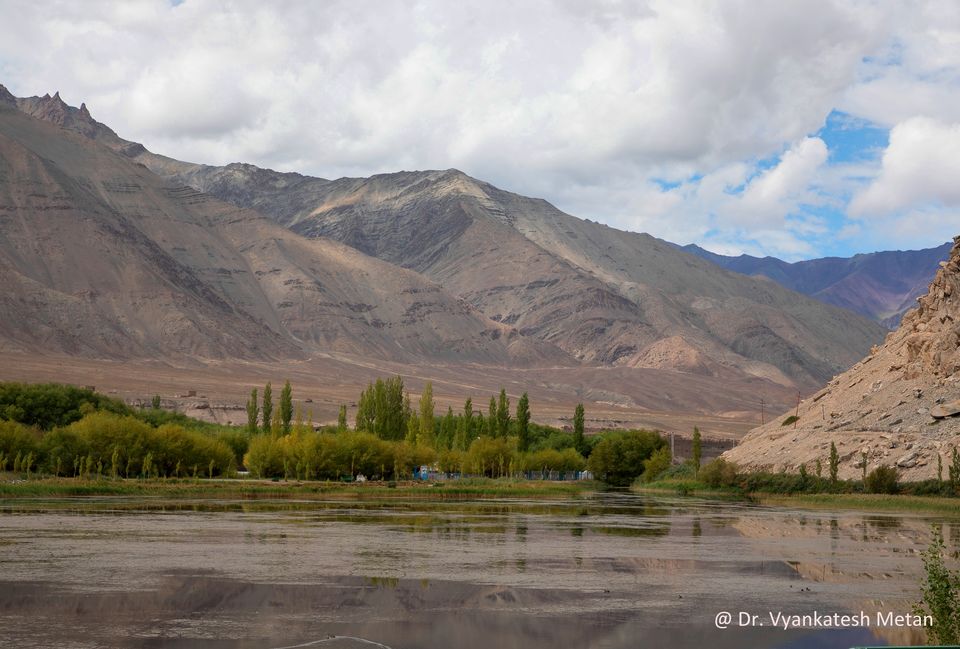 You can see many bikers travelling on a bullet. The layout of the area and surrounding slopes creates an optical illusion that the downhill road is actually an uphill road. Objects and cars on the hill may appear to roll "uphill" in defiance of gravity when they are, in fact, rolling downhill. The beauty of mountain range here is that the different color shades of each mountain.
"The nature always wears the color of the spirit."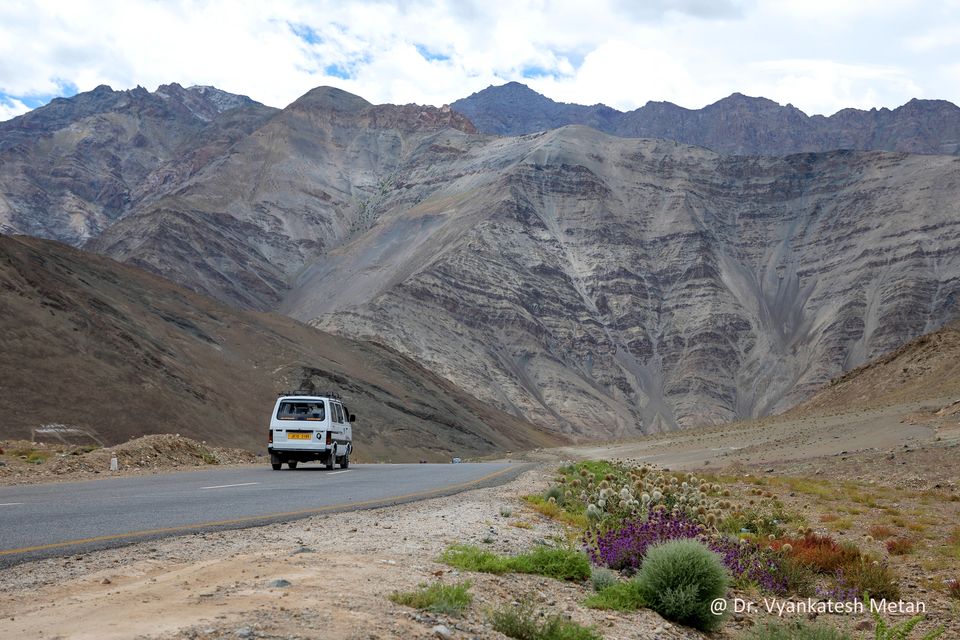 I have visited Alchi Monastery or Alchi Gompa which is a Buddhist monastery, known more as a monastic complex of temples in Alchi village the monastery complex has three major shrines: the "Dukhang" (Assembly hall), the "Sumtsek" and the Temple of "Manjushri", all dating from between the early 12th and early 13th centuries. The condition of this Monastery is not in good condition.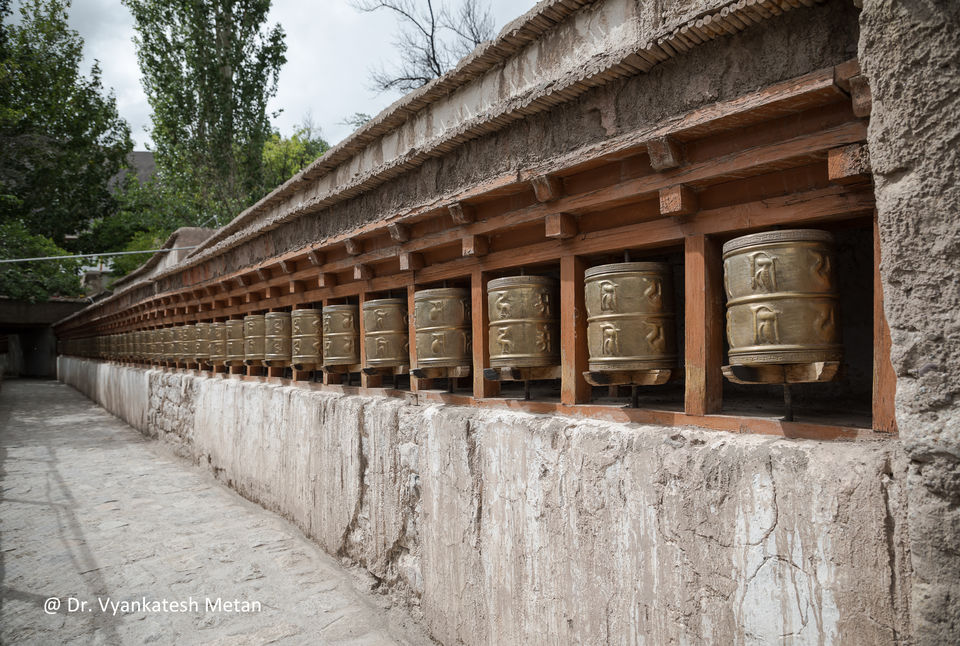 In the afternoon, on the way back to Leh, I have visited to the confluence (River Sangam) of Indus River and the Zanskar River. This place is very scenic and beautiful.
Later, I have visited "Gurdwara Pathar Sahib" and had a peaceful darshan. In the late evening, I have experienced local culture by visiting Leh town.
Day 3:
On the third day, I got up early in the morning and started my journey by taxi towards" Nubra Valley". On the way I came to the "Khardung La Pass." What an exciting morning it was! There was a heavy snow fall. I enjoyed snow fall and took some good photographs. The next 2 hours my journey was through the snow fall and snow on the road. This experience was one of the amazing experiences of my life.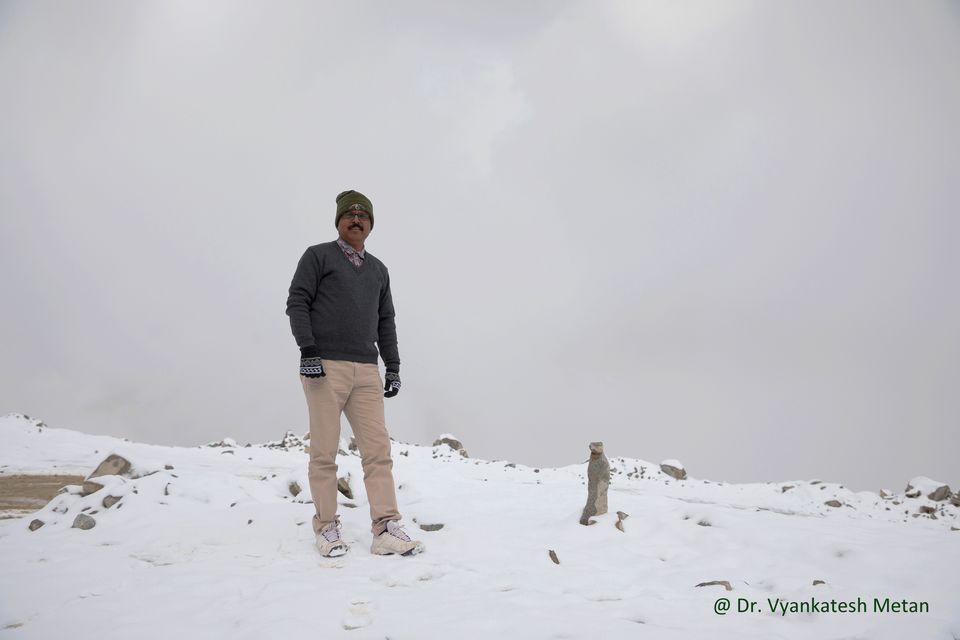 In the afternoon I gave visit to "Diskit Monastery". The Diskit monastery is situated on the hill 3,144 metres (10,315 ft), just above the flood plains of the Shyok River, on its right bank in the Diskit village in Nubra Valley. There is the 32-meter tall impressive statue of "Maitreya Buddha". The nature here is very scenic and beautiful.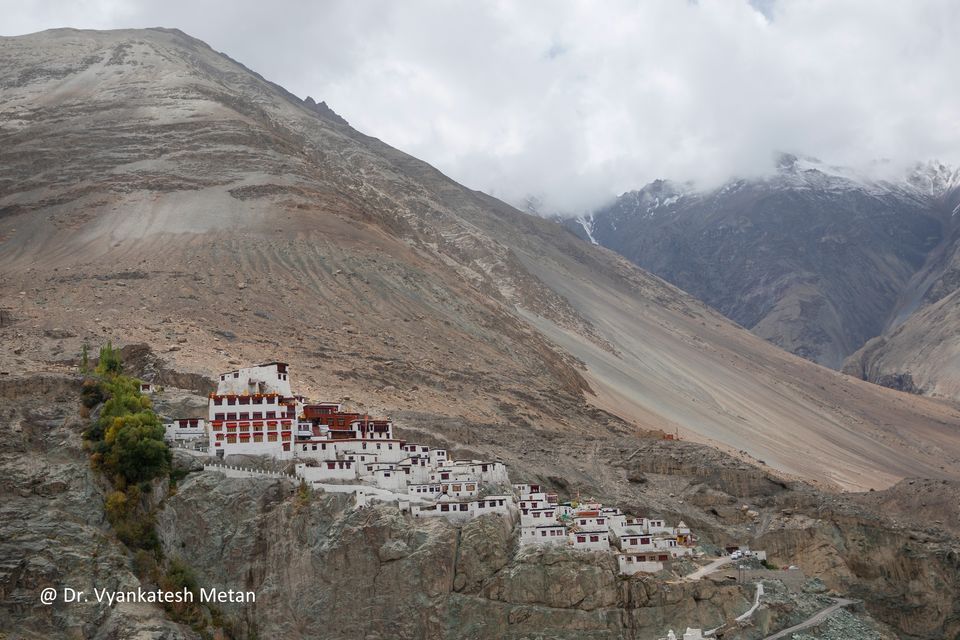 In the evening I have visited Nubra Valley which is 10000ft high cold desert. I had a camel ride.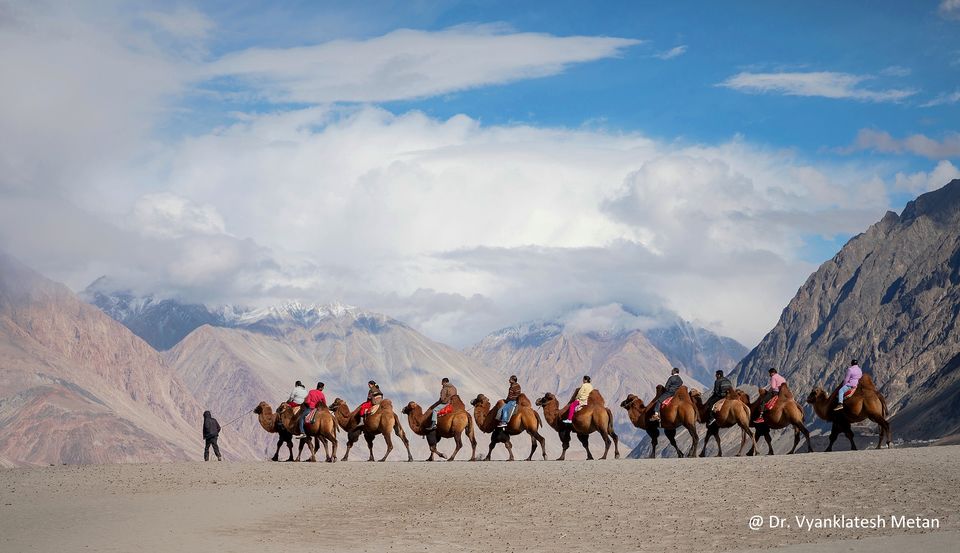 Nubra Valley features a cold desert, Bactrian camel, Sand dunes, rare desert plants, Siachen Glacier and mountain ranges.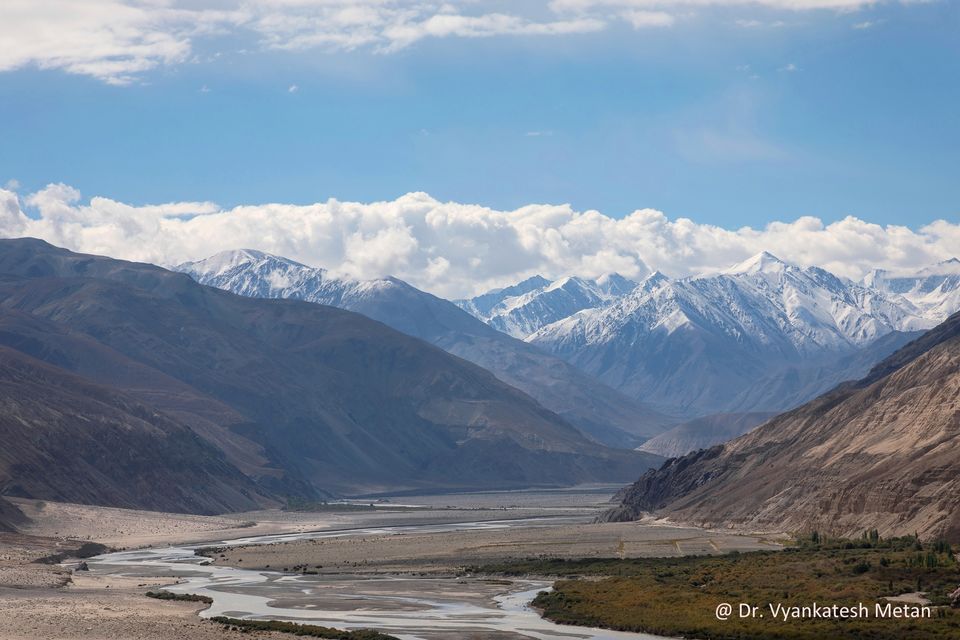 Day 4:
On the fourth day from Nubra Valley I have started my journey towards "Pangong Lake". The entire journey was on the banks of the Shyok River. On the way I have thoroughly enjoyed every moment in the nature on the banks of Shyok River and took some nice photographs of Rivers, Creeks, waterfalls, bridges, mountains and landscapes. On the way, I have visited beautiful and scenic Durbuk and Lukung villages.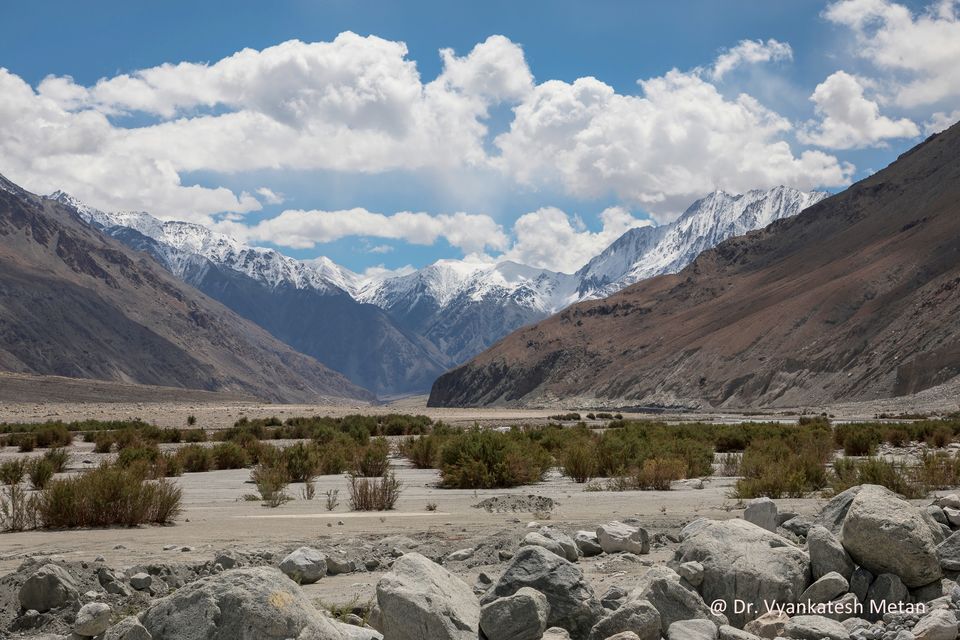 The main attraction of my tour was the Pangong Lake. When I saw the Pangong Lake from the high mountains, I was amazed and astonished by the view of lake. The Pangong Lake is situated in the Himalayas at the height of 4350 meters (14,270 ft). All together it covers 604 km2.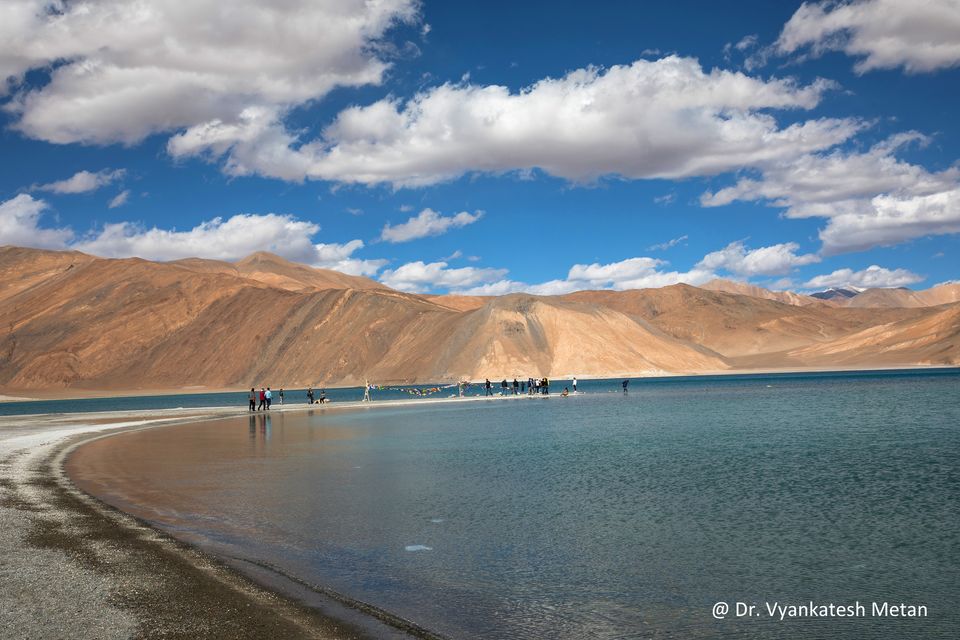 I reached on the banks of Pangong Lake and when my feet touched the clean and cold water, I fell in love with the Pangong Lake. For a moment I felt, I was connected to the heaven.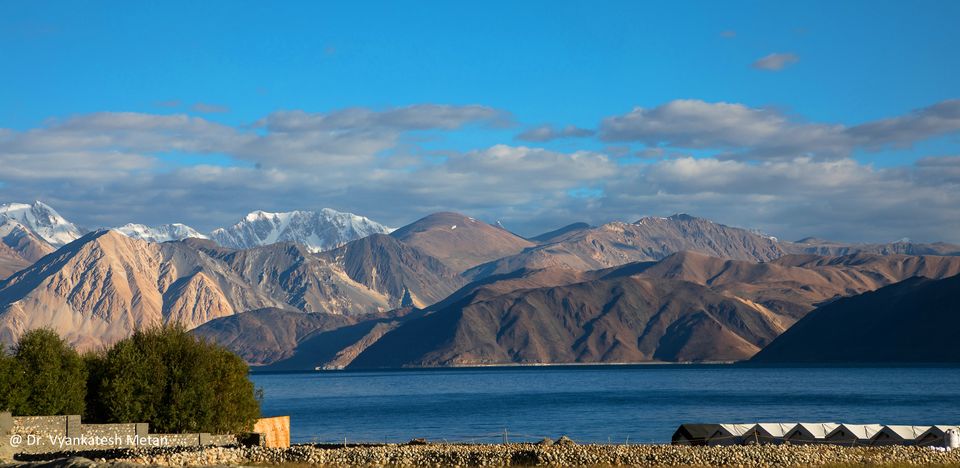 The entire scene here was mind blowing; its grandiosity and peaceful. In one word I can say "I was at the Heaven." This feeling you cannot describe in the words, one has to experience it. The lake is very beautiful, clean water, blue color reflections, surrounded by high mountain ranges, cold winds, and chilled atmosphere.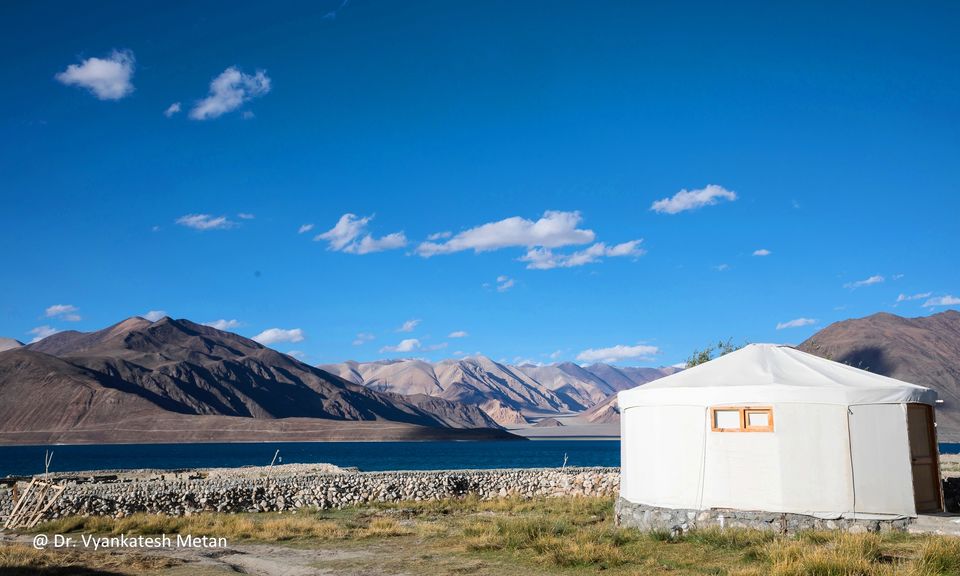 The night's stay at the tent at the banks of the Pangong Lake was pleasant experience. It is necessary to take care of your health as the low oxygen in the atmosphere.
Day 5:

On the fifth day, I got up early in the morning and enjoyed the sunrise and took photographs. My return journey to Leh town started at 9 am. On the way, I saw many mountains with glacier, creeks, rivers, waterfalls, curvy roads, snow fall, landslides, small villages, Army camps etc. In the afternoon I came to the "Chang La Pass" and experienced some scenic views of mountains from here.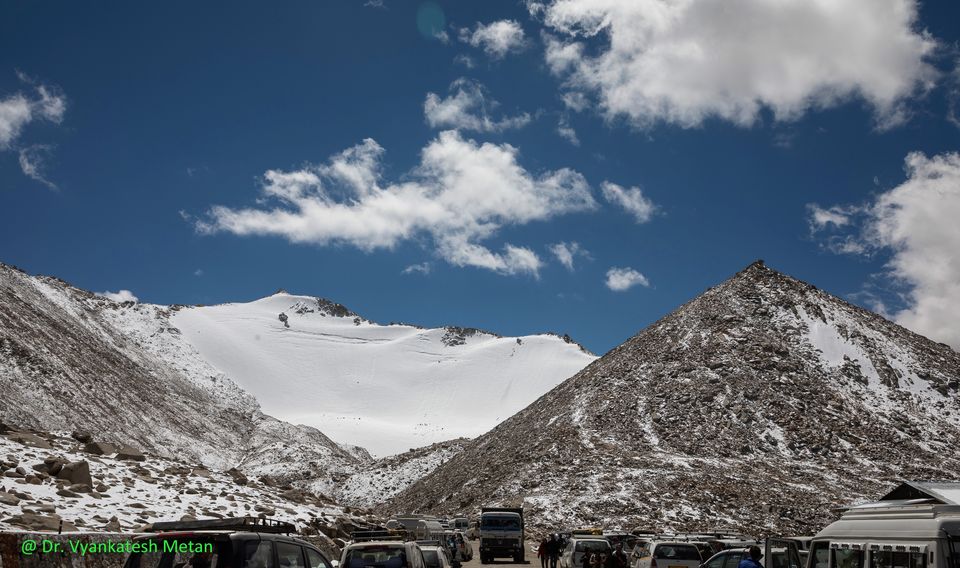 On the way, I visited "Stakna Monastery" and "Thiksey Monastery ". In the evening I have arrived at Leh and visited "Leh Palace" and "Hall of Fame". "Stakna Monastery""Stakna Monastery"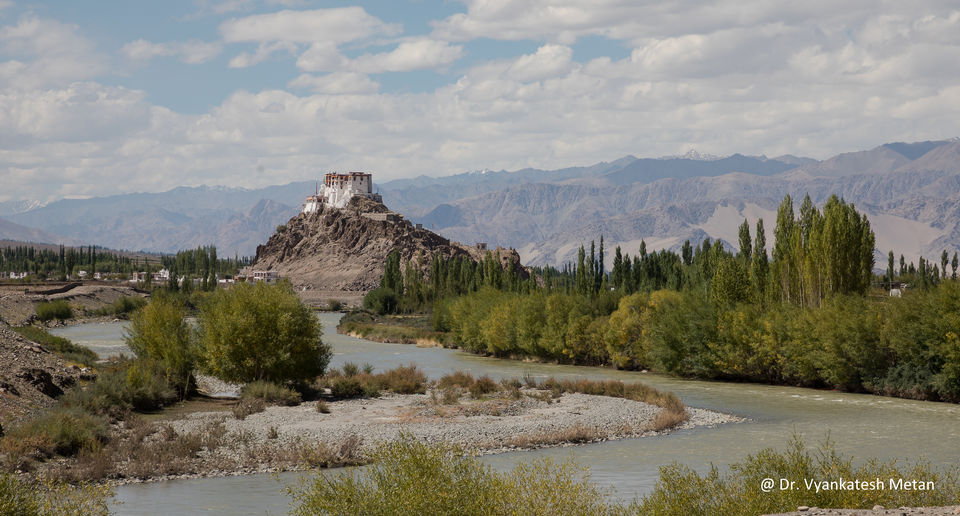 The feature of this journey was on every 25 to 50 km you can see huge Indian army camps. You can see huge Indian flags flying high at every Army camp. Every soldier here is serving our nation in very difficult and challenging environment. We must salute to these real heroes who are not only protecting our borders but keeping us very peaceful and safe.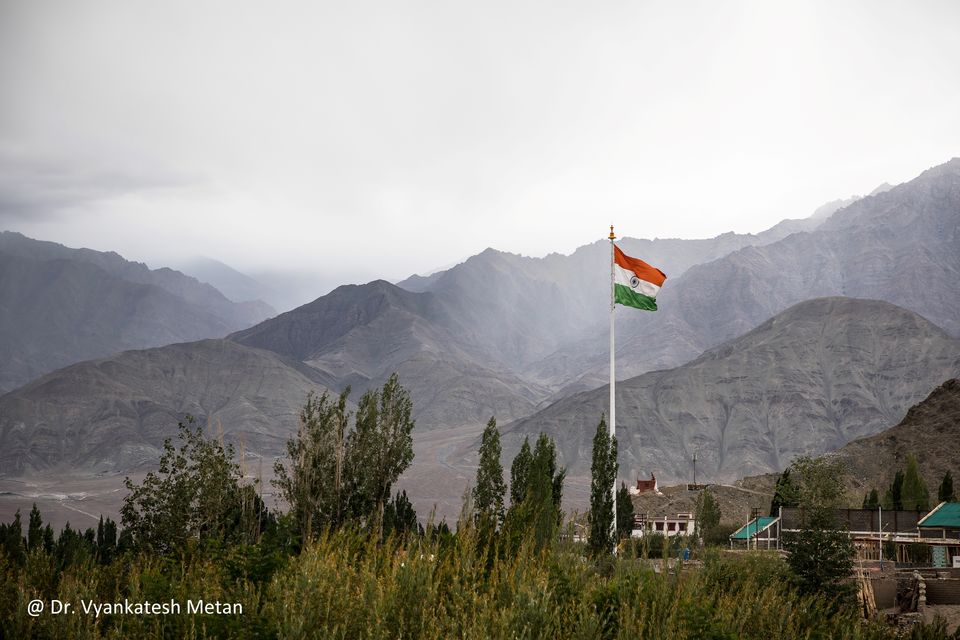 Leh Palace was not so impressive but Hall of Fame was too good and after going through Indian soldiers stories makes you proud to be an Indian. When I went inside to see the "Hall of Fame" at Leh, I was amazed and surprised to see the commitment, hard work, challenges, sacrifices and determination of Indian Army towards our nation.
After seeing it I recollected a popular quote on soldier,
"If death strikes before I prove my blood, I swear I will kill death".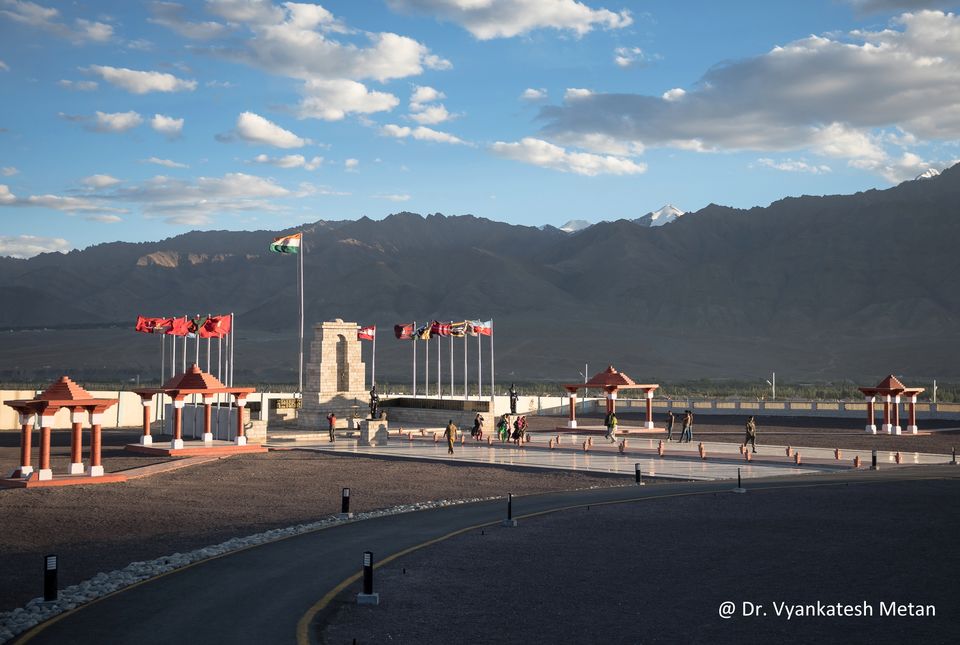 This visit to Ladakh gave me a huge impact on my mind about two things, one the beauty of nature and courage & sacrifice of our Indian soldiers.
I never felt insecure during my entire tour. People here are very kind, cooperative and honest. You will get good hotels, food and transportation. The taxi fares are fixed. You can safely book hotels online. You can hire bikes, scooter or cars on rental basis. I will advise you to hire a taxi so that you can stop at places which you like and enjoy the nature.You must have warm gears with you. As per advice of doctor I took medicines for the altitude sickness and it helped me a lot.

Day 6:
On the sixth day, I flew back to Mumbai by aeroplane. I was just recollecting my sweet memories, experiences and started writing important points of my journey. This journey was one of the best and an unforgettable experience. My two missions of Ladakh visit, first enjoy nature and second taking landscape photographs of nature were achieved.
If I want to describe my journey in one sentence, I will describe it as "Ladakh: Journey to the heaven".
I will write one travel story everymonth.
Now my next journey to "Scandinavia" is under process.
If you want any more information about this tour, feel free to communicate me. I will love to guide you to plan your tour to Ladakh,
Dr. Vyankatesh Metan
Solapur
Photographer and Traveller
Connect me at:

Face Book: Metan Vyankatesh
Instagram: drvyankateshmetan
You Tube : Vision You Tube Channel
E-mail: metanvs@gmail.com
Mobile: 9370080090