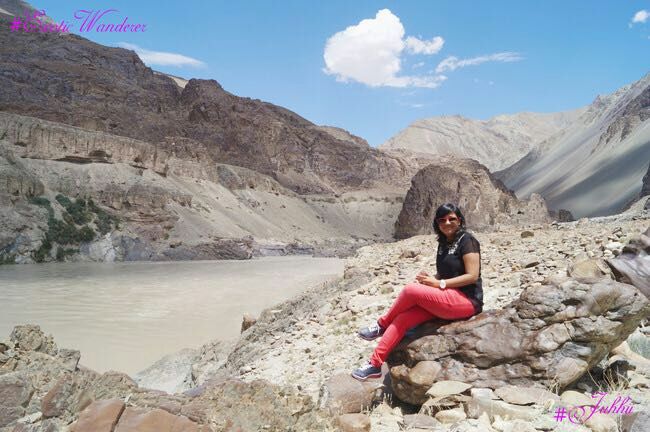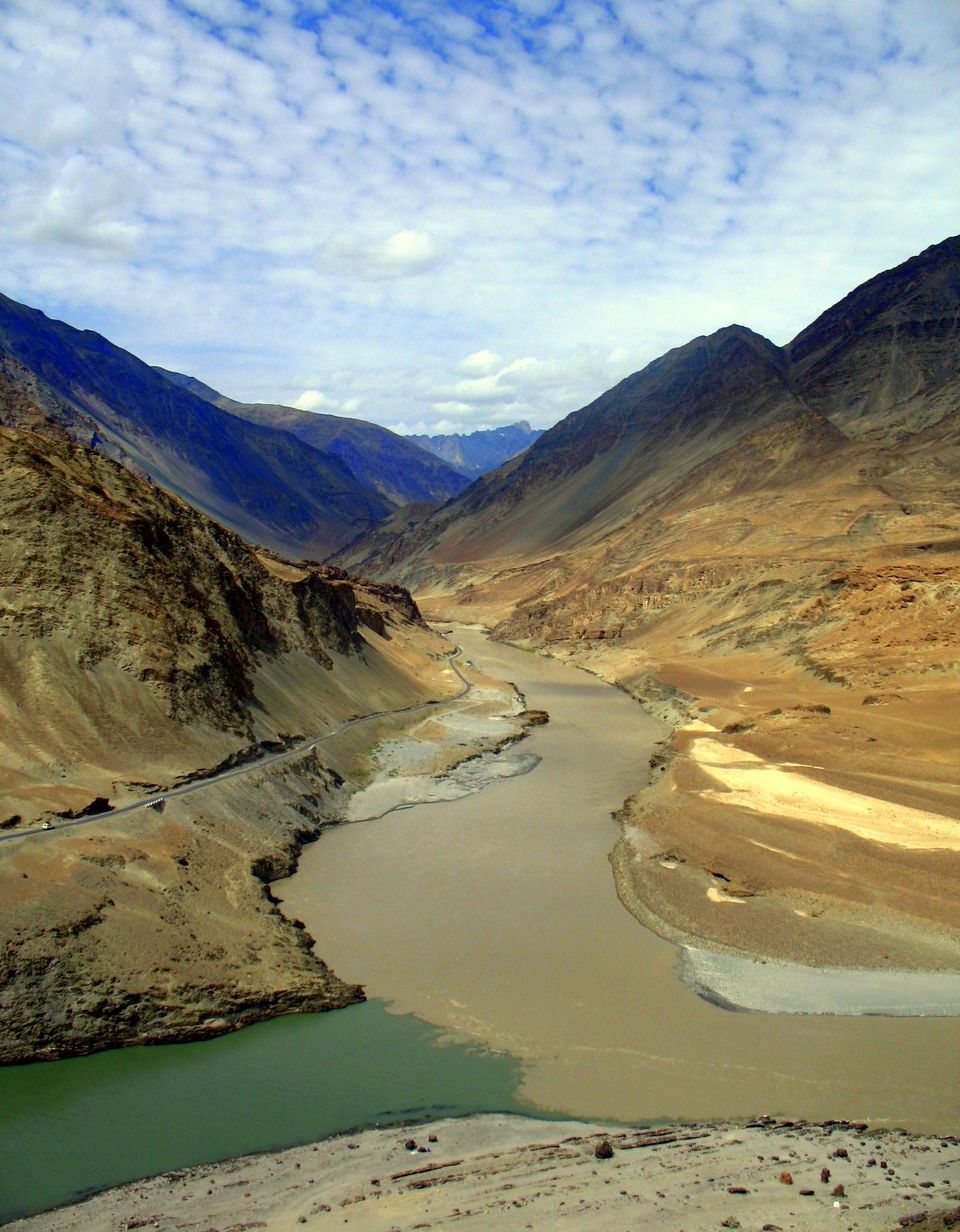 Next day early morning we left for Leh sightseeing. The top most priority was to visit the famous Zanskar river and of course to do rafting in it. Everyone went for river rafting but this time I was in no mood for any activity whatsoever. I just wanted some alone time. I took my little buddy i.e my cam as well as a selfie stick, so that I can click my pics while exploring the place solo. The driver who was there with us in Leh was a cooperative guy. We dropped the entire gang at the start point of rafting camp site.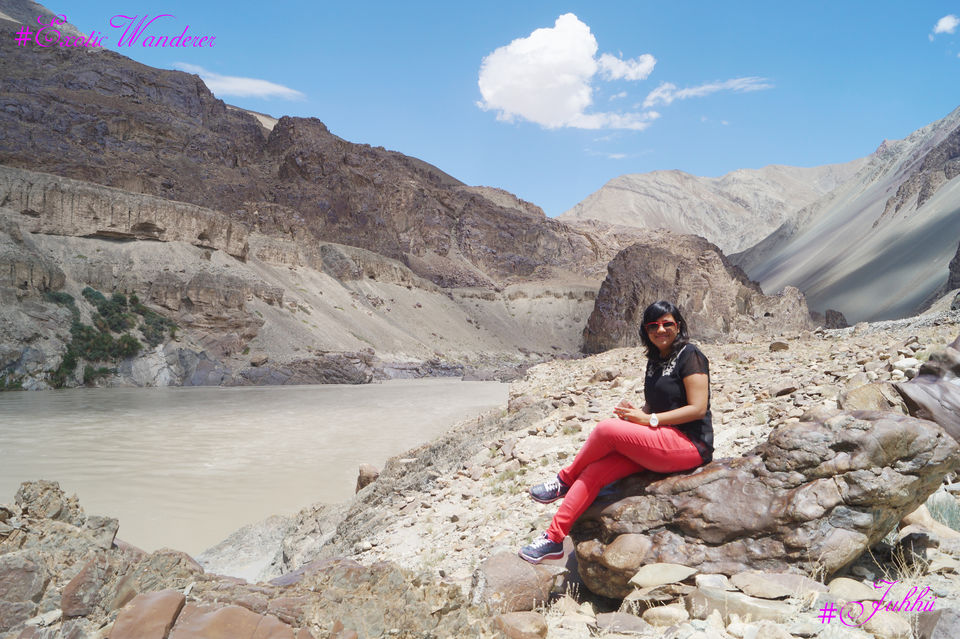 I immediately left with the driver to venture the mountains, the river, the roads, the bridges. And I must say the experience was amazing. I enjoyed every bit of my time exploring it. Time and again I requested the driver to stop the car so that I can get down and walk a little, to see the river more closely on the bank. The path from road to the bank was not easy, it was steep and the rocks didn't make it comfortable to walk fast. But that didn't stop me to go there again and again. It was an experience, A good one. You will find local people more cooperative there. These guys were gonna be back after 1.5 hours. So yes, I had almost one and a half hours to explore. And I utilised every bit of it.
There was an Army campsite near the river in between the start and the end point. I insisted the driver to stop at that place. Yes, I had to walk little more to get to that place, but it was undoubtedly worth it. Of course you are not allowed to click pics with these guys, due to security reasons and I do respect that. (Although I have observed many doing this and posting their pics along with them on social media. It's a request if possible please don't do it. It can be really risky for them). As we reached to the pickup point our raft still had time to come. So I walked down the river, went and touched the water. It was terribly cold and muddy. But the scenic view from there was amazingly picturesque.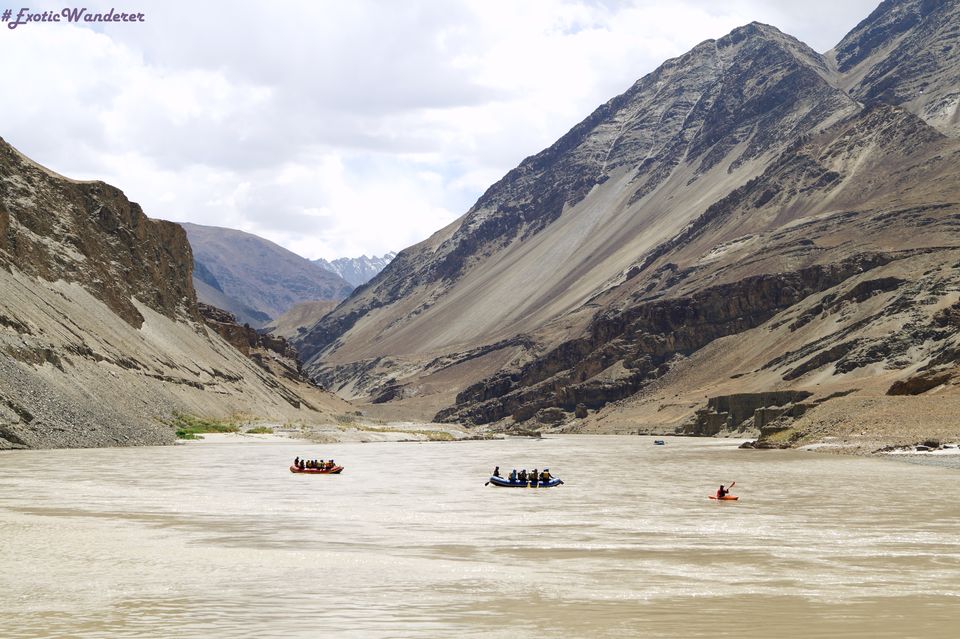 The maximum stretch of rafting is 14km and all the big rapids are in the first 8kms. For the chicken hearts there is an option of boarding the raft in between for the last 6 kms. Not only zanskar offers you rafting in groups it also offers Kayaking (well of course only for those who know how to do it).
As soon as these guys arrived, we left for magnetic hill and the famous Pathar Sahib Gurudwara. On the way to Gurudwara we crossed magnetic hill which I frankly didn't find interesting. The experience of visiting Gurudwara at such a place was unique. In fact the Army Soldiers were taking care of the Gurudwara. It is constructed in the memory of Gurunank and bounds a very interesting story.
Our next destination was Hall Of Fame, which was an Army museum just at the outskirts of Leh city. Enroute we halted for a light lunch and I totally enjoyed feeding the local dogs. They were very different from our city dogs, in the sense that they had thick fur on their body to protect them from cold. Up on reaching the Hall Of Fame we were pleasantly surprised to know that it was their first day of inauguration after a major renovation and so the entry was free for that day. There was a war memorial and an adventure park right behind the Hall Of Fame. The Adventure park had a couple of activities, which gave us a glimpse of the training which soldiers undergo.
While returning we even visited a Monastery and Kali Maa temple. We were too tired to visit the local festival Sindhu Darshan. The day ended with a typical Indian dinner at a local restaurant. It is worth mentioning that there are plenty of cuisines and restaurants in and around main market and experimenters will not be disappointed.
To summarise Leh can be best described with phrases like simple people, lots of guest houses, delicious food, lots of Tibetan refugee markets, monasteries and monks, biking enthusiasts, plenty of mountaineers, thousands of trekking options and operators and most importantly an astonishing airport.
If Leh is sounding so tempting to your senses behold! It is just a tip of the iceberg. Ladakh is an another miracle in itself and deserves an exclusive corner which you can read in my next post.
Lots Of Love,
Juhhii Bhatia!
Frequent Searches Leading To This Page:-
honeymoon packages leh ladakh, places to visit in leh ladakh in may, top 20 things to do in ladakh, hotels in diskit ladakh, jammu kashmir tourism leh ladakh