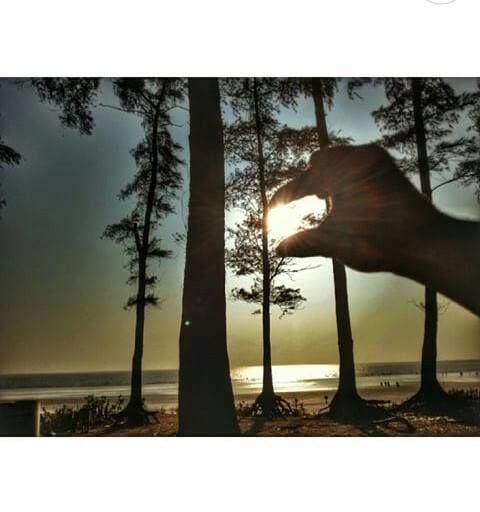 Hello travelers !
If you want to go away from the maddening crowd in Mumbai and that too only for a day, (taking into consideration our busy schedules and our love to explore new places) I suggest you to go to Kelve beach. Now Why??
This trip can be covered in one day ( if you are from Mumbai ).
Well connected by Roads and local trains.
Cost can be as less as Rs. 500 per person.
and what else do you need?
HERE GOES OUR STORY :-
Few months ago, we went on an exploring spree on our activa to Kelve beach, Palghar for a single day. After huge discussions and planning (ok. nothing really was planned) We started with our secret exploration journey ( Shhh ) in the afternoon. Believe me, EXPLORE the areas situated on the outskirts, especially along the NH8 highway.
Okay, coming back to the trip. So While riding long the NH8 highway, there were many scenic views which were simply beautiful. The road was quite good and smooth. We were singing songs, cracking stupid jokes, Pjs and using our navigation to reach our destinations. After 2 hours of an amazing journey, there stood our destination and we were really jumping with joy.
As we had reached during our lunch time, we were famished and therefore we munched on to something at a local eatery. The food was Delicious !
Post lunch we went ahead with exploring the beach, clicked many photos in all sorts of possible weird poses, walked along the seashore. In short made memories. Yes there were a few people enjoying in the water, kids splashing water on each other. There were many other activities on the beach like a camel rides and horse rides. But please don't harm the animals. Like really, let them have the time of their life.
Okay so just for fun, we thought of going till the end point of the beach and soon just a little ahead, there stood the kelve fort. Okay this fort is not as huge as other forts we have seen in Maharashtra plus its completely in ruins and even difficult to recognize. but yeah it was a fort and so we went inside just to get a glimpse of it. This fort can be skipped.
After spending a good time at the beach, it was time to return back home. I wanted to stay and chill out for some more time but remember secret exploration (Shhh). Nevertheless, while on our way back we forgot the way and were like 'where are we going?' with battery almost dying faster & no network, we planned to move ahead. (and you know some boys they just don't like to ask directions). Finally even this boy realized that we are on a wrong way and we need to ask for directions.
While passing through this tiny little village, we asked a man for the directions & thankfully he was also going the same way n he helped us with the roads. This noble man assured us that we aren't lost but we took a long route and it will eventually lead us back to NH8.. We heaved a sigh of relief ! Few minutes later, we were back on NH8. Long live that noble man!
Finally after this relaxation plus adventure trip we reached back to Mumbai in the evening. Singing songs and talking about the day and how memorable this trip was.
P.S : I am not good in writing stories. This is my first time, but I have this traveling junkie within me & I also hope even you guys explore around this place.
Imp Info
How to reach :
by train :Nearest station Palghar and local transport available from there.
by road : If going by private vehicle use navigation app. 1.5-2 hrs to reach
Distance : 90 kms approx.
A Road trip on an Activa !