Some treks have dramatic peaks whereas some, challenging trails. The highest trek of Maharashtra - Kalsubai Peak trek - has a challenging trail as well as offers a breathtaking finale!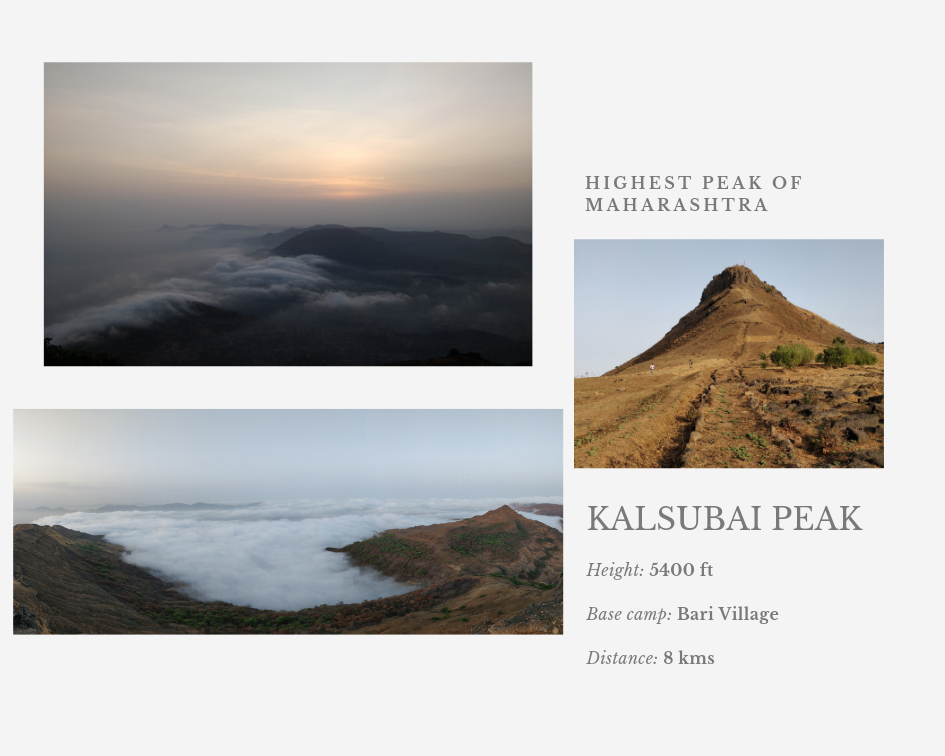 It was the first week of June. We had camped at Randha beside a small lake. The monsoon had not heralded yet, so we decided to trek Kalsubai during the night. It was 3 a.m. when we left from Randha towards Bari village - the base camp of Kalsubai. Bari village is located in Ahmednagar district which is around 130 km from Thane, Mumbai.
The first half an hour of the trek, I would say, was strenuous because of the rocky patches. Once that was over, we took frequent stops to gaze the stars. It was an open sky as if with stretched arms, stars sprawled across it! I found myself stretching my arms each time as if wanting to grab the sky full of shining stars!
The upcoming stretches were not visible but we saw a pretty sight of lights. Trekkers ahead of us carried torchlights as they climbed steeper ascents. And the movement of these torchlights from a distance looked as if the stars had fallen down and were dancing their way back upwards! ;)
Once the night faded, the sky began to show off its best colors to welcome the sun.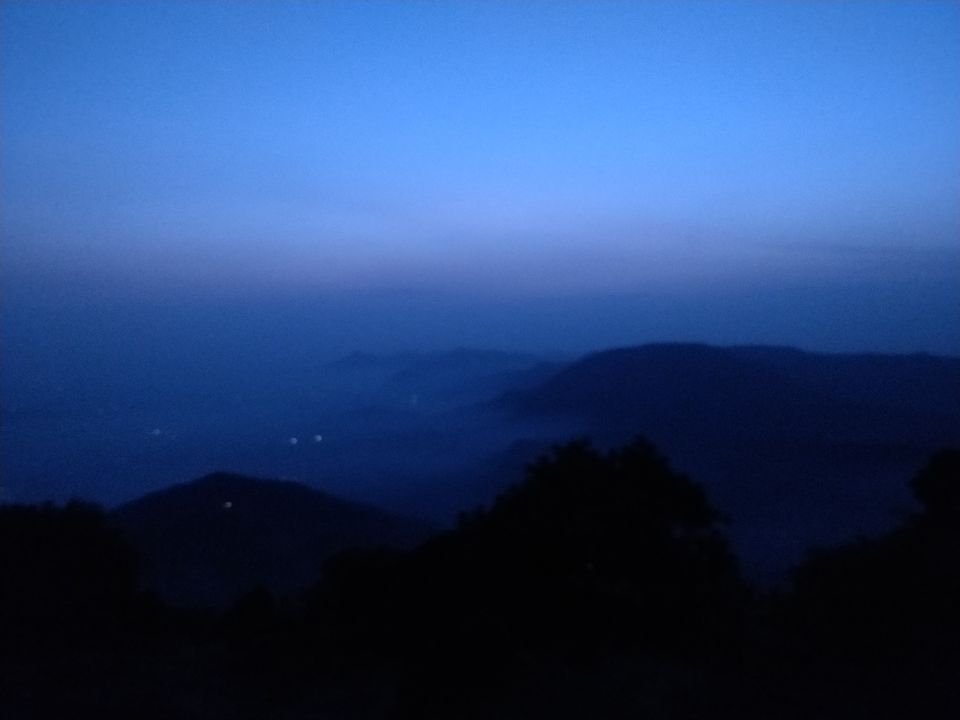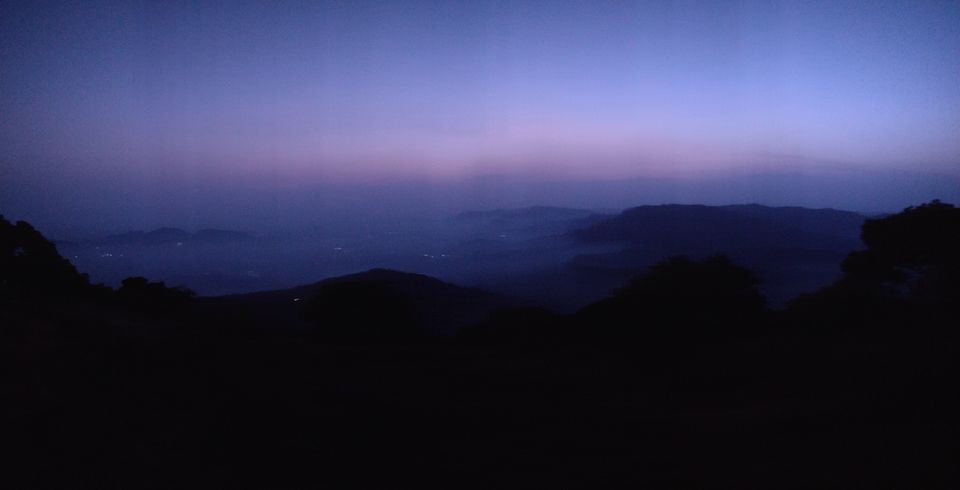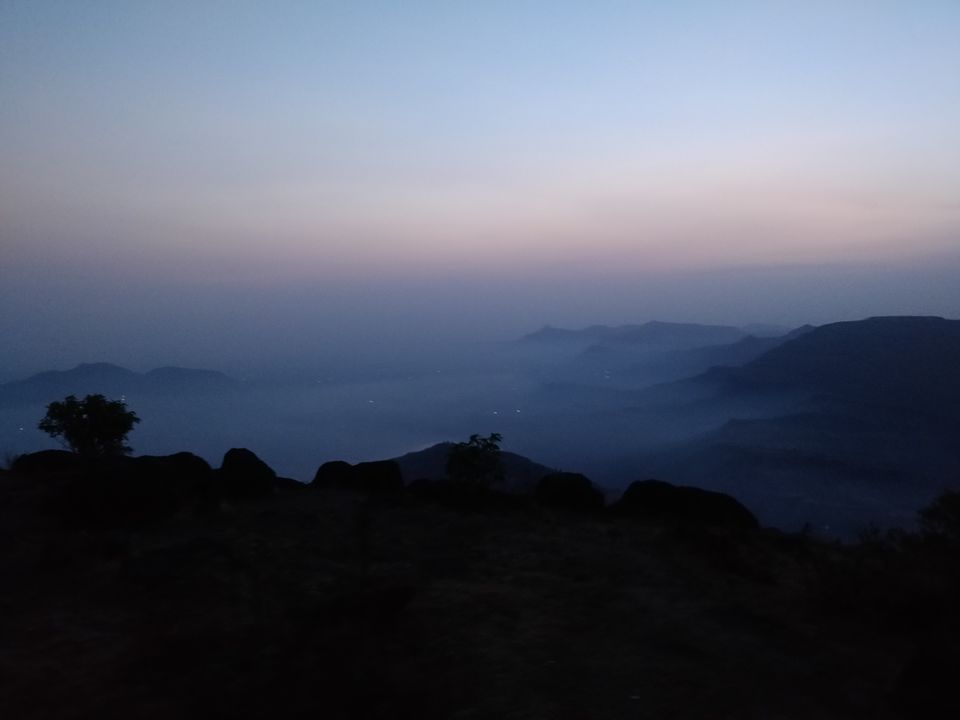 A steep ascent of 3.5 hours amidst rocks and grasslands led us to the top - 5400 ft to watch the sunrise. The peak was crowded with enthusiastic trekkers, so we found a spot a little away from the crowd and sat. We watched the sun rise and bring with it a new day. The moment was beautiful, devoid of camera or conversation. Soon enough, the clouds emerged and covered the distance between nearby smaller peaks. We went to the other side and joined the crowd.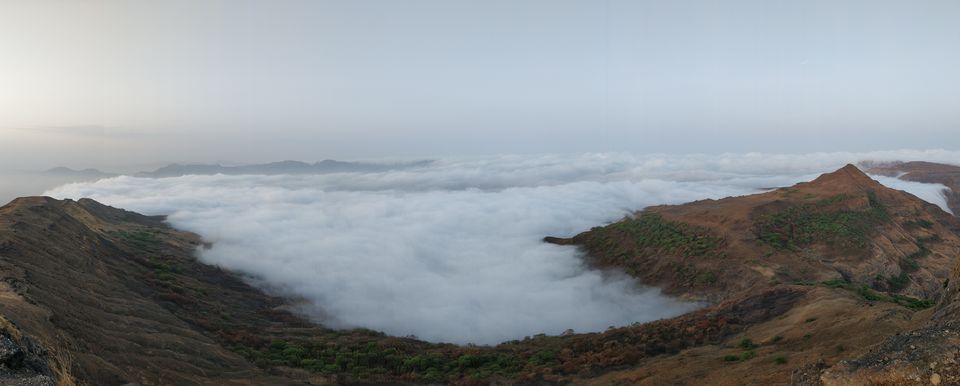 And before you leave, read the legend of Kalsubai!!
The peak gets its name from a woman. Apparently, she got upset with her family for some reason and found herself flocking to a peak. Her family sought her and pleaded to return but she wouldn't. She made her home atop a peak and remained there forever. It has since then become Kalsubai peak and she is worshipped as its Goddess.
If you know different versions of the story or have an interesting story from this trek, write it below in the comments! :)
Please note:
Gorak, our dear friend from Purushwadi, had connected us with Ganesh, a local guide from Randha. Do message me if you need his phone number. Ganesh provides tents to camp along with yummy, home-made Maharashtrian meals.
One can do this trek without any local guide as well. Since it's a popular trek, you would find trekkers regularly on the route. Summers are harsh and dry, therefore, night treks are rather advisable during that season.
Frequent Searches Leading to This Page:-
Maharashtra Tour Packages, top Maharashtra Tour Packages with family, honeymoon packages in maharashtra with price, best time to visit Maharashtra, honeymoon packages from mumbai, international honeymoon packages from mumbai