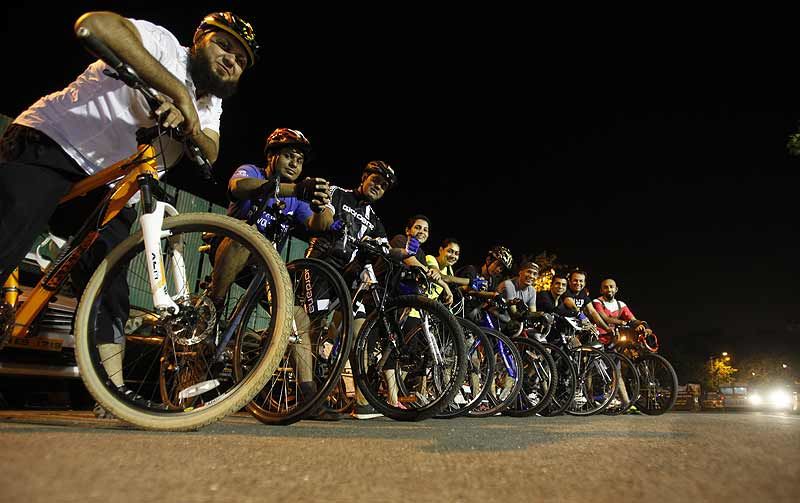 Mumbai, the city that never sleeps, is one of the biggest metropolitan cities in India. The best way to explore this coastal city and other places near it, is to go on a cycling tour. Travelling on foot can sometimes get little tenacious and parkings are also a big problem in big cities like Mumbai. Therefore, it is best to rent a cycle, if you don't have one, and travel through the city. It has two advantages; first, you avoid the inescapable traffic and second, you get to revisit your childhood. Cycling in Mumbai will help you explore the imperial architecture of the city much closely.
If travelling alone is a problem for you, then there are multiple companies like Mumbai Rangers and Mumbai Cycling Enthusiasts, that orgainise cycling tours for adventurers. There are options like midnight cycling and cycling races which can be a different experience for cycling enthusiasts. Here is a list of few cycling trails that you can choose to cover in Mumbai.
Marine Drive to Bombay Fort Area
Go cycling along the Queen's Necklace, Marine Drive, to the fort area for a casual bike ride. Marine Drive and the Fort are is one of the most historical locations of Mumbai. Dotted with imperial architecture on every corner, this part of Mumbai is the most popular parts of the coastal city. Enjoy the serene view of the Arabian Sea for straight 3.5km as you start your journey. The trail covers Churchgate area, Nariman Point Promenade, Colaba area and the famous CST Station. Make sure to stop by some of the famous cafes in the area like the Kala Ghoda cafe and Leopold cafe to maintain the energy level throughout the journey. It is approximately a 15km ride.
Pro Tip: Avoid office hours. The best times to enjoy a smooth ride are early morning or late at night.
Difficulty Level: 1/5
Goregaon East to Powai
If you are looking for an easy ride, yet scenic, then Aarey Milk Colony is just the perfect cycling trail for you. Located in suburbs of Mumbai and spread across 16sq km, this place encompasses beautiful boulevards, lakes and gardens, making it your go-to cycling spot for any day. The trail stretches from Goregaon East to Powai. It is an approximately a 9.6km bicycle ride off the Western Highway Express. Take a few breaks in between, in places like Chota Kashmir which is adorned with lakes and greenery.
Protip: This place has a lot to explore. Keep time in hand, if you wish to enjoy a boat ride here.
Difficulty: 2/5
Palm Beach Road to Kharghar Hills
Cycling from Palm Beach Road to Kharghar Hills is the most scenic trail in Mumbai. Get up early in the morning, wear your gears and get set go. That is all you need to make your boring Sundays into one of the most enriching ones. The wide-open roads of the Palm Beach lead to the picturesque Kharghar Hills, which are also adorned with seasonal waterfalls here and there. This cycling trail is covered with mangroves on both sides and gets a little steep on the hills. The Taloja Creek adds to the beauty of this place. The actual distance between Palm Beach Road and Kharghar Hills is 11km, but one can try different routes here to enjoy a longer ride.
Pro Tip: Monsoon is considered to be the best time to enjoy cycling in the hills, as one can get to see beautiful waterfalls.
Difficulty Level: 3/5
Sanjay Gandhi National Park
The Sanjay Gandhi National Park that is spread across 104sq km is a popular location for bikers, cyclists and trekkers. Formerly known as Borivali National Park, the sanctuary is home to 2000-year-old Kanheri Caves set on rocky cliffs. You don't need to have expert skills to enjoy a ride in the park, but you certainly need experience to ride up to the cave. The distance from the gate to the caves is 7km, one way. The trail begins with flat roads but soon gets steeper and gradient. Ride up to the caves and explore the jungles on a weekend trip to this National Park in the midst of this fast-paced city.
Pro tip: Bikers can rent cycles at the park itself
Difficulty Level: 4/5
Mulund to Thane
The cycling tail of Yeoor Hills in Thane is an ideal spot for mountain biking in Mumbai. Popularly known as the "Mama Bhanja Hills", this destination attracts bikers especially during monsoons for dirt and rash biking. The trail is dotted with waterfalls, woodlands and lakes all the way. Cyclists generally prefer to start their ride from Mulund which is approximately 12.7km from the Yeoor Hills. It is not an easy track to cover, and therefore is only suggested to skilled riders.
Protip: Avoid going for solo rides here
Difficulty: 5/5
Write in your cycling experiences with us here and subscribe to Tripoto's Youtube Channel for more travel ideas.
Frequent Searches Leading To This Page:-
weekend getaways from mumbai, weekend holiday trip from mumbai, weekend tour cost from mumbai, weekend trip from mumbai, weekend holidays from mumbai