Like many other Mumbai city dwellers, I too had a wish to visit the much hyped 'Kaas plateau', Maharashtra's Valley of flowers. The pictures and descriptions about the place kept tempting me and it just remained in my 'someday I will visit' list.
September 2016: It was almost the month end, boredom continued to engulf me. As I kept on thinking what could keep my brain happy, I suddenly decided to take the Kaas trip seriously. I was sure if I think more about it, I will miss it this year also. After making some inquiries I was not sure how to proceed further. It didn't take long to conclude that I'll have to join an experienced trekking group because the visit mainly depends on the weather and season.
I checked many itineraries and contacted many trekking groups. Many of the responses I got were delayed or unwelcoming types. I finally found a group named Treks&Trails who gave me prompt replies to my queries. I paid the trip cost and booked the trip within two days. I hardly had 3 days left to prepare for the trip, so I din't buy any new 'things to carry'. I regretted it later during the trip.
I boarded the bus at 11pm from Dadar, the seats were comfortable. However the sleep wasn't so great that night. I woke up completely from the disturbed sleep at 5am. I asked the coordinator when the next halt was scheduled. I was informed the stop would be at Satara, that meant more than an hour left. I tried to kill time by looking out through the window. After a while we started going up a hilly road and the air around the bus started getting foggy. I kept on looking at the driver as I was sitting on the front row just behind him. At one point, the fog was so thick that nothing could be seen ahead. He kept on driving confidently as if he is used to it. I tried to click some pictures, later stopped trying as I thought its better to 'live in the moment' when we entered a white cloudy world...for a moment I thought - 'is this how we feel like "in heaven"?
The bus stopped at a hotel (a canteen/mess type)..It was when I climbed down from the bus I realized how cold the weather outside was! The chill breeze made a pricking effect on my exposed skin. And that unfortunate moment when you are short of thermal wear and jackets to beat the cold! Remember I cursed my decision to not buy a raincoat. Yes! It had started drizzling also. The ladies went to the restrooms with toothbrushes in hand. However we could hardly brush with the ice cold water gushing out of the taps. Somehow we managed to use the toilets one by one standing in queue. We looked at each other and expressions of 'helplessness' were exchanged, there were many others who came unprepared for the weather like me. There was Poha and chai being served inside. The mess was so crowded as there were other tour groups also who stopped for breakfast.
There was an introduction round after breakfast and only then we saw each other's face.. there were about 25-30 people in our bus. We were informed we would be walking for 2,3 kms in the valley to see the blooms, so we need to take only the camera with us, leaving the heavy backpacks in the bus. After a few kms, the bus halted again to drop us at the entry gate. The roads were in a mess due to the rains and other vehicles. Looking around, I could spot a few yellow blooms near us..there was wired fencing beyond and I could not see much as the entire area was covered in fog.
As I stepped inside the fence, moving further my eyes fell upon a sea of bluish violet blooms...they were wet, fresh rain drops dripping from them... I looked around and moved further ahead...they were there everywhere I looked.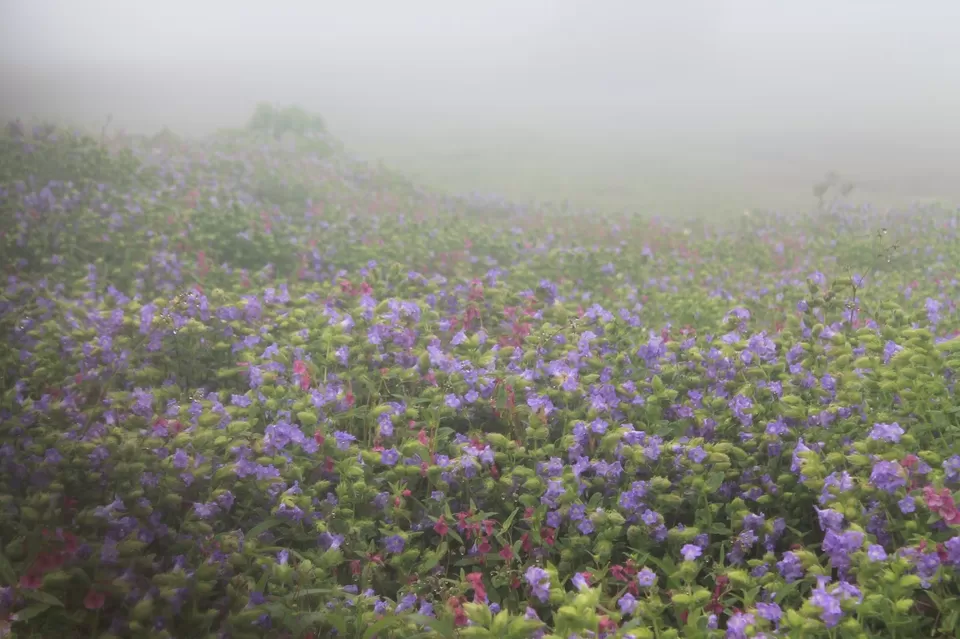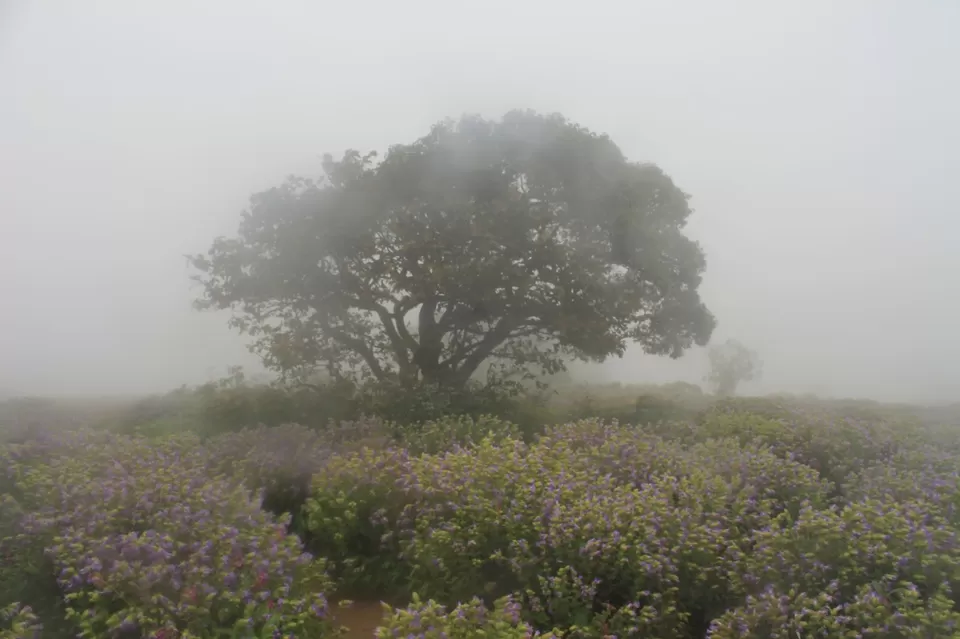 My tour guide informed me we were yet to see more blooms than this and we could click better pictures there. That din't stop me from clicking pics, I kept on clicking here and there....like crazy. The place was very unlike what I'd ever seen, so beautiful and it looked like a paradise. I walked along the narrow paths between the violets, absorbing the beauty...These violets were called Karvi flowers which bloom once in 8 years. That meant we were very lucky to have visited Kaas this year.
Satisfied with enough photos, we all proceeded to Kaas lake which was 1.5 km far. The drizzles continued and it made the air extra cold. Through what looked like meadows, we walked chit-chatting. The view of Kaas lake was a water body enveloped in fog, which means we could only see upto some distance and couldn't make out how big the lake actually was.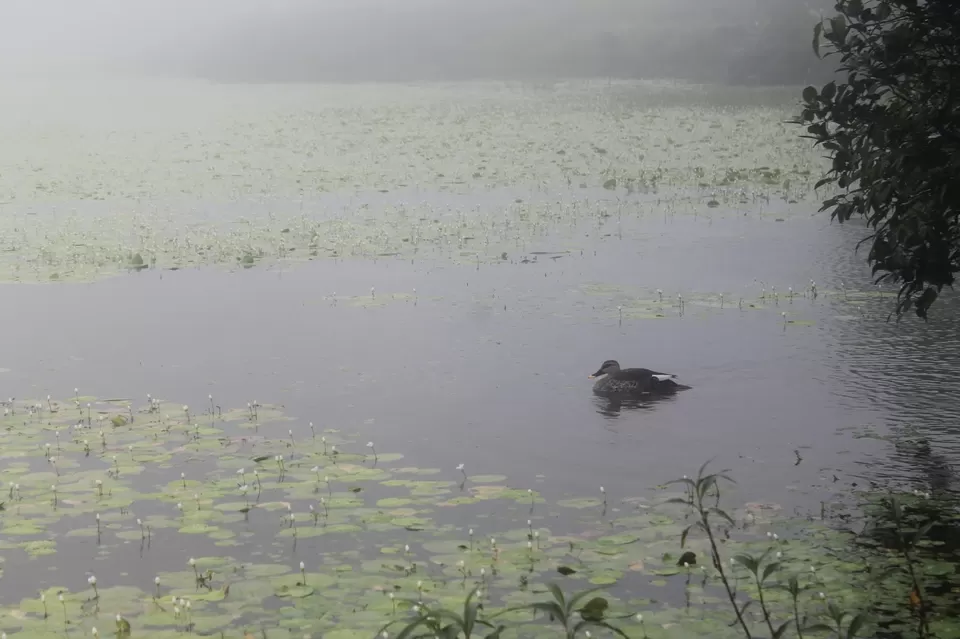 There was a bed of peculiar white lillies over the lake which doesn't bloom, someone mentioned it by the name 'magic lotus'. A solo duck was enjoying its swim on the water. We clicked pictures of rare plant species which our guide showed. Some people bought Bajra rotis with peanut/garlic dry chutney which some local women sold there.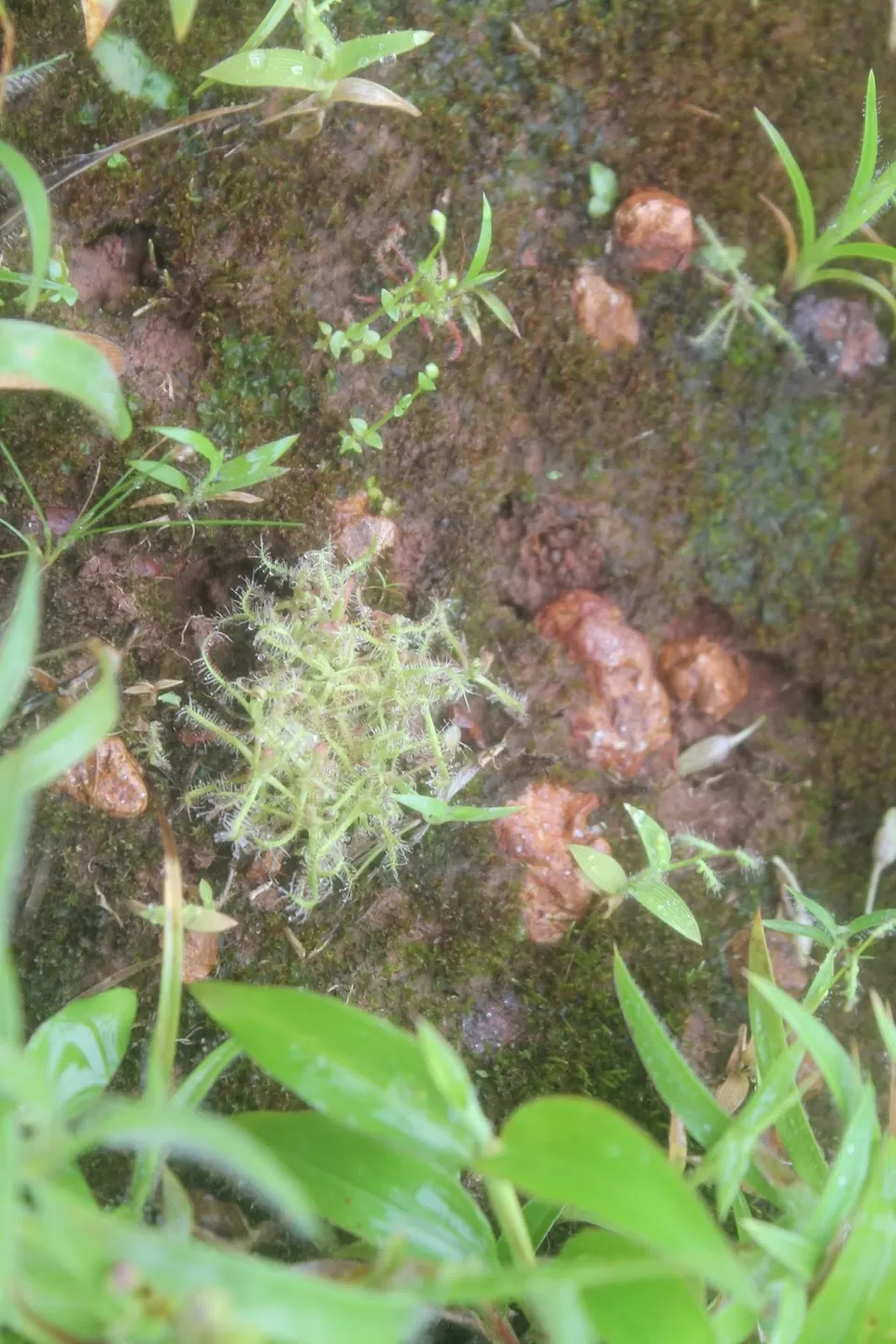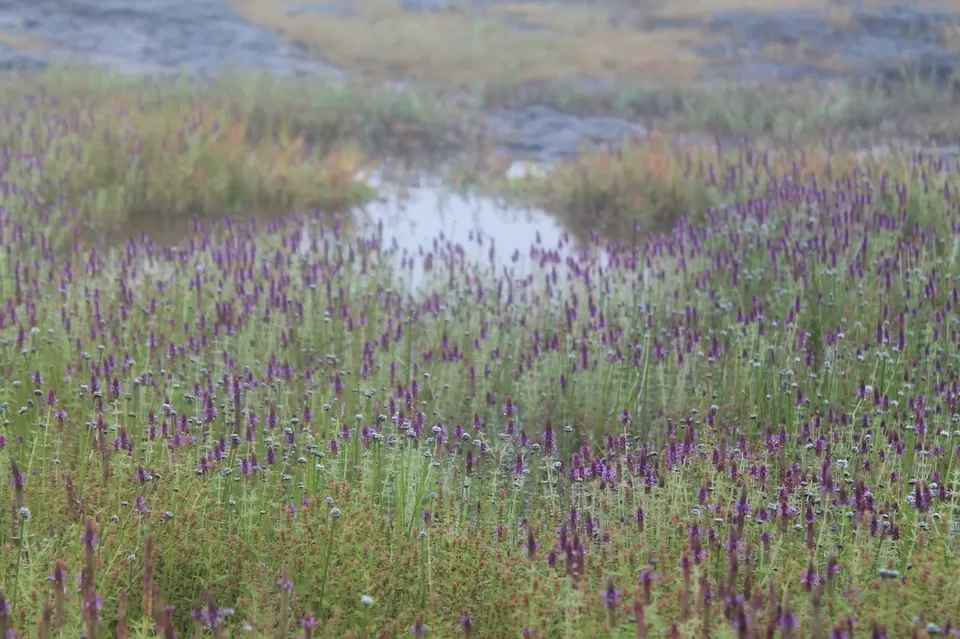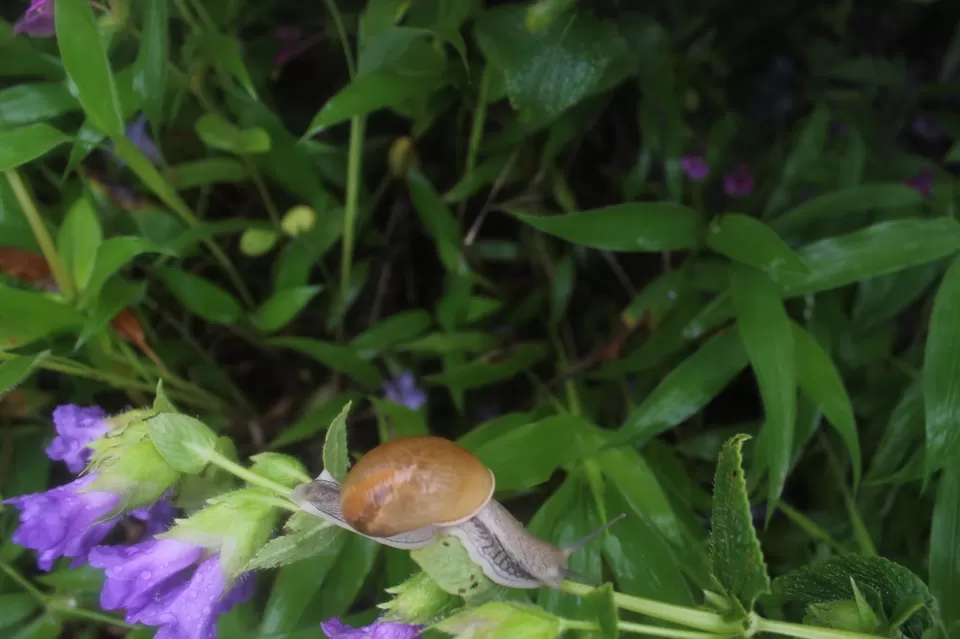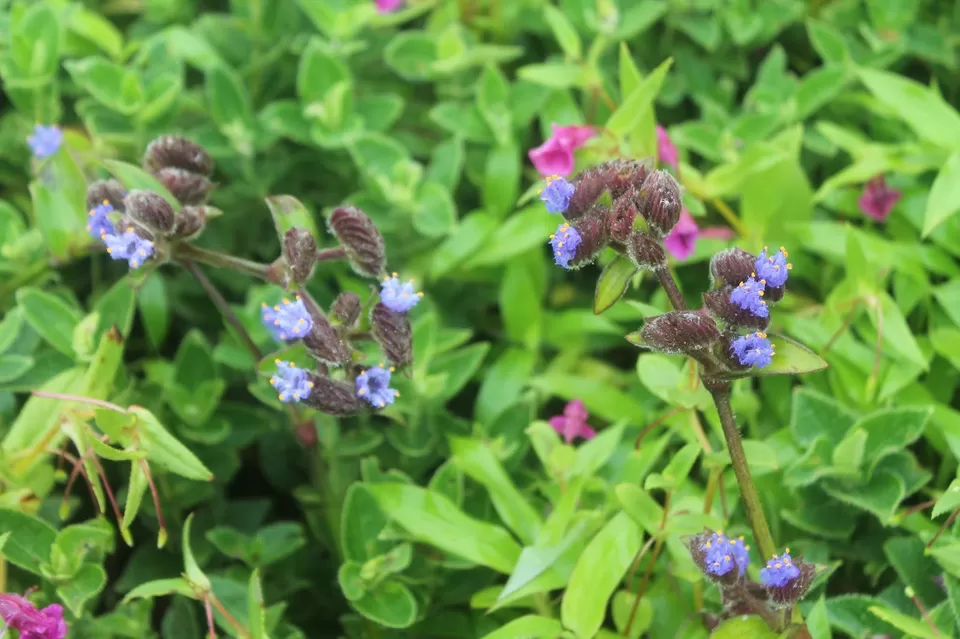 If it was not raining, we could have stayed long to breathe in the air and beauty of that magical place. It sure felt like a fantasy world. But we all have to make this a memory and move on just like we do everyday in life.
By the time we were back at the entrance, cars and buses had lined up the roads, creating a messy traffic. The fenced areas were packed with crowd, we thanked our destiny of reaching early and coming out soon before they all arrived. We were fortunate to have the 'heaven' for ourselves.
We waited for a long time for the bus to reach us from the parking area.It seemed like half of Mumbai had arrived there on that day...Yes it was Sunday too. Finally when the bus pulled up near us, we were a bunch of happy-relieved faces. It was like reaching home after a long walk in the rain...
Our lunch got delayed and meanwhile everyone exchanged many round of snacks in the bus..
I promised myself to buy a raincoat/windshield and be prepared always for unpredictable weather during such trips...!Valley of flowers - Kaas Plateau
This blog was originally published on 'Wanderlust'