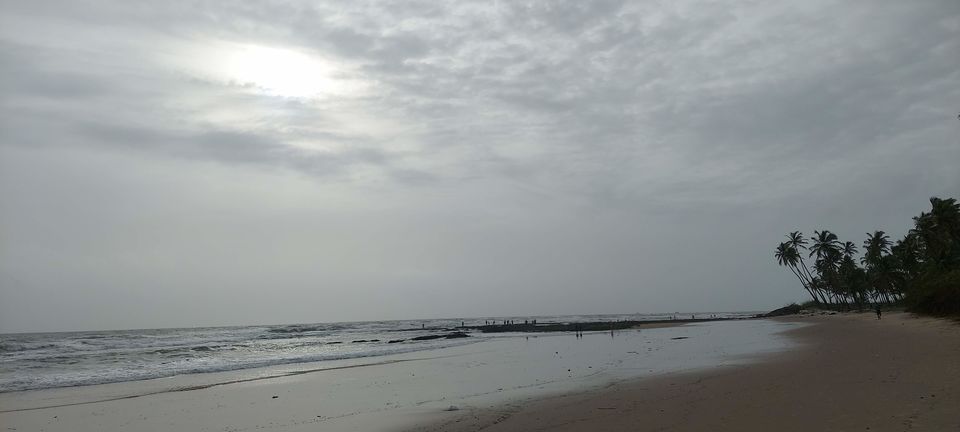 For us corporates, who like to travel , long weekends are the treasures which we dont want to waste by staying at home. It was quite late when me and D realized that Independence day this year was on a Monday and we were almost on the verge of missing a precious long weekend. But as soon as it struck us, we started off wondering what place can we go for a 3 day short trip within Maharashtra. Since it was only couple of weeks to go, it was becoming very difficult for us to get a good hotel. After a lot of research and not getting any suitable and available hotels, we thought that instead of deciding on the place and then search for the hotel, we will do the opposite. We started looking at good available hotels and finally stumbled upon Samant Beach Resort. The resort pictures were quite attractive and surprisingly 1 room was available as well. We were super happy and immediately booked it.
Samant beach resort is located at Bhogwe beach in Vengurla district with Tarkarli beach at 30kms north and Goa border at around 60kms south. We booked our train tickets from CSTM to Kudal station. Its a 11hrs journey and our train was at 12.20am in the night (CST-Samantwadi special). Our tickets got confirmed at around 7pm in the evening and after a hurried packing, we left for station at around 9.30pm. We reached CST at 12.10am and by 12.25am, our train journey started.
We both were travelling by train after almost 6 years and were pretty excited about our journey. Ours was 2AC and we both had upper berths. So gradually as the train sped up, we climbed up to our berths and fell asleep. But the next time my eyes opened, I was shivering badly in the cold as we were not that prepped up with any warming clothes. Anyhow we managed the sleepless night, but a pro-tip here is, even if you are going to a warm place, you should always pack separately warm clothes for a comfortable train journey.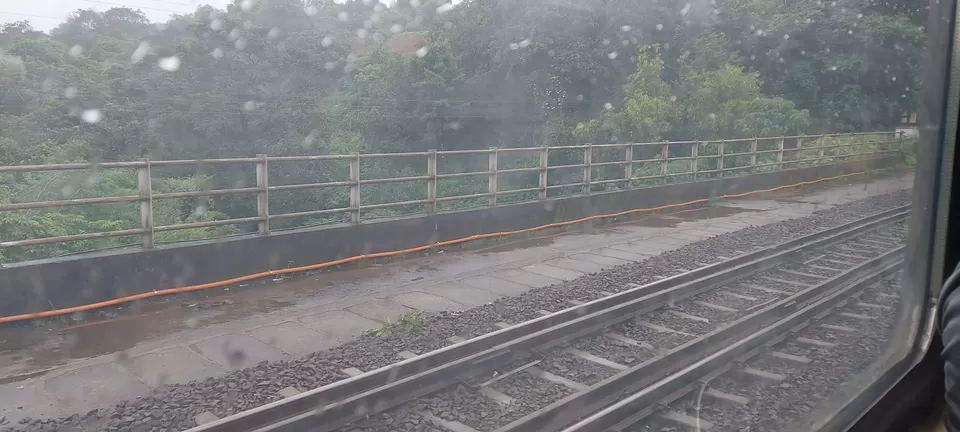 Day 2 started in train having a Vada pav as breakfast. Our train was late for 1hr and we reached Kudal station at around 1pm. After alighting from train, we took an auto rickshaw which took us from Kudal station to Samant beach resort. The distance was around 25kms and it took approx. an hour to reach the resort. This road was beautiful with different shades of green all around. We stopped a few times to capture beautiful scenes of these green sceneries on one side and the Arabian sea on the other.
Day 3 started with quite an adventure as we were supposed to book our train tickets through Tatkal service for our return journey. Our hotel owner had informed us earlier that there is no network in the hotel as well as surrounding areas. For network , we will have to walk for 10-15mins which we were ok with. So after breakfast we left at around 9.10am. Little did we know, that for telecom network, we will end up in a place which is very unlikely to have network and thats at the beach. While walking and searching for network , we asked the very few people that we were meeting on road about availability of network. Everyone was pointing us towards the beach. We were running out of time as we will have to get network before 10am to book the tatkal . There was no public transport as its a remote village. After, we frantically searched, all of a sudden we saw one bar of our network and we felt so ecstatic. That time we realized that how integral a simple phone network has become a part of our life and how much we have taken that for granted staying in city life. Anyhow, we somehow reached the beach and have got full network. We tried booking our tickets but both of our tickets have been booked under waiting. Due to the unsurity of the availability, we searched and booked a bus ticket from Kudal bus stoppage to Mumbai. Although we were aware that the bus ride will not be a very comfortable ride, but we just wanted something to be confirmed at that time.
Once our return tickets are confirmed, we were quite relaxed and went back to the resort.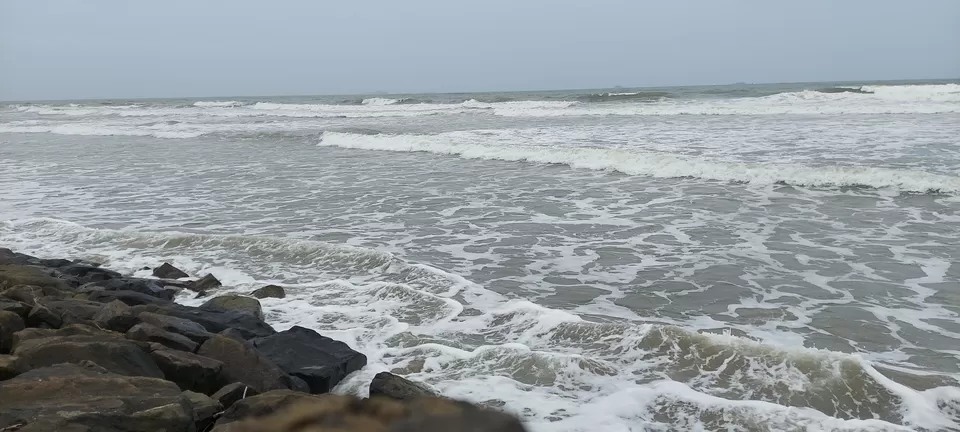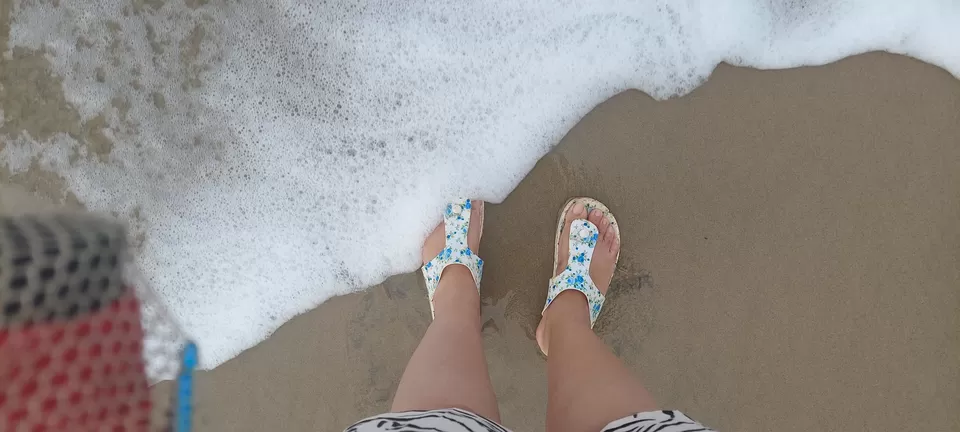 The first thing we did on reaching the resort was to order our lunch. We had pomfret fish thali and it costed around 350rs. The Bhogwe beach was accessible directly from the resort and post lunch we could not resist ourself from visiting the beach. This beach was completely different from what we have seen so far. As it was low tide, we had a wide vast beach in front of us and in one word it was pristine. After doing a quick tour of the resort, we jumped for a quick nap as the after-lunch slump was irresistible.
Post our nap, we went to the beach again and was surprised to see a changed view of the sea. That was the time of high tide and the roaring waves came close by. After engaging in this beauty for sometime, we came back inside the resort and lied down on a hammock till the afternoon time. During the monsoon, there were no water sports arrangement and we had no other plans as well. So the only thing we did was full relaxing. Swinging in a hammock with endless thoughts, surrounded by the crashing sound of the sea waves, give altogether a new perspective towards life. It makes us feel so timid in front of nature.
Dinner was served early as the day gets wrapped early in this village side. Food in the resort was quite delicious and sumptuous.
Post dinner, we went to have a view of the evening sea which had its own beauty, indescribable in words. Pitch darkness engulfed the sea , the sky and the sea became one and uninterrupted. Sparkling stars in the night sky and the surrounding quietness with only the sounds of sea waves, gave an enchanting feeling.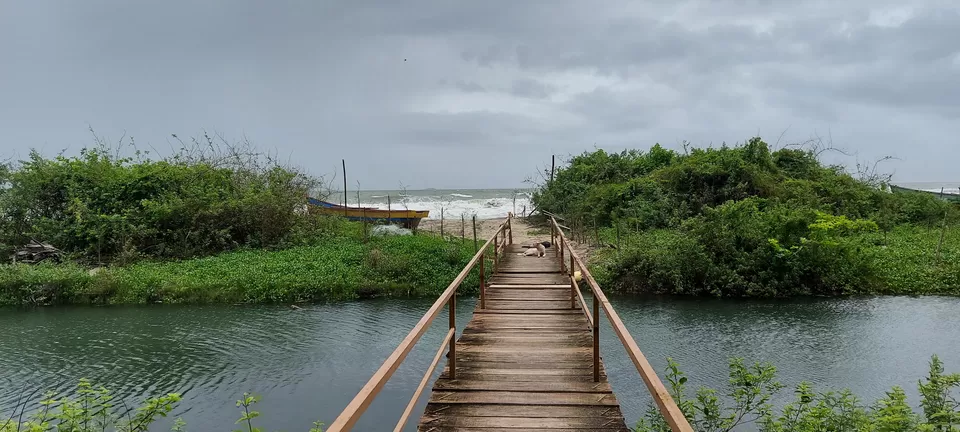 Day 4
Since our train tickets didnt get confirmed, bus was our only option. So we booked one auto which will take us to Kudal bus stop. From there, we boarded our bus at around 4pm in the afternoon.
After feeling the movement of wheels over the road, following the curves and greeting each slope in it own way, we reached Mumbai at 4am in the morning.
Our journey ended with full of memories and a rejuvenated soul. It was quite an adventurous trip indeed.
P.S. One can reach Bhogwe beach by car as well. Covering a distance of 545km will take around 11hrs via Mumbai-Goa highway.