Vrindavan, the holy land of Uttar Pradesh, is a fairly well known pilgrimage city that is reminiscent of days gone by. The chants of radhe radhe frame a serene ambience, as they replace every possible greeting exchanged between the locals – from Good Morning to apologies.
I happen to visit it almost every month, so much so that its untidy lanes have started to feel like a second home to me – a home no one really cares about. Despite the number of tourists this place attracts on a daily basis, the city is far from becoming a hygienic and tourist-friendly destination.
This lack of attention has turned this warm and pious place into a hub for scams and muggers. And these professionals are so good at it that one might not even realise that he/she has been duped! I watch it happen all around every time I visit Vrindavan and it's high time everyone knew about it. Here's what I know about the dark side of Mathura-Vrindavan.
It starts at the very beginning!
I usually travel from Delhi by train, so let's begin at the railway station. Adventure unfolds at the Mathura Junction station, where one would get down. Moving into the public transport area, I find countless auto and rental taxi drivers calling people out for a ride. It usually takes around 40 minutes to reach Vrindavan from here for which they'll ask an exorbitant amount of money. The drivers usually ask for Rs 100 or more per person. The price I pay every time – Rs 20 per person. All it takes is telling them that I come here every week and know the rates. They agree.
Thugs of Hindustan!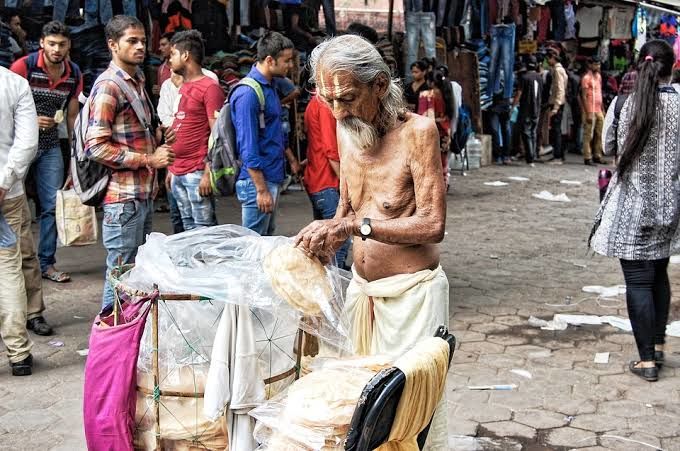 After I step out of the auto, tour guides appear out of thin air. They usually charge Rs 50 and help explore only the 'very important' temples. I avoid hiring these guides, but this time I had my uncle travelling along. He insisted that we hire one, so we did. I was ready to watch it happen all over again.
The guide took us to a couple of the major temples first. That's where he showcased his verbal skills. He showed concern and told us not to drop money at every drop box or at the steps of each temple.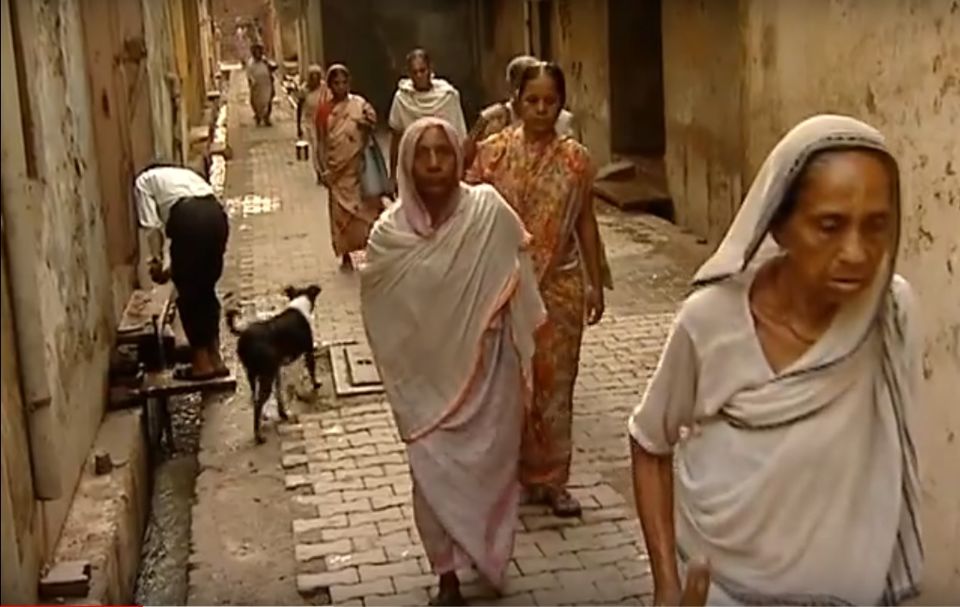 He wanted us to save money now so that we could put it in the hands of his allies, the likes of the so-called widows that later crossed our path inside an ashram. He told us that they live off charity of tourists like us. Fact check: they don't.
It's a well-framed scam to attract unaware people into throwing away their money in the name of religion and philanthropy. Then again, how much could one possibly give to a widow for food? Rs10, Rs20, a Rs100 note if one is too generous. Is this amount viable to repay the guide's efforts? It isn't, right?
Tiles by the miles!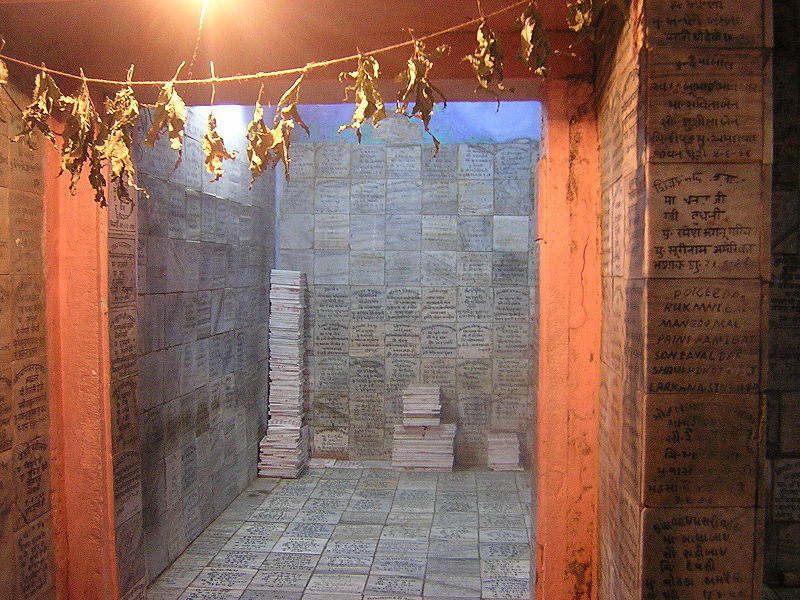 After moving through a gazillion tiny confusing lanes that seemed like alleys from Gangs of Wasseypur, he guided us into his casino. I had to call it that because that's where these fake guides hit the jackpot. It was a temple with a large gate, followed by a huge tulsi plant right in the middle of the entrance verandah. Pundits and pilgrims had diyas, incense sticks and flowers placed in front of this plant on an elevated platform.
As we stepped inside, I noticed that the floor had white marble tiles with names of people written on every tile. Every wall of inside this temple looked the same – white tiles with names on them. The guide asked us to circumambulate the plant and pray for our own and our family's well being. Once done, he then guided us into a smaller room within the temple. The room had a large curtain waiting for us. He asked us to sit down and wait for punditji, who would perform a special pooja for us. One of the priests that I noticed earlier smoking in the verandah, soon took over. The guide was told to wait outside.
This priest helped us pray, asked us to chant a few mantras and in no time, requested us to donate a hefty amount. It was all in the name of God, mind you. Acceptable donations are no less than Rs 12,000. He would not let us talk or discuss this with each other. He even tried intimidating us in every possible manner. It was almost as if he was forcing us to pay the money.
When asked why, he said that the amount would be used to place another tile in the temple with the donor's name on it. The priest then started citing examples of generous donors in the past and how their fortunes turned overnight. There were a few people sitting around us, who were actually his accomplices. My experience had prepared me for this as well. They started declaring their donations loudly with humongous numbers to make all this look legit. I knew the drill, so declined to pay anything. What happened next was funny and rather uncalled for!
They started cursing us for not showing love towards God. Those pundits actually started abusing us. Sitting in the house of God, they did it without flinching! Oh, I almost forgot. We had a guide waiting outside. The guide was to get his commission for bringing us here. Every penny I would have donated here would have added to his profits as well. So, he too joined the band of conviction.
Eventually, the hooligans realised they won't be making any money from us. They had to let us go after we paid the guide his fee. We had agreed at Rs 31 as his fee (yes, in 2019!) He was good at telling stories and explaining everything till we reached the Tile Temple. So, I paid him Rs50 instead and set him off.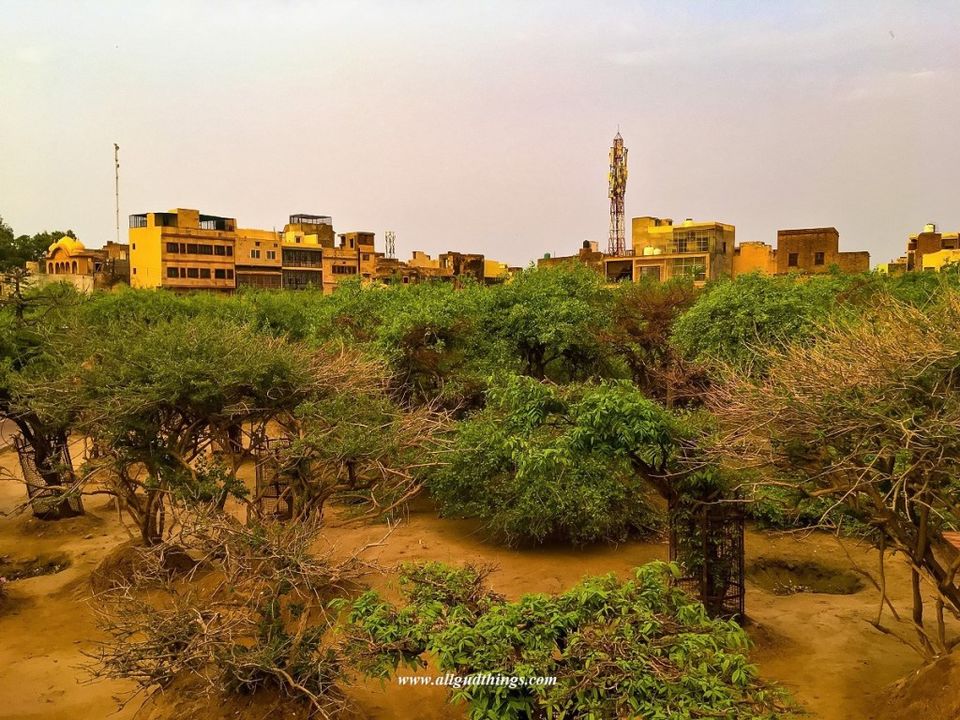 As religious as one may be, witnessing the present-day condition of Vrindavan is saddening. People tell stories of Lord Krishna still showing up every night at Nidhi Van for rasleela. Faith has it that whoever tries to get a sneak peek ends up blinded or mentally ill. Yet I could see tall residential buildings right next to the location from where residents could easily get a view of what goes on inside Nidhi Van.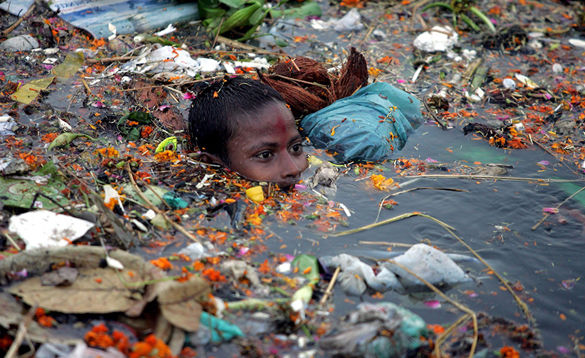 One step into the city and I could notice the lack of basic amenities, hygiene, traffic management and what not. If the administration or by the self-proclaimed protectors of culture truly respected Vrindavan, it would have looked much different. I believe in the All Superior. But I also believe that cleanliness is Godliness, outside as well as within. And this place needs both.
Despite these conflicts and shams occurring as a daily norm, Vrindavan stays close to my heart. It is homely, ever-welcoming and asking for help. The food served in the canteen of Prem Mandir has me drooling even as I mention it. With a little care and a lot of attention, this city can turn into a budding tourist attraction on a global scale. Hoping to visit a better Vrindavan on my next visit.