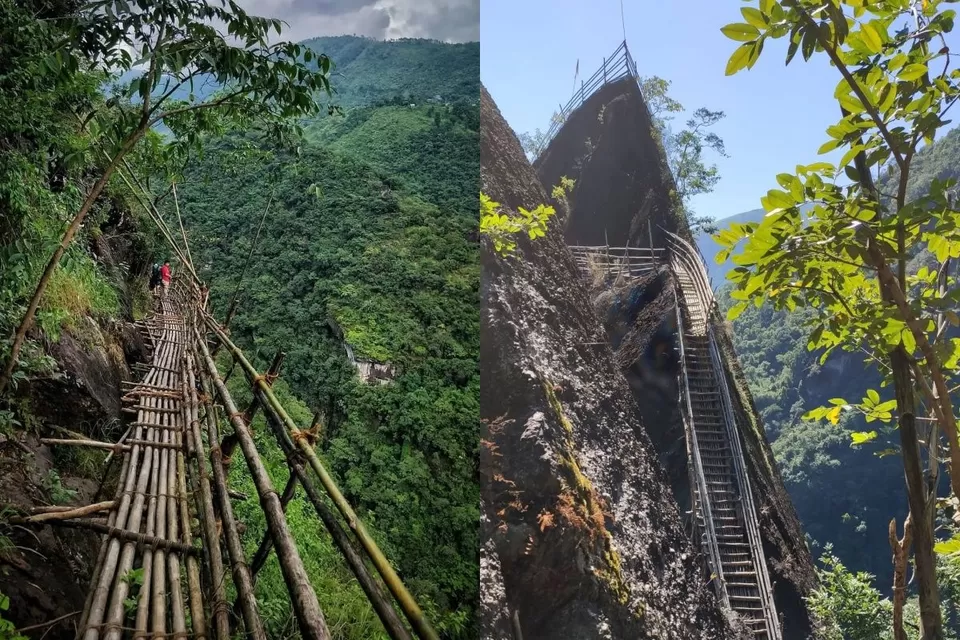 Nestled in the Northeast India, Meghalaya is known for its scenic lush green forests, magnanimous waterfalls, meandering rivers, and deep caves. But have you considered trekking on a bamboo skywalk cliff with a gorgeous sky above and a gushing river amidst the panoramic beauty of Meghalaya? This bamboo trek, also known as the Mawryngkhang trek, is one of the scariest treks in Meghalaya.
All you need to know about the trek:
1. The Bamboo trek starts from a Wahkhen Village, which lies in the Pynursla Tehsil of East Khasi Hills in Meghalaya.
2. The villagers themselves prepare the bamboo bridge in a way that bamboos tied with cane ropes give a sturdy enough pathway to walk on. The bridge is constructed without any help from the government.
3. The trek is around 3-5 hours, and one can stay at Wahkhen village (if required, but there are significantly fewer stay options available).
4. The Mawrynkheng trek was opened to the public in 2016 to generate income for Wahkhen village.
5. The trek descends from Wahkhen village to the base of a river valley, and you will cross the gushing Wahrew river via several rickety bamboo bridges.
6. Once you cross the river, all the serenity and peace turn into the fear of crossing the narrow bridge, which goes steeper. As you continue to climb higher, there are hidden waterfalls at every corner.
7. The final part is a steep climb up a ladder that takes you to the tremendous "U Mawryngkhang" stone, known as the king of stones.
8. The feeling of reaching the King stone is rewarding, and when the edge of the trek can take your breath with a view that will paint a canvas of clouds, lush green forests, clouds, and waterfalls in your soul. The cottony cloud plays hide and seek, and the verdant valley awakens with raindrops adding fresh hues of green.
Things to take care of in Bamboo Trek Meghalaya
1. The Bamboo Trek at Wahkhen does not offer options to sleep unless you choose to camp.
2. You should hire a local guide. You can hire one locally or click here to get one.
3. When heading for this, always carry your food, as there are fewer to almost no options available for lunch on the hike. There might be some food stalls at the parking based on weather conditions.
4. It is Meghalaya, and it can rain anytime, so take a rain jacket or poncho with you.
5. While Bamboo trekking, especially in monsoons, wear shoes with a good grip. The rocks, stones, and bamboo all get very slippery.
6. Northeast India is the untouched beauty, and make sure to travel sustainably. There are wooden dustbins on the way and do not spoil the beauty by littering around.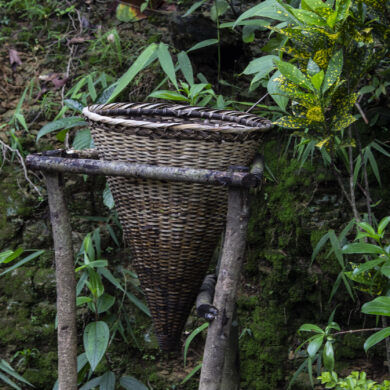 Quick Facts for the offbeat Bamboo Trek
Total Distance: 3.54 km approx. both ways
Difficulty Level: Medium
Trek Route: Wahkhen village – Wahrew River – Mawkhlieng Cliff – Mawmoit Viewpoint – Mawryngkhang Rock
Entry fee: - 100 INR for adult
Parking charge: - 50 INR for the car.
The Story of the Famous King Stone
According to Khasi legend, once there was a great battle between stones. Mawryngkhang won battles and became the King of Stones, known as U Mawryngkhang.
It is said that Mawryngkhang fell in love with a lady rock called 'Kthiang' from another kingdom. Like a classic love tale, this folktale is a love triangle between 'Mawryngkhang, Kthiang, and Mawpator, who is also in love with Kthiang.
Thus ensued a deadly battle between the two stones. In the fierce competition, Mawpator broke off the left hand of Mawryngkhang. But Mawryngkhang was an excellent warrior and was not ready to accept defeat. Finally, U Mawryngkhang and Kthiang left happily ever after.
Best Time to plan Bamboo trek in Meghalaya
1. The trek is accessible throughout the year.
2. The offbeat Bamboo trek can be best experienced in Winter, from October to January, as the surface won't be slippery, and the weather won't be tiring.
3. But if you are a pro and can bear the dodge of slippery rocks on the trail, you'd get to see some gorgeous waterfalls.
4. From March to May, the weather is good, but the rivers and waterfalls won't be as good as post-monsoon.
5. You can start the trek at around 11 am or make sure you start at least before 1 pm.
How to Reach
By Air - Shillong Airport, located at a distance of 25kms from the city of Umroi, is the local airport that connects the hill station from Kolkata but has limited connectivity with other cities.
The nearest major airport, Lokpriya Gopinath Bordoloi International Airport, well-connected with multiple cities across India, is in Guwahati, about 125 kilometers away. You can take a taxi from Guwahati to Shillong.
By Railway - The closest railway station from Shillong is Guwahati Railway station. It's about 100 kilometers away, and you can easily take a taxi.
By Road - Government buses like Meghalaya Transport Corporation (MTC) and Assam State Transport Corporation (ASTC) regularly regulate many buses from Guwahati to Shillong. A traveler can choose from the vast array of Volvo, sleeper, deluxe, and regular buses, depending on their budget. It usually takes 3 hours to reach Shillong from Guwahati via bus.
If you are a rider and are too much into adventures, you can also choose to ride through the lush green valleys from Guwahati to reach Shillong. There are multiple bike rental options available in Guwahati.
This Wahkhen village, where the Bamboo trek starts, is around 42km from Shillong. The Wahkhen village is remote, and public transport is not readily available. One can rent a scooter from Shillong or hire a taxi to reach Wakhren village. Click here to hire one-day taxi services.
So this Winter, plan the magical ride to Meghalayan villages to explore the offbeat beauty of India with lush green patches, waterfalls at every corner, gushing river streams, bamboo bridges, and idyllic houses scattered in the distance. And you won't regret this breathtaking experience.
If you, like me, are looking forward to meaningful travel in a more mindful and immersive way, then do check out Tripoto's Mindful Retreats.
Have a similar experience to share? Mention it in the comments below or write about it here on Tripoto and earn Tripoto credits to travel for free!