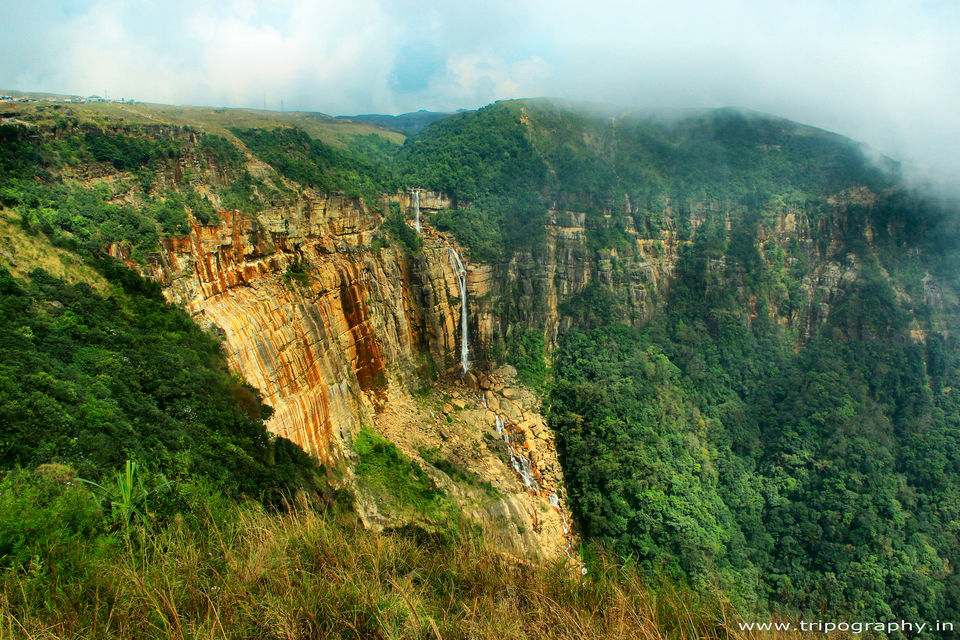 With high expectations I kept on gazing towards the sky. A dark grey cloud surrounded by its fairer companions hovering over the distant hills kept chasing my cab and grew in stature as I entered Cherrapunji. It was an invigorating moment. After all, I was about to experience rainfall in the wettest place on earth! My joy knew no bounds when the first droplet grazed my eyelashes. To my utter dismay, Sohra (historical name of Cherrapunji) had different plans for me. I roamed around the entire day in anticipation, only to realize at the end that the first raindrop to fall on me was indeed the last one. Sohra (Cherrapunji) is a 2.5 hour drive from the state capital, Shillong. The scenic meandering road cuts across the East Khasi hills offering spellbinding views of numerous waterfalls and deep gorges. Predictably there are several places along the road with designated viewpoints.
With every bend of the road, I expected a change in the landscape, searching for a steep climb, expecting huge mountains to emerge from the horizon and hoping the clouds to transform to a menacing greyish hue. My over enthusiasm had made me forget the fact that I was driving from Shillong to Cherrapunjee which are at similar heights above the sea level and I was unlikely to encounter steep ghats and hairpin bends. I came to my senses when my driver suddenly stopped the car and asked me to venture out for another view point. Seeing the deep gorges and the first waterfall of my visit I realized that I was already at 4000 feet above sea level.
NOHKALIKAI FALLS:
Rarely have I seen such a beautiful plunge pool at the end of a fall. Falling straight as an arrow from a height of 1000 feet, this is the most beautiful fall in Cherrapunji. The blue puddle is a unique feature of Nokkalikai Falls and is best viewed on a bright sunny day. I was fortunate to get a glimpse of it during a brief period of sunshine.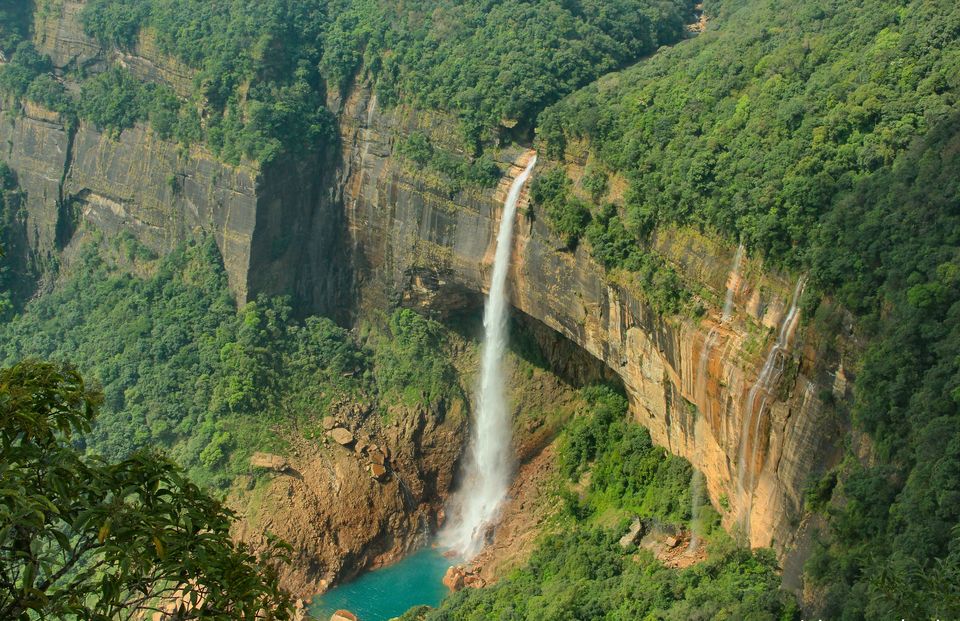 A nominal fee is required to enter the hill top (from which the fall is seen). Small time vendors have set shop on this beautiful place selling souvenirs, jute hats, puffed masala rice (a local snack), bells and trinkets. Manned by Khasi women, it reminded me of the matrilineal culture prevalent in this magical state of Meghalaya. Loitering on the hill top, the landscape continued to intrigue me. It was neither rugged nor plain, neither barren nor fertile. It seemed as a hybrid of everything.
KHOH RAMAH
Less than 20kms from the centre of Cherrapunji, lies a unique giant 200 feet natural rock formation resembling an upturned Khasi basket. You can always hear some overenthusiastic tourist guides pointing towards the Bangladesh plains in the backdrop.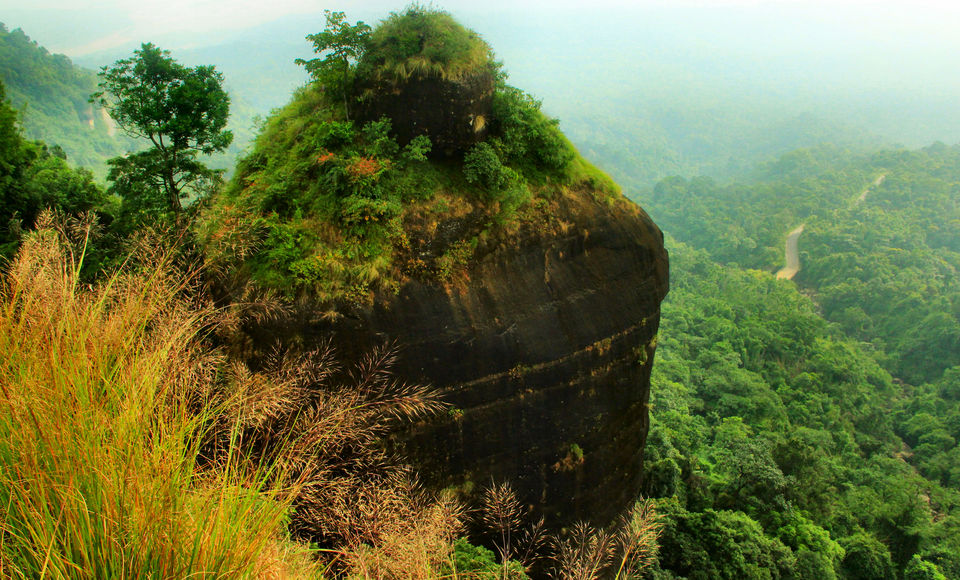 THANGKHARANG PARK
Spread across an area of 5.5 Ha, this is a park with abundance of breath taking vantage points. Be it the view of the Khoh Ramah rock, the green fields and meandering rivers in the panoramic view of the Bangladesh plains or the spectacular visual of the 1000 feet high Kynrem waterfalls cutting across the serpentine roads, the experience will be unforgettable. It also doubles up as a perfect picnic spot for families with dedicated playing areas for kids.
MAWSMAI CAVES
I discovered my unknown anxiety for constrained spaces for the first time in the dark, gloomy caves of Cherrapunji. Walking through the 150 meter long natural limestone formation can be quite challenging. There are several spots where one has to crawl or do a 90 degree bend to pass through. If you are claustrophobic, then avoid it! Magnificent formations of centuries old Stalactites and Stalagmites adorn the cave interiors.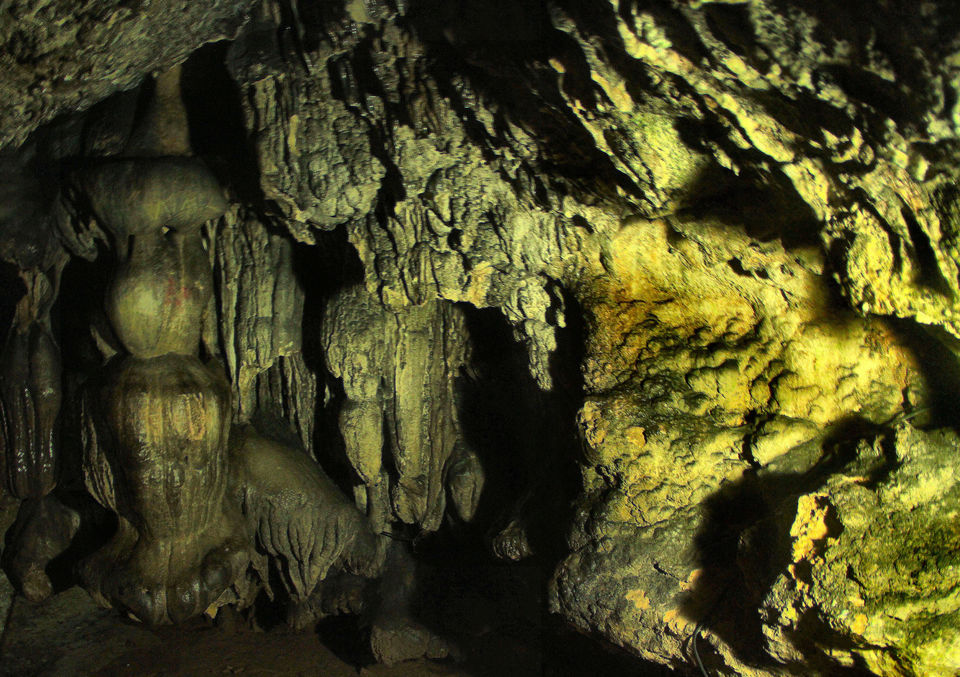 Set up by the state government on top of a plateau, it houses indigenous orchids and a golden expanse of autumnal grassland. It offers magnificent views of the surrounding Khasi hills and the Sylhet plains of Bangladesh with which Meghalaya shares more than 400 km of border.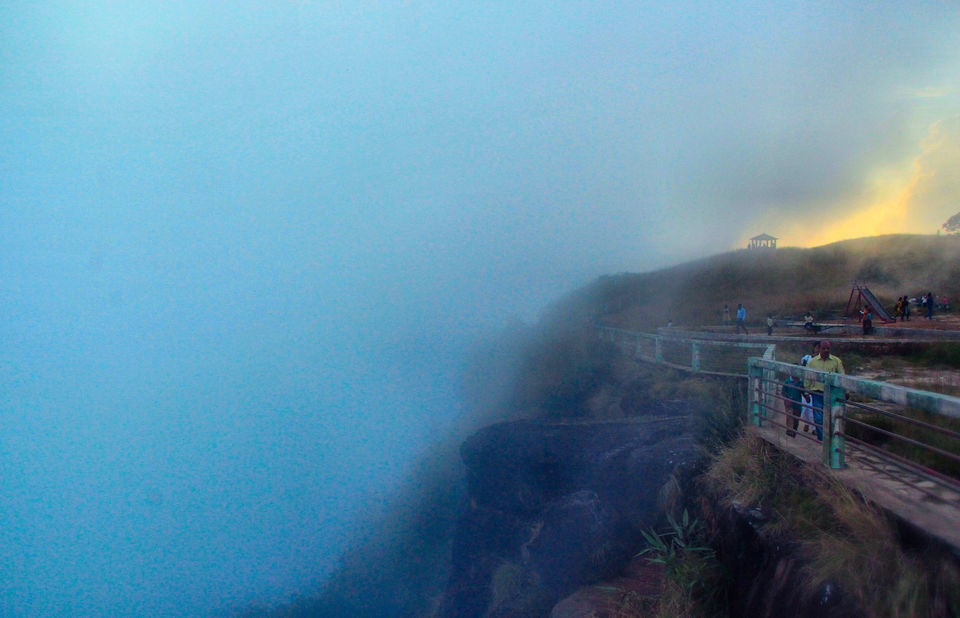 Lost in my thoughts, I was wondering along the edge of the cliff when a few strong gusts brought with them greyish white clouds that engulfed the valley. There is certainly something magical and mysterious about these white wonders that come and go.To present a perfect contrast, and to end my delightful day trip with an enchanting note, the setting sun cast a golden hue in the evening sky.
I was waiting for rain, some unrestrained showers that would add a touch of credibility to a good monsoon story. But nature had other plans.
However, the long winding roads, the peculiar topography, the verdant surroundings and the ubiquitous waterfalls gave me ample memories to treasure forever.
Best Time to Visit - October to May