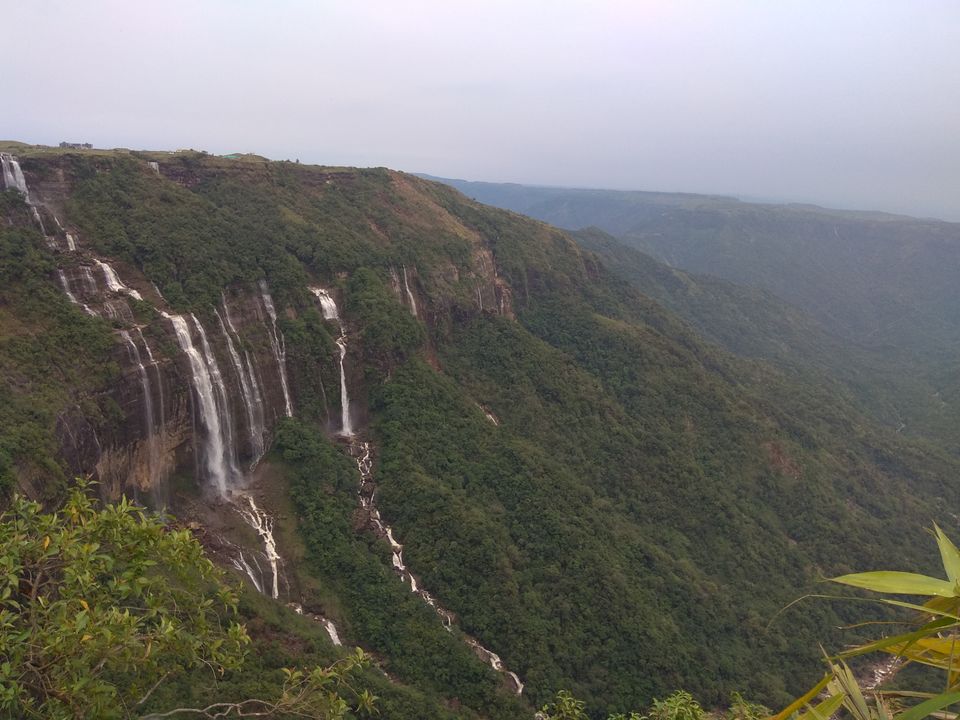 Being a solo travelers i like to travel on weekends. So this time i decided to go to north east. I decided to visit Shillong allong with Cherapunji and Mawlynong. I was most exited to see living route bridge and most cleanest village in Asia and clealenst river in India which is famous for its crystal clear water.
I pack my bag and reached to Guwahati early morning. From there i booked a sharing cab as i want my trips to be very budget friendly. It costs 200 bucks to reach from Guwahati to Shillong. Where i tried to get a hotel room which i hadn't pre-booked. Around 10:30 I decided to check what is the best budget way to see my destinations so i reached to few local taxis and asked for the rentals and also came to know about Meghalaya Tourism office. So I went there and checked about their plans and prices. But I was late for That. So I prebooked my tickets for next to Mawlynong as their buses ply about 7:30 AM.
So the Very first day I decided to local Sightseeing of Shillong.. I contacted a very gentle Taxi driver and bargained for my whole day Sightseeing of Shilong. It costs me 2300 bucks for whole day for Shillong including Barapani. (I feel i should have bargained more) Shillong is really beautiful place and Lacal khasi People are litterate and Very Humble. Shillong is very strict for cleaniliness.
Churches, waterfall are beautiful. But I liked Dawn Bosco Museam, Shillong View Point, Barapani Most.
I got early and caught Tourism bus. They provide a local guide who was fluent in English so that everyone can understand. Bus departed at 8AM and cost just 500 bucks. Roads of Meghalaya are itself beautiful and every kilometre is like a view point itself. Our first point was Canyon Rngain valley which really mesmerising. From there we moved to Riwai Living Route Bridge which was situated 2km away from cleanest village in asia 'Mawlynong'. Walking over living route bridge is special experience and and a water under the bridge makes it more pleasant. Standing on bridge is not allowed. From we went to Village Mawlynong and had lunch in the village. This village reminds me of Japan's Ishikawa. I fallen in love with this Village. It is famous for a reason for sure. Must visit place for all. After visiting that village we move forward to Bangladesh border at Dawki village. Where u will see just 2 gates one of india and other of Bangladesh. Lastly we moved to Umgot River which is in Dawki . Here you can see River border between India and Bangladesh. I can be a surprise for You to see a border like that. It had rained alot just before we reach to Umgot River that made its crystal clear water dirty and I missed its crystal cleararity. It was a Normal river that day.
Sohra(Cherrapunji) we have all heard this name since childhood as it was known as wettest place on earth. So it was childhood desire to go to this place and my wait is come to an end at last day of my weekend trip. Again I had a prebooked ticket of Meghalaya Tourism . Bus plied at 8AM in the morning. ( If you are planning to spend more time or going with frnds I recommend you to book a taxi. you can also do camping here in Cherrapoonji) if you ask me about road route to Sohra, I call it 'Road to Heaven' so if u are biker this is Highly recommend for you to do a bike trip to Cherrapunji.
Here You can see Double daker living root bridge and can stay on a tree house. Also can do camping. (i didn't do it because i have another plan to come once again here and spend few days here. Do camping.)
Our first Destination of the day was mawdhack valley view point. Which is really beautiful. Here u can do kind of adventurous sport too. From there we moved to eco park, the whole road was covered with clouds and i was feeling like i am entering into the clouds. It was all dark and even road were invisible for few seconds so all cabs were stopped there. As we reached to Eco park it started raining heavily and it was another experience that i had first time in my life. U can see clouds raining down you. Due to heavy rain we were not able to move in the park as umbrellas were torn becoz of cold fast wind, so wear a rainsuit wen u come to Cherapunji. From there we plied to Mawsmai cave which is one of the longest natural cave in india. If u like caving this place if for u. From there we went to another border of India-bangladesh-Syllhet. The beauty of this place is more than i can ever express. Ramakrishna mission Museam was also good. But main attraction is waterfalls of Cherrapunji. So we moved to Noh-Kali-Kai-falls. One of most beautiful waterfall in India and as told by my tour guide it is also longest waterfall. It was really mesmerising experience watching it and listening the sound of water. We had lunch there in a restraunt. And moved few steps downs to waterfall by stairs. (There are about 1000 stairs from the top to go to waterfall.) After spending about an hour we move forward to our final destination of the 'seven sisters falls' i don't want to say much about this place. Just go and feel the experience.