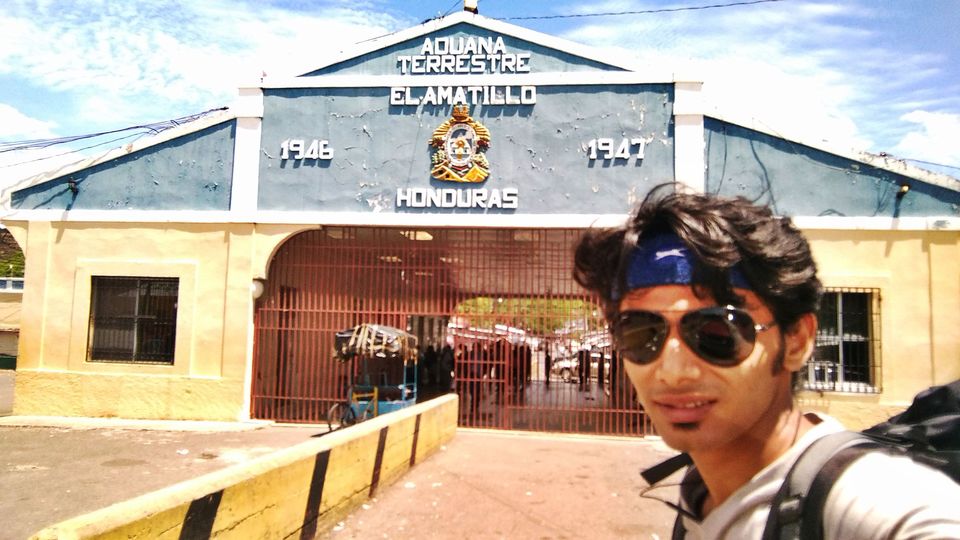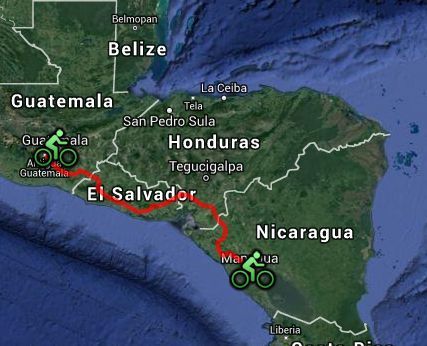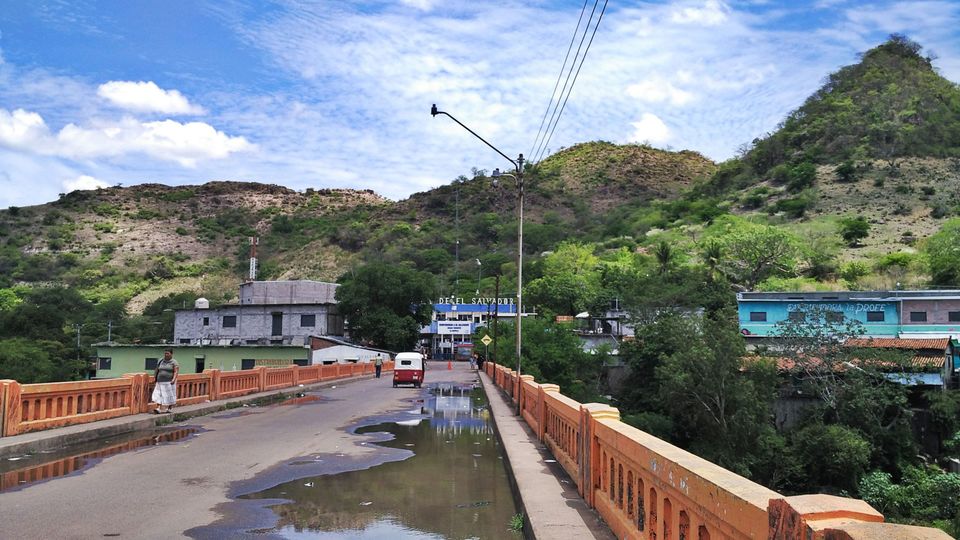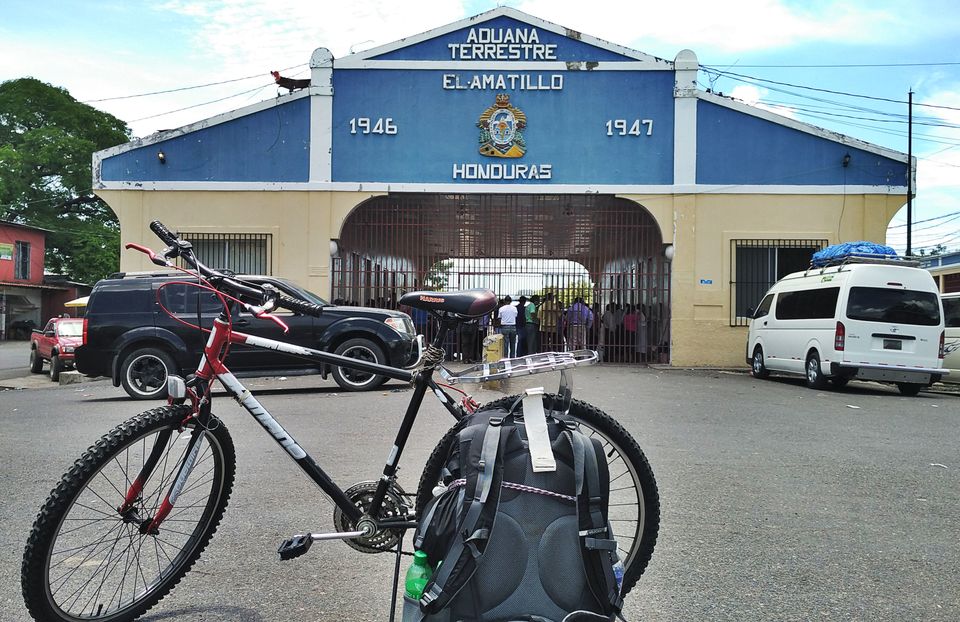 "You Are Fucked Man. They Are Gonna Fuck With You". Welcome To Central America.
My plan was to cycle in Central America from Nicaragua up to Guatemala. I was outside the Honduran immigration office in El Amatillo. After cycling for around 350 kilometers through Nicaragua and Honduras, I was now waiting to get into El Salvador.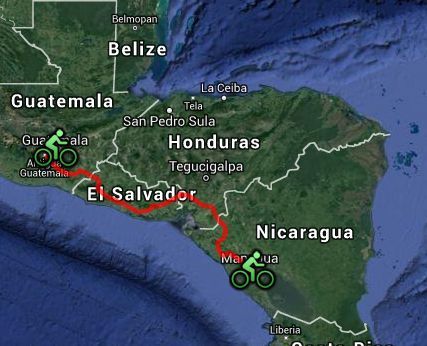 At 11am, the Honduran immigration seemed more like a medieval market place.
But 15 minutes later, I was on my way to El Salvador with the exit stamp from Honduras. A bridge separates Honduras from El Salvador on this border.
On reaching the El Salvadorian immigration, I handed them my passport.
That is when things started to go wrong.
They refused to give me entry stating that my visa was about to expire in a day. After speaking to the officials they told that the 30 days stamp on my Nicaraguan visa was valid for entire Central America. Being an Indian, the visa rules were not as easy as they are for many nationalities. There was no mention on the internet about this rule and everywhere it said that a tourist has 90 days once he/she enters Central America.
Confused and nervous I went back to the Honduran immigration office requesting for a visa extension. This was when I realized that the immigration officers were just a bunch of goons in uniform. They demanded a bribe of 150$ from me to get the extension or that I should fly out of Central America on that day itself.
They Took Away My Passport.
And then made me wait for 90 long minutes and kept repeating "wait moment" in their broken English.
A Honduran guy behind me whispered in my ears, "these officers will try to make a quick buck. You are fucked man. They are gonna fuck with you".
I felt like a bunch of pot-bellied goons had kidnapped me and were demanding a ransom to let me go. After spending two and a half hours in the office I demanded they return my passport. I had made up my mind to go back to the Nicaraguan Border to get my visa extended.
They tried to explain how dangerous it was and that cops could arrest me. I knew they wanted to scare me into paying them money.
Thankfully, a female officer agreed that going back to Nicaragua was my best bet. I grabbed my backpack and bicycle to hop on to the first bus for Choluteca. From there I changed to the bus for Gausale, the Honduran town close to the border of Nicaragua.
Getting the exit stamp from Honduras was easy. I then made my way to the Nicaraguan immigration to repeat the process I had undergone 29 days earlier. As usual they asked me some questions about my journey. It seemed like they agreed to give me a new visa.
Just when I was about to breathe easy, I realised that the officer had rejected my application. They weren't able to give me a new visa because I was still in Central America. To get a new visa I would have had to enter from a non Central American country, like Costa Rica by road or from anywhere else by flight.
An Officer Held My Hand And Started To Drag Me Out Of The Office As If I Was Some Illegal Immigrant.
I pleaded to them in all the Spanish I could speak but they wouldn't listen.
And there I was, sitting on a bridge between Honduras and Nicaragua, with a backpack and a bicycle. It was 11.30 pm and it was raining heavily. I now had only a few hours left on my Central American visa.
What could possibly be worse than being 10,000 miles away from home with absolutely no way of asking your family or friends for help. Even though, I had held on until that moment, my heart began to sink.
Somehow I told myself, "this too shall pass" and got back on my feet to go back to the Honduran immigration office.
I requested a woman at the security gate to share her internet with me so that I could call someone for help. Fortunately she agreed. I made a few calls to some friends back home to check if they could book an air ticket for me. Most calls went unanswered.
It was the third time in the day that I was visiting the Honduran immigration. I wasn't sure if they would grant me an entry again. This time the officer was clearly upset. I explained the situation and requested him to grant me a visa extension for a day so I could fly out of the country. There seemed to be no other option.
It seemed like he agreed as he took my passport and went inside. I was now thinking that maybe the nightmare was about to get over. I was planning to take a flight from Tegucigalpa, the capital of Honduras to Miami as I had a US Visa. After an expectant wait of 10 minutes the officer came back. He told me that they did not believe that I will be able to get a flight in the next 12 hours so they had no choice but to stop me from entering.
After Listening To This, I Almost Broke Down.
Now I would have been in 'no-man's land' between two countries without the possibility to entering either. I tried to explain the officer that I could get the flight tickets but he did not believe me.
I remembered my friend with whom I had traveled earlier in South America. Since his Spanish was better than mine and he had agreed to book my flights, I thought getting him to speak to the officer was my last chance.
Hoping against hope, I called my friend and handed over the phone to the officer. While they both were talking, I could see nightmares with open eyes. I could see myself as an illegal immigrant crossing the border with the fear of getting caught by the cops. And I had heard that the jails in Central American countries are the some of the worst in the world.
I felt this entire cycling expedition was a stupid decision. From being a 24 year old IT professional working with a fortune 500 company, I was now looking at a future of a fugitive.
When the officer handed over the phone back to me, I felt a shiver run down my spine. Were my nightmares about to come true?
My friend said that the officer had agreed to give me the visa provided that I show him a valid air ticket in the next 30 minutes. And that was the first time in the last 18 hours that I was able to see a ray of hope.
Despite some challenges my friend managed to book a seat for me on a flight which was less than 10 hours away. Thirty minutes later I had an email with a confirmed ticket. The officer took some time to verify the ticket. Finally at 2.30 am he stamped my passport with a 24 hour entry.
Seven hours and a bus ride later, I was at Tegucigalpa airport. I crossed the customs, and was waiting to board my flight for Miami.
It was the first time in the last 24 hours when I realized what it really means to be free.
As the aircraft soared over Tegucigalpa, I promised myself to make the best of this freedom that I had always taken for granted.
Follow my other crazy travel stories at www.eccentrips.com
Official Website: http://www.eccentrips.com
Facebook: https://www.facebook.com/eccentrips
Twitter: https://twitter.com/Eccentrips
Instagram: https://www.instagram.com/eccentrips/
The Immigration office of El Salvador