I woke up from my sleep as I heard "Madiwala.. Madiwala" which the conductor of my bus was reiterating. When I opened my eyes and looked out of the window of the bus, I found tall buildings all around. From past few days I was seeing green valleys and foggy sky whenever I looked around and hence this made me realise that my Munnar trip was over and I was back to Bangalore.
About Munnar : Munnar is a hill station in Idduki district of Kerala, and world's highest tea garden. Moonu-aru in Malyalam means three river, and hence the name Munnar for this town, since this is the conflux of three rivers — Madurapuzha, Nallathanni and Kundala. It is a perfect weekend gateway from Bangalore and near by places. People who are nature lover and want to spend their time in nature's lap, away from the noise and chaos of city, Munnar is a really good choice for them since it offers a lots of things to indulge into. The impeccable beauty of valleys and mountains, green carpet of tea plants, aroma of spices and tea in the air, rich flora and fauna will make you fall in love with this place. You can witness true colours of nature here, wild life sanctuaries, waterfalls, nature park, lakes, forests, tea plantation, view points, treks and much more. Munnar is truly a haven of tranquility.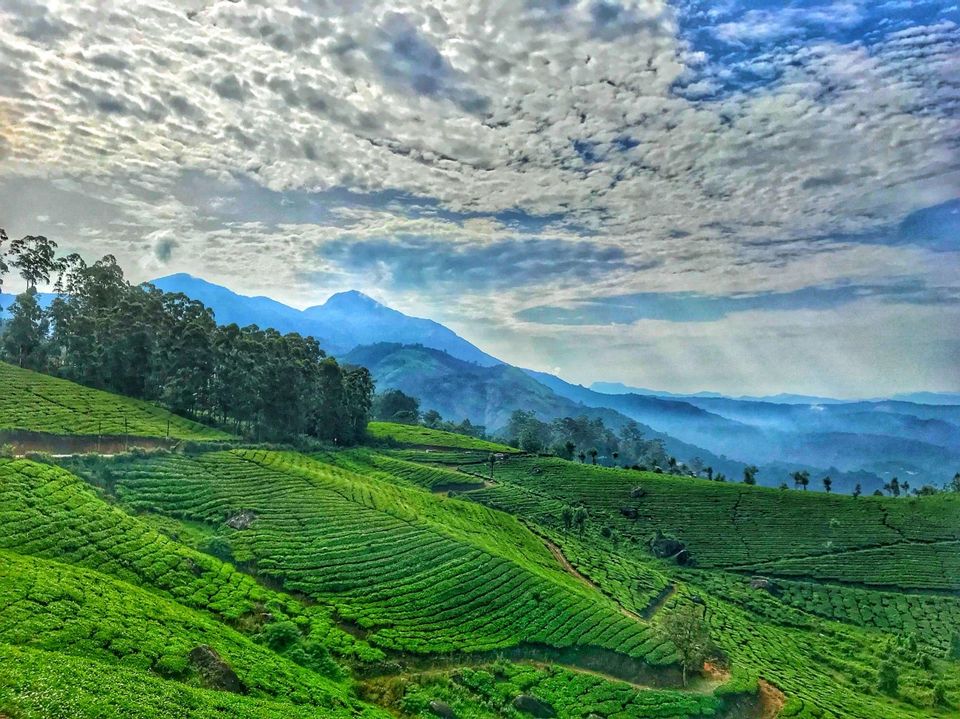 How to reach Munnar : You can reach Munnar via flight, train or bus also. Nearest airport to Munnar is Cochin(120km). You can book a flight till Cochin and then you can get a taxi to reach Munnar. By train you can reach either Aluva(110km) or Cochin railway station. From there you can take taxi and reach Munnar. I preferred bus over these two because it took me to Munnar directly. I boarded my bus from Bangalore and it took around 11hrs to reach Munnar.
You can rent/hire a bike, scooty, bicycle, autorikshaw, taxi for sight seeing in Munnar. I hired a car for my visit around the town. Lots of people who prefer cycling, hire a bicycle there and go cycling on the hills. Apart from the main town area, there is very less traffic and hence the drive will be really beautiful for you and you will witness some breathtaking views in between.
Places to visit : In Munnar the tourist spots are very well segmented on the basis of direction and this will make your life easier. You can choose on which direction to go depending on what all you want to see.
Matupetty Direction :
Top-station view point ~36km
Kundala Lake ~26km
Matupetty Dam ~12km
Photo point ~4km
Coimbatore Direction :
Tea Museum ~1km
Nymakad water fall ~8km
Anaimudi view ~12km
Eravikulam national park ~15km
Lukkam waterfalls ~26km
Cochin Direction :
Blossom park ~2.5km
Pothamedu view point ~4km
Attukad water falls ~13km
Thekkady Direction :
Lockahart Gap and rock cave ~5km
Anayirnakal Dam view ~26km
Depending on the time in hand and one's interest, choice of places to visit can be easily made from the above list.
Top station : I strongly advice that you shouldn't return back from Munnar if you have not been to this place. The view from Top station view point is phenomenal. This place is in Tamil Nadu and you have to just cross the Kerala-Tamil Nadu border to reach here. From this view point you will get the sight where the clouds keep playing in the valley, and you will witness the exemplary combination of mountain and mist here. You would want to sit here for very long and just gaze the valley for hours.
Mattupetty Dam : This is a highly commercialised tourist spot of Munnar. You will see a lot of restaurant, fun activities for kids, boating options to choose from here. You can enjoy the view of the Dam from the bridge or else you can go down the stairs and sit near water also. The lake surrounded by hills composes a very enticing view.
Kundala Lake : This lake is absolutely stunning as it is surrounded by the hills on one side and by tall eucalyptus trees on the other. It is very well maintained and I found it very clean and photogenic. You can try boating in Kundala lake. There are small shops out side the lake where you can get cheap home made chocolates. You will also find accessories at very reasonable price. I purchased few earrings for myself from here.
Attukad water falls : Attukad water falls is far from the town and is supremely serene. You will not find much people there. Reaching there needs some bumpy rides since the road which leads to this beautiful water fall is a bit rough and if you are going on an auto rickshaw then god bless your head! The road which takes to this fall is really small and allows only one vehicle at a time to pass through it. Just near the fall there is one cafe which is very much covered by nature and serves amazing Maggie and tea. You can enjoy the view of fall while you sip your tea with the background music of water gushing on stones.
Lockhart tea factory : Here you can see the whole process involved in tea manufacturing. Tea tasting is also done here. The cost of ticket is 200Rs per person, which includes tour of the whole factory. You can also purchase tea from here. The smell of tea inside the factory is quite overwhelming.
Kathakali and Kalaripayattu : You can enjoy the cultural show which comprises of Kathakali and Kalaripayattu (traditional Indian martial arts originated in Kerala). The ticket costs 300Rs and the show generally starts around 6/7 PM in evening.
Shopping : You should definitely bring spices, tea, chocolates, aromatic oils, scents, etc. from Munnar for your friends and family. Clothes are really costly there so you might not want to purchase them from Munnar. There are lots of shops in the main market area of Munnar which sells tasty candies, chocolates, spices and incense sticks. You can consider doing shop hopping here.
Pleasant climate, cool breeze, and scenic views of Munnar make it a dreamy destination and attracts tourist of all types. Landscapes of Munnar is no less than a painting on nature's canvas. You will definitely be wooed by the beauty of this paradise of God's own country. I had a very refreshing time during my visit of Munnar. Munnar is also picture perfect for Instagram, and you get enough opportunities to click some cliche photos :)
Frequent searches leading to this page:-
Places to visit in Kerala for 4 days, Places to visit in Kerala for honeymoon, Places to visit in Kerala with family, Kerala vacation packages price, Kerala Tourism Packages Honeymoon, Top Kerala Tour Packages With Price, Top things to do in Kerala, Kerala Tour Packages 3 Nights 4 Days Price, weekend getaways from Kerala