While Myanmar is opening up to the world, almost everyone knows about Bagan or have heard about it for sure. The land of temples and pagodas, Bagan is highly rated and is on everyone's Myanmar itinerary. Southwest of Mandalay, standing on the eastern banks of the Ayeyarwady River, it's known for the Bagan Archaeological Area, is home to more than 2,000 Buddhist monuments tower over green plains. One can draw some comparisons with Angkor in Cambodia but here it is spread over a larger plain area. Also Angkor temples might be more ornate while Bagan are simpler.
We took a VIP night bus from Yangon which is also the best way to reach Bagan. The luxury JJ Express charges close to 40 USD for foreigners for the 12-14 hour ride. We were picked up from the bus stop by the hotel. Most hotels offer pick-up from the bus stand and might charge extra for that. But then that's the best option rather than trying to negotiate with tons for taxi drivers ready to ask for a higher rate. You can also flight to Nyaung U Airport near Bagan
We stayed at Bagan view Hotel at old Bagan which is closer to most of the popular pagodas and temples. There are three areas where you can stay: Old Bagan, New Bagan, and Nyaung U. You can choose depending on your budget
Nyaung U is the one with many cheap lodging and dining options and is buzzing with tourists and backpackers. New Bagan is where budget to mid-range hotels and hostels are located. Old Bagan is the best place to spend the night also has the expensive hotels and resorts.
Anyway so we arrived early morning at Bagan. With two minds on going to catch Sunrise, we decided to check in early and go temple watching. The best way to see the temples is by an e-bike. It costs between 3-4 USD for a day. E-bikes are the most convenient way to see Bagan and offer the most freedom. Beware: Batteries die regularly so it helps to have a phone and be able to call the number of where you rented it
So Bagan Archaeological Area has an entrance fees and every foreigner has to pay this. Entrance fees for the Bagan area are 25000 Kyat per person. You buy one and can use this for 3 days in Bagan.
Bagan at one point had over 10,000 temples. But in due time after time, weather, and the earthquake of 1975, there are a little over 2000 temples and pagodas left which are perfect for exploring. These temples are old, and some may look like ruins, but they are still holy and sacred places. DO NOT wear shoes or socks inside the temples. Women need shoulders and knees covered. Though Monks and Burmese are non confrontational people, they won't stop you because of whatever you are wearing but it's always good to respect the culture.
Bagan can be pretty daunting. We started our journey lost, but then when you lose yourself you explore too. Bagan is filled with thousands of temples, so although the below temples and pagoda's shouldn't be missed, don't forget to stop by and visit any interesting ones you pass by. In terms of which pagodas to see, obviously you'll want to see the main, larger ones but I'd also recommend exploring some of the smaller, less visited ones where there won't be as many tourists. Here are few temples you can check out-
Ananda: Nicknamed the "west minister abbey" of Myanmar, it's one of the most beautiful and revered temples.Much of the original white plaster that used to cover all of Bagan's temples has remained, or has been restored, and the central tower has been restored to it's former glory Dhammayangyi: The largest temple in Bagan; however only part of it is accessible. For an unknown reason much of the interior has been sealed behind brick walls. Shwesandaw: The most popular place to view sunset. Legend says this pagoda holds a Buddha hair relic, it's name means Holy Golden Hair Maha Bodhi: This interesting temple, built in 1215 CE, is different from the other area temples because it bears some striking Hindu influence. The many-tiered tower, with it's hundreds of small figures, represents Mount Meru, the center of the universe and home of the gods Sitana Gayi Htapa: The most exciting temple of all. This one is hasn't been excavated and only way to explore this one is to crawl and climb through a small hole in the wall and then wriggle thru lots of bats to end up seeing a Buddha from 13th century whose head was taken by Japanese. Also the temple is different with a row of elephant head sculptures along the base of the temple.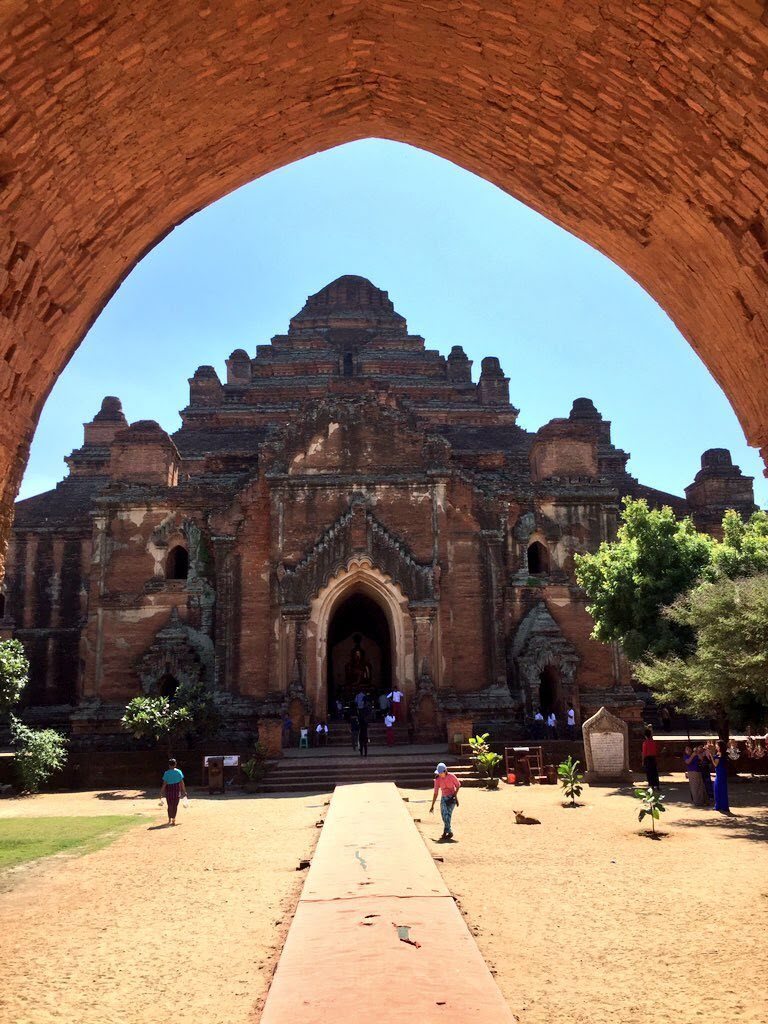 The ultimate Bagan experience also involves catching the most famous Sunrise with Pagodas and Hot air balloons in the horizon. Bagan is famous for its sunrises and sunsets. Although it's not allowed anymore to climb most of the temples. Getting up in time for sunrise every morning and hot air balloons is an unforgettable experience. You can ride the Hot Air balloons but it is quite expensive for foreigners (350 USD +) and need to be booked well in advance.
For those with budget wallets, you can head to a temple to watch the sunrise. You can rent your e-bike as early as 4 am and ride out to a temple. Ask the locals where can you watch good sunrise and which is not crowded one and they can surely guide to an explored one. owever the country has recently put a ban on climbing all but five temples for sunrise. The allowed temples include: Shwesandaw, Thitsarwady, Pyathetgyi, Shwenanyinday, and Oah Chan Pae Kone.
The best time to visit Bagan is between November and February. Bagan is hot most of the year but in these months it is the most pleasant with 30 degrees.
Bagan is still not as commercial as it could be so it is best to see it earlier than it gets crazy touristy like Angkor Wat. Bagan has a kind of serenity surrounding it. Perched on top of one of walls outside, while I watched sun shimmer up over the horizon, Bagan looked other-worldly. It's something you will see to believe it.