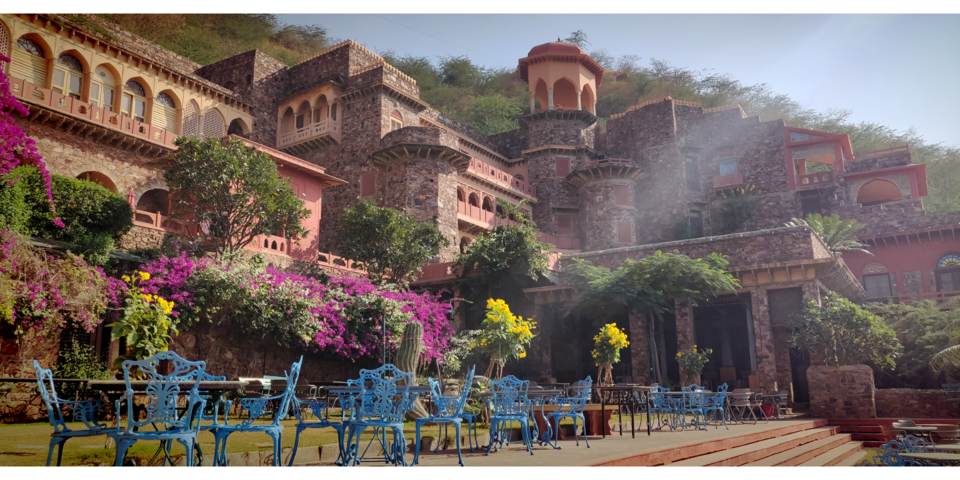 Talking about a luxurious gateway, yet secluded from the city life... Make yourself available for this beautiful fort near Delhi.
How to reach : No bus or train direct to the fort so own vehicle or hiring one is a good idea. Head to NH-48 and drive for 2 hrs straight.
Welcome to Neemrana fort!!!
Entry ticket : ₹1700 per person on weekdays (09:00am- 02:30pm) which includes scrumptious meal (a lunch buffet) at the restaurant inside. Not just any regular meal but treat yourself with one of a kind "laal maas" and mouth watering other delicacies.
You won't regret it.
₹2000 on weekends.
So the above mentioned information includes a beautiful day spent at the fort but you can also spent the night there.
I have never stayed there but the price checked was ₹8000 for double occupancy. It may differ from time to time so advice a real time check in this.
You can directly book with them or from any other hotel booking site.
You must visit here once as it is a beautiful amalgamation of old & modern era. Every corner of the fort has been given unique names which makes you fall in love with it.
Fun activity : Apart from seeing some beautiful spots inside the fort, they have also got some fun activities for your entertainment.
1. Zip lining
2. Vintage car ride
3. Spa (to relax & rejuvenate)
4. Bar & cafe
5. Camel ride
So now you know where to spent the weekend and get totally mesmerized with it.