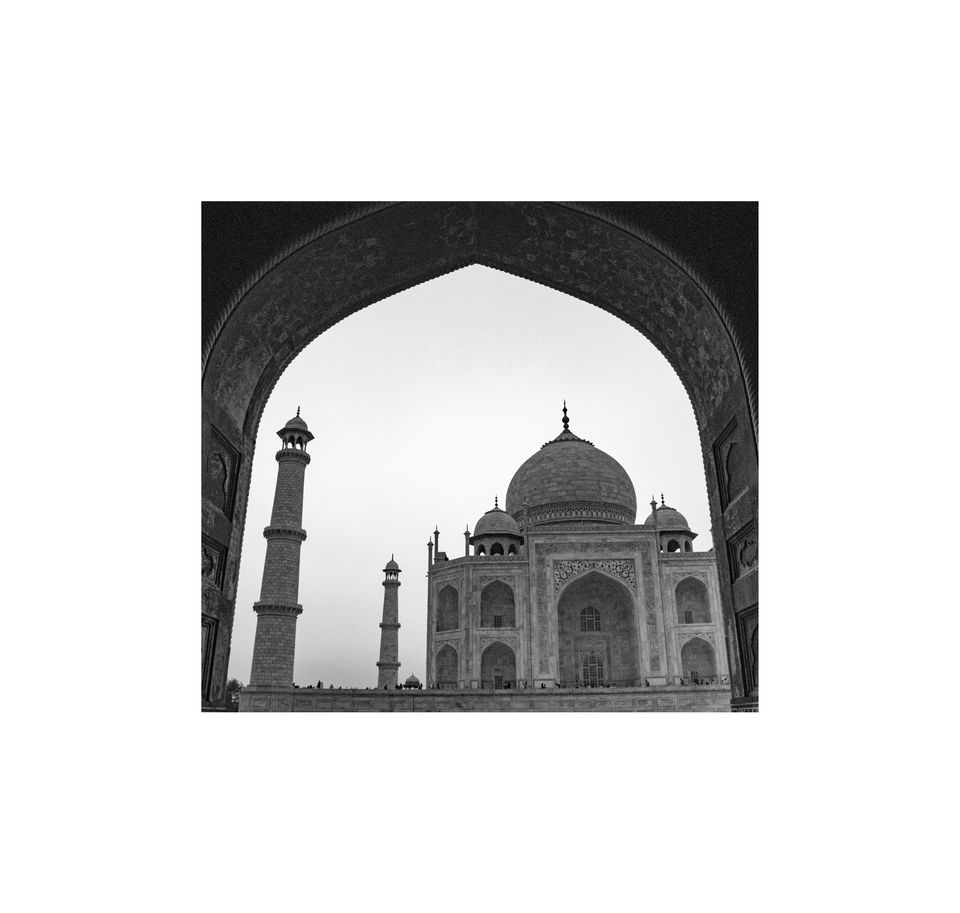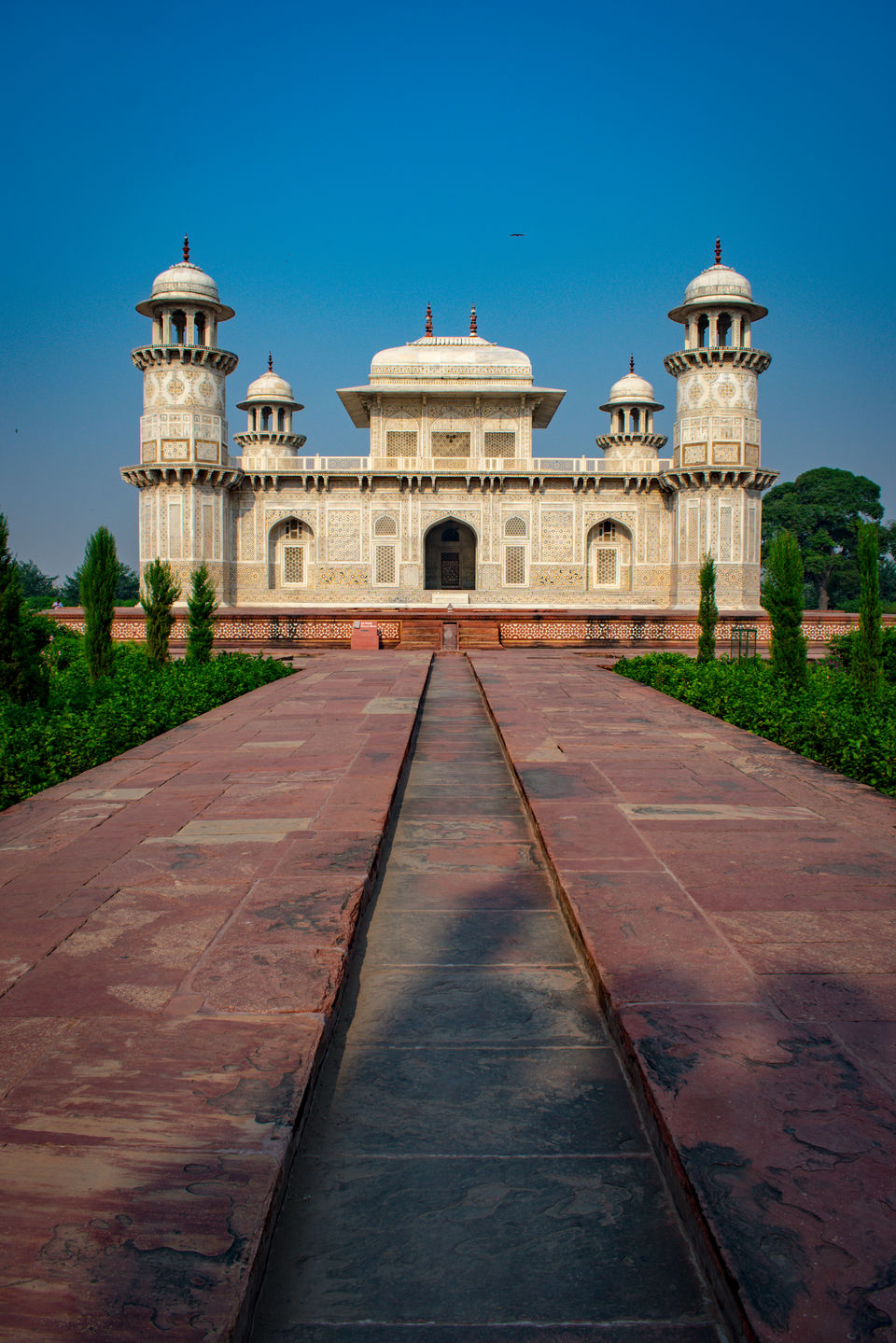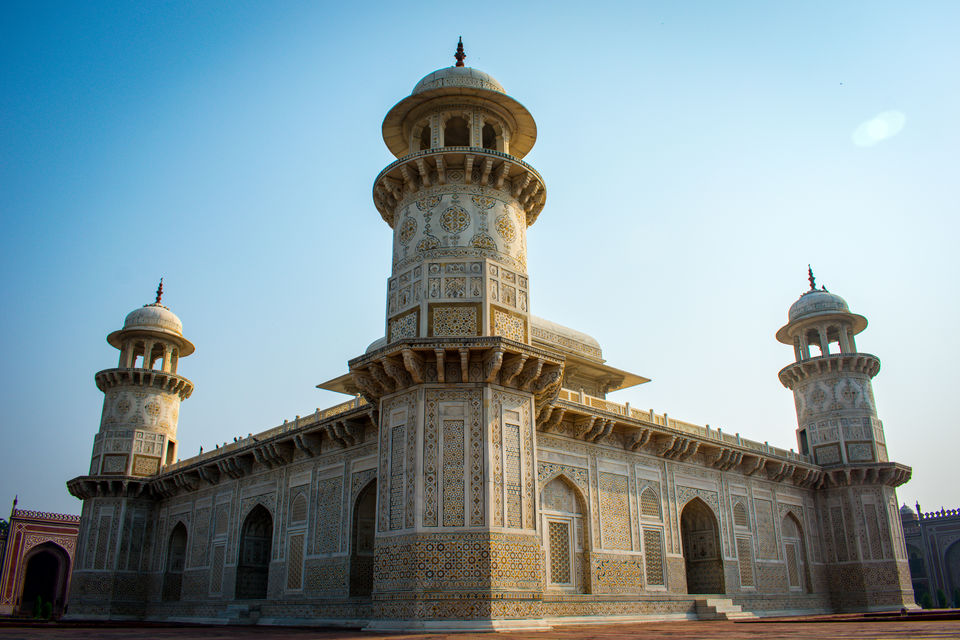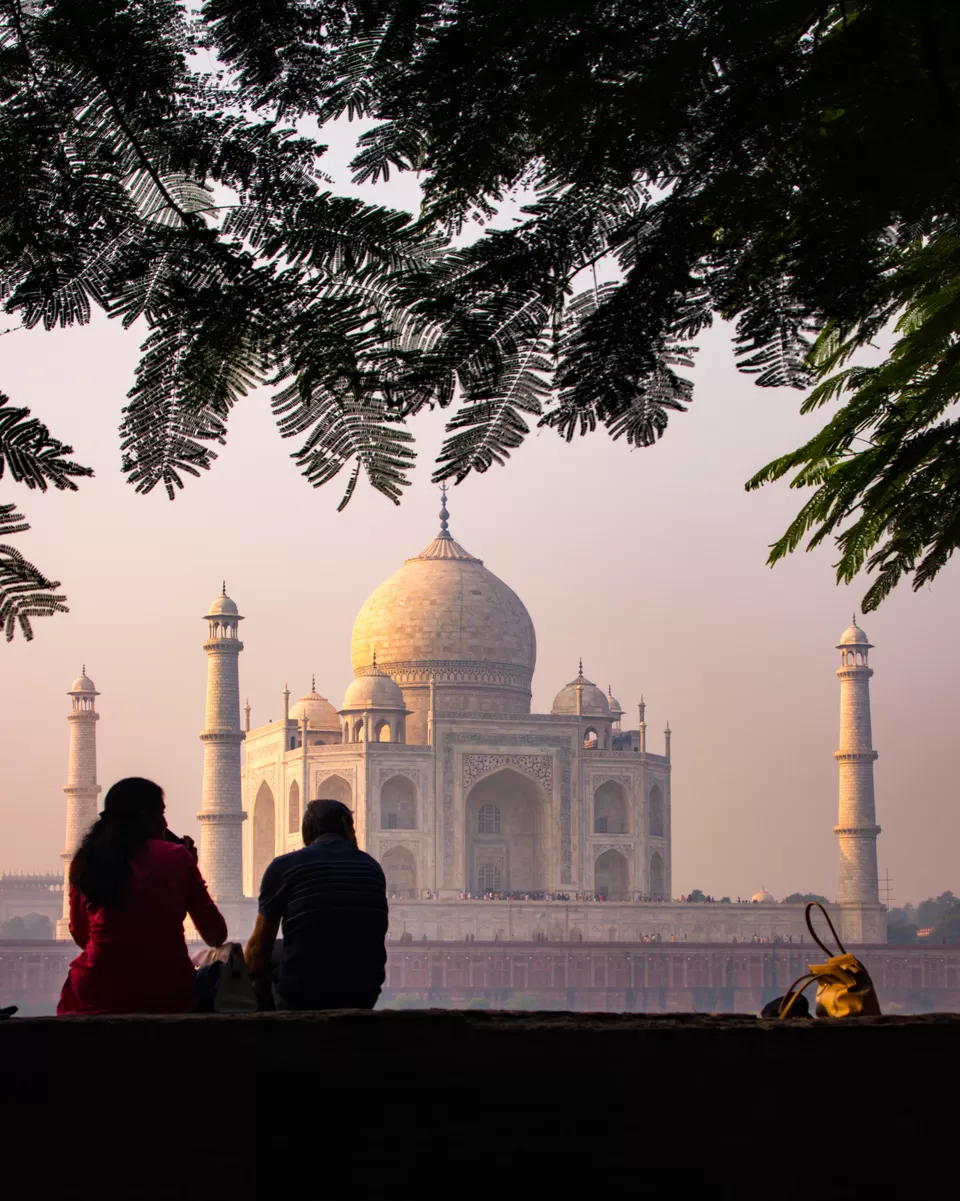 It is a story of two lovers trying to find the soul and warmth of each other's love that binds them together. They work in different cities, couldn't meet regularly and they actually miss each other's presence around. They used to travel together as they both love to travel and to find new places and spend some time in peace. This time they started their journey towards the city of the Taj Mahal: a wonder of the world and a monument of love. They both started from their workplaces separately and met at New Delhi Railway. Now the journey begins.
Day 1: From New Delhi Railway station they booked a cab directly for Agra as the trains schedule was not in favor and bus timing didn't allow them to spend time in travel as the schedule was tight. Directly from NDLS they reached Agra in three abs and half hour using Yamuna expressway. They planned to visit the Taj Mahal in full moon night so they went to buy tickets for night entry. The archeological Survey of India (ASI) office was fully crowded and they couldn't get the tickets. Having no other options, they went straight to the hotel and get freshen up. Then they went to visit Agra fort first. The fort is as usual very beautiful. The only problem was the crowd.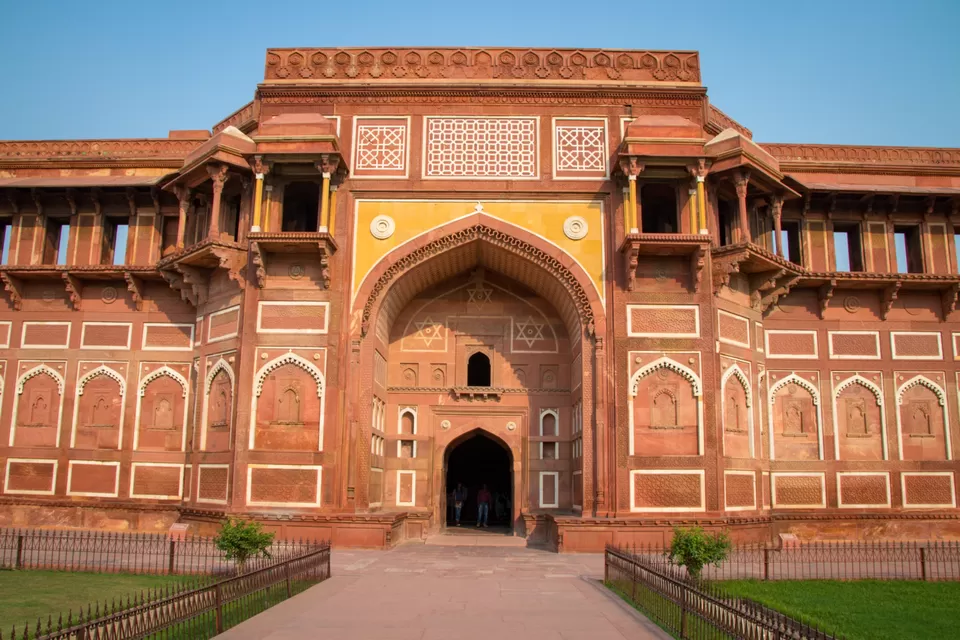 The view of the Taj from the Fort was also mesmerizing. It takes you to that era when the Taj was freshly built and Mumtaz' was corps were resting within. Shahjahan spent years looking at Taj from tiny windows of his room where he was locked.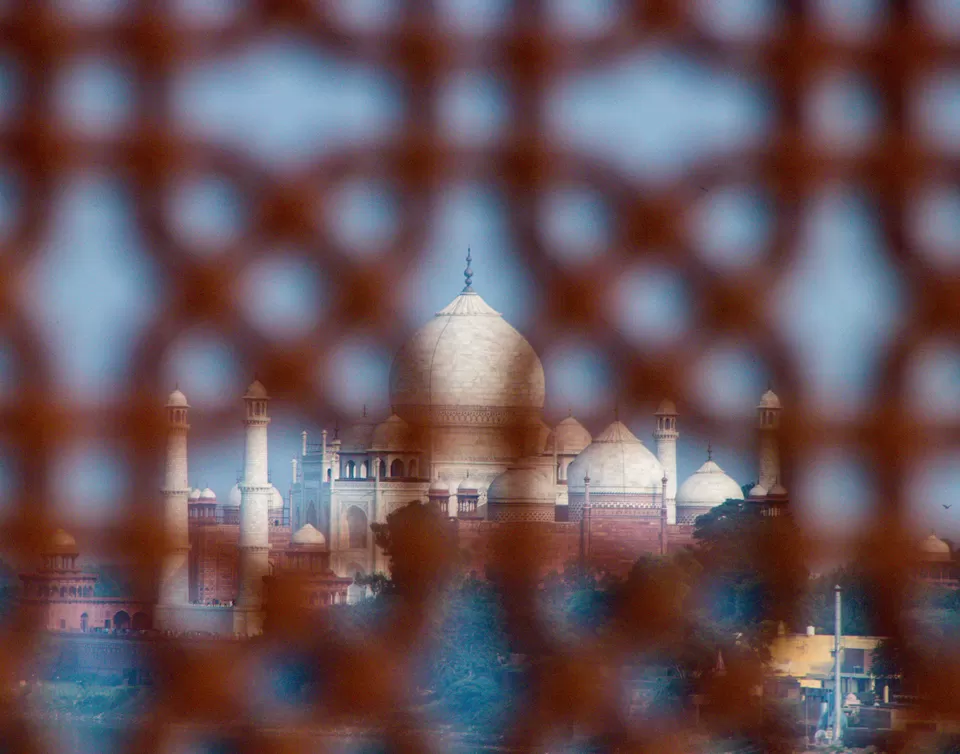 The entire fort compound is very beautiful. The work and efforts that had put to beautify gardens inside the fort and different places, rooms and viewpoints are commendable. Two hours inside the fort, now its time to struggle to get entry into the Taj Mahal.
There are two main entrances for the Taj Mahal, Eastern, and Western. They went to east entry point and witnessed its own kind of havoc. Too many people, no proper guidelines to get entry. Separate lines for males and females as usual. They both got their lines and after a struggle of about half an hour, they get passed through the entry checkpoint. Again the whole population inside was waiting for them. People were getting crazy seeing Taj, getting selfies, pictures were being taken from every possible angle. Some people were taking popular shots with Taj. Overall, it was a great experience and they both enjoyed their time, clicking pictures together, finding new ways to capture the beauty of Taj.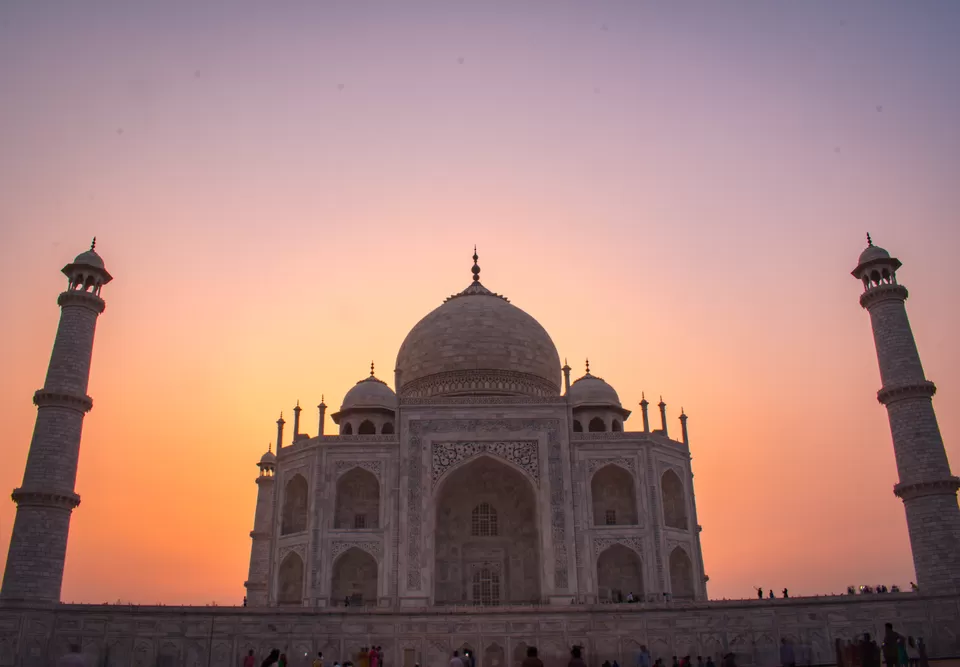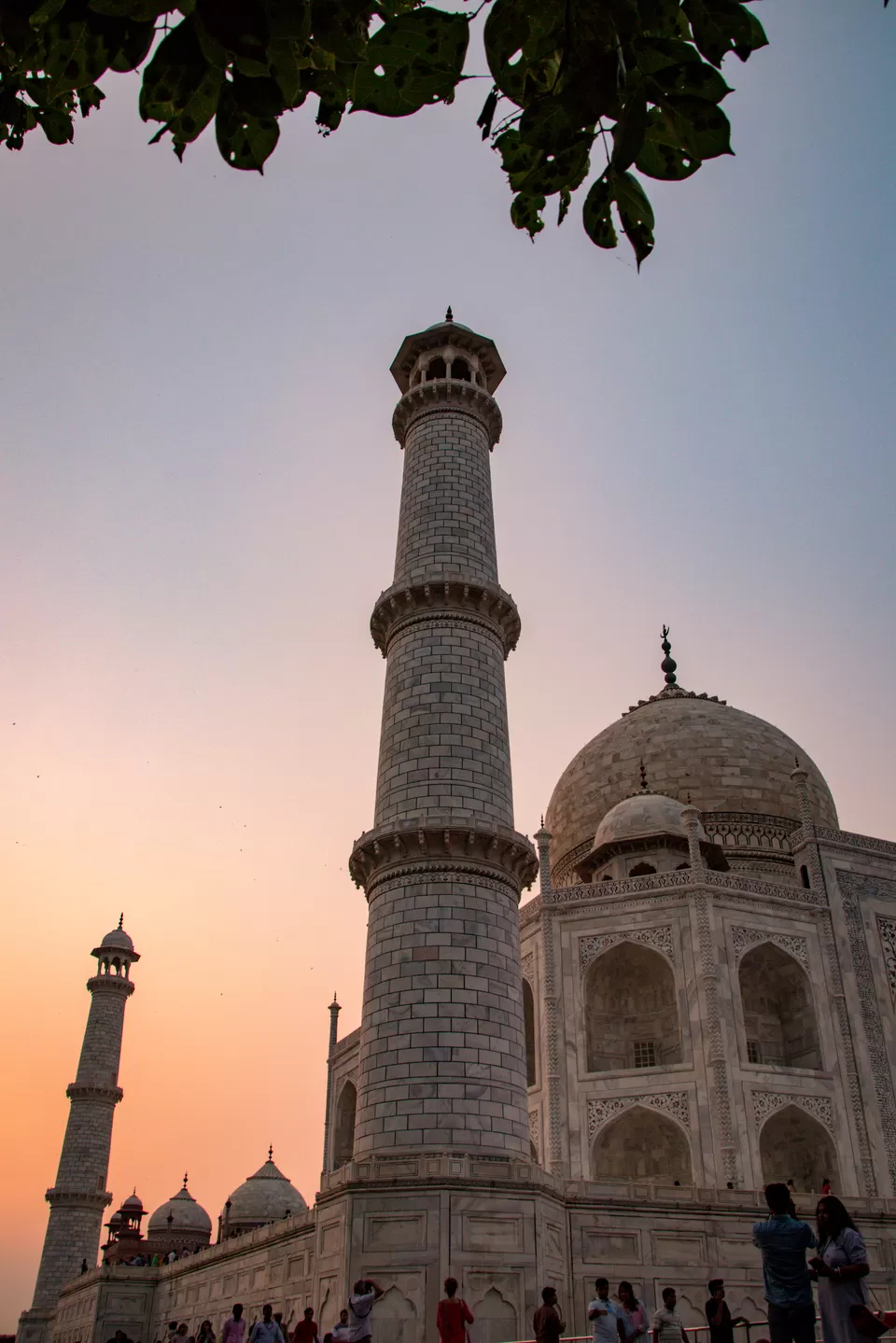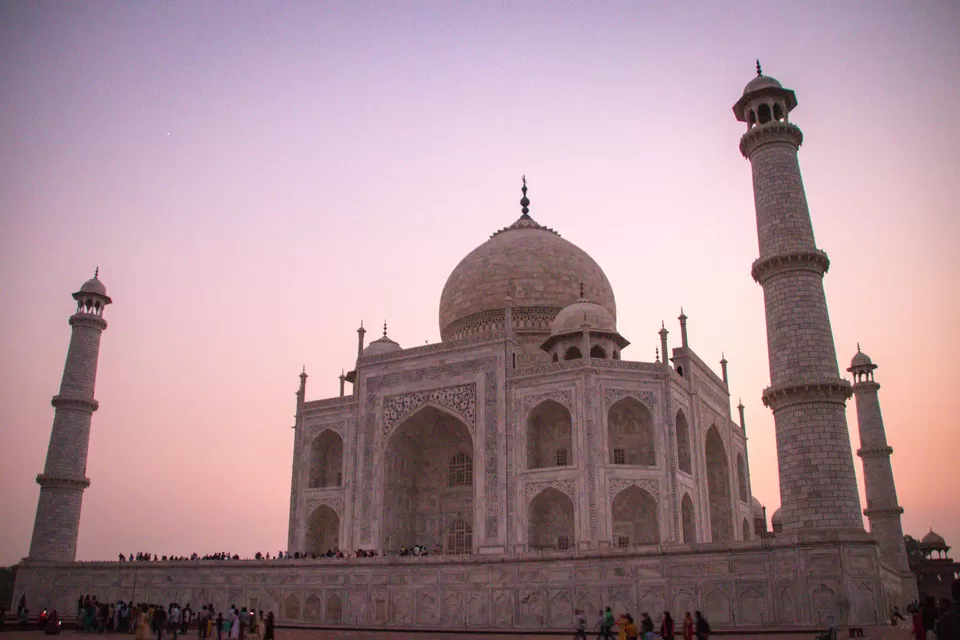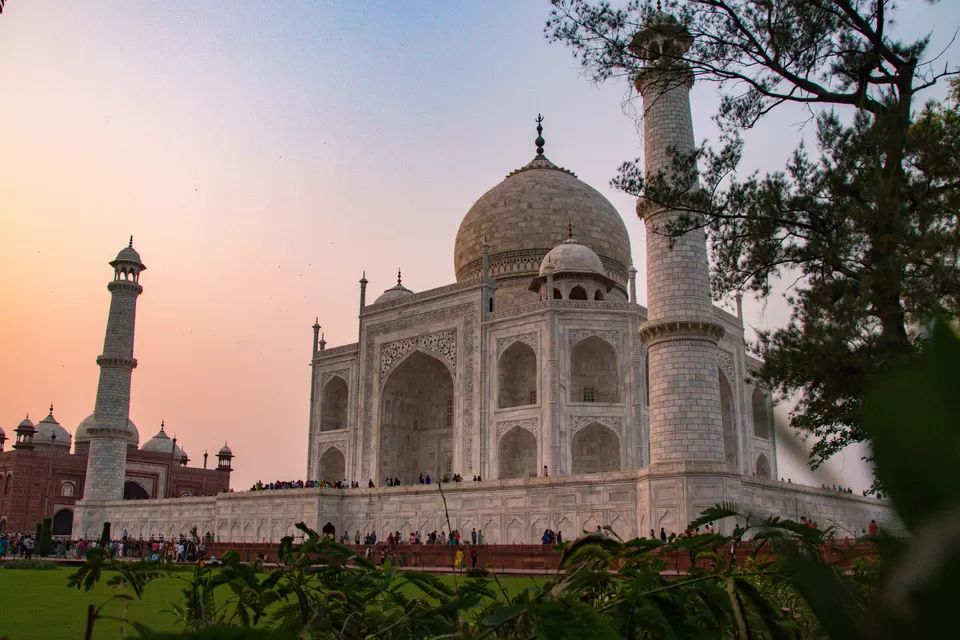 Finally, the sun started setting and the moon was eagerly waiting to show up on the face of the Taj. They both were very excited to witness the Taj submerged into the white fluorescent light of the moon. Again too many people and the guards starting shouting to leave the compound and start moving towards the exit gates. They set up their camera at the last moment to capture at least one long-exposure shot with the moon behind the Taj. The first shot, failed, too much noise and grainy. "Let me check the settings", he said and she nodded. The second shot, a bit better but still needs more attention to the camera settings. Meanwhile, she was busy taking shots of Taj with her mobile. "No worries Mr. I took better pictures and you keep on struggling with your camera", she said in a sarcastically. Now the final shot. Everything was going great then suddenly an uncle came and stood in front of the camera and started taking pictures. It was a long exposure shot so he was not much worried as things get settled up. The shot came nice with a shadow of the uncle and his phone in it. Take a look below...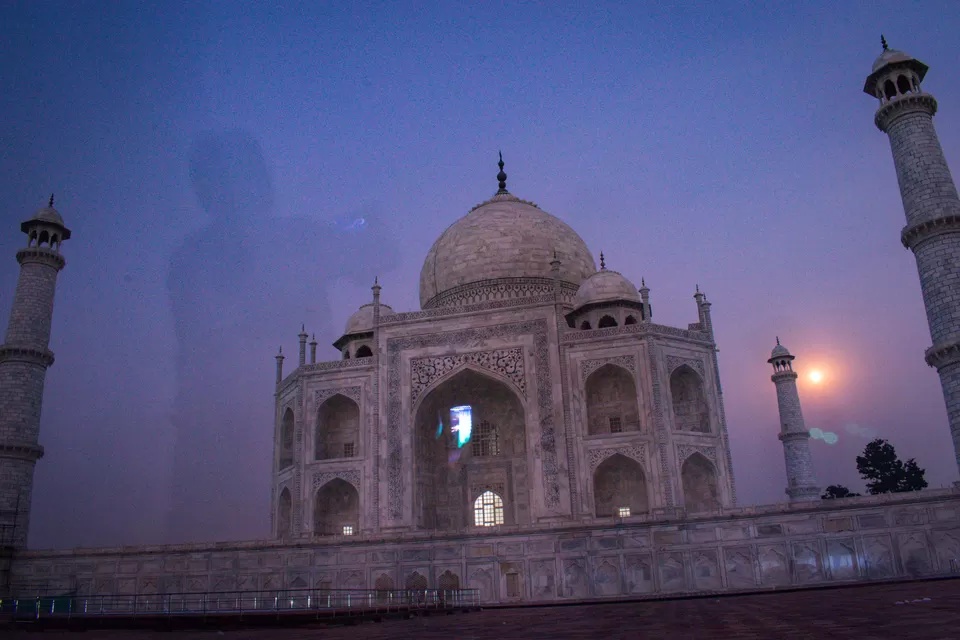 Anyways experience matters the most. Let's leave. And they left for the hotel.
Day: 2 Early mornings, no breakfast, hurry up. Let's get to Mehtaab Baug and have a look at the early morning golden Taj. They both went to Mehtaab Baug and the view was extraordinary. Golden sun-rays washing one face of the Taj and the other side was still rejoicing last nights' darkness. True Beauty. I took a bunch of shots. Every time she gets happy she starts to behave like kids. "Hey, will you please click a picture like this", she asked, "Okay just stand there", he agreed. But she can't standstill. Kids never standstill. Anyways he clicked some really cute pictures of her and she was so happy with the morning view even she couldn't sleep well last night after the hectic journey.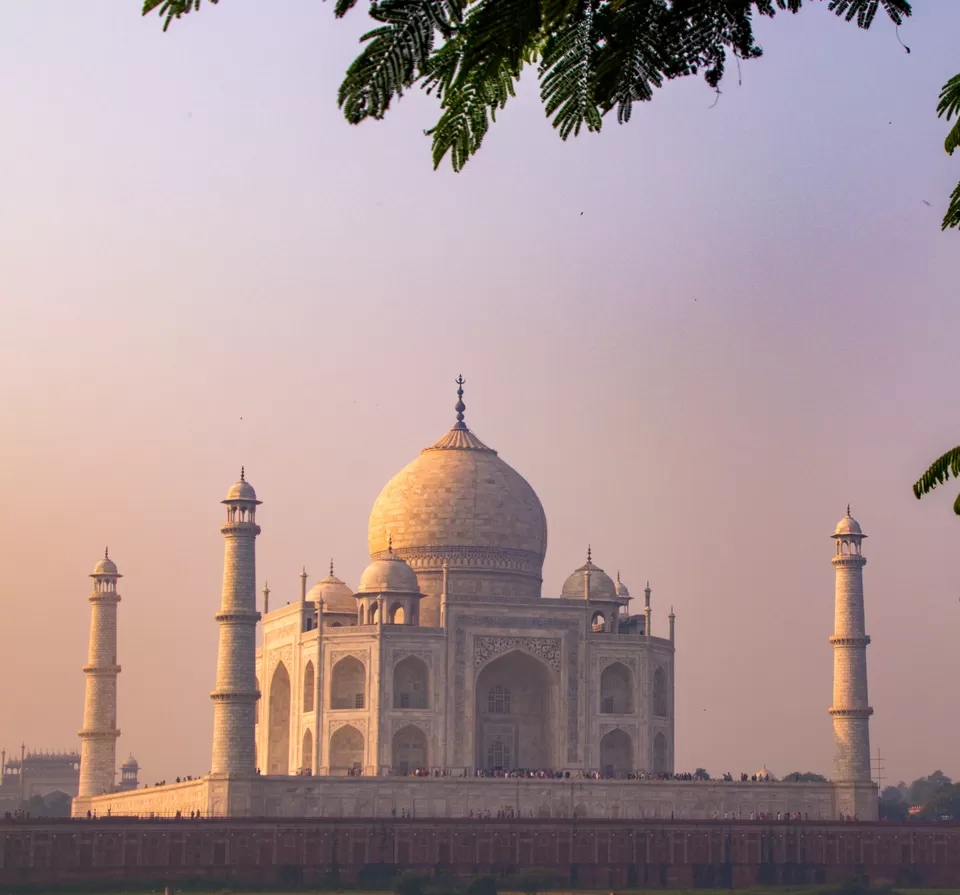 Next Stop, Tomb of Itimad-ud-Daulah, also known as "Baby Taj". The tomb is also often referred to as "Jewel Box" was built by Nur Jahan for her father. The tomb is as beautiful as taj Mahal. The work done on the stone was really amazing and no less than Taj. Here, one can enjoy and take a look at the stonework calmly. No rush no crowd. They enjoyed the place and really loved being there.--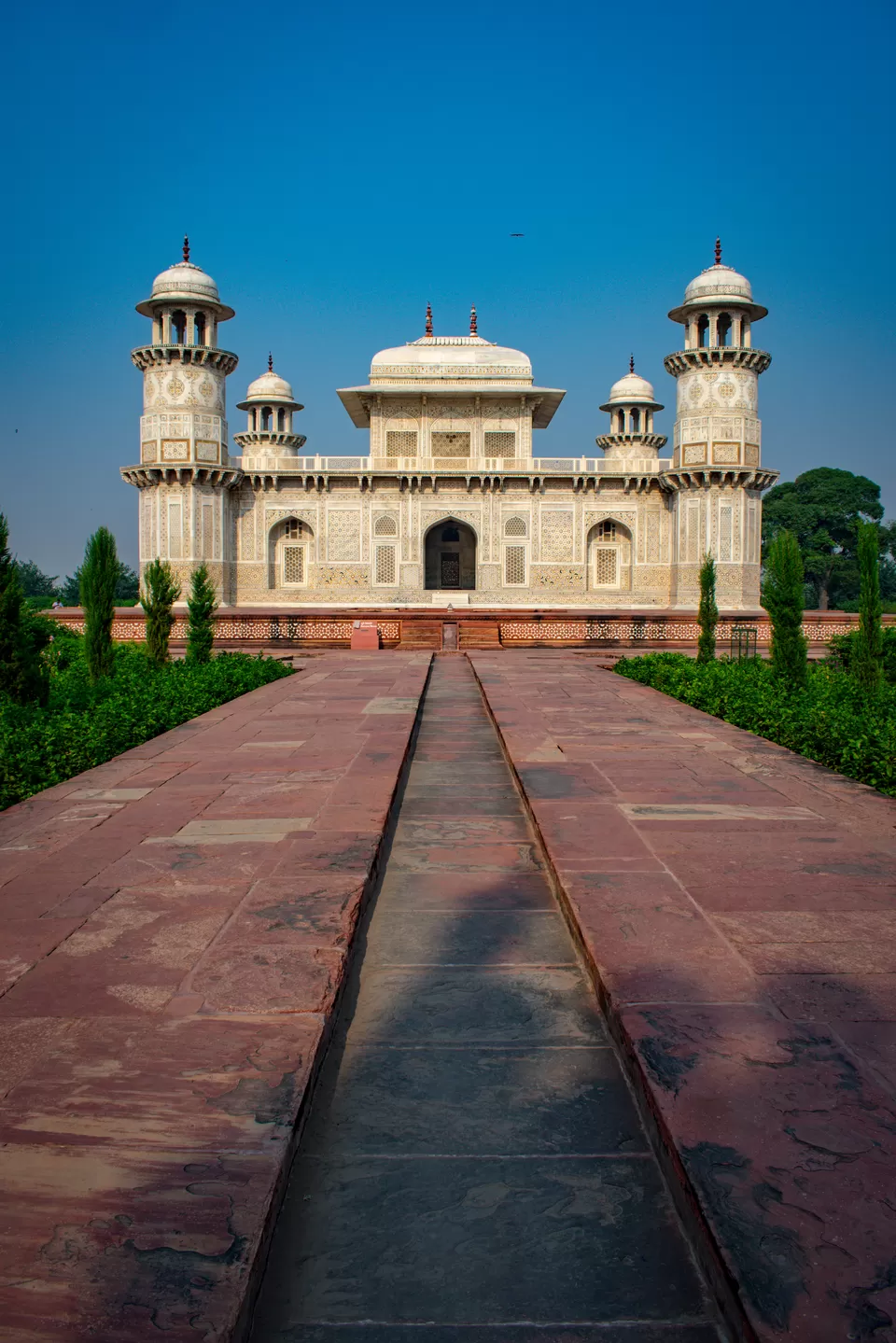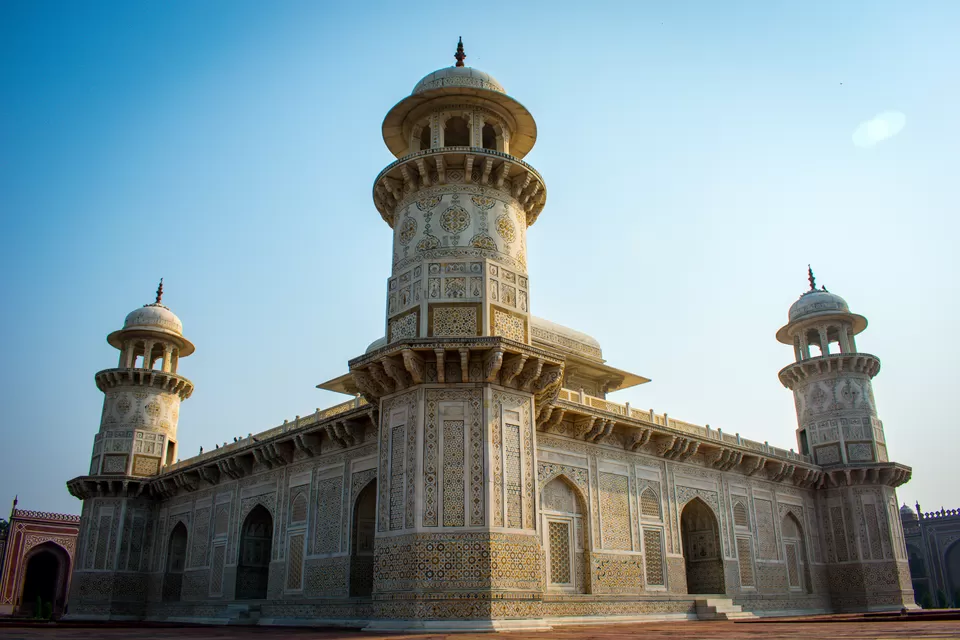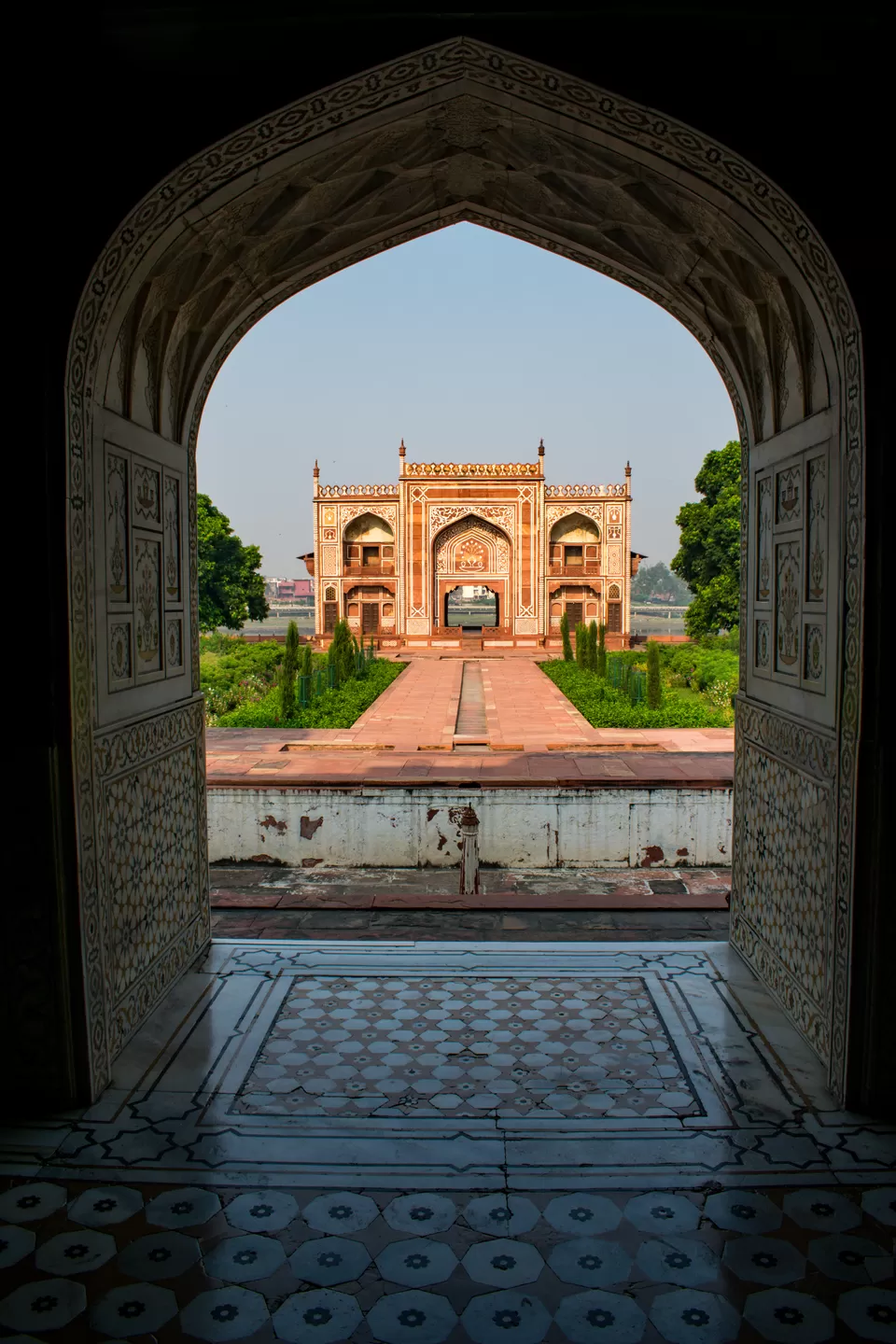 Now they both are hungry and what is the best way to get your tank full with yum is to have local breakfast. "Kachori", yes ! she said. They had kachori's, Aloo-Poori but couldn't have Tea along. Anyways, they didn't have much time so they started their journey back to Delhi as they need to catch a train at 4 pm.
It was a great experience they both had. They really enjoyed their short trip to Agra, though, they had no chance for the night view of Taj but still, they were happy.
Bye Bye Agra...