Stand-up guy Sapan Verma, co-founder of East India Comedy, is one of those 'anti-nationals' who get death threats on Twitter for their 'outrageous' comments. When not clicking selfies with his audience, he is travelling to fill his journal with experiences he can share on stage. Here are three incidences etched best in his memory.
In the last five years of my comedy career, I have performed at pretty much every kind of event—at corporate shows and college gigs, from auditoriums with a thousand people to pubs with three, even at a 60-year-old Gujarati lady's birthday party. The last one was more embarrassing than Cersei's Walk of Shame (plug in Game of Thrones reference—check!). Nonetheless, the shows have been really interesting.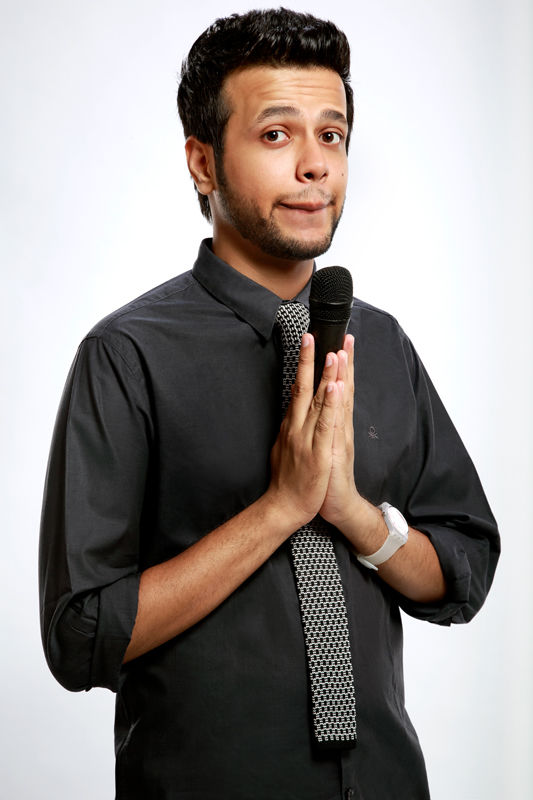 Above : Sapan Verma is currently touring for his latest show 'Obsessive Comedic Disorder' across India. You can buy tickets on sapanverma.in
TONING IN TOKYO
Four hours after landing in Tokyo, I had to perform at Double Tall Café (doubletallcafe.com). I followed Google Maps blindly because asking for directions in Tokyo in English is almost as good as asking for directions in Gurgaon in Japanese. I arrived at the destination a good 10 minutes early only to learn that I was at the wrong outlet. So, I channelled my inner Milind Soman and ran non-stop for 20 minutes to make it to the right one. On reaching, I realised that at least half the people in the room were not well-versed in English. And, the Indian accent wasn't helping either. Two minutes into my act, I figured that I needed to slow down and enunciate each word. Ultimately, I sounded less like a comedian and more like a kindergartener.
BONE BREAKING IN DUBAI
With an advice from fellow comedians on censoring my content for the Dubaiaudience, I landed in the city two days before my show and decided to go sightseeing. A friend suggested that we attempt dune bashing because adventure sports are way more macho than visiting an aquarium. It was all fun and games until my quad-bike flew off a dune and crashed, causing a fracture in one wrist and a bone dislocation in the other. So even before I could water down my jokes, my bones were already broken. Still, I made quite a fashion statement by wearing a black suit with crepe bandages on both my wrists.
CHAIR-FUL IN NEW YORK
A few years back, I stood outside the prestigious New York Comedy Club thinking to myself, "This is it!" I had been looking forward to performing there for weeks, and had finally managed to get a small slot at their 5 pm open mic. I entered the room to notice a small audience of 12 people and wondered, "This is it?" Apparently, they weren't the audience either; they were the other comedians from the line-up. This was a moment of revelation: The number of struggling comedians in New York is more than the number of plot holes in Batman Vs Superman. My first show in New York was really in front of empty chairs (and surprisingly, they didn't laugh even once). It was a disappointing first-time experience but I did the clever thing of taking a photo on stage and posting it on social media, so people thought that I had an insane show. Later that week I did perform for an audience and had a great time, but stories about failure are always fun to tell.
If you see him running around and shrieking backstage, don't assume that he has 'lost it'. That's Sapan venting out his nervousness before the show.