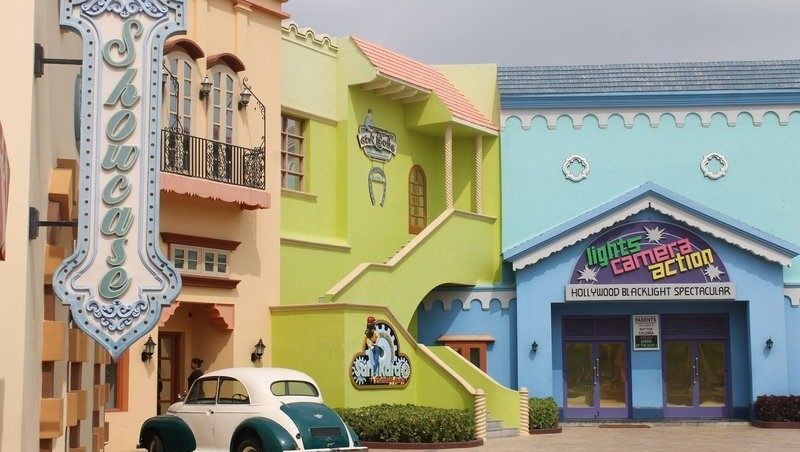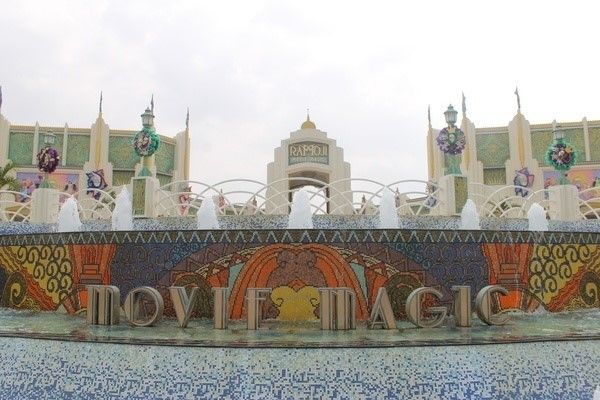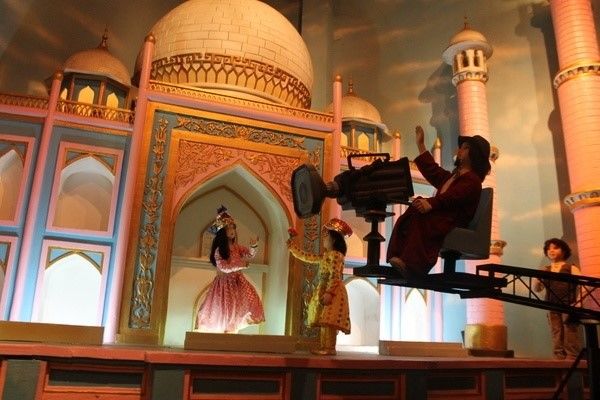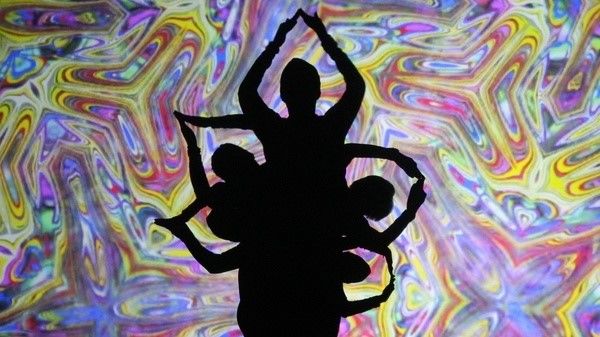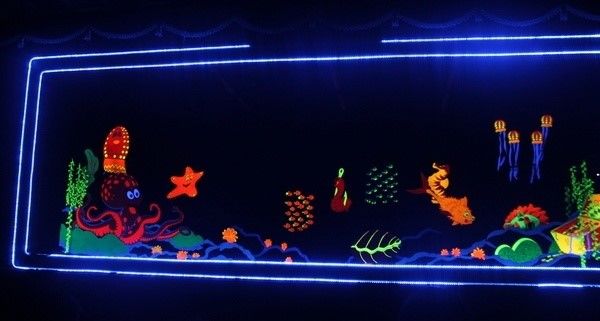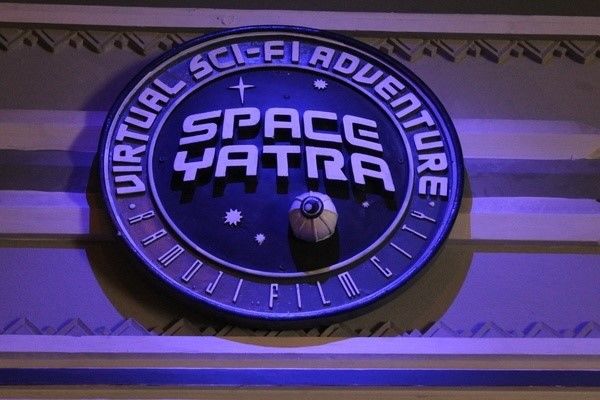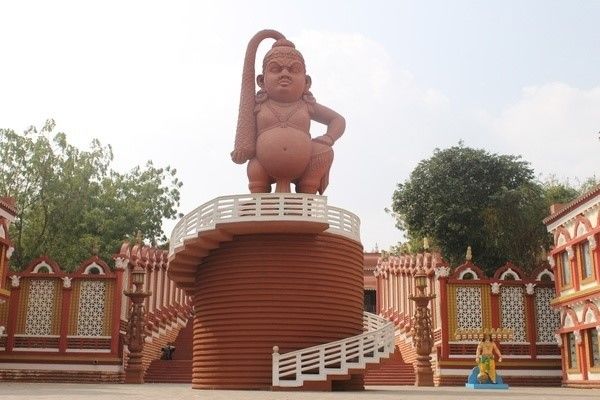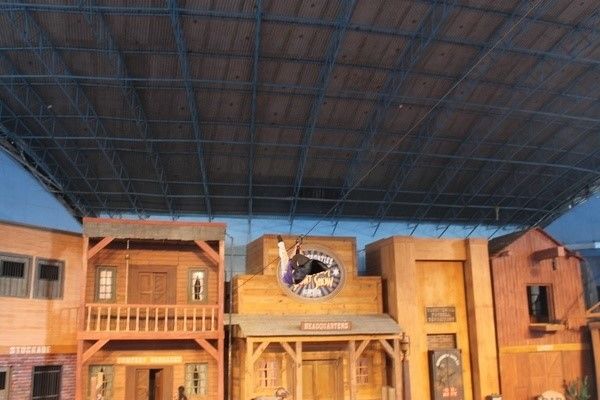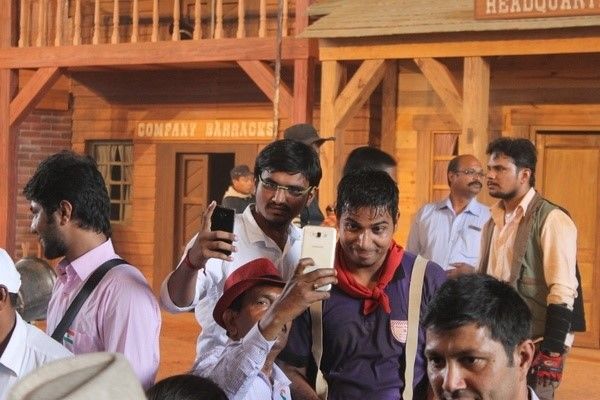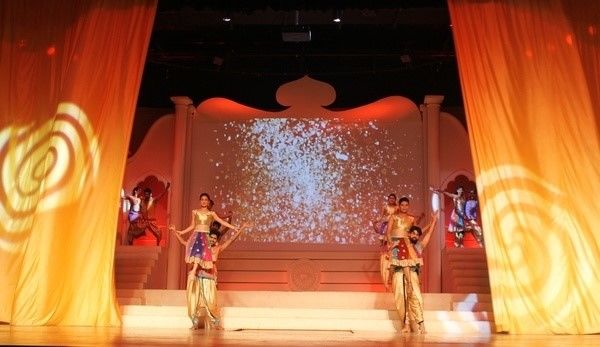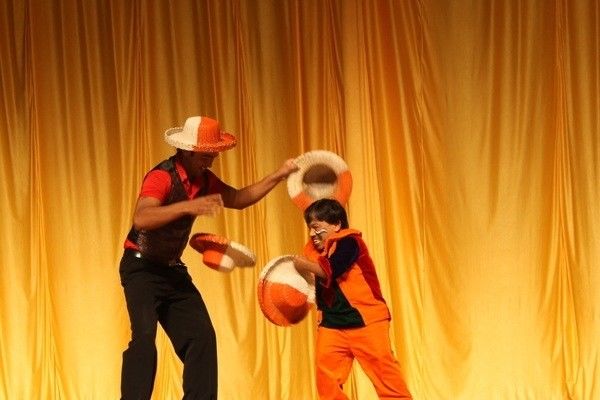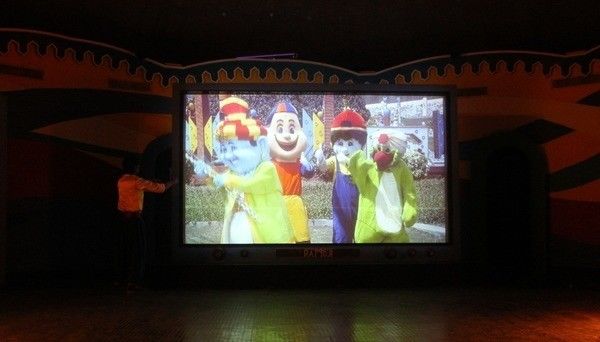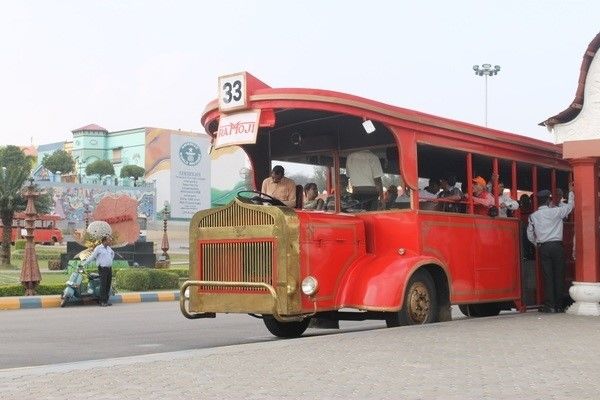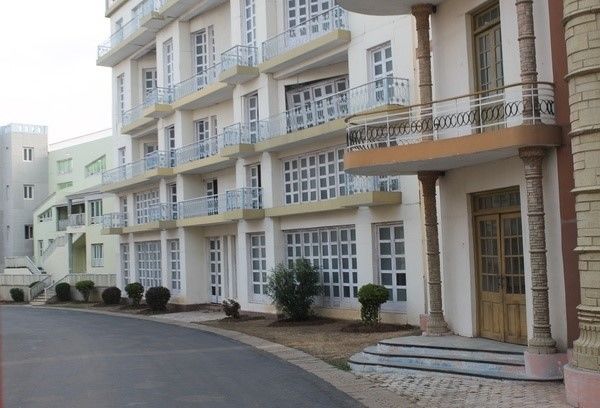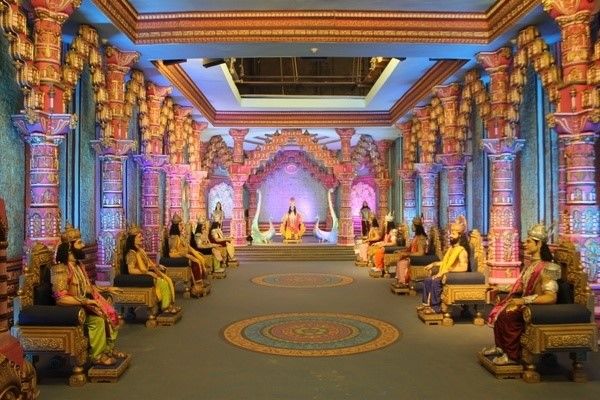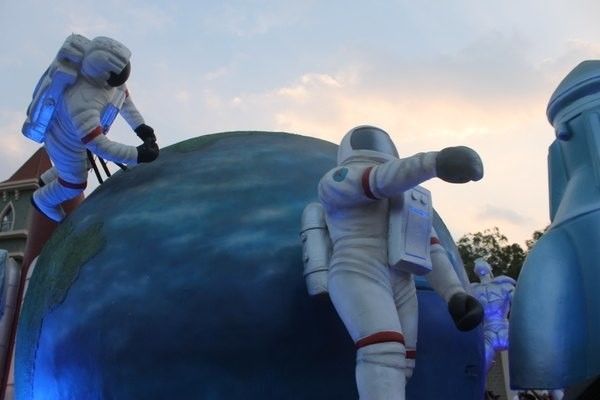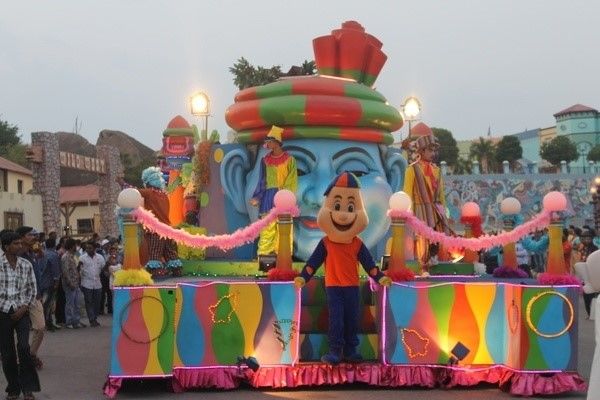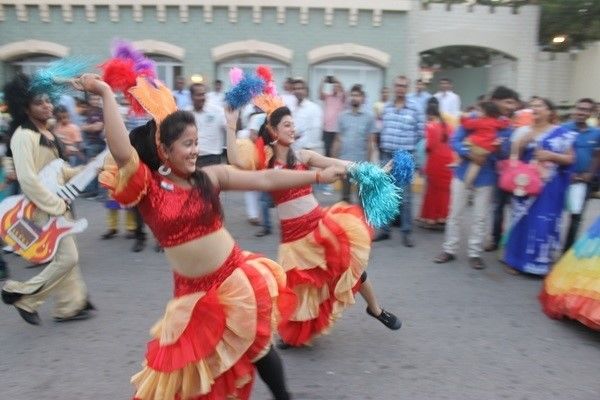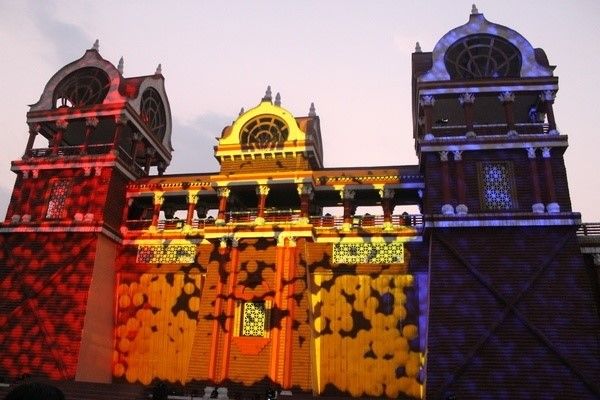 This was my debut at the most famous film city of our country (damn excited). I was walking the red carpets of Ramoji Film City, gazing around the massive campus and the 'Ramoji Film City' Banner was driving me crazy. How will I see the big sets? Will I get a chance to see LIVE shooting? What will it be like? I have heard from my friends that it is a lifetime experience. There was a lot of zeal in the beginning of my full-day movie experience. So… Rolling camera, sounds clear, everybody set, LIGHTS. CAMERA. ACTION.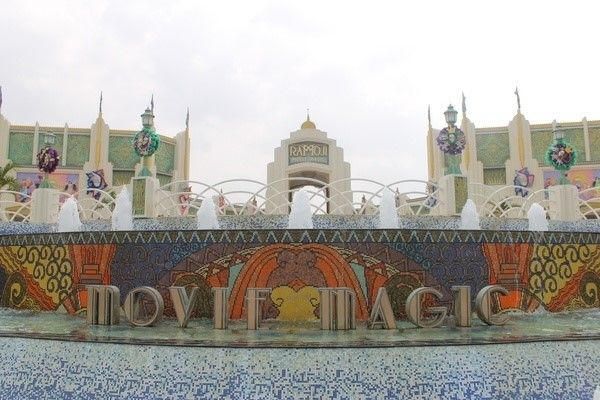 SCENE 1: Pehla Nasha MOVIE MAGIC Ka
It seems like I have landed on a planet where all the filmy elements of earth are clubbed together. The statue of Mask, Jackie Chain, Superman, Batman, with the sets of Plumber shop, Saloon, a tobacco shop and many other small buildings will definitely awaken the Filmy Keeda inside you. Meanwhile some announcements, Topi guy(Director)
"All those who have just entered, go to Filmy Duniya, a golden color building…" "Ippude vachina vallandaru dayachesi Filmy duniya ki vellandi. Adi aa golden colour building lo jarugutundi" "jin bhi logo ne abhi pravesh kiya hai, kripya Filmy Duniya, sunhari rang ki building ki taraf badhen."
LOCATION – FILMY DUNIYA Just a five-minute ride through the plethora of sets of thriller, drama, comedy, culture, action, fiction, romance and more, with an imbibing background music. Stay pumped to see the sets of Taj Mahal, where you can find director's camera rolling through and actors romancing on screen. The spinning wheel with the smileys on it, a bridge over the slide and the Eiffel tower were beautifully illustrated. One does not realise when the ride gets over. Leave your camera aside and just seize the moment during the ride.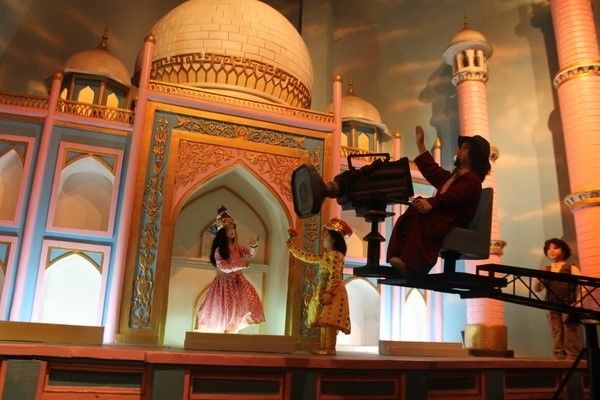 LOCATION – ACTION Following the crowd, entered into a blue-colored building, called as Action, all people gathered in a small hall, looking at a screen. There they played a clip in which Shri Ramoji Rao, the creator of Ramoji Film City welcomes the visitors to experience the world's largest film city.
Then three broad stages of movie making were demonstrated. The first one, Shooting, where two volunteers from audience enacted the scene from the famous movie, Sholay. The heroine has to sit on a dummy tonga and just beat the tonga with rope and the actor has to just shake the tonga from bottom. Isn't this so simple? Behind the tonga is a green screen that can be replaced by a video clip later (where they showed the daaku chasing Basanti), based on the idea of chroma-keying. Ah! Such pro stuff, no effort for Basanti (except the makeup, off course) and a life run on virtual dhano.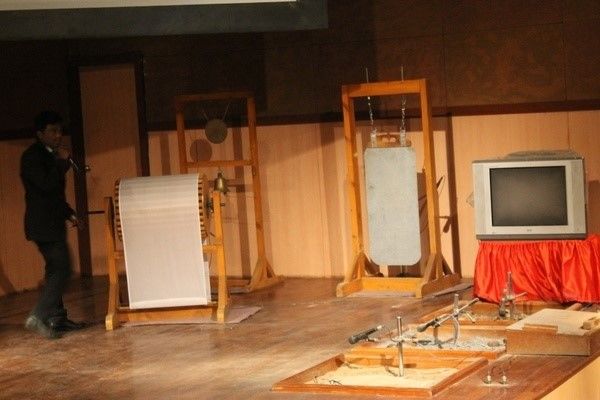 So where is the sound till now, the background score was created by some unimaginable means like beating sand with coconut (for running horse feet sound), beating tin sheets(for lightning effects) , moving ghungroo(oh! for running dhano).
Last stage was Dubbing, where the dialogues are recorded in a studio with alteration of background score. The transition to every stage was nicely monitored and you will love the experience for sure. Definitely, movie making is the cumulative effort of hard work and dedication of a lot of people (in reference to funny video about 'who should get the credits for the hit movie?')
LOCATION – LIGHTS, CAMERA, ACTION This was the dance and action show (takes place once in an hour), showing genres such as comedy, thriller, romance,etc on the stage with some brilliant silhouette and neon effects in a big dark hall. Was super-flattered with Jack Sparrow and James Bond Act. Kudos to the performers and special mention to the mascot.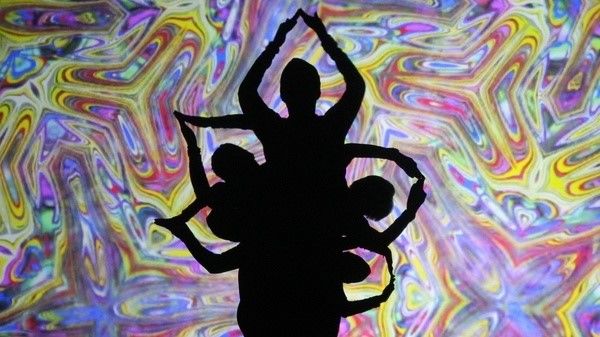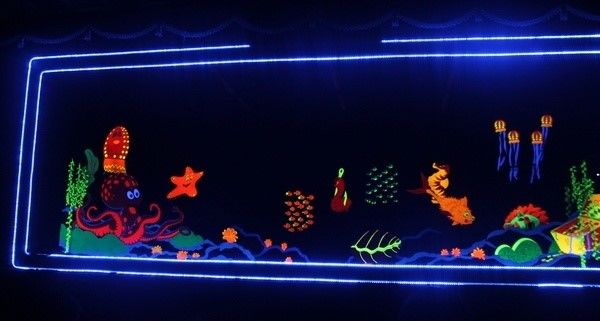 LOCATION – SPACE YATRA Space Yatra give you the exact feel of a 7D theatre, where you will be vibrated, confused and watered some times to experience the ride on a spaceship.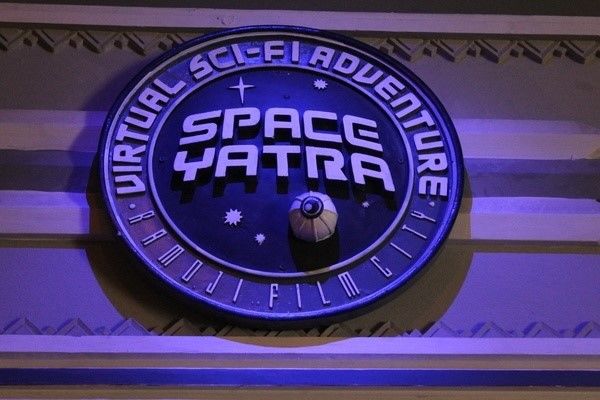 SCENE 2: Raste se ja ra tha…
The tadka of film diversity could also be seen in the name of restaurants, like Sangam, Dil Se, Dostana, in fact the really interesting architecture of Jimmy's Drive In and Chanakya left me astonished. There's a quite a lot of options to eat for vegetarians and non-vegetarians and for choosy and foodies too. You can also buy some really cool Ramoji goodies and neon t-shirts in the souvenir shops, which are located almost everywhere.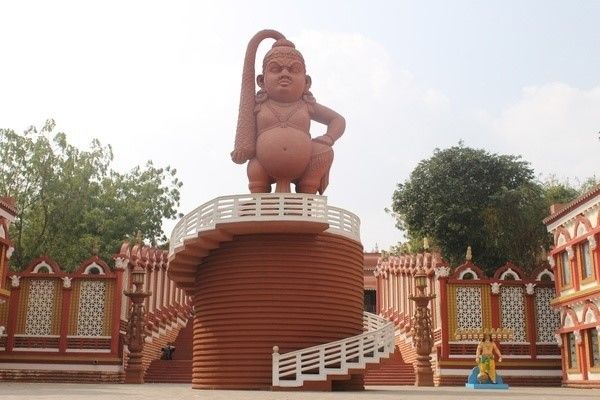 SCENE 3: Ab Goli Kha…
LOCATION – Fort Frontier Wild West Stunt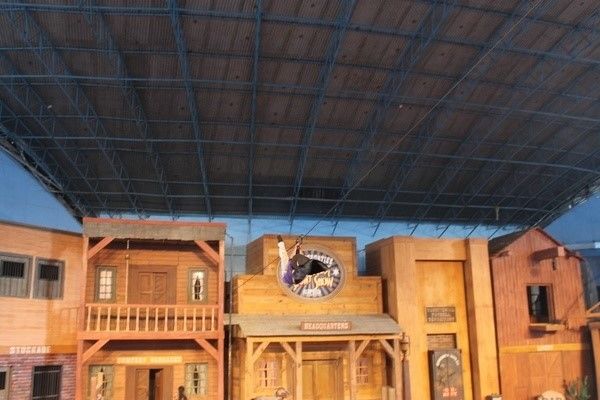 Our movies are just incomplete without the action sequences, to see all the skilful and risky acts of life that happen on the big screen, checkout the Fort Frontier Wild West Stunt show, which was nothing like a traditional stunt show with bike stunts or mauth ka kuan, but was a small play, which was very well induced with comedy(keep an eye for the toilet act), breath-taking stunts (the falling acts by both the villain and the hero), and the most spectacular element — no dialogues. The brilliant performance kept us entertained in the amphitheater.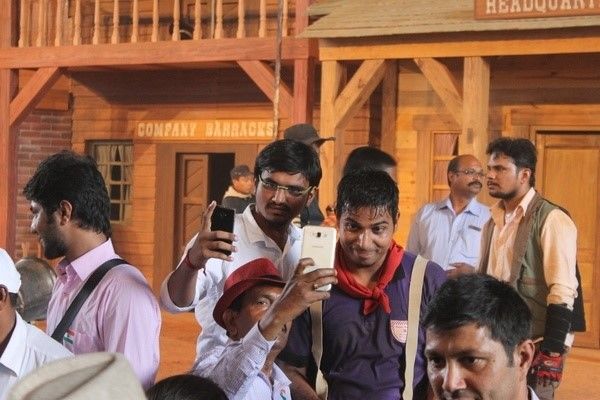 SCENE 4: Aaja nachle…
LOCATION – Alampama Theatre What is so unique about our Bollywood movies? Why are they so larger than life? Why we have items songs? Why we spend crores over a video in a movie? The answer to all is the vibrant culture of Bollywood.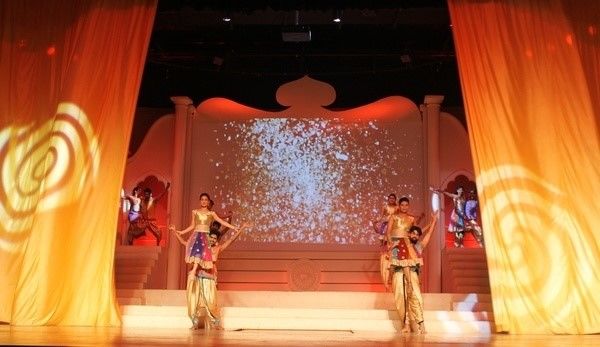 We are the amalgam(masala) of music, dance, drama, comedy and action and we love it. There was dance performance 'Spirit of Ramoji Show' in Alampama Theatre, which was the celebration of Indian dance in a filmy way. The beats of Jai Ho and Vande Mataram, made me so proud of our music industry. The crowd's enthusiasm and the finest performance amongst all really made my day.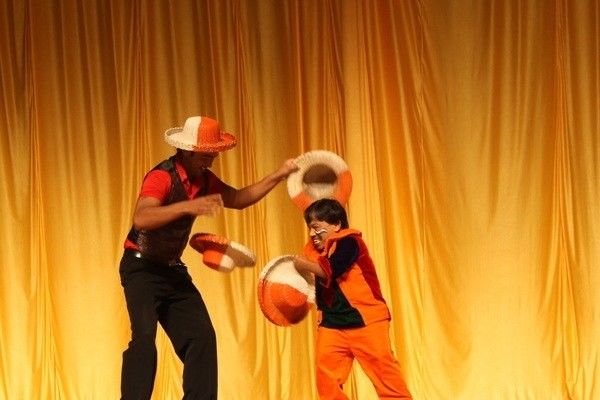 In order to cherish your Teletubbies days, which is also a sort of movie making only (just realised), watch out Dadajin LIVE TV show. There are small rides, bumping cars, bull ride, bungee, rain dance and other roller coaster for amusement.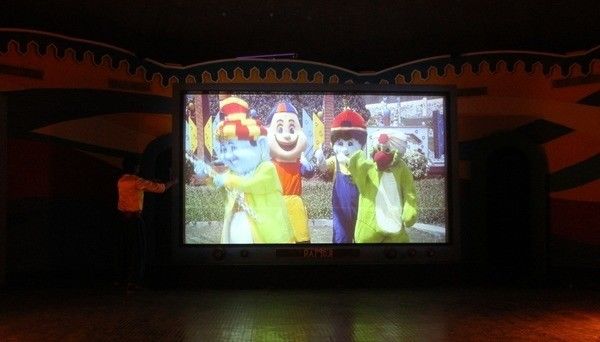 SCENE 5: dekh bhai dekh..
I was eagerly waiting to see the sets of the railway station where Chennai express movie's DDLJ scene was shot. And finally the time has come when I get to see it, tada. If you are on a college budget, you can enjoy the free rides in the Vintage Bus, available at Eureka point, which takes you to all the big sets. A caution statement, run and grab the window seats to get the best view.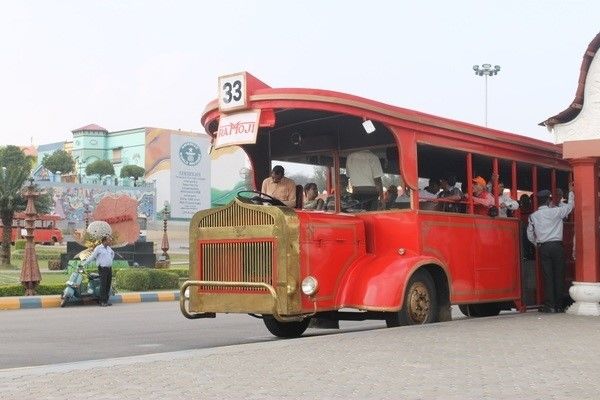 It was a 15 minutes ride to the sets of French colony houses set where Rohit Shetty's Golmaal was shot, a park where Vidya Balan's Ooh Lala was shot, huge fountains which were shown in many movies, a palace sort of set of TV show 'Siya ke Raam' and many more.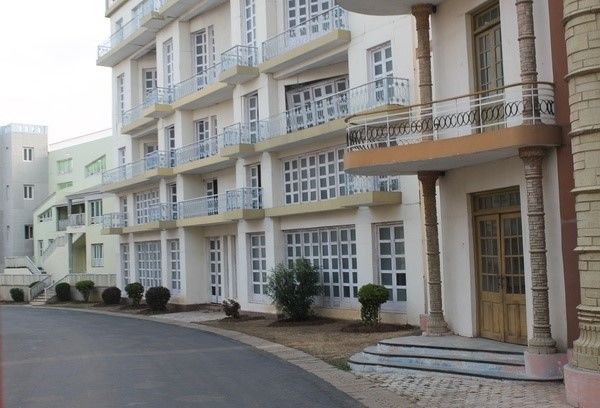 They allow you to get down on the sets of Mahabharata, which is very elegant and intricate with all the lightings. Next to this is the railway station set, where entry was not allowed, Oops! Mera Sapna adhura reh gaya, maa.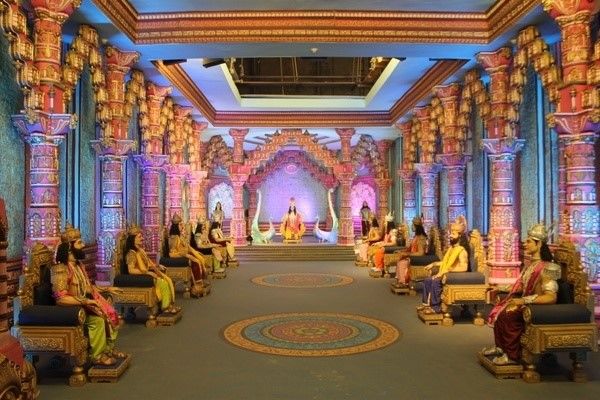 The bus left us in the Japanese park, which had the Bird Park, Kripalu Caves and other massive gardens.
SCENE 6: Ye shaam Mastaani…
The camera was still rolling and the eyes were on the mega carnival, where everyone gathered at Eureka point and the carnival trucks were taking rounds, with Hindi remixes playing, three beautiful ladies leading the carnival and lot of vibrance around. This was followed by the western culture truck, science truck, which had a spaceship and an astronaut accompanying the truck.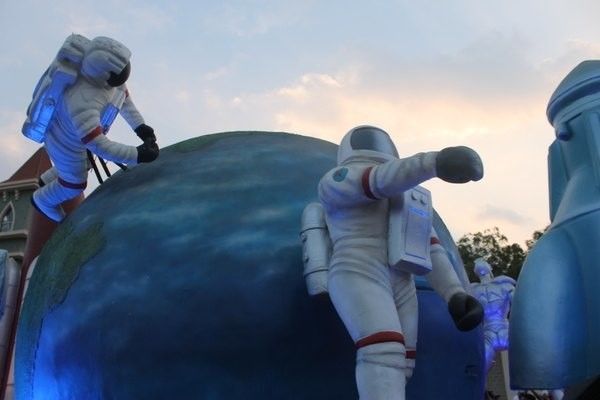 Next up was the circus, which was a happy truck, people stopped the performers to take selfies. There was a mermaid and Forest truck (where Jurassic park and King Kong combo were in the same frame).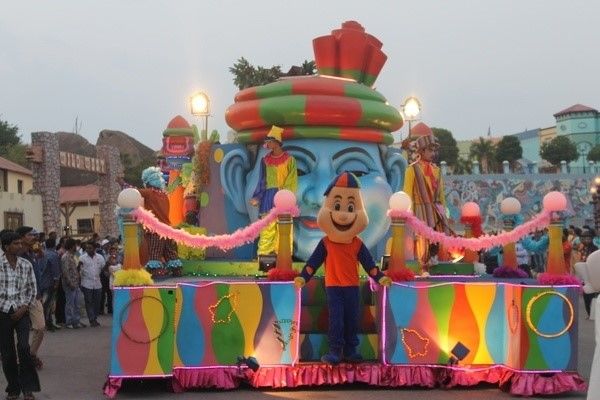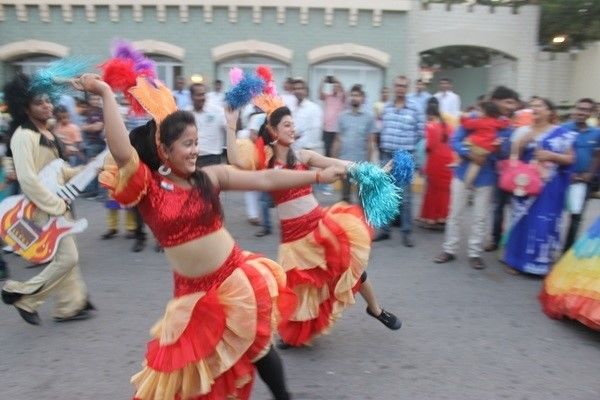 The enthusiastic dancers of Ramoji in the carnival will definitely crave you to dance with them. In the last leg of the shoot, there was a Sound and lights Mapping show, which showcased the victory of a warrior, the audience sat on the floor and enjoyed the show (meanwhile tiredness was also shedding).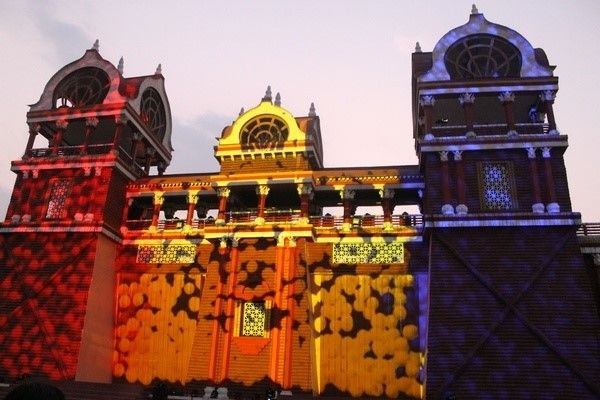 Aaand Pack up! It was indeed a day between action and cut. We all love movies, we pay 400 for a movie, we do fascinate about the movie making process, we talk in terms of screenplays and visual effects and we do love all behind the scenes of our favourite movies, so this calls for an inspiration to visit Ramoji, which is a pride of our film industry and one should definitely experience this.
Some travel Tips
You can take bus number 205 from LB nagar, Koti and Dilsukhnagar which charges Rs 15 for Ramoji Film City. You can get share autos or tata magic from lb nagar. There are many tour operators, who organise daily trips to film city from all over the city.
Opt a tour package first at the ticket counter itself. Check out the packages here.
Do reach by 12, not any later than this to cover all of movie magic, stunt shows, dance shows and the carnival.
Go like this -> Filmy Duniya -> Action -> Lights, Camera & Action -> Stunt Show -> Dance Show-> Dadajin -> Bus Tour ->Carnival -> Sound and light Show. These are arranged in their scheduled order.
Devote one full day to Ramoji Film City, to get its real soul.
Wear loose clothes, you have to walk a lot.
Take a pamphlet and explore by yourself, It's interesting! Or Listen to the director's instruction carefully, they give you the direction of the next movie magic experience among Filmy Duniya, Action, Space Yatra and Lights, Camera & Action.
Checklist of places where you should get photoshoot done and feel like a star:
Jackie Chain on a small mountain
All the American Buildings, you can go up, down, left, right, anywhere to get a stardom.
The dummy photo reel frame, looks pretty cool.
Show your swag around a vintage car.
Sit Alongside SRK and feel like the King of the World.
All the superheroes like Batman, Superman, Avengers, etc.
The famous Wanted board, place your head inside and feel like a mafia, find more of mafianess in the Wild West area.
Get ten-headed by placing your head in Ravana's statue.
The Carnival ladies, funny cartoons and the dancer's offcourse.
Live Bird Park is a nice option for Wildlife Photographers.
Selfie on sets of Mahabharata is a must.
Definitely a selfie with someone who is shooting there.
Ramoji Team click a photograph before Filmy Duniya's ride, don't forget to collect it from the exit gate of Filmy Duniya, it has the Ramoji's Background in your printed copy.
For more buzz in Ramoji Film City, click here.