Let Delhi tell you its History.
The Purana Quila or The Old Fort as it is called, stands tall near Pragati maidan and opposite to the National stadium, adjacent to it is The National Zoological Park.
The Gate to the Old Fort is an imposing structure, which is quite a long walk from the main road and takes you back in time and looks quite unreal owing to it's size.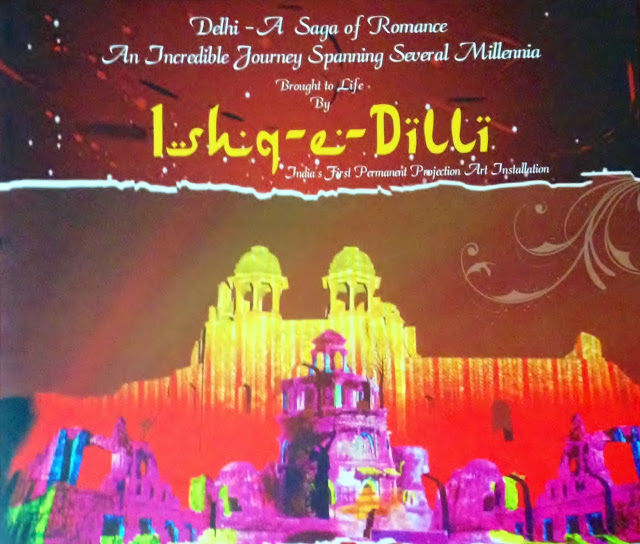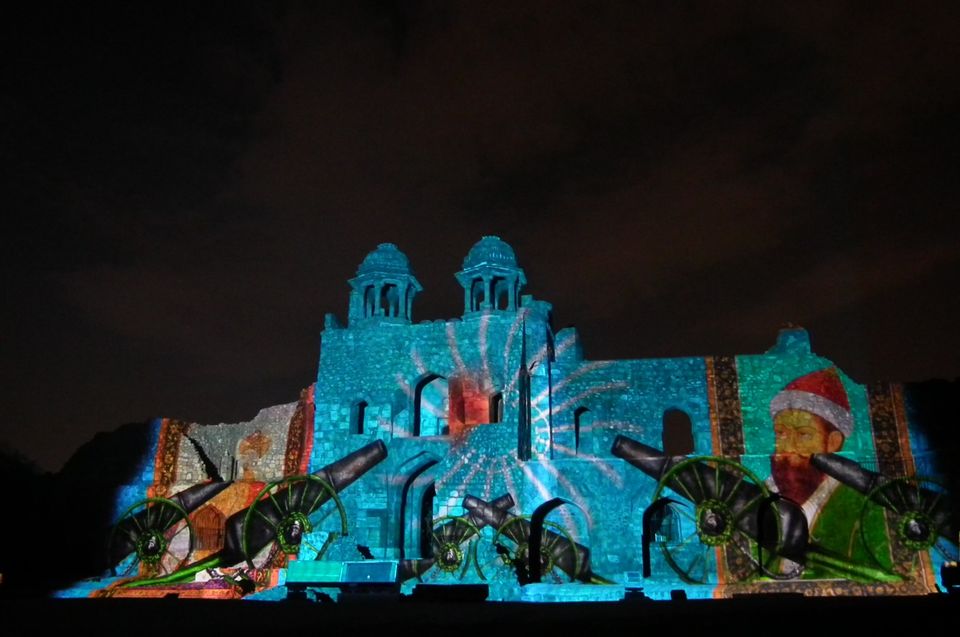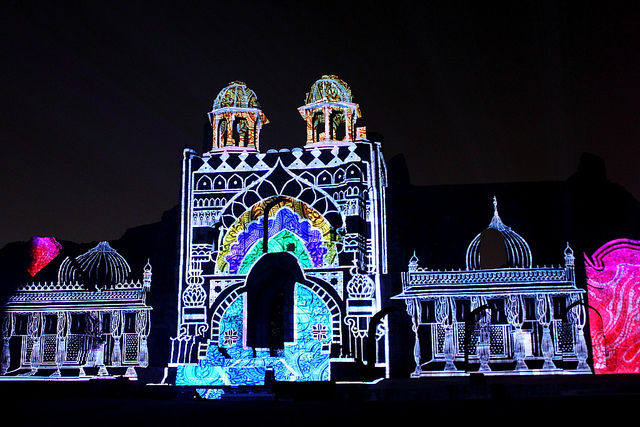 The Sound & Light Show
The Sound & Light Show takes place in the evening in both Hindi and English . The Show lasts about an hour.
The Sound & Light Show in Purana Quila takes place every evening for two show timings (Friday Closed).
February To April - 7.00pm To 8.00pm (Hindi) & 8.30pm To 9.30pm(English)
May To August - 7.30pm To 8.30pm (Hindi) & 9.00pm To 10.00pm(English)
September To October - 7.00pm To 8.00pm (Hindi) & 8.30pm To 9.30pm(English)
November To January - 6.00pm To 7.00pm (Hindi) & 7.30pm To 8.30pm(English)
Nearest Metro Station - Pragati Maidan.
I reached the Purana Quila (Old Fort) at around 6.45pm for the English show, and let me tell you the view of the Fort and it's minarets against the night sky and their silhouettes are a treat for the eyes and an experience in itself.
As you make your way into the Fort, there are trees lined up on both sides welcoming you to the show.
It is a 10 minute walk to the seating area where the show takes place. The programme is an ITDC presentation called Ishq-e-Dilli.
You can book tickets online at Purana Quila - Sound & Light Show and is also available at the counter for Rs. 100/- (Rs.50/- for Students, Children aged 6-12 years, Physically Challenged and Senior Citizens).
The show tells you about Delhi's History in the First Person and it is as if seeing Delhi's History as it happened over hundred of years, Rulers and Dynasties.
The Show makes terrific use of sound, light, beautiful colours, animated projections onto the fort walls and also consists of few minutes of Qawalli and beautiful song and dance sequences.
What is it about ?
Delhi is often called A City of Cities, and the show tells you why. It walks you through the rich and ancient history of Delhi.
Delhi was ruled by many rulers and dynasties and comprised of Ten Cities at one point of time.
The Sound & light show covers every significant event in the history of Delhi.
From the Pandavas abode in Indraprastha to Battleground for Prithvi raj Chauhan to Mohammed bin Tughlaq's rule to Razia Sultan to Nizammudin Auli's Curse to Tughlakh that left Tughlakhabad in ruins till date to The Mughal Dynasty and Sher Shah Suri to Bahadur Shah Zafar to The British Rule to The Revolutionary movement with help of Jahangir to The Freedom Struggle to Gandhi Ji's Assassination and his last words - Hey Raam to the modern day Delhi with the Metro and National capital Region.
The Sound and light Show at the Purana Quila (Old Fort) turned out to be quite a history lesson for me.
Did you know -
1. The first Demonetisation of Old Currency was in the Tughlaq Dynasty when Mohammed Bin Tughlaq introduced Copper Coins in place of Gold and Silver Coins.
2. The Term Rupaiya which is still used for Indian Currency was Coined by Sher Shah Suri.
3. In the Diwan-e-khaas in the Red fort , it is written in liquid gold - If there is Paradise anywhere, It is here, It is here !!
4. The Old Fort served refuge to 60,000 people during Partition !
Imagine knowing all about Delhi in an Single hour and the history of the places you visit in your daily life.
I always believe that usually, people don't explore their own city. Owing to their hectic schedules and busy lives, most delhities are guilty of that.
If this is the case with you or you just want to know the history of the beautiful city you live in, The Sound and Light Show at Purana Quila is your shot at redemption.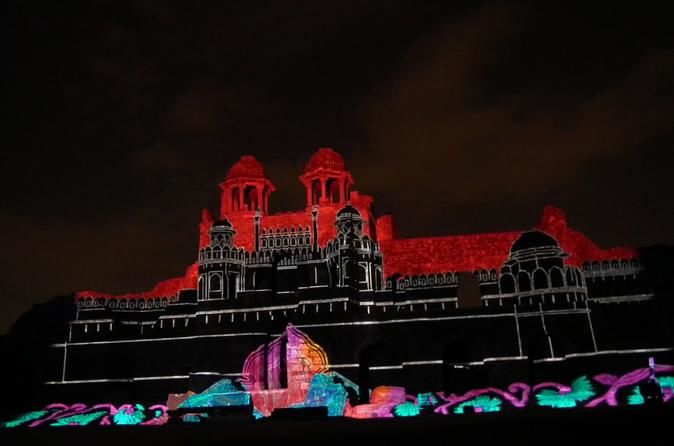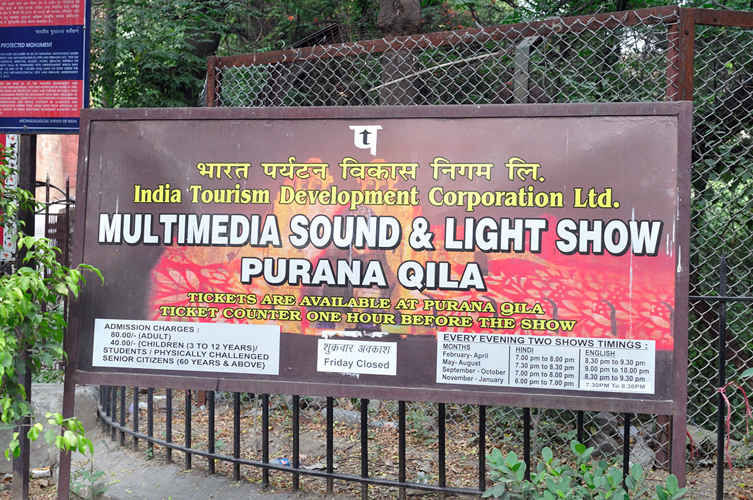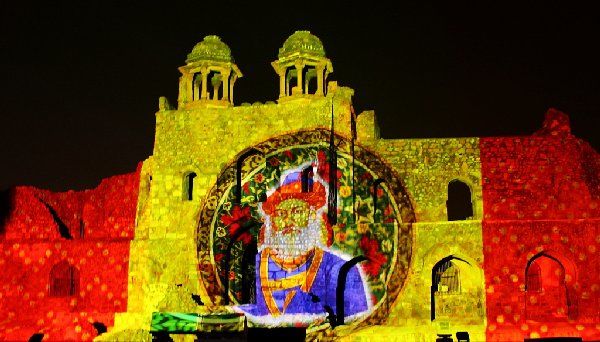 First posted on thetravellingtiger.com
Keep Exploring !!