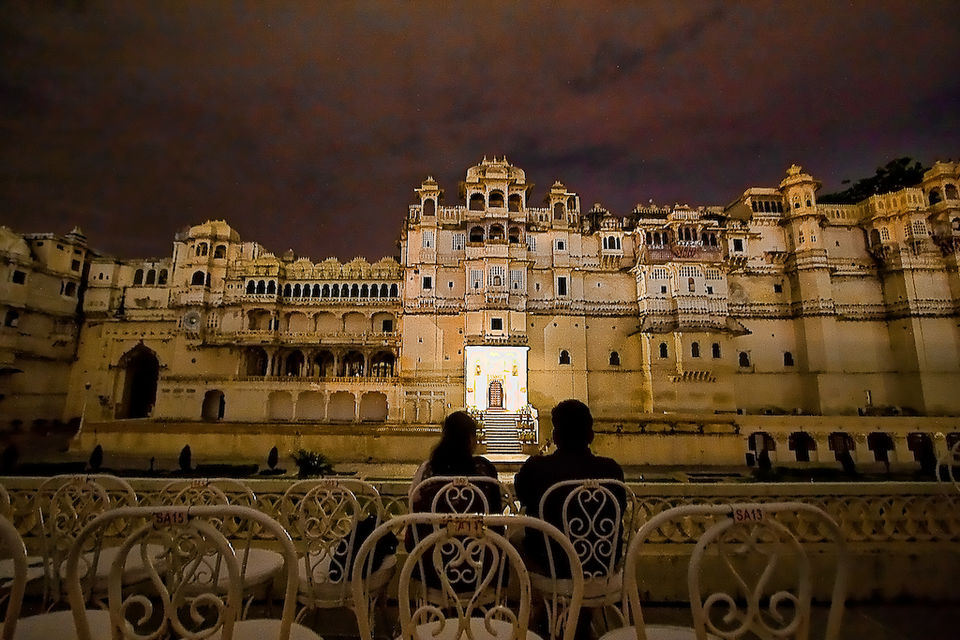 The sound of warriors going to battle, scheming ministers planning to overthrow a dynasty, women singing traditional folk songs or just that deep voice that narrates the story of an era gone by; sound and light shows can be a great way to experience stories that define the ethos of a place. Such shows in India are usually presented in Hindi, English and in some cases, a local language as well. While over the years there have been many shows that have sprung up across the country, not all of them manage to tell the tale effectively enough. Rajasthan and Madhya Pradesh top our list at the moment. We handpicked a few experiences that can take you back in time in a way that you feel like you're right in the middle of all the action.
On a regular day, the Amber Fort (also known as Amer Fort), is absolutely capable of leaving you awestruck by its mere presence. Come sundown and the bottom of the fort, near the Maota Lake, comes alive with a narrative about the history of Jaipur as well as the fort. Coloured lights highlight different parts of the fort while sounds of ghoomar echo through the ancient walls.
Time: 6.30pm in English, 7.30pm in Hindi
Cost: ₹200 rupees for English, ₹100 for Hindi
How to get there: The fort is situated about 20 minutes northeast of Jaipur. Frequent buses are available from Hawa Mahal in the Old City. Alternatively, you can also take an auto-rickshaw or a taxi from Ajmeri Gate. A taxi will cost ₹200-250 and an auto rickshaw will cosst abround ₹85. Most visitors choose to pay ₹250 to ₹300 for round trip with a waiting time of 2 hours.
Where to stay: ibis Jaipur, ITC Rajputana Jaipur. For more options, check here.
The gorgeous city dotted with lakes and mountains hosts a sound and light show narrated by Shriji Arvind Singh Mewar (the 76th ruler of the Mewar Dynasty) of Udaipur, that will give you an insight into the life and times of the rulers of Mewar. The stories of Rajput bravery and the most popular one about Panna Dai, a 16th-century nursemaid to Udai Singh II, who sacrificed the life of her own son Chandan to save Udai Singh's life, when he was attacked by his uncle, are bound to keep you hooked. The highlight of this show is the use of light to bring alive different areas of the fort.
Time: 7pm to 8pm in English, 8pm to 9pm in Hindi
Cost: ₹150 to ₹500 depending on the language and the type of seating
How to get there: The palace is located on the banks of Lake Pichola and is 24kms away from the airport. You can reach the Udaipur City Palace by taking local buses, tongas, auto-rickshaws and taxis from the city. The auto-rickshaw ride should cost you around ₹50.
Where to stay: Zostel Udaipur, Hotel Lake Paradise, Udaipur. For more options check here.
While you continue to hear stories of Rajput valour in this show, it has a slightly different flavour from the sound and light show you'll see at the City Palace in Udaipur. Chittor is believed to be the home of the famed (now infamous) Rani Padmini and her husband King Rawal Ratan Singh. You will hear the legendary story of how Alauddin Khilji waged war on Chittorgarh in 1303. One of the most massive monuments in the fort is believed to have underground cellars where Rani Padmini committed jauhar (self-immolation). The show will bring to life, the stories of important characters such as Bappa Rawal, saint-poet Meerabai, Rana Kumbha and Rana Sanga (whose queen Rani Karnavati is also said to have performed jauhar when Bahadur Shah ransacked Chittorgarh). The crisp storytelling in this show keeps you hooked.
Time: 7pm in English and 8pm in Hindi
Cost: ₹50
How to get there: It is best to fly to Udaipur to get to Chittorrgarh. You can get state transport buses or hire a cab from there. The journey will take a little over two hours. If you hire a cab it will cost you ₹9 per km for a sedan and ₹11 per km for an SUV. A bus should cost around ₹250.
Where to stay: Padmavati Lake Resort, The Elegance Resort. For more options check here.
This is one of the most impeccably produced sound and light shows. Vocals by legends like Pandit Jasraj, Bhimsen Joshi and Kumar Gandharva recreate the sounds of the Dhrupad tradition sung by Baiju and Tansen in this culturally-sound city. The sounds of the royal court are bound to leave you spellbound. Don't miss the interesting story about the Gujari Mahal (that currently serves as an archaeological museum), the structure of which was built by Raja Maan Singh for his beloved tribal queen, Mrignayani.
Time: 6.30pm to 7.30pm in Hindi, 7.30pm to 8.30pm in English
Cost: ₹75
How to get there: Gwalior has its own airport and railway station. The fort is about 8kms from the airport. The fort is a landmark and can be easily accessed by public and hired transport.
Where to stay: Neemrana's - Deo Bagh, Taj Usha Kiran Palace. For more options check here.
The deep baritone of Amitabh Bachchan's voice delivering a soul-stirring rendition of his father, Harivansh Rai Bachchan's poetry about Khajuraho's sculptors, makes for a captivating experience. The temples in Khajuraho are broadly divided into three parts : the Eastern group, the Southern Group and the Western group of temples. The Western Group of temples of Khajuraho make for an exquisite backdrop for a show that tells you about the ancient Chandela rulers and the myths associated with the temples they built. You also realise that there's so much more to the temples than the erotica they are commonly popular for. It's the narrative and an excellent delivery that create magic in this show.
Time: 6.30pm in English, 7.40pm in Hindi
Cost: ₹200
How to get there: Khajuraho has its own airport and railway station. The Western Temples group is about 5km away from the railway station. In fact, the airport is much closer to the temples than the railway station.
Where to stay: Radisson Jass Hotel, Khajuraho, Hotel GW Greenwood. For more options check here.
This is probably one of the first sound and light shows to have started in India. The Red Fort, built by Emperor Shah Jahan, when the Mughal Empire, was at the peak of its power, has stood witness to the rise and fall of many emperors and their empires. Let the stories of Delhi's rich and colourful past wow you while you enjoy an excellent narrative complete with the beating of drums, sounds of the hooves of trotting horses and trumpeting elephants. Each era unfolds right in front of your eye and each period has been adequately represented with the style of narration changing to reflect each century.
Time: 7pm in Hindi, 8.30pm in English
Cost: ₹60 on a weekday. ₹80 on weekends and on government holidays
How to get there: The Red Fort is located on the Netaji Subhash Chandra Marg in Old Delhi. You can take an auto-rickshaw, taxi or local buses to reach the fort. Metro trains also run in the city and the nearest metro station to the fort is Chandni Chowk on the Yellow Line, which is 1.5km away from the fort and will cost ₹30. An uber ride could cost you around ₹250
Where to stay: Grand Park- Inn, Ibis new Delhi Aerocity. For more options check here.
Quite different from the ones you'll find in other parts of India, this show serves as an eye-opener to what was going on in this Cellular Jail during India's struggle for freedom during the British rule. Tales of torture and torment countered by bravery and martyrdom are bound to move you. There are screams of pain and patriotic fervour all at once, in this captivating show. What happened in the jail stands in stark contrast to the setting of the gorgeous island.
Time: 6pm in Hindi (there's a repeat at 7.15pm every alternate day.) On Monday, Wednesday and Friday, the 7.15pm show is held in English.
Cost: ₹50
How to get there: Port Blair is well connected with regular flights from Chennai and Kolkata. NRIs and foreigners need to get a Protected Area Permit (PAP) on arrival at the Port Blair airport, which is valid for a 30 day or less stay. There is no additional fee for the PAP. You can also take a passenger ship that heads out to Port Blair from Chennai (60 hours), Kolkata (66 hours), and Visakhapatnam (56 hours). Tickets can be booked at the office of the Shipping Corporation of India (SCI). The Cellular Jail is located at Atlanta Point in the city of Port Blair. Tourists wondering how to reach the Cellular Jail complex can hire a private cab from the hotel or rent a bike to get there. Public transport is not common in Port Blair or the Andaman Island.
Where to stay: Hotel Mansha Regency, Sinclairs Bayview For more options check here.
Have you been to any of these show? Which ones did you enjoy the most? Write to us and tell us about your experience.
Frequent Searches Leading To This Page:-
madhya pradesh gwalior fort, gwalior fort madhya pradesh, light and sound show at gwalior fort, gwalior fort light and sound show, gwalior fort light and sound show timings