Puri to Konark, Marine Drive - A Mesmerizing Journey
A must ride for all nature lovers.
The Route: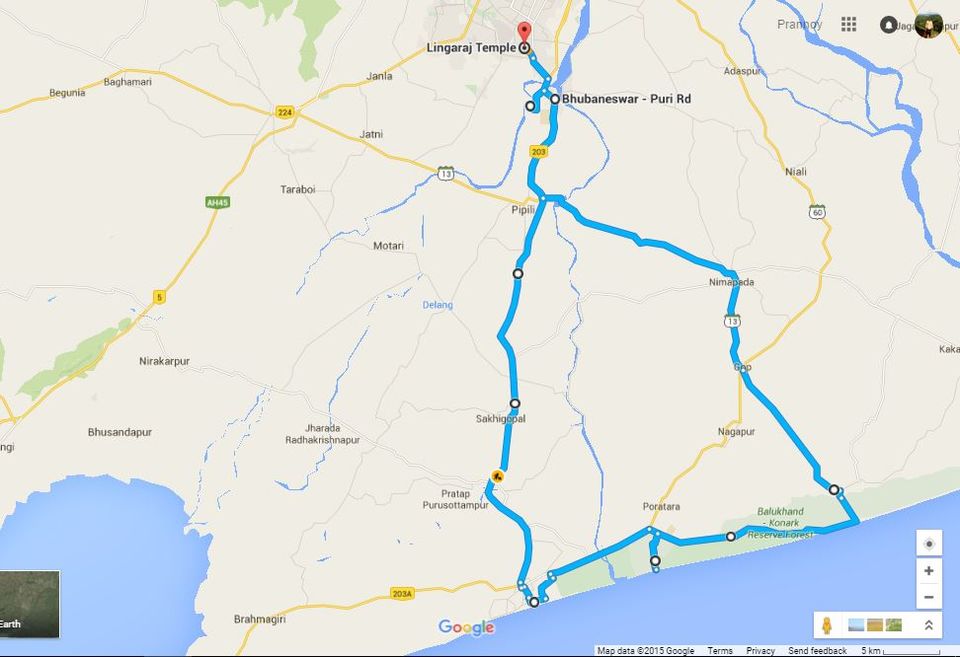 Single Day Travel: Can opt for solo ride as well.
If so ever, you get a chance to visit Bhubaneswar, the reason of visit might be anything, be it work or some family function, never miss the chance. Bhubaneswar( The city of temples), is not only emerging as the next technological hub in India, but also a place where tradition, culture and technology runs hand in hand. People here celebrate festivals rounds the year (A very popular proverb describes - Odisha (Kalinga) celebrates 13 festivals in 12 months).
Forget about weekend gateways, when you are in Bhubaneswar. If you want to run away from city life, all you need is spare some couple of hours. For example, this trip of 159 kms, can be completed in hardly 6-7 hours. You can leave your home in morning and return back by evening.
We had hardly planned for the day. We got together near Kalpana Square (en route, Puri -Cuttack road) at 9am and were ready to roll on. I personally believe the old route to Puri was more enjoyable (amidst villages, coconut trees, farm lands, cool breeze, trees on either side of road standing tall and acting as road-side protection barrier). The newly built road is a 6-lane road, bypassing all the villages. We started of from Bhubaneswar and reached Dhauligiri in the outskirts of the town in 40 mins.
Dhauligiri is an ancient Buddhist monument, built by King Ashoka on the ground of the Kalinga War. It is said that, when Ashoka invaded Kalinga, the number of causalities in the war was so high that the hill and the river DAYA, flowing adjacent to this hill, was colored red with blood. The sight of the war moved Ashoka. He saw some Buddhist monks pass by in peace, not caring about the materialistic world. It was here, where Ashoka decided to accept Ahimsa & live the Buddhist way of life. He quit his invasions and turned from Chanda Ashoka to Dharma Ashoka. There is a garden just below the hill, which houses ancient rock-stone engravings from 2nd Century BC. The best time to visit this place is either during the sun-rise or the sun-set. You will definitely love this place. The Peace Pagoda - Dhauligiri.
Moving ahead, we reached Pipili.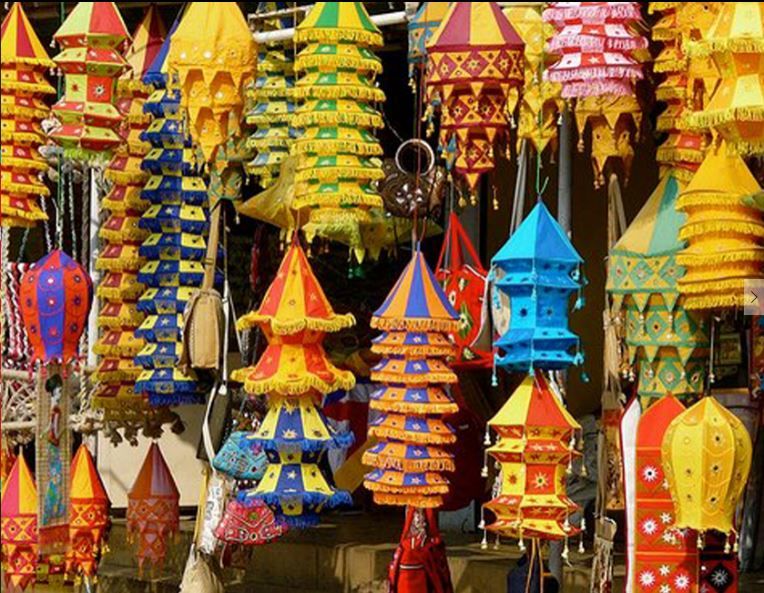 The whole little town of Pipili is beautifully decorated with applique works. As you ride through the streets in the town, you will be mesmerized with the craftsman's antiques. Pipili, not only preserves this age old tradition of producing appliques, it is the source of income for majority of families in the town. Make sure to collect some memento for your trip.
Moving ahead with the journey, we came to this little village called Sakhigopal. It is the village of the sacred, famous Sakhigopal Temple. You can find plenty of local restaurants to take a break or sip some fresh coconut water. I would personally recommend having food in this even smaller village called Chandanpur. The restaurant called "Padmalaya" is the most popular in the area. The cooks adhere to Jain style of food preparation i.e. No onion, No garlic & NON-VEG - a strict NO. Even then, I can personally assure you the quality and taste of the food served here. So tasty and yummy it is. Try the sweets available - especially the Rasogola, Chenapoda, Rabidi and Malpua. The purity of ingredients i.e. milk, ghee (clarified butter) and sweeteners used are no doubt the best. All organic, cooked using wood and earth wares.
Rolling ahead, we enter the Holy City of Puri. The Jagannath Dham. One of the 4 Dhams(religious centers) for Hinduism.
is restricted only for Hindus and is famous around the world, for the annual Rath Yatra (Journey of the Lords in chariots). Speaking of historical, religious and political importance of Lord Jagannath and Jagannath Temple will take me a year or more to complete. I have spent my childhood in Puri and so I share a deeper relation with this holy place. I get all nostalgic whenever I visit Puri. Am proud and lucky to have spent my childhood here in this holy place.
Not to mention, Puri had one of the best beach in the world. The Golden Sea Beach is what we used to call it. It is still beautiful but largely polluted. As kids, we used to go for shell hunting on the beach, play all evening, have fast foods and return back home happily. Now a days, you find garbage all around the beach with stray dogs living on them. I wish, people of Puri realize the importance of the beach before it is too late.
Coming back to the journey, we spent some time to bow our head before Lord Jagannath and rode ahead towards the much awaited Puri-Konark Marine Drive. It is serene out there. Clear and well built roads, fresh & cool breeze, low traffic, almost no pollution and sea running alongside the road. What more do you want ?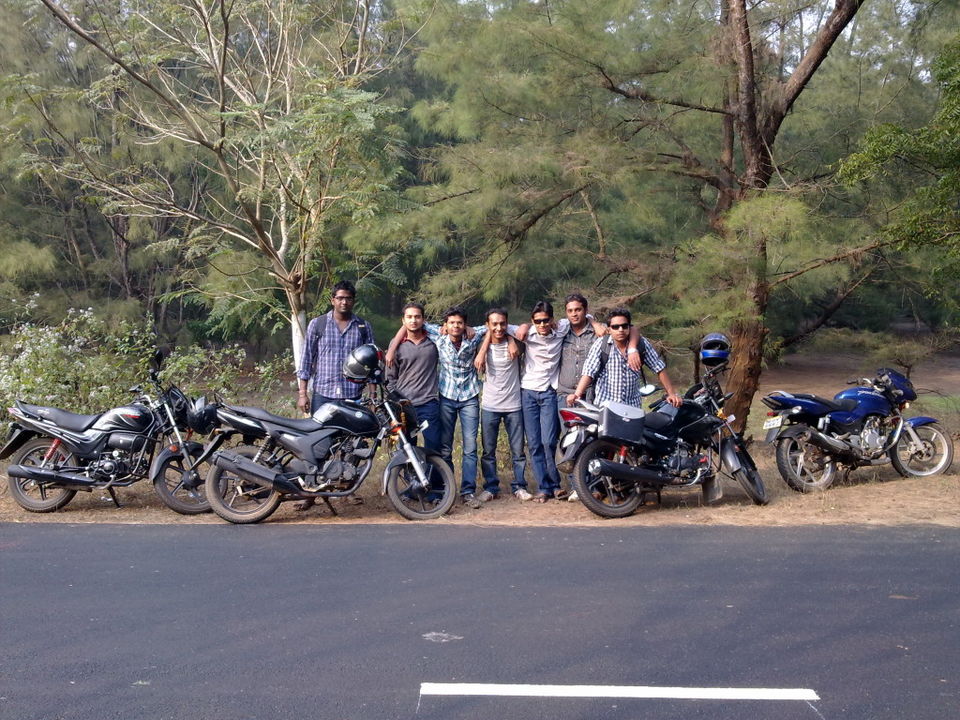 We stopped in some random Dhaba for lunch and had delicious fish curry with rice. Looking for food will never be a problem for anyone in Odisha. You can find any type of cuisine in every part of the state.
Make sure you visit the famous STONE CARVERS of Odisha en-route the marine drive. Mementos are available starting from Rs.30 to Rs.3 Millions or even more. These artists are the direct descendants of the Carvers from the age of King Narashima I.
Beleshore and Ramachandi are two temples situated on the Sea side, 10-15 Kms apart. The entire region is labelled as wildlife sanctuary & these temples are situated just inside them. The beach adjacent to these temples are low populated, clean and if you happen to be lucky, you can find turtles, crabs, foxes and wild bores dwelling in the open.
Coming to the end of the trip, we reach the Black Pagoda - Konark and Chandrabhaga Beach. Konark is an ancient Sun temple, famous for so many reasons. There are numerous legends associated with it. It's beauty attracts tourists from far end of the world.
World Famous, annual is the time, when the whole town is decorated, Indian Classical Music roars in the air, dance programs are run throughout the night, visitors from every corner of the world flood in, musical & dance maestros (Ustad Zakir Hussain, Flute maestro Hari Prasad Churasia, Amzad Ali khan, Manasi Pandya, Pandit Birju Maharaj to name a few) are invited for Guest performance and a lot many to describe.
After visiting the Konark Temple, we spent some time on the beach of Chandrabhaga, had quick snacks, before returning back to Bhubaneswar via Pipili. It usually takes 6-7 hours for the trip, but if you are a first time visitor, you might end up sparing more time in such amazing breath-taking monuments and serene beaches.
The best time to visit Puri-Konark is during October to January. While Bhubaneswar is well connected to every city of India (being the capital of Odisha), Puri-Konark can be visited only by road or rail. Motorcycles and taxis are available for rent at a very nominal and affordable cost.
This blog was originally published on 'Live Biking'