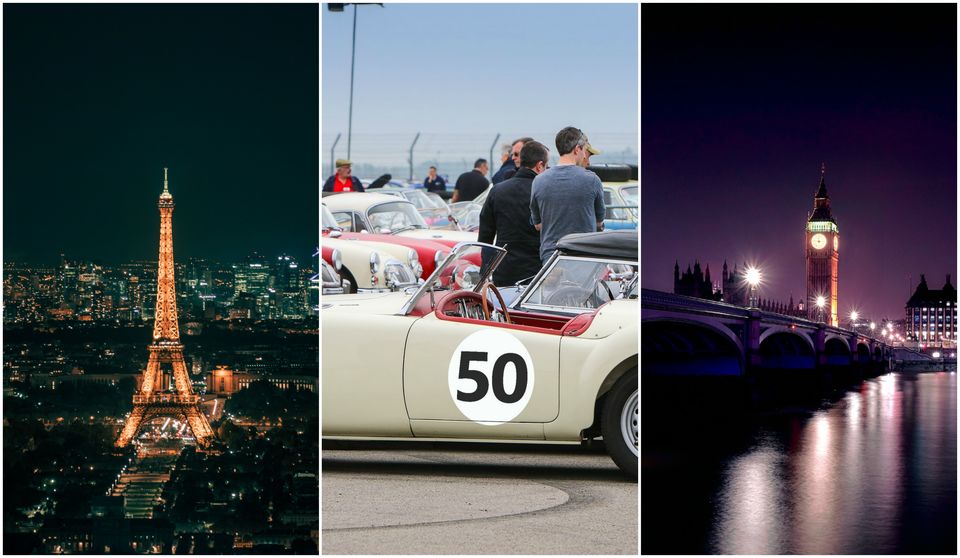 That's the dream, right? A Euro trip for which you don't need to give up all your savings and one that also manages to satisfy every kind of traveller in you. If you like the sound of that, then I have put together the perfect 10-day Europe itinerary for you.
This itinerary includes three of the most beautiful European destinations – London, Silverstone & Paris, along with recommendations of things to do and places to eat that promise to make this a budget holiday.
The Best 10-Day Europe Itinerary
4 Days In London
There are only a handful of cities in the world that are universally acknowledged as a must-visit for all types of travellers. London is right up there on that list. Keep the first four of your 10-day Europe itinerary reserved for this incredible city. With a perfect blend of history and modernity, the capital of UK is a sight to behold at every turn you take, whether it's standing on a bridge staring at the Thames river or attending a football match at Stamford Bridge. This multicultural city remains one of the world's most cosmopolitan and diverse destinations with plenty of variety in food, fashion and music on offer.
Ideal for: Everyone
Mandatory things to do while here: Visit the Big Ben – the iconic clocktower at the Houses of Parliament. Take a ride on the London Eye – the 443ft tall giant wheel that offers a bird's-eye view of the entire city. Take a tour of the Buckingham Palace – the London residence of the monarch of the UK; don't miss the changing of the guard later outside.
Where to eat: Here are the three most outstanding places to eat in London: The Ledbury at Ledbury Road for Chef Graham's innovative cooking and fine wines, Padella at Borough Market for Italian homemade dishes, E Pellicci at Bethnal Green Road for the full English breakfast. All three serve vegetarian food as well.
Where to stay: You can stay in this humble artistic apartment for as low as $26 per night for two, or you can live like a stylish Londoner in this townhouse for $210 per night for two people.
On the fourth afternoon, take a Eurail to a quaint little village called Silverstone which is around 70 miles away. The average ticket costs €8.87. You'll reach Silverstone within two hours. You can book a ticket online here.
3 Days In Silverstone
Silverstone is the place to be from June 2-3, 2018! Why? Because the world's largest MG Motor event, MGLive!, is being organised by MGCC. MG and MG Car Club take immense pride in its fleet of vintage cars and their MGLive! event is going to be a celebration of classic cars, racing, live music and family. This elite event takes place in the Silverstone village because of the iconic race circuit present there.
Ideal for: Car lovers and automobile connoisseurs
Things to do while here: Attend MGLive! to surround yourself with over 3,500 MG cars and over 10,000 MG Car Club members, live music, great food and racing. The 2-day event promises to be a fun affair for not just car enthusiasts, but everyone in the family. What's more, children under 15 years get free entry! Since there's little time to the event, you can buy the tickets for this right away if you're interested.
Where to eat: Just 9km from the Silverstone circuit lies the affluent town of Towcester. You will find plenty of great options here such as the Plough at Watling Street for their assorted beers, the Bull at Brackley Road for their menu of grills, and the Folly on London Road for their vegetarian options.
Where to stay: You can stay in this beautiful private bedroom at just $118 a night for two, or you can live out of a caravan suite for $629 a night for two people.
On the third evening, take the Eurail back to London for €8.87. From there, catch a flight to Paris. You will reach the city of love within an hour and a half.
3 Days In Paris
The city of love and arts & culture. You'll be lying if you say Paris is not on your bucket list of dream destinations. With iconic architectures, eclectic cuisines, trend-setting boutiques and artistic masterpieces almost everywhere, Paris is one of the most instantly recognisable cities in the world. Nothing hasn't already been written about glorifying the French capital that you will find in this introduction; just do yourself a favour and go.
Ideal for: Couples and fashion connoisseurs
Mandatory things to do while here: Visit the Eiffel Tower and get yourself clicked in front of it. Cathedrale Notre Dame de Paris is an exotic gothic church and will be fascinating for both believers and non-believers. Cimitière du Père Lachaise is an ancient cemetery where you can see the graves of many literary geniuses such as Proust, Oscar Wilde and Balzaf. Jim Morrison also lies in this cemetery.
Where to eat: Here are the three cheap but outstanding places to eat in Paris: L'as du fallafel at Rue des Rosiers, Breizh Café near Rue Vieille du Temple, Krishna Bhavan at Rue Cail. The third option serves delicious Indian food.
Where to stay: You can stay in this cosy chamber at $37 a night for two, or you can live in this magnanimous stylish apartment for $237 per night for two.
There you have it then, an actual 10-day Europe itinerary for you and your friend to experience the best of the continent while keeping everyone happy. If you still believe it to be unbelievable, ping me and let's talk in detail!
For exciting news and updates, follow MG India on their Facebook and Instagram pages. To book tickets for MGLive!, click here.
If you've already been to Europe, do share your wonderful experience on Tripoto with the 25 million travellers in the community.
In association with MG Motor.
Frequent Searches Leading To This Page:-
europe itinerary 10 days, europe itinerary 10 days from india, europe trip itinerary 10 days, best europe itinerary 10 days, european itinerary 10 days