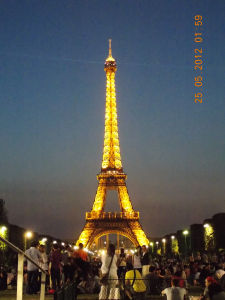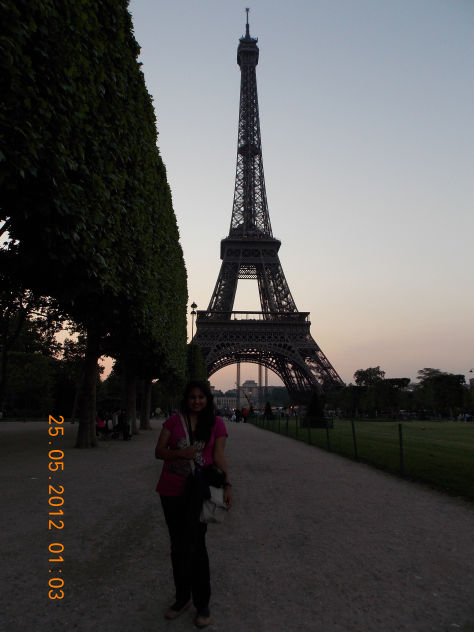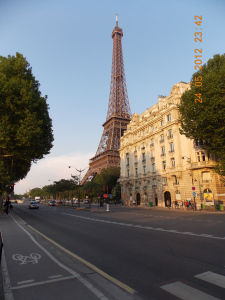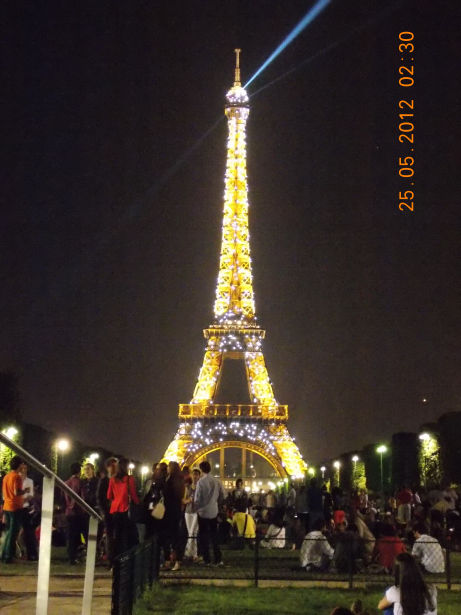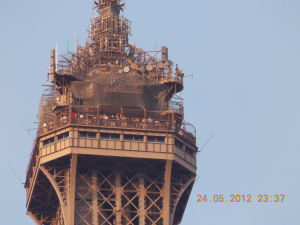 "To awaken quite alone in a strange town is one of the most pleasant sensations in the world"
– Freya Stark (A British explorer and travel writer)
To add further to this befitting quote, the 'pleasant' feeling is usually preceded by fear, anticipation and doubt.
My experience shared below perfectly explains this.
Noises of footsteps on the carpeted flooring, noises of shifting luggage, somewhere in between these I could hear a voice, sweet and chirpy. I didn't quite understand what she was saying. I opened my eyes as I saw outside my window, the stylish Eurostar train pulling up on platform No. 12 of the Paris du Nord station.
As I got off the train, I heard the click of cigarette lighters. It was a homogenous sight, people grabbing their luggage on one hand and a cigarette on the other. I was still not completely awake. It took me a minute to figure out 'Oh!! Yaa….I am in Paris'.
As I walked along the clean marble floored platform, I was looking out for directions which either said Exit or Tube. I kept reading along the signboards, I could read them but couldn't understand what was written. Had I slept so hard that I forgot my ability to understand English? I asked myself. It took me a minute to realise' OH!! My my…..I am in France- French, Ok…Now I get it!!!'
I was at the centre of the station right in front of the huge board and completely lost! Not a word of English around me. My Europe phone card was not working; I tried asking a few people for directions to theMetro station (Local transport in Paris) and was getting quickly initiated into "French insolence"; my knowledge of French was Zilch – the language as well as the people. I even contemplated catching the next Eurostar to England.
I used the signs to figure out what they meant. 'Sortie' meant Exit and'd'information touristique' meant Tourist Information. These were the first two words in French that I learnt. As I wandered around the huge station looking out for more clues towards the Metro station, I saw a long queue at the ticket counter. Like me, there were other non- French speaking tourists. I quickly became friends with two Japanese girls who had come for a short holiday. They seemed as lost as I was, but as a team we figured out our ways.
After a two hour wait and two changes in the metro lines I reached Gare De Lyon-Another central station in Paris. I followed the map that I had drawn myself, copying the way to my Hostel from its website. Though today is the era of apple iPhones and its convenient location finder applications, I still use an old LG mobile. I wandered around the circumventing streets for about 15 minutes and voila! I found Rue Hector Mallot – where stood my Hostel Blue Planet. This was the cheapest hostel one could find in Paris. It was peak tourist season and all the hostels were full. I was lucky enough to have found reservation at this place. The reviews were not so tempting, but the hostel was centrally located and was very convenient with all the necessary shops located at a stone's throw distance. I locked up my big backpack in the luggage room and stepped out. In most of the hostels the check-in time is after 3pm, so I had about 4 hours to kill before I got to bunk in my room.
When I began my travel "expedition" in Paris, the first thing I wanted to do was EAT. I was famished. I hadn't had a morsel of food or a drop of water since my marathon run at 5am. I went back to Gare De leyon and picked up a Baguette (a long thin loaf of French bread stuffed with vegetables- Like a Sandwich). I sat down there on the steps admiring the mind-blowing architecture of the station, The Parisian feeling was slowly sinking in. After a nice long lunch and random ramble near Gare De Leyon, I returned to my hostel.
It was 6 pm by the time I settled myself in and finished chatting with my new roommate Adriana, from Canary Islands. She was a pretty girl who had been studying in Lyon and was on her way to Poland to meet her boyfriend. She taught me a few do's and don'ts about Paris. I also learnt a few French pronunciations from her for survival sake! On her advice, I picked up my small bag which had my purse, camera, maps and water bottle and set out to see The Eiffel Tower. The epitome of Paris'!
Champ- de- Mars; 'Tour Eiffel' As I walked out of the Metro– Champ de Mars, my eyes were eagerly searching for the tower. I wanted to savour every moment. I meandered along with the vast crowd thronging the riverside of Seine, where the massive structure- The Eiffel Tower stood!
Awestruck at the tall iron scaffolding, pages from my guide book about this structure's controversial history hurtled in my mind.Gustave Eiffel– The man responsible for this amazing structure.
This piece was a testimony of the architect's vision and intelligence!
Among many laurel aspects of this tower's architecture- One attribute astounded my mind and lasted with me.
What colour is the Eiffel Tower? Take one look at it, your answers may be darkish brown, greyish black, bronze etc. But, if you actually 'see' as I did- you will notice that; In order to enhance the impression of height, three separate colours of paint are used on the tower, with the darkest on the bottom and the lightest at the top. Currently it was shades of Bronze.
As I walked along the Trocadero Gardens, which spread across the tower, I saw thousands of couples, families, and friends nestled around their picnic basket with champagne and strawberries admiring the setting sun embellishing the beauty of the tower. I was in the city of Love- Alone! 
As I was leaving the gardens well past eleven, enthralled by my introduction to the Parisian life, an insight dawned on me: how unfounded my fears of lonesomeness turned out to be and how satisfying I found my own company! Buoyed by the realisation that I possessed gifts for solitude and pleasantly tired by the first tumultuous day, I flopped on to my bed and gave myself up to a sound, dreamless sleep. 
You need to know: The area around the Eiffel tower, though crowded, is certainly not safe for women. Few creepy guys kept following me until I reached the metro! The Metro is available past midnight, but the frequencies of trains are quite low and it can considerably delay your travel. So make sure you take these small things into consideration while aiming for a safe travel.
This travelogue was first published by travelat21 .