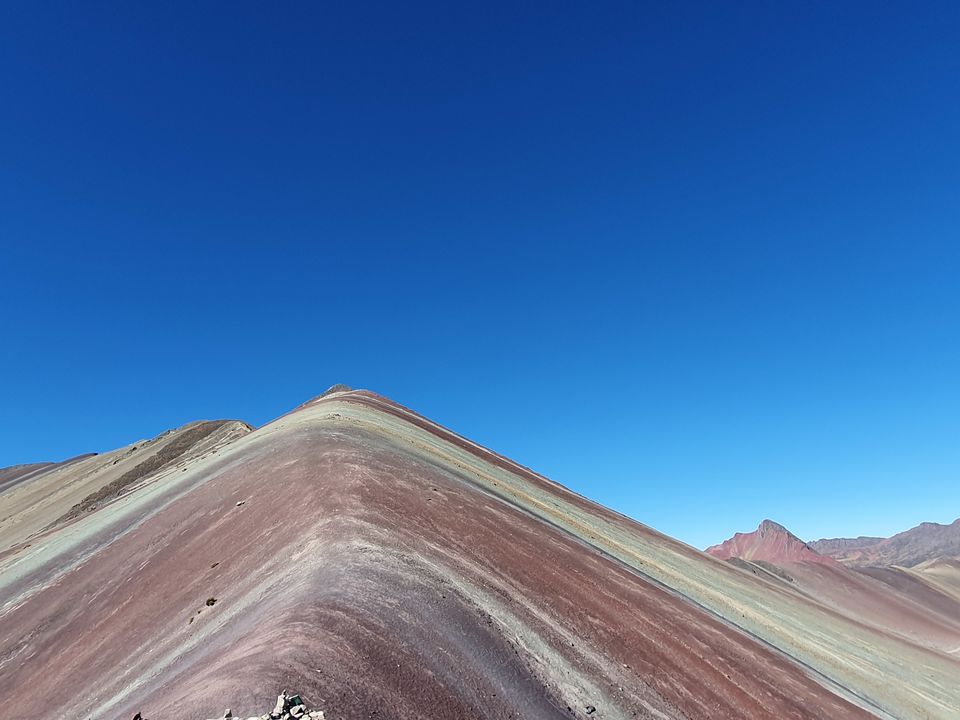 Vinicunca also called Montaña de Siete Colores (Mountain of Seven Colors) or Rainbow Mountain, is located in the Andes in Cusco region. When I first found out that it is 5200 m high, I was wondering perhaps I can slowly make it up there since I have been up to 3600 m high before.
The day started at 3 am pick up from a nearby hostel. I went with Rainbow mountain travel as the time totally fit into our itineary. 2 hours of rocking trip to Cusipata and have breakfast there. (Breakfast and lunch included in the price). After breakfast, 1hour of another rocking trip to the base of the Rainbow mountain.
Finally at around 7am, we start the trekking. Even way before the trek, coming out of the restroom, the panting has already started. The altitude is punishing, enough to turn even a young man into a panting mess, let alone me. I pant at every single steps that ascend up. Flat ground is still allright. You will just have to keep walking.
The tour guide lady & my friends kept giving their encouraging gestures while waiting for me. It was a gorgeous route but the sun keeps bringing the skin and eyes to boil hence i wasnt exactly in the mood to take picture nor smile but just to walk and keep up with the rest. Its slightly warm to hike up but you will be putting on your jacket once you are up there again. Oh, dont forget your walking sticks, it become my best friend just for that hike.
Another option is to take the horses up for 60soles but i keep telling myself nope because this would have felt like letting the mountain win. At one stage, all of us eventually get on a ponies for 10soles because that small part of the trek up is a killer. Just becareful when trying to get up to the ponies, my friend fell off cos the walking stick was in his way while he was getting up and the ponies run off.
Gradually slowly towards the last part where no horse or ponies are allow up there, you just have to walk the stairs up and 1 tiny steps with every panting and breathe eventually brings me up to the top.
And when you reach the top, you struggle next against the buffering winds blowing hard into your face that you left with zero energy to hike further up to the top viewpoint anymore. You can get your passport stamp for 2 soles too.
I didnt really hike up to the viewpoint. I'm just happy with where i am sitting and enjoying the wind. There are hot drinks serve and lama up there, all for a price. If you had pay extra to the tour to hike the Red valley, great for you too.
Next is coming down, hard on the knees but still bearable. Made the right choice to went up early and come down early as the crowds are coming in at around 10am and the sun is scoring hot!
Was it worth the hike, i suppose so with its authentic & hardest way up but never will i do it again. Rainbow mountain was an arduous clamber. Its beauty is radiant across the mountain range and beautiful horizon but hiking once is enough.