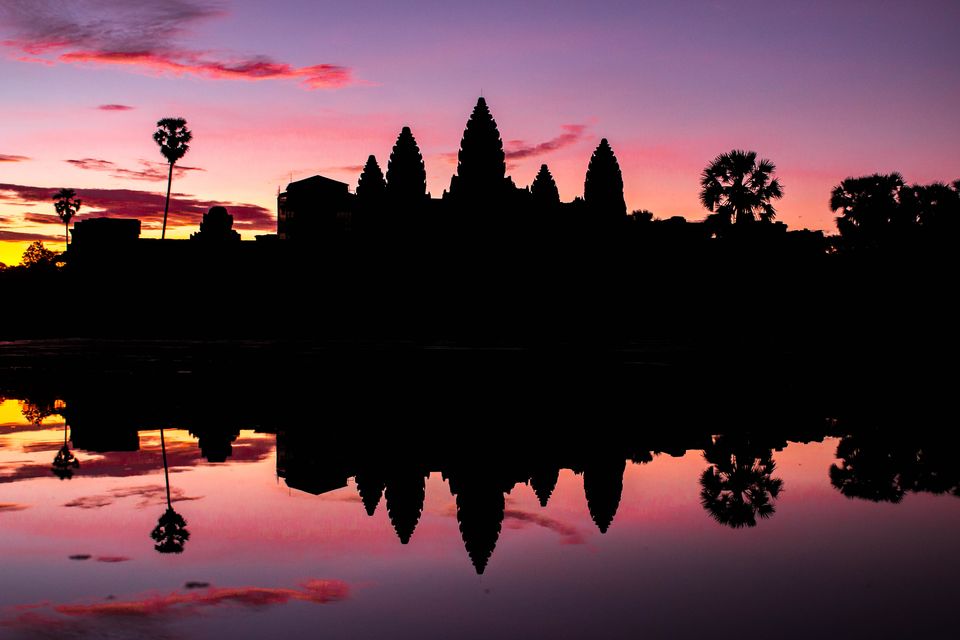 Cambodia was a jaw-dropping place to visit, but the biggest surprise was the food. I'd never tried Cambodian food before, and everyone would agree Khmer cuisine is somewhat overshadowed by its Vietnamese and Thai neighbors, so I went with pretty low expectations and zero knowledge… and let's just say I was completely blown away.
Cambodian cuisine withdraws influence from various countries, its neighbors as well as French and Chinese (since there are many Chinese immigrants). Seafood is abundant and the common ingredients in meals are much like those of other Southeast Asian countries: rice, coconut milk, garlic, palm sugar, fish sauce, chillies, kaffir lime, lemongrass, galangal (whose flavour is sharper and more citrusy than common ginger's), shallots, etc. But, the flavors are blended uniquely to Cambodia. The menus are fairly similar all over the country, but each area prepares the dishes in its own unique way, slightly different from others, because there are so many options regarding the spices and herb blends.
Fish Amok in Phnom Penh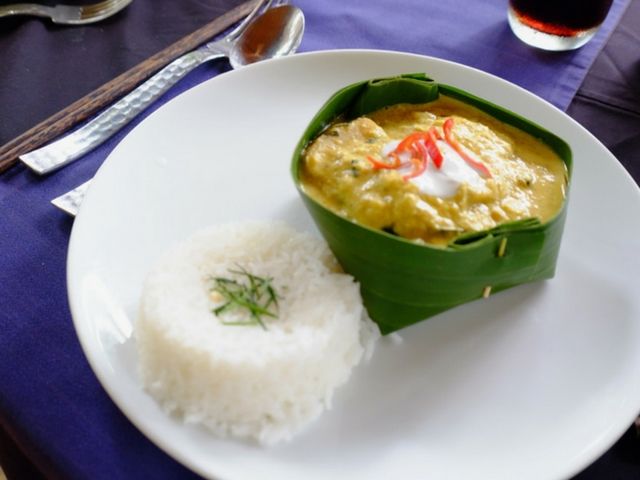 This is by far the most popular Cambodian dish. It's a fish mousse made with fresh coconut milk and kroeung, which is a type of Khmer curry paste. You can find similar meals in Thailand and Vietnam, but what makes the Cambodian version completely unique is the added slok ngor, a local herb with a subtle hint of bitterness. Restaurants steam the fish amok in a banana leaf and smaller local places serve a less creamy, boiled version.
You'll find fish amok anywhere in the country, but I highly recommend going to Romdeng Restaurant once in Phnom Penh. The restaurant served absolutely delicious fish amok plus it is a part of Tree Alliance, a social enterprise that supports disadvantaged youth.
Foods from morning markets
Kep is a lovely seaside town to the east of Kampot and it is famous for its crab. Hence, the magical match: Kep's pepper crab. The dish is made with green peppercorns, which are unripe and can't be found anywhere other than Cambodia, the reason being that they dry out and change flavor after just a few days. The freshly caught crab is simply fried in a sauce containing garlic, chilli and the pepper, so your taste buds are really taken for a ride when all the different flavors kick in with just one single bite. The best place to try it: right on the spot at the Crab Market, as it doesn't get fresher than that.
Lok Lak in Siem Reap
One of the best experiences in Cambodia was its rich tradition of street food. Every place has markets (my favourite was the Old market in Siem Reap) where you can get the most authentic version of the dishes. You'll find the typical Asian sight of market women with pots and buckets of produce hanging on a pole across their shoulders. When you order any dish, they take the individual ingredients out of the pots and make it for you right there on the spot. And it's always delicious.
Nom banh chok
Morning markets open up early and that is where you will find the common breakfast meals, such as nom banh chok, also known as Khmer noodles, which are thin rice noodles made with veggies and herbs (mint and basil), plus lemongrass green curry sauce poured over everything.
Bai sach chrouk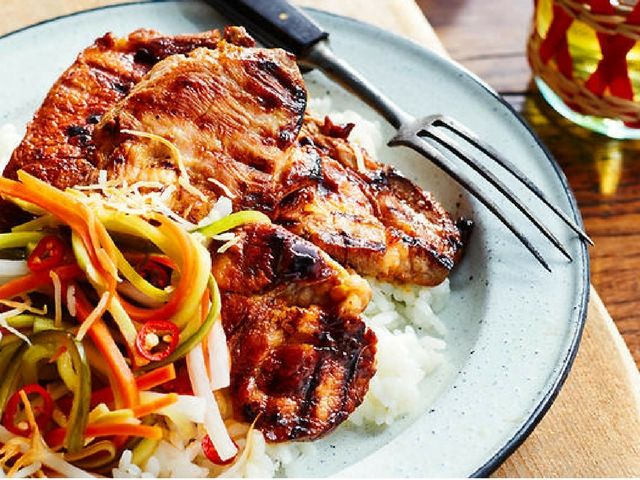 A wildly popular Cambodian breakfast food that gets snatched away very quickly at the morning markets is the bai sach chrouk – grilled pork with broken rice. It's also a great food to try as you ease into Cambodian cuisine, if you're looking to steer away from culinary shock, but unfortunately, it cannot be found in the markets after early morning. The pork is marinated in coconut milk and garlic, grilled over charcoal and served in thin slices with rice and pickled veggies.
Exotic fruit
I love trying all different kinds of dishes wherever I go, but breakfast is a time when I'm just super picky, so after trying the two most famous Khmer breakfast dishes, I preferred to stick to my habits. My favourite breakfast is a fruit smoothie with protein supplements, especially when I'm travelling, because it keeps me light yet full so I can roam around and explore all until lunch. Plus, I love fruit and experimenting with smoothies in the morning is something I actually look forward to, so I'd hop down to the market in the morning to get fresh fruit and come back to blend it into my breakfast. Lychee, pineapple, longan, jackfruit, papaya, mangosteen, rambutan – you name it, Cambodian markets are heaven for exotic fruit seekers.
Pepper crab in Kep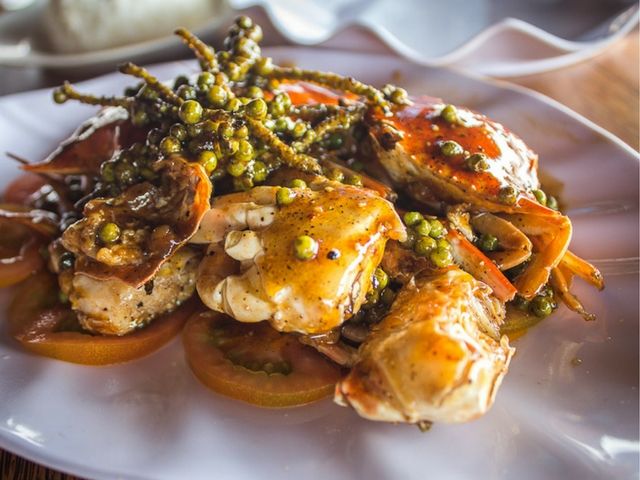 Some of my best gourmet memories come from Kampot and Kep, two southeastern cities in which the remnants of French colonial influence is strong. Kampot is surrounded by plantations growing the highest quality peppercorn, dotting the countryside in pink, green, white and black. This pepper is really different from any you've tasted and it has a different kick, a bit more spiciness that you'll really appreciate.
This is stir-fried beef in brown sauce, a traditional Khmer dish. There's also a pork version, but I liked the beef flavor better. The dish is served with rice and green salad plus a tangy dipping sauce on the side, which brings in a kick with lime, salt and pepper. It's really delicious and you can find it in all restaurants, but I'd recommend For Life Restaurant first in Siem Reap.
These are some of my favorites from the journey and the most deserving of a spot in my food journal. But, as Cambodia was an unforgettable experience and always seemed to offer more discoveries, so did its cuisine. The list goes on, with a wide variety of curries, beef dishes, etc. Hopefully, you get to experience it all as well and report back on all the tastes that I must have missed. Just be open to experimentation and let yourself get lost at the food markets in whichever city you find yourself. You won't regret it!
Frequent Searches Leading To This Page:-
best food places in cambodia, where to eat in cambodia, food in cambodian culture, food in cambodia town, cambodia tour packages