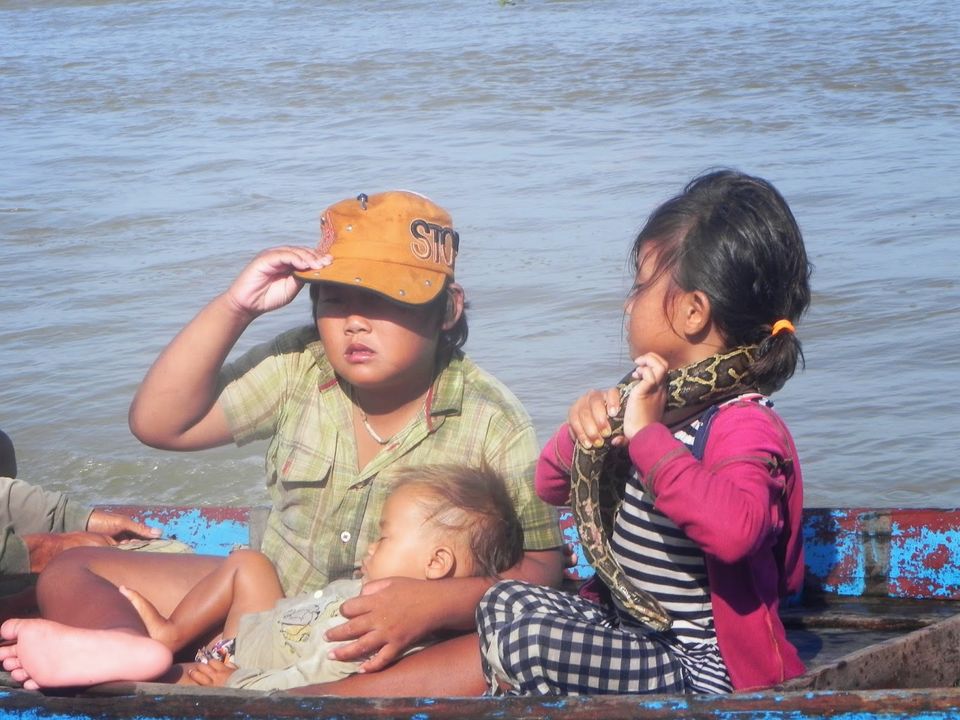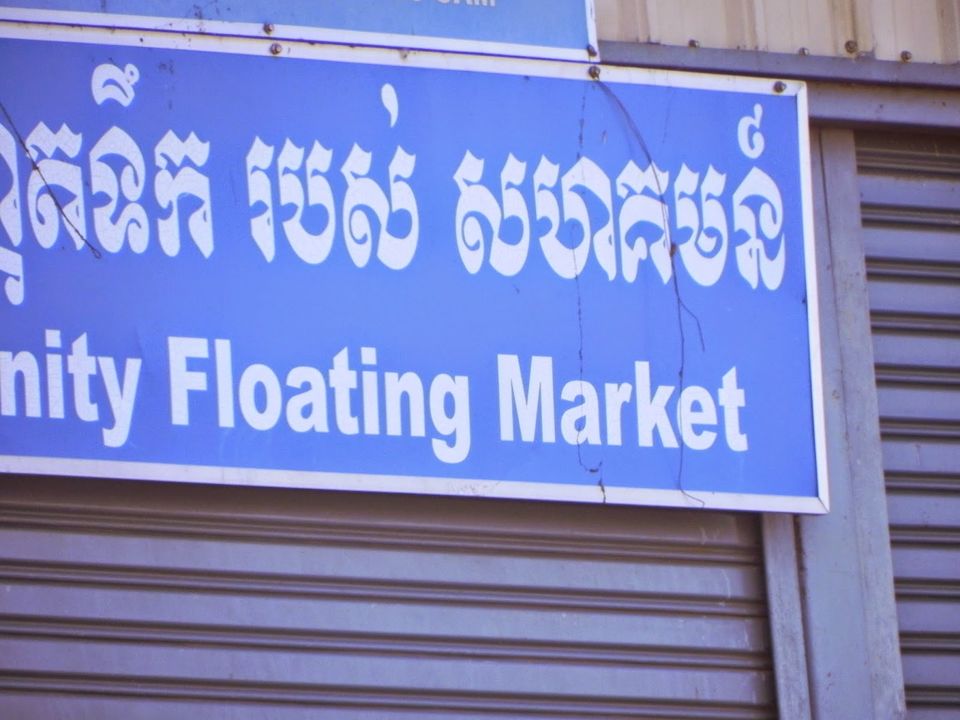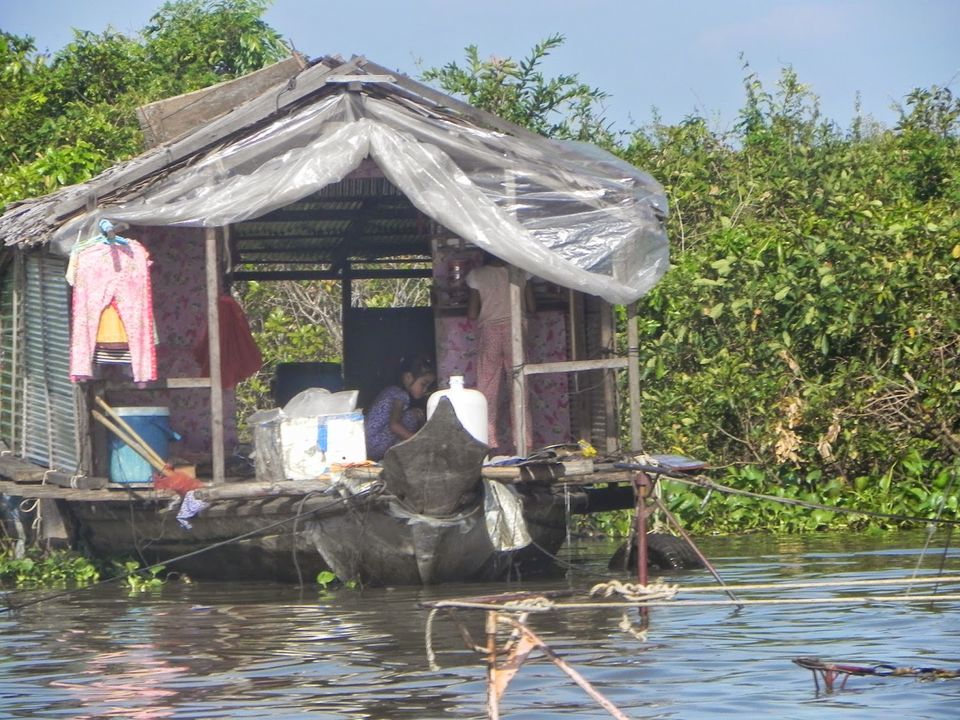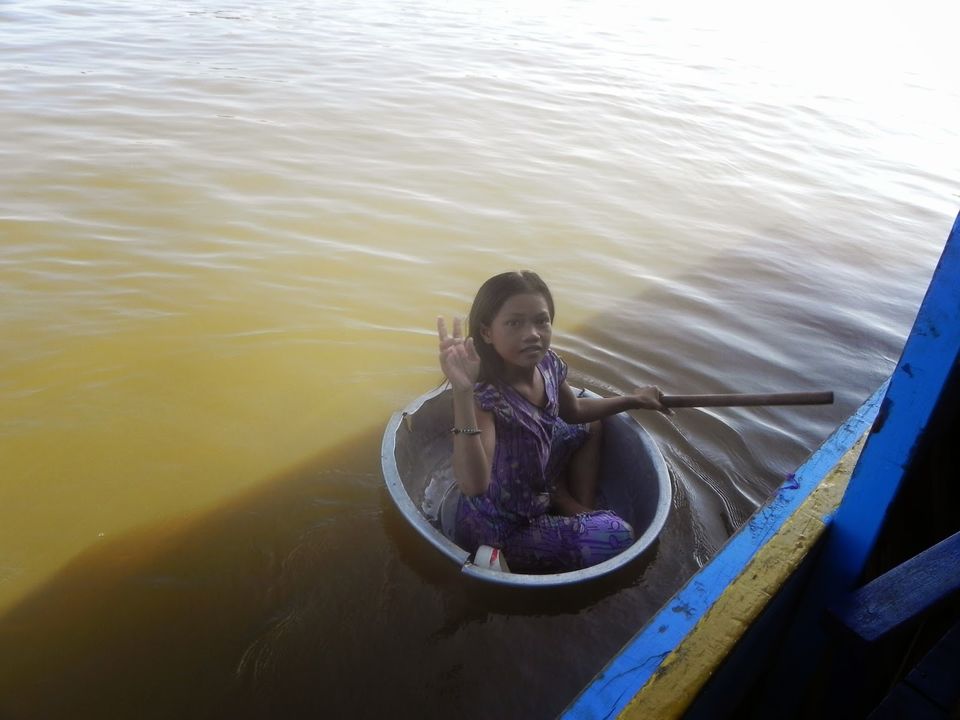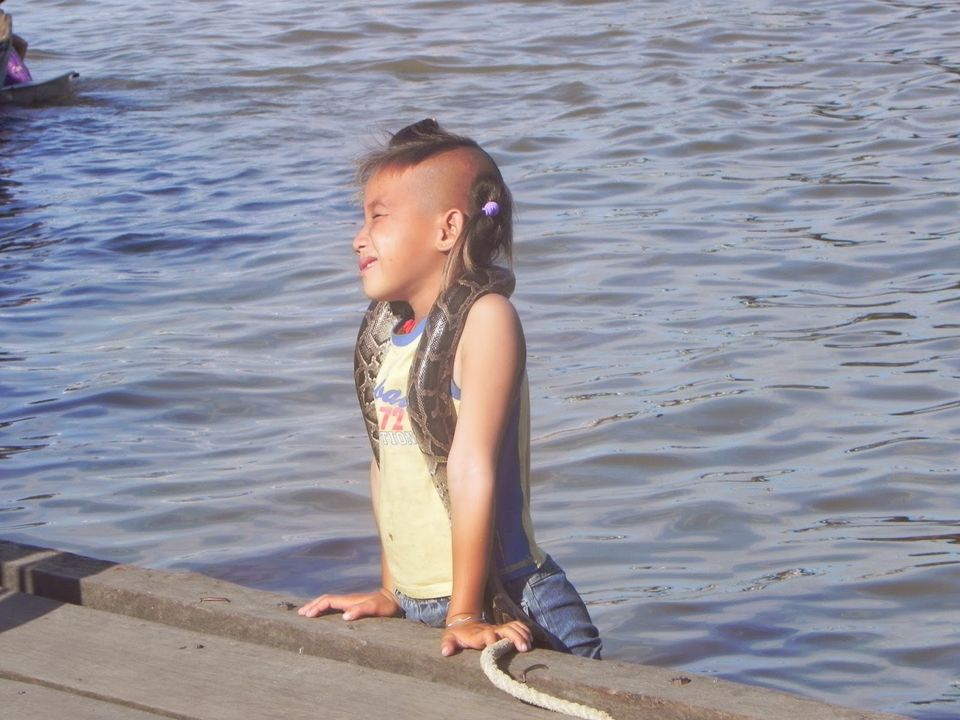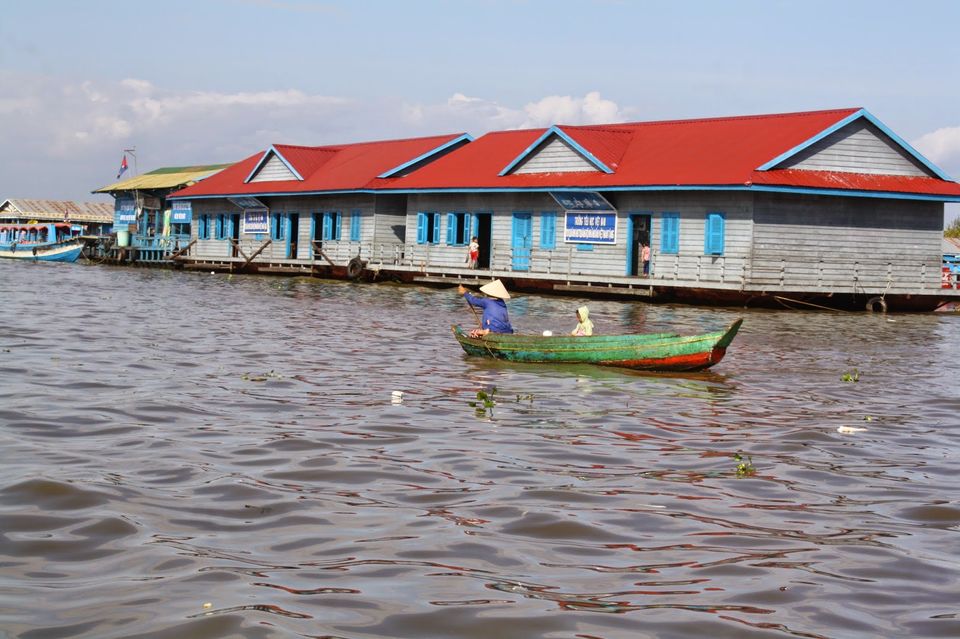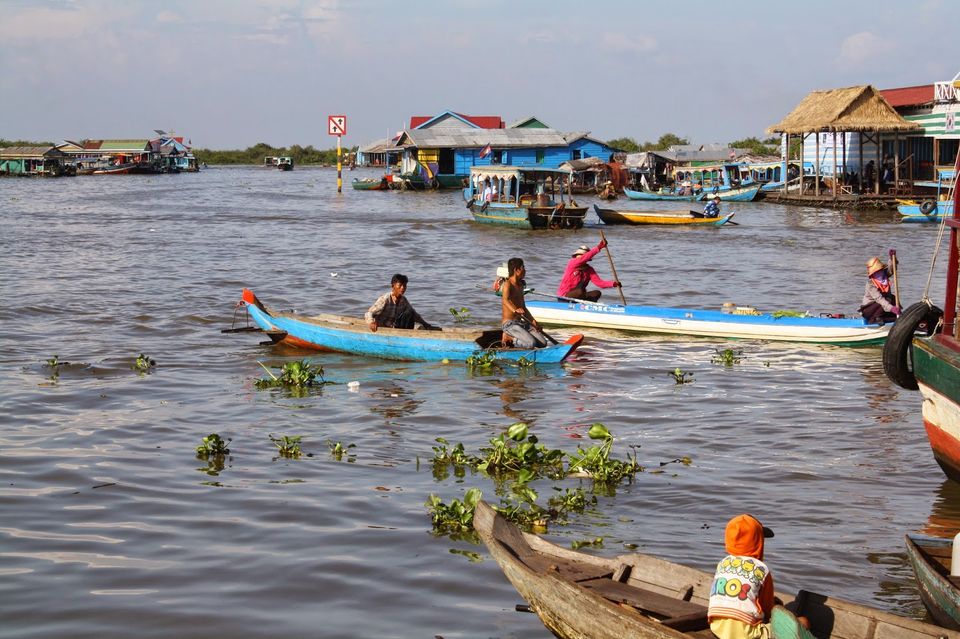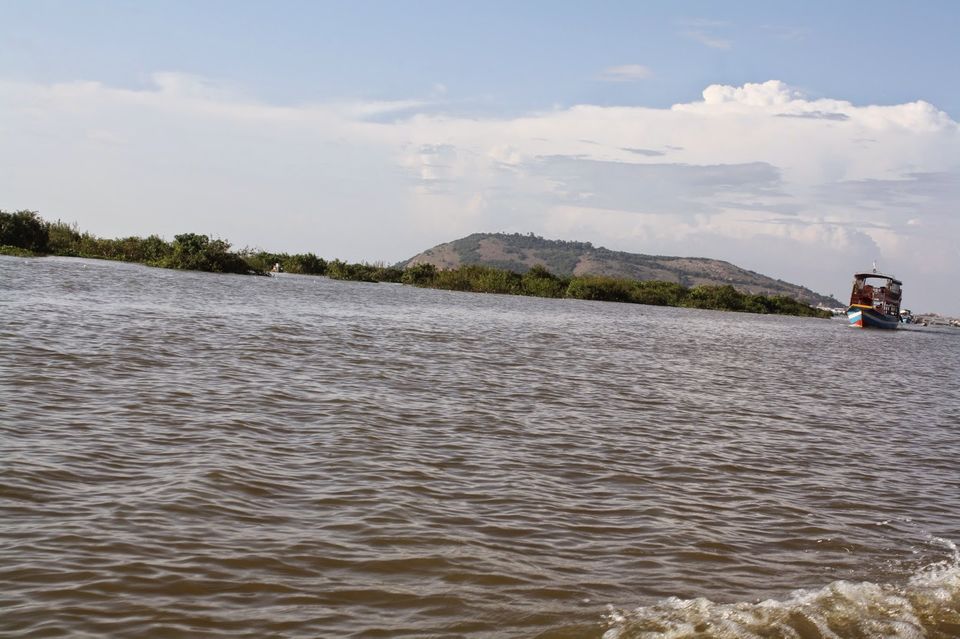 The moment I crossed the Poipet Border from Thailand and entered Cambodia by road, I found myself in very familiar territories. The landscape was very Indian, rather Bengali, to be precise. Miles and miles of metalled roads lined by shallow marshes, paddy fields ,coconut trees, fishermen fishing in the ponds and the greenery all around.....seemed to be just out of my good, old Bengal. What caught my attention were the houses on both sides of the road. Even in small hamlets the houses displayed a particular and distinctive style of architecture, very much in the line of heritage structures.
After visiting the World Heritage temple at Angkor Wat and other temples we were scheduled to visit the famous Tonle Sap Lake. It is the largest fresh water lake in south-east Asia which is unique for its unusual flow pattern in different seasons. It is a combined lake and river system of Cambodia and finds a place in UNESCO world biosphere list. In summer the lake shrinks and drains into the Mekong at Phnom Penh and in the rainy season it flows back to form a lake. The huge lake, whose normal area is 2700 sq.km in summer, increasing to a phenomenal 16000 sq.km in the rainy season, is home to a large variety of fish and the only source of sustenance for thousands of people living on the banks, engaged in fishing and related activities. It is, in fact, a huge floating village. But what we encountered at the lake was something we were not prepared for and way different from the common touristic experiences.
We boarded a motor boat from the jetty and embarked on our cruise. It was a huge lake, almost like a sea, whose banks were blurred. There was vegetation in and around the water but no trace of human habitation in the beginning. After a few minutes we found our boat being trailed by a smaller boat which was furiously trying to overtake ours .In no time it simply logged into our boat and two very young teenagers jumped in, goading us to buy soft drink bottles they were selling. On our refusal, they asked for money. We felt uneasy as we had not expected this. After a few minutes they left our boat with the same agility as they had jumped in and rowed away fast. It was a jarring note. Not that I had harboured any illusion about Cambodia, a third-world country, very akin to my own in so many respects.
As our boat travelled farther towards the middle of the lake, we could see some specs on the water. Gradually they turned out to be a sprawling settlement....human habitation on the water. Moving farther we noticed small shanties, most of them makeshift, barely serving as a shelter. There were shops, markets, eateries, a church and even a school! Hundreds of people were busy with their daily chores. Hundreds of boats of all sizes and shapes were floating on the water. It was a floating village! But everywhere it was a picture of abject poverty and squalor. Suddenly we saw two little children floating in a large metal tub drawing up near. We were shocked to find a live snake wound around one child's neck. They were displaying it to the foreign tourists and begging for money .Instantaneously my trip became soured. On asking our guide we came to know that these people were mostly Vietnamese refugees forced to take shelter on the lake and live a life of sheer wretchedness in poverty. We noticed dirt and filth all around, half-clad children and men and women in tattered clothes. This spectacle perhaps generated the curiosity of the western tourists for the 'other', the exotic in a poor, third-world country but we, from a similar socio-economic background, couldn't find anything such. It felt so sad that these people had been forced to sell their poverty at the expense of their children. At the end of the day we returned with a heavy heart and regretted our visit to the lake. The grandeur of Angkor Wat or Bantey Srey or the natural beauty of Phnom Kulen was a gross mismatch for the sordid reality of Tonle Sap Lake.