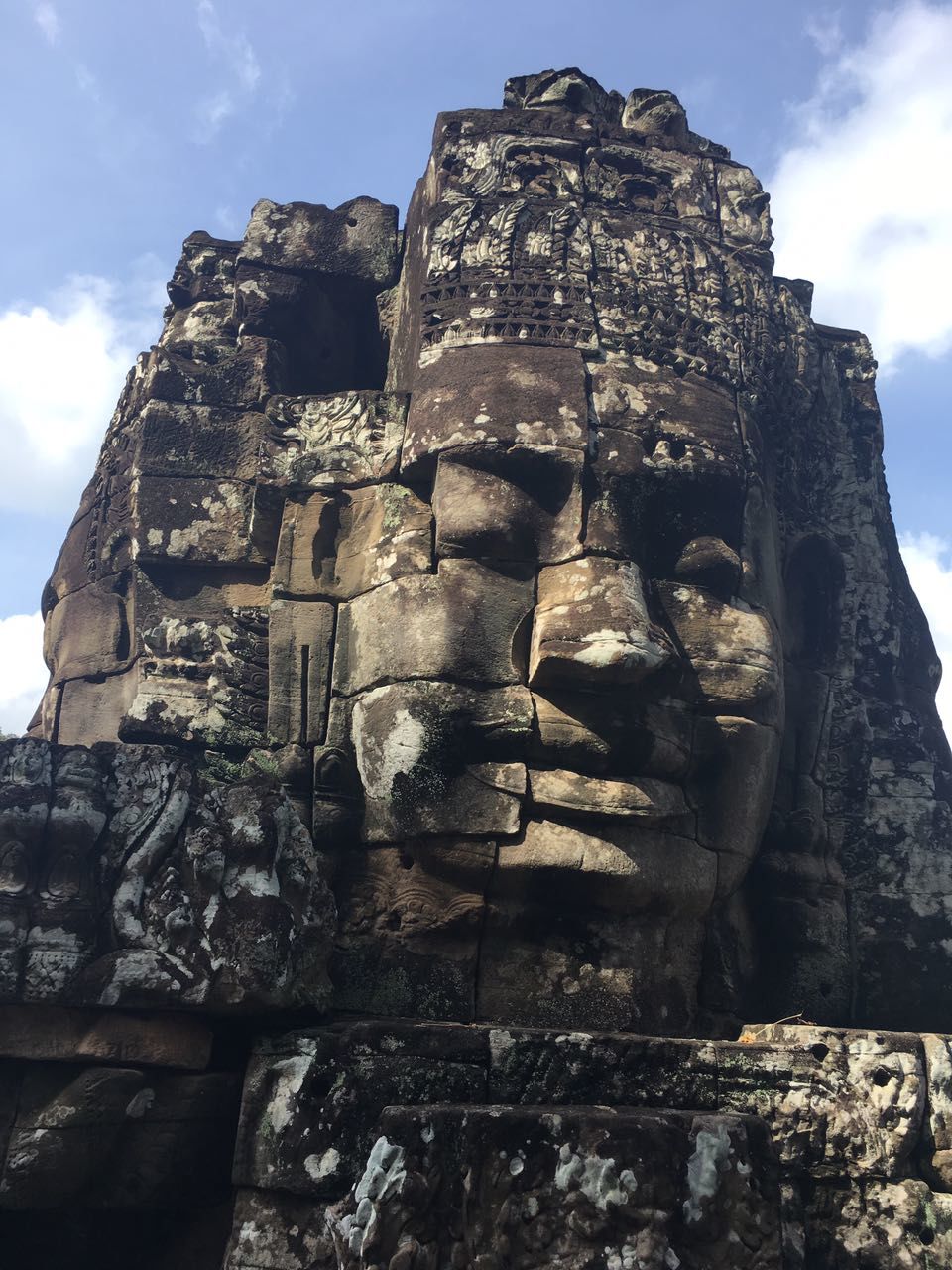 The trip began at Phnom Penh. From Kolkata, return tickets to this capital city can be procured for as low as 20,000 INR. Cambodia is a visa-on-arrival destination for Indians which makes it all the more lucrative for travel. 30 USD visa fees, a passport sized photograph and a basic filled-in immigration form handed in at the airport immigration desk results in a tourist visa within minutes.
As always, AirBnB is the best way to book hotels/guest-houses in Phnom Penh. We were very happy with our guest-house and with how big and clean the room was. There was a private balcony with a view of the Tonle Sap river too. All this just for 3500 INR for a two-night stay. Preah Sisowath Quay, the road where we stayed has a lot of advantages in terms of location as the Royal Palace, National Museum and Wat Phnom (a famous temple) are all within walking distance. This helps cut-down on the costs for sight-seeing. There are numerous eateries, pubs, massage parlours and travel agencies lined along the quay and the river-side promenade is just lovely to walk along.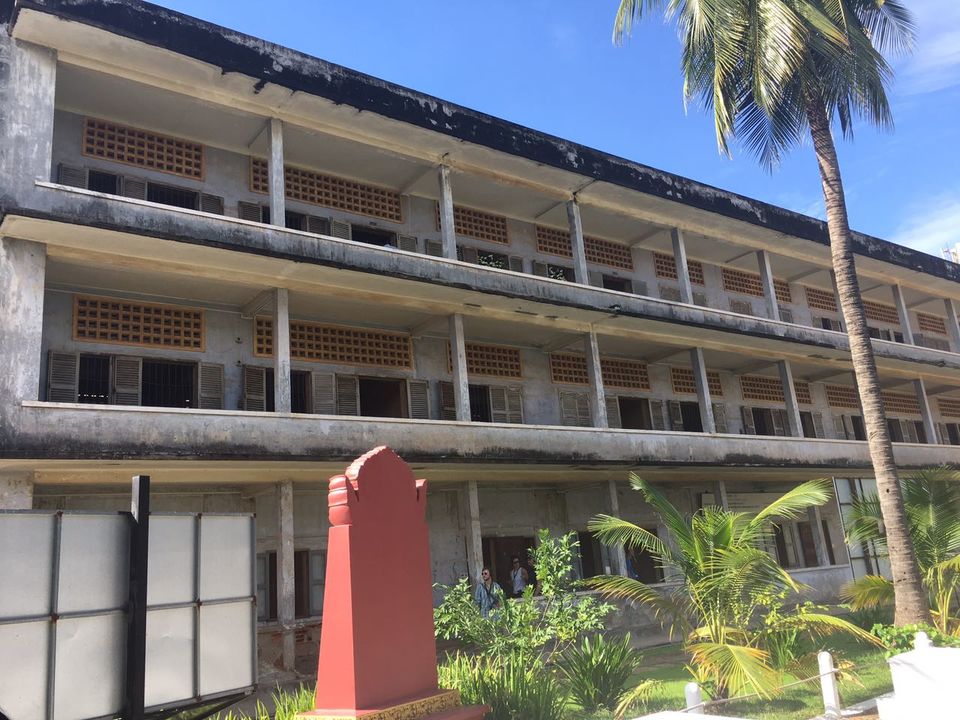 Cambodia has a difficult and painful history of genocide in the not-so-distant past. Between 1975-1979 almost 3 million out of 8 million Cambodians died of starvation or were killed by the Khmer Rouge. Note of caution: I was prepared for what was to come since I had read up about the genocide but it was still very depressing and emotionally taxing.
At the gates of the Tuol Sleng Genocide Museum or S-21 prison we paid 6 $ each and got audio head sets, players and a map each. To see this building from the outside nobody would dream of the nightmarish atrocities that happened inside it. The audio tour is a good investment as it takes visitors through numbered points in the school-turned-prison building.
Our minds numb with the horrors of history we had just witnessed, we set off for the next destination: The Killing Fields. This is the mass grave-site where prisoners from S-21 were taken and killed. The main structure here is a memorial built in traditional Khmer style housing hundreds of human skulls and bones that were found there. There is an audio tour here too which explains what happened here and there is a short video that is played for 10 minutes every half hour for visitors.
It is difficult to shake off the gloom and doom from the genocide museum and killing fields but we chose to try by going to Wat Phnom, the biggest temple in Phnom Penh and offering our prayers. Just the sight of the Buddha and the reverent atmosphere at the Wat calmed us down and we felt better enough to continue.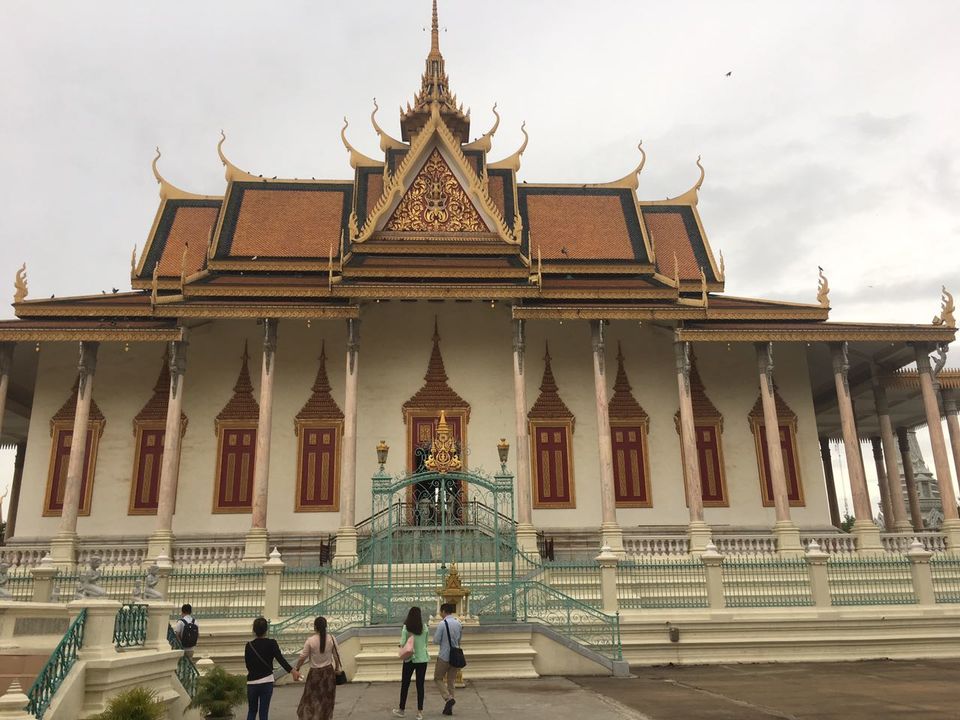 We spent a couple of hours at the National Museum of Cambodia and then just walked over to the Royal Palace. The sidewalk in front of the palace is where hundreds and thousands of pigeons are fed every day and it was a wonderful feeling to walk by and click pictures there.
The Royal Palace of Cambodia is still in use by the royal family so a section of it is not open to visitors. Comparisons with the Royal Palace in Bangkok, Thailand came unbidden to my mind as the structure and layout were more or less the same. The palace has a long outer walled corridor with battle-scenes depicted in paint on the walls. The complex has a Silver Pagoda which houses a jade Buddha statue.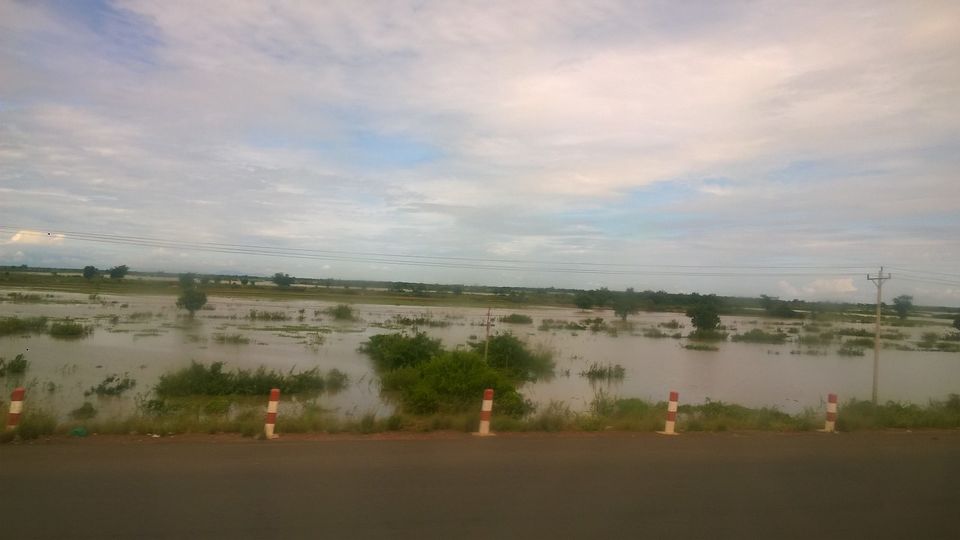 We booked our tickets on the Mekong Express bus for 13$. I highly recommend this bus service about which there are glowing reviews everywhere online too. They provide a minivan pick-up from the hotel to the bus station and the buses themselves are super comfortable with plush seating, toilets, air-conditioning and most importantly, curtains to keep out the harsh sun. The Cambodian countryside is soothing to the eyes and after a while most people on the bus dozed off for a bit.
We arrived at Siem Reap at 1:30 p.m. having left Phnom Penh at 8:30 a.m. and there were tuk-tuk drivers jostling for customers at the bus-station to take us to our hotel. Another Air BnB find, our hotel was very strategically located...just walking distance away from the hustle and bustle of Pub street but tucked away into a quiet lane right beside one of the exits to the Arts Market. At 4500 INR for three nights, we thought it was a steal.
Our hotel reception, as I am guessing will be the case with all hotels, was a treasure trove of useful information about day tours to Angkor sites and other interesting sights around Siem Reap. It was from here that we booked tickets to the Angkor National Museum for 12$ each it saved us the expense of hiring a private tour guide to be with us on the two days that we planned to devote to Angkor temple sites. It was a smart move as it not only saved us nearly 60$. The hotel also helped us with hiring a tuk-tuk, who at 12$ a day was going to take us on a half day tour of all the major and minor sites.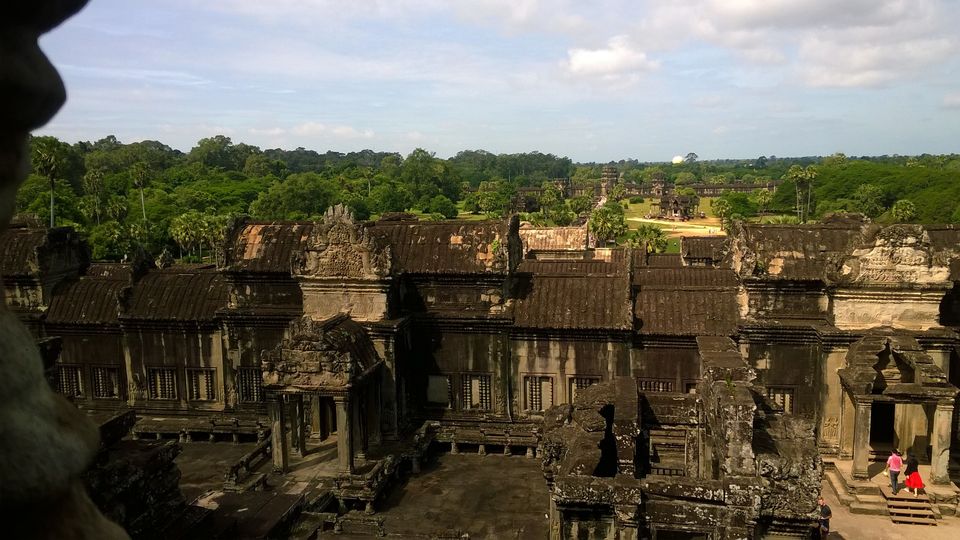 Our day began with a hearty complimentary breakfast at the hotel courtyard by which time our smiling tuk-tuk guy arrived. We were off for the most exciting part of our adventure: to see the Angkor Wat!
First there are tickets to be bought, 20$ per day, 30$ for 3 days and 60$ for a weekly ticket. We were planning on two days so we bought the 30$ pass which had our instantly-clicked-photos on them for identification. This is crucial and needs to be kept handy at all times when within the Angkor Archaeological Park. Before entering each temple, visitors are asked to show this i.d. failure of which results in an immediate 100$ fine.
Our first stop was the Angkor Wat, of course. Just the sight was enough to evoke a goose-flesh moment. We were here!
It is an architectural marvel, yes! It has stood the test of centuries, yes! It is the largest Hindu temple complex in the world, yes! But what no one tells you is that conquering Angkor Wat requires huge reserves of strength and stamina. Just the walk from the car-park to the temple itself is easily over a kilometre. In the blazing sun, which did not spare us even in October, we were drenched in perspiration within 10 minutes. The temple is in most parts the best preserved of all the temples that we saw in our two day tour but it requires constant alertness about where you step as the steps of stone are eroded with time and uneven.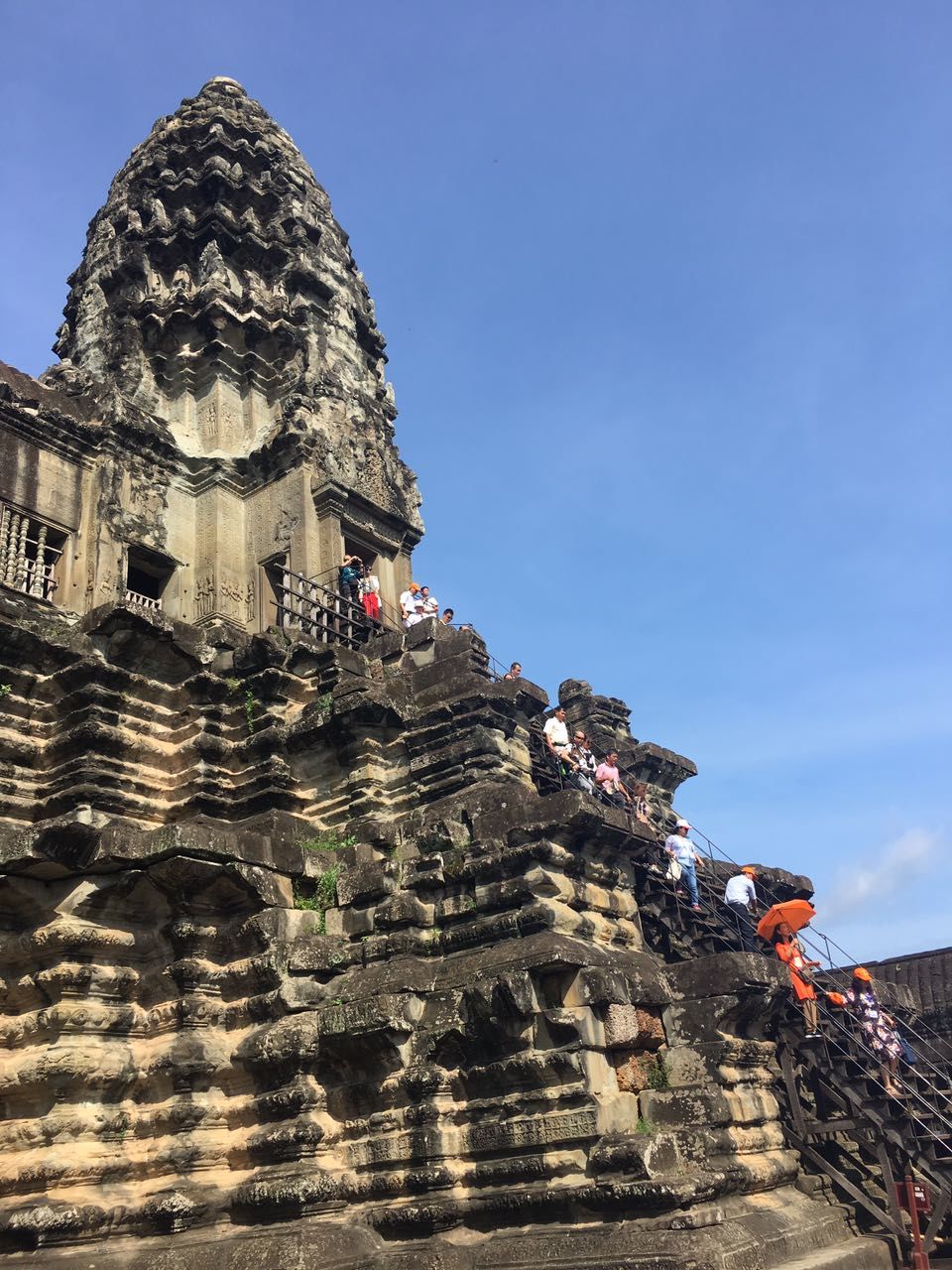 The central tower named Bakan is 65 metres tall and has a wooden staircase, better described as a ladder, at a 75 degree angle allowing visitors to climb up to the top. It requires a mixture of guts and skill to make the climb but the views from up top are totally worth it.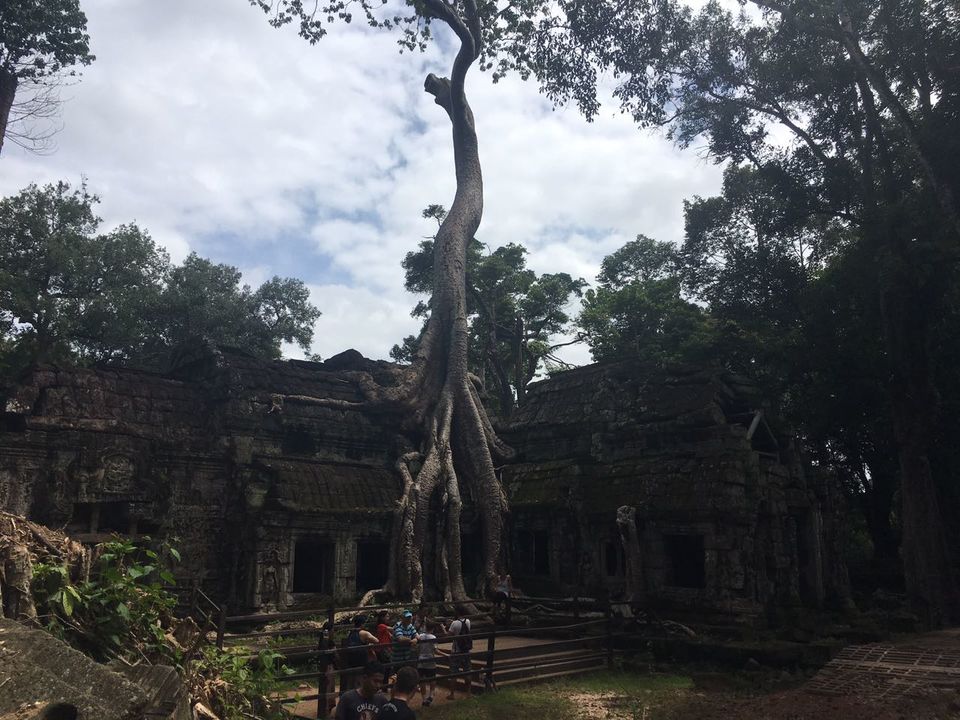 Cambodia has been made even more famous by Lara Croft: Tomb Raider, the Angelina Jolie movie which was shot mainly at the Ta Phrom temple (pictured above). Jolie adopted her first child Maddox from Cambodia, as well. The throng of visitors was particularly heavy at this temple with an orderly queue of people waiting to pose for pictures at this spot.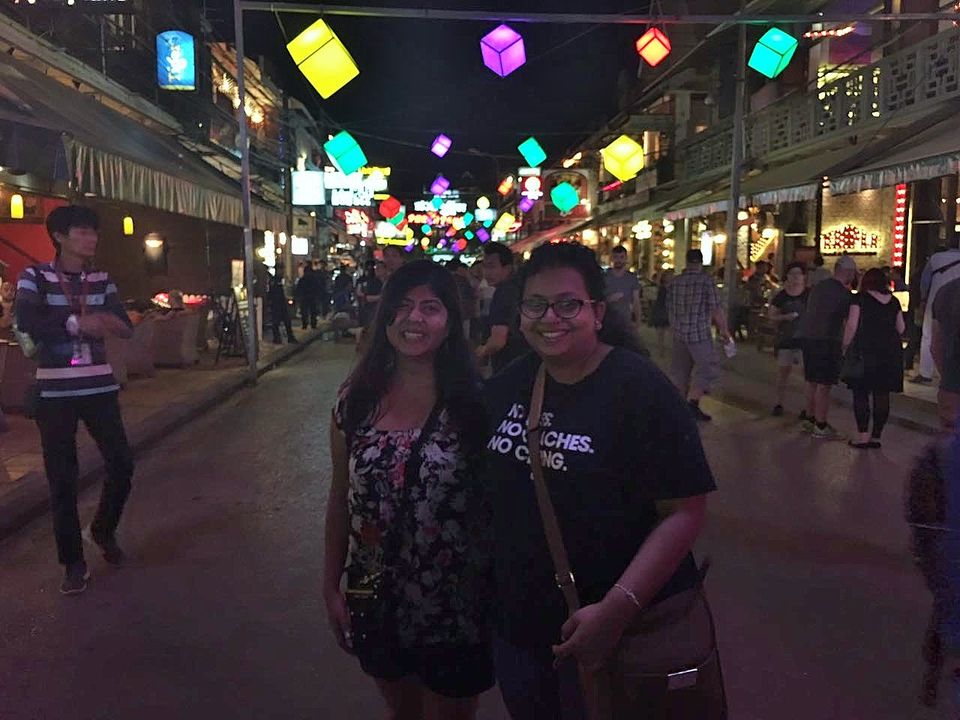 On the first day we covered 5 main temples including Angkor Wat, Ta Phrom and Bayon. Our evenings were spent on Pub Street, walking through the crowds of holiday-makers in an upbeat mood just eating, drinking and making merry. The streets here are lined with souvenir shops, pubs and restaurants and of course the omnipresent massage spas. We loved the vibe here every evening and tried different places for food. Khmer Kitchen stands out in quality for affordable and scrumptious local food which in my book tasted exactly like Thai cuisine sans the chilly.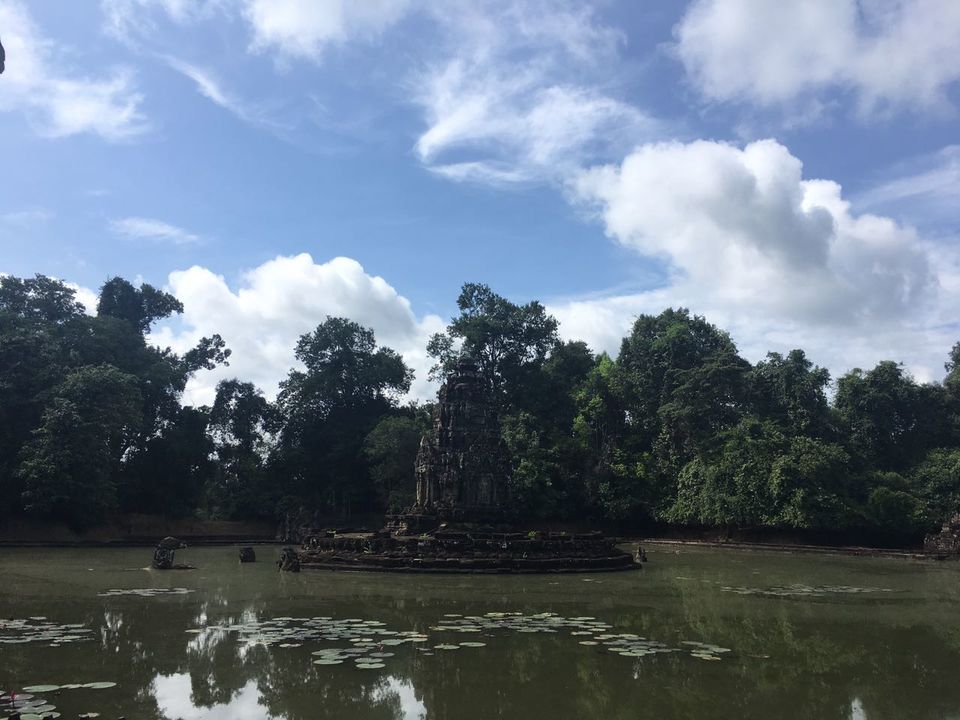 Of all the temples that are feted and lauded in travel books and blogs, I never found a mention of Neak Pean, yet to me it was the most beautiful and serene places in all of Siem Reap. This is a temple built on an island on a lake and because we went right after the monsoons we had to reach the temple by walking about 500 metres on a wooden walkway through wetlands that stretched to the horizon.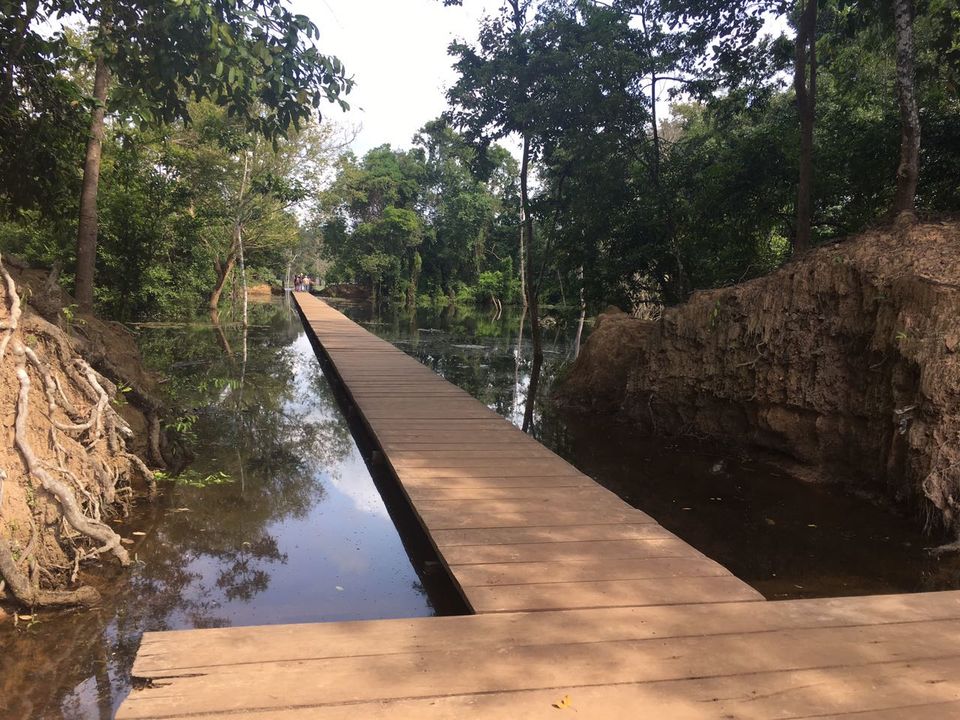 The temple dedicated to the Buddha was built by King Jayavarman the VII.
By the time we saw the first few temples on the second day we were tired of temples in general. For one, the architectural style is the same and the sculptures on the temples of the Big Tour ( Day 2 covers temples further away from town) were the same as the day before: the oft-repeated Buddha, Vishnu, Shiva, Avalokitsvara and apsaras. This is not to say that the temples are not stupendous works of art, just that the Small Tour (Day 1) covers the most important and architecturally relevant ones already.
We had scheduled a tour of the Floating Village of Kompong Phluk for the afternoon of the second day. We finished our temple run early and came back to the hotel for lunch. We had paid a sum of 18$ per head for this tour which included a pickup and drop by minivan to and from the hotel, a ferry to the village and back.
It was completely worth the price. As we sailed through the Tonle Sap river we arrived at the village of Kompong Phluk which comprises on houses on stilts. The main occupation of the people here is fishing obviously but now tourism is also catching up as a means of income. There is no electricity here, the villagers make do with portable generators and till very recently they used the river-water for drinking, cooking and all other purposes. The Cambodian government has installed a water filter in each house now to prevent disease and infection.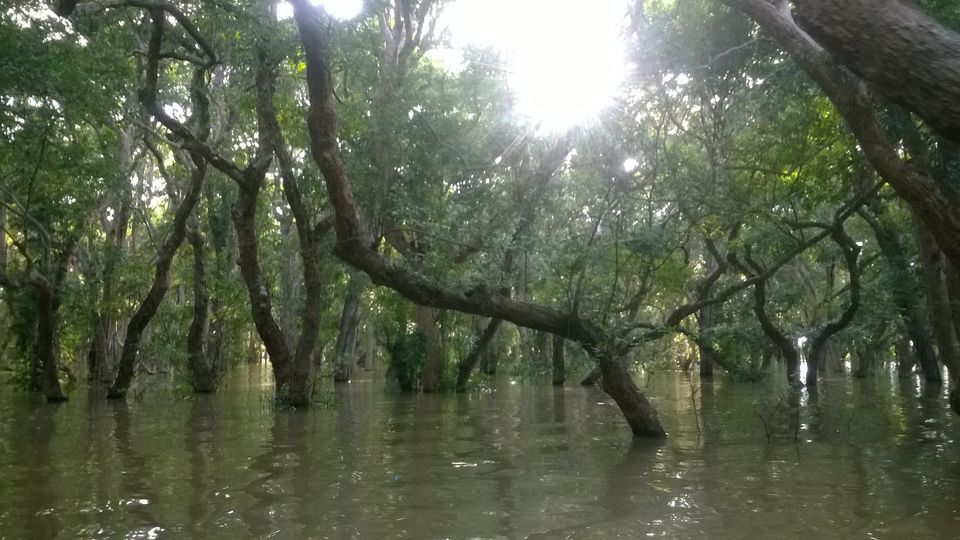 After a while the boat stopped at a floating restaurant and we were given the choice to go on a local canoe ride at 5$ per person to see the flooded forests. This wasn't included in our trip cost and we paid extra for it. A native lady with her toddler in tow rowed our canoe through the flooded forest. It was a magical, surreal, primitive feeling.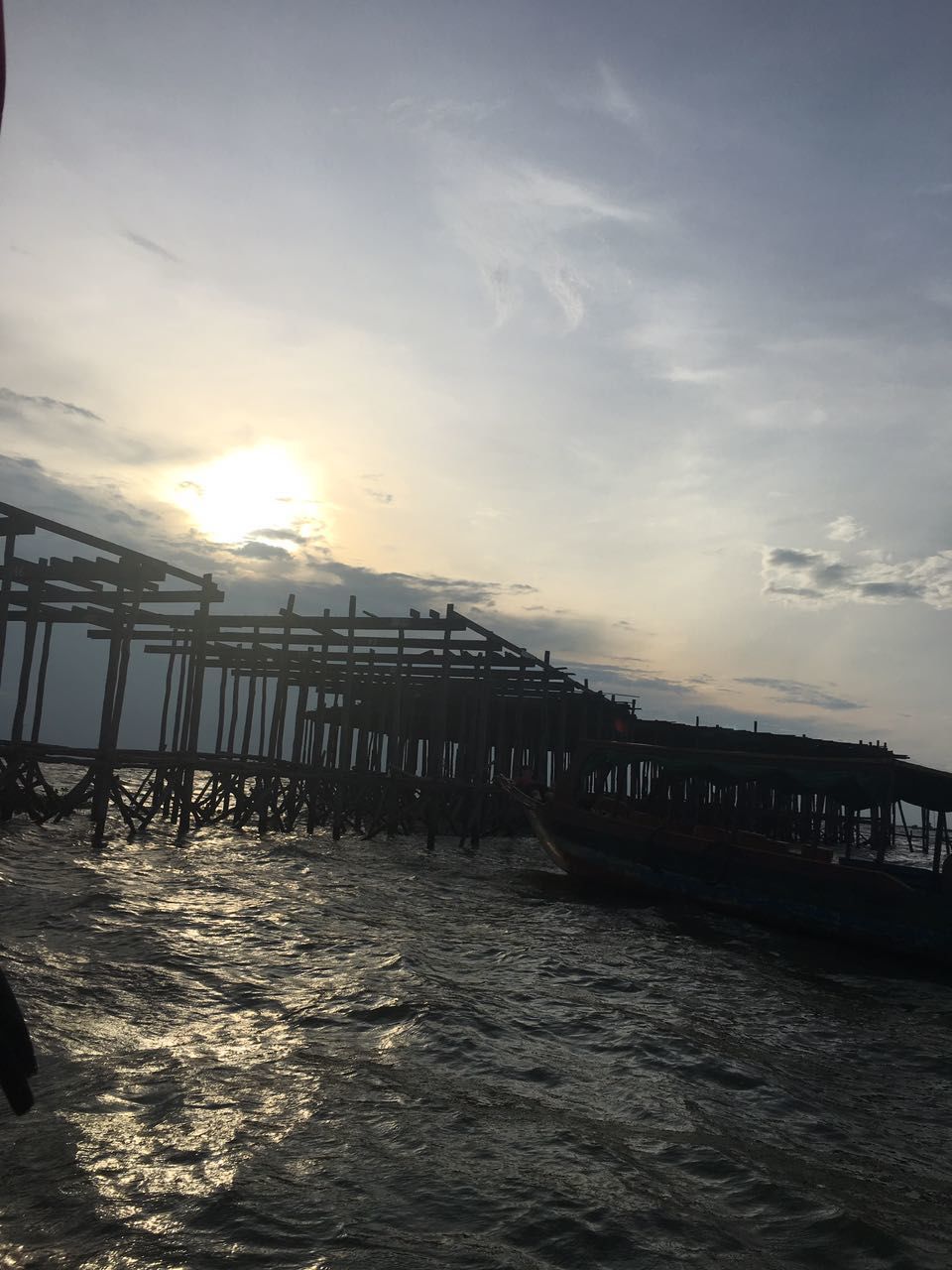 Our trip ended with a glorious sunset at the Tonle Sap lake, where our ferry took us again. The lake was so huge and swollen with rainwater that for a while we mistook it for the sea. Our guide told us that this freshwater lake earlier contained 200 varieties of fish but due to unlimited fishing during the Khmer Rouge period there were just about 70 varieties remaining.
It was with a heavy heart that I said good-bye to Cambodia the next day. It had made me feel sadness, joy, wonder and amazement all within the span of less than a week. A must-visit for travel lovers!
Frequent Searches Leading To This Page:-
Cambodia tour guide, Cambodia city to visit, Cambodia nature attractions, Cambodia nature travel, Nature in Cambodia