For those of you who know Phuket, what comes to your mind when you hear about it? Beaches, glitz, party and party some more, am I right?
That outlines my first trip to Phuket too. 8 months later, I was lucky enough to be part of the Great Girly Getaway organised by Tourism Authority of Thailand for a 4-day adventure filled trip to Thailand. And, it forced me to change my idea of Phuket - albeit in a good way. After all, that's what travel does best. Breaking stereotypes and debunking myths. It's only when you explore, you expand your horizons. Don't you agree?
Despite having heard of cooking school in Thailand before, I never got a chance to try it out. So, this time, I was really excited to test my non-existent culinary skills. I had the advantage of learning dishes of a different country in their own backyard and I could not pass it up.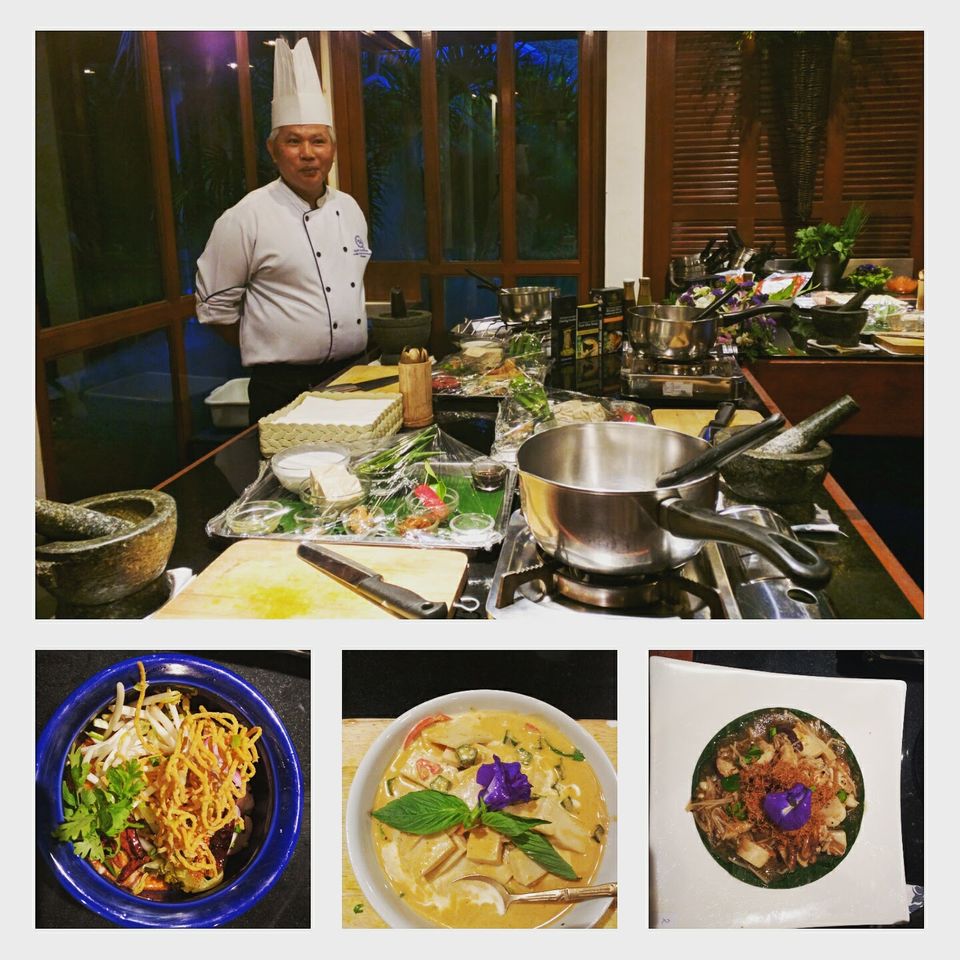 We went in for a half day cooking certification at Blue Elephant Cooking school. When I turned up at the location, inspecting the imperial style buildings, tastefully decorated interiors and the friendly Thai staff who cheerfully offered us a welcome drink, I knew it was going to be a great evening. And, it didn't disappoint me. We ended up making three dishes - Paneang Okra curry, Mushroom with black peppers and Northern curry with Egg noodles, separately, under the guidance of a friendly chef and it turned out to be mouthwatering. Wohoo! Not a bad cook after all. And now, I have a certificate to prove it! And then, later for dinner, along with the dishes we prepared, there was sumptuous meal waiting for us. And man, did we gorge on that meal!
Although, ziplining at Phuket came as a surpise to me, I was most eagerly waiting to try this leg of the itinerary as I was going to try it for the first time. Although, when the time came, it seemed like the rain gods are going to be a real impediment and we almost canceled the plan. But, at the nth moment, the rain paused long enough for us to zipline and it definitely turned out to be the highlight of the trip.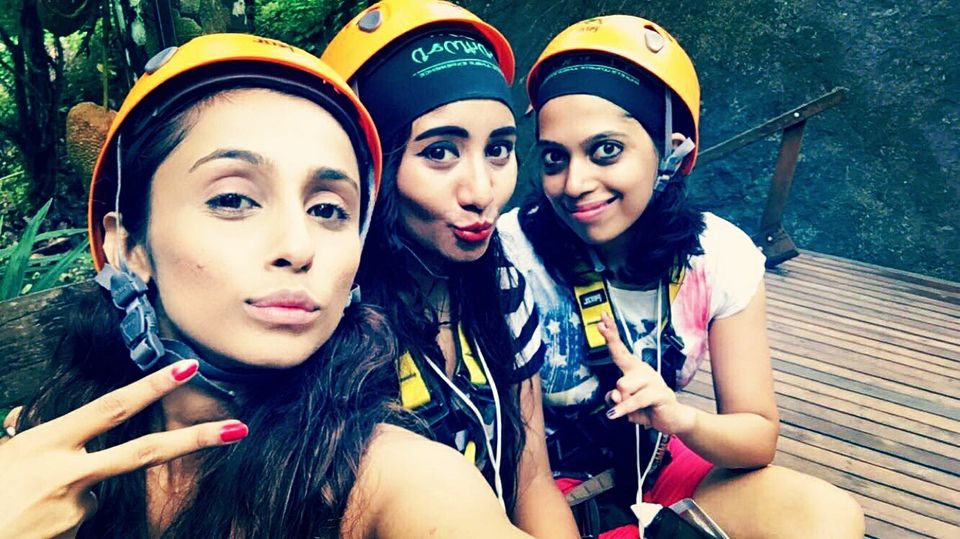 Flying hanuman is an eco-adventure since it makes sure the surrounding ecosystem is intact. It takes about 10-15 minute inclined walk through the forests to reach the platforms. You zipline from one platform to another, a total of 28 platforms altogether and sometimes pass through a sky bridge in between. If you are the ones who think bungee jumping makes you scared shitless and it's not your cup of tea (or coffee), but you are still up for little adventure - Ziplining is for you. It is so much fun and the thick forests shield you from having sight of the ground at most times. Gliding as a eagle with hands outstretched overlooking the looming dense forests (aka - the flying hanuman pose) is just exhilarating. It is indeed true, that beyond fear lies victory( Hindi - Darr ke aage jeet hai) even though there was no Mountain Dew in sight!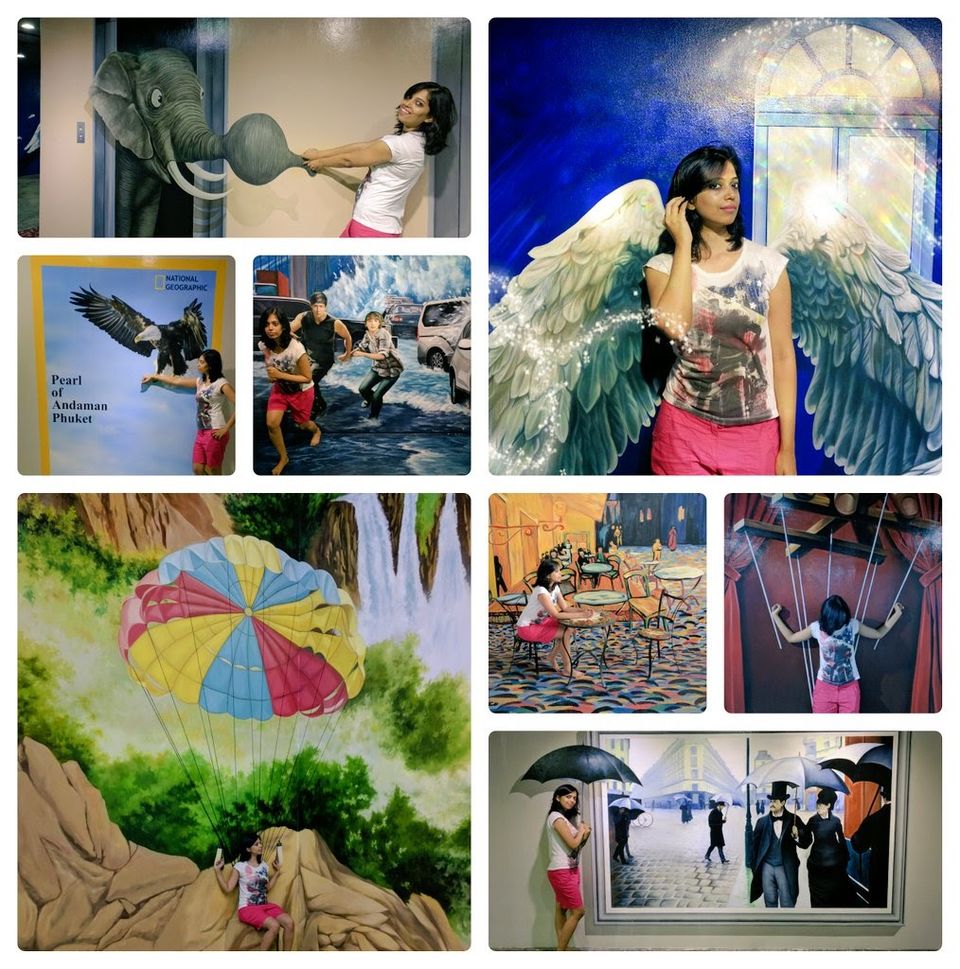 Although, I'm not a fan of excessive posing, this Trick eye museum called for a change of pattern. It is interactive and quirky in a way that stimulates creativity. All the 3D art installations in the museum lets the viewers engage with the artwork closely and camouflages well making the participant as much part of the artwork as the art itself. Great place for kids or for the kid in you!
A fairly new beautiful beach-front property, located at the outskirts of Phuket town, offering luxurious rooms and villas, infinity swimming pool and multitude of restaurants, it's just hard to get out the resort at times.
It sure was a memorable time, experiencing Phuket in a different light, with an amazing crowd, full of great experiences and a jar full of memories to take back home.
Find more stories at therovingheart.com