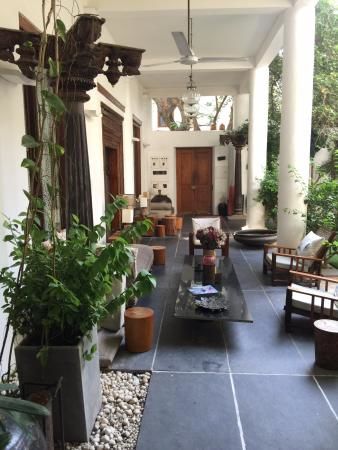 David Foster Wallace had said "Nothing brings you together like a common enemy" but for couples the world over nothing is as bonding as a secret getaway with poor phone connectivity, it glues together even the tiny bits of coupling that are coming apart and for new couples, a great bed always makes for unforgettable memories.
Here are 2 tropical places that couples are guaranteed to love, no matter what time of the year it is, simply for the way they funk up the romance:
La Closerie (Pondicherry)
This beautiful abode is literally tucked away behind bougainvilleas, on a street so beautiful that you wouldn't mind camping on the pavement. It may be called a guesthouse but it is an old school mansion that has been done up tastefully, maybe even with the objective of being seductive.
As you walk in, there is an indoor pool and a tree that looks as if it's emerging from the pool which magnificently towers over the first storey of the mansion growing out towards the sky. Everything in the veranda, including the hostess is dressed in flowy white drapes, creating an illusion of a dream. And then there are the rooms, all of them, each one sigh inducing. With a French, and therefore minimalistic vibe, the rooms are designed to create an aura of luxury and romance, in fact none of the bathrooms have locks on them, just to give you an idea.
As the evening approaches, you can hear faint sounds of either jazz or sufi music lighting up the place, mixed with the heady smell of the ocean that's a stone's throw away. The only drawback is that the guesthouse does not serve food, as a matter of fact; bringing food in is also not encouraged (that's a bit of a bummer) but one doesn't really mind, given that there's a plethora of options to choose from around La Closerie. Besides, the breakfast of tropical fruits and the choicest of eggs make up for it amply.
If you're looking to get inspired or fall in love all over again, this pretty little slice of yummy paradise is just what the doctor ordered.
Disclaimer: You will most certainly extend your stay by at least a few days so go prepared.
2. Jardin Ulysses (Goa)
Morjim in Goa is a lesser known beach (so far) and so attracts fewer people which translates into a heady rush of tropical goodness minus the sweaty, clammy crowds. In the middle of such obvious paradise, there lies Jardin Ulysses, a tiny little piece of enchantment.
First things first, it faces a bit of the ocean and that ticks a very important box for Goa, second, it has rooms that are so cozy and so beautifully done up, you would think they want you to never leave. There are 2 honeymoon cottages out of the 5 wonderfully done up rooms, while one cottage comes with its own private sit out and bathroom that only has a curtain for a door and multi coloured lights donning the washbasin, the other has a wooden terrace with a mattress smack in the middle of the terrace and wispy mosquito nets floati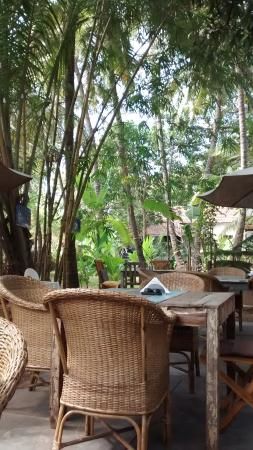 ng above it which additionally comes with a canopy of coconut trees right on top of that.
If ever you were done with the hormone surge that you're bound to feel, you can walk up to the main sit out which extends into a tree house as well and partake on food that Aphrodite herself must have shared the recipe of, and listen to live music if it happens to be your lucky day.
You will most certainly return hoping this little gem remains hidden for a long while to come.
Disclaimer: You may never step out and actually go see the beach even once.