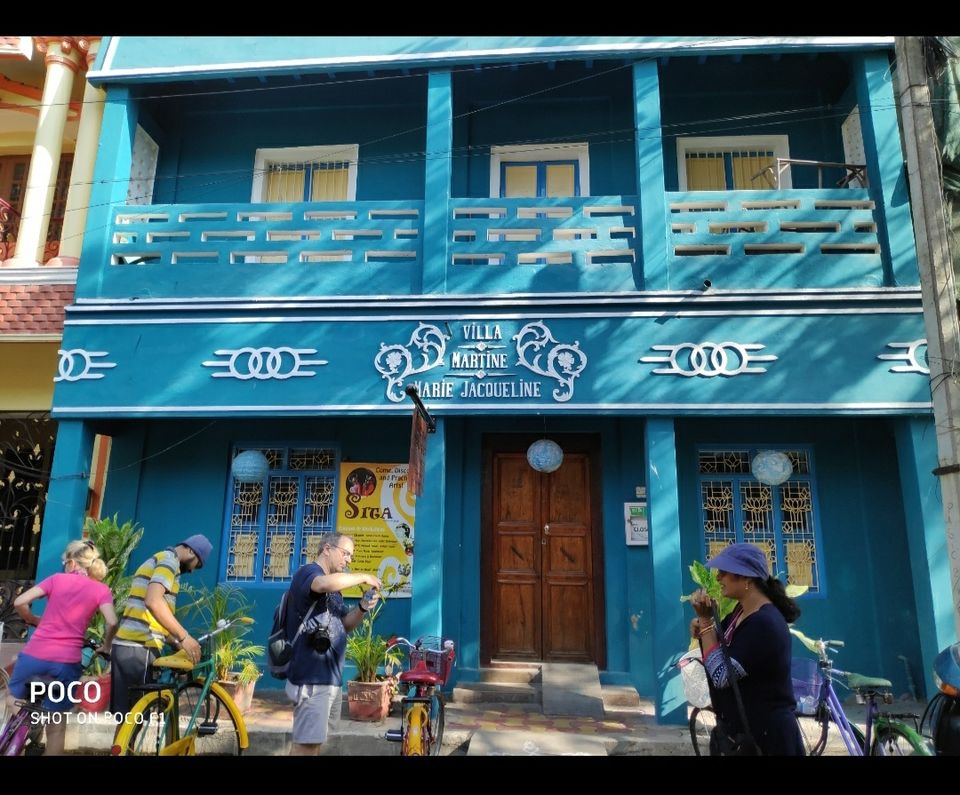 The cycle tour is organized by SITA - Cultural Centre in Pondicherry
Pickup place : Sita Cultural Center
Address : 22, Kandappa Mudaliar St, M.G. Road Area, Puducherry.
Phone : 91-413-4200718
Email : sita@pondicherry-arts.com
The trip was in the month of February 2019.
Had booked via online. Firstly, sent an intimation mail to confirm the availability. The ideal time to check for availability could be a month or 3 weeks before because only few seats are available per day, Could be around 10 adults. And many foreigners are fond of such cycle tours. So it's good to plan ahead of schedule and block for the ride.
They would send account details through mail and can transfer money online. In the month of February it was 1500 rupees per person. On the day of cycling it is good to go early, between 6.30-6.45 AM to select one's suitable Vintage Cycle as there are only few options.
SITA cultural team would ask for breakfast preferences and it is complimentary. Can choose between French and South Indian break fast options. The team provides a ride map and water bottles for each rider. The guide is fluent in Tamil, English and French.
Coming to the Cycle Ride Journey,
We started our journey around 7AM in the morning. Myself and my husband boy were the only Indian Couple in the crew. We had 3 other couples from France, Swiz, Sweden. It was a different experience in cycling with foreign tourists and felt proud and happy on hearing good about India and their experience in our country!
Mildly Sun races start to dazzle in the city. As we speeded up around the city, visited historic churches build decades back, the mosque that comes in the movie Life of Pi. The guide took around many quarters of old Pondicherry.
With less traffic Congestion in the city, the morning ride was an awesome experience to cherish. The Bougainvillea over the balcony in the front yard of soldats's Chettinad style bungalows were real treat to eyes! These Bougainvillea even if a single plant is present in a street, they make the entire stretch of avenues beautiful! Their pleasing colours give a calming effect in mind.
We rode all across old quarters to reach 'Sunday Market'. Viewing Fresh load of vegetables, fruits and the trading is a colourful experience. The sight of Crowded market, hard working labours transporting sacks of fruits/vegetables in no time is breathtaking and for foreigners such sights are rare and unique owing to meager population in their countries.
The next leg of ride is to Aravind Ashram part. A calm and peaceful part of the city near Promenade Beach! There were similar kind of bluish white structures all over with serenity filled in air. The last part of the ride is to Fishermen village. It is stated as one of the costliest real estate place in Pondicherry. And from there via beach road we reached French quarter which had beautiful buildings in Indo-French style and we reached back to SITA cultural centre in minutes from the French Quarters.
We had our breakfast in the Cultural Centre's garden like area along with other travellers. The experience was a spectacular one, cycling early in the morning with lesser traffic congestion; fresh air washing over face and traveling through neat lanes is another refreshing aspect of the ride.
In short, this is the best way to explore beautiful Pondicherry in 2 hours. If you are close by and want to experience new kind of travel rather the regular ones, likes to wake up early in the morning, loves to cycle, choose to ride in Pondicherry.