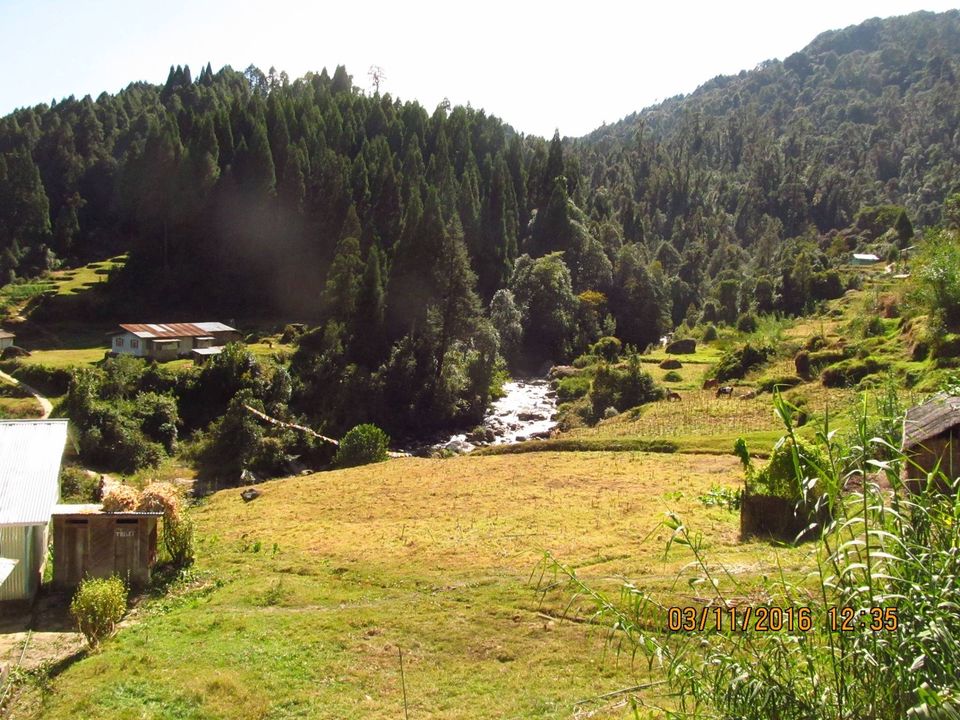 Let me put some conditions - It has to be some mountains, preferably Himalaya, not so touristy, off-road, serene, tranquil, did I miss anything ah! Organic arrangements. Hmm! now looks pretty decent for a trekking destination.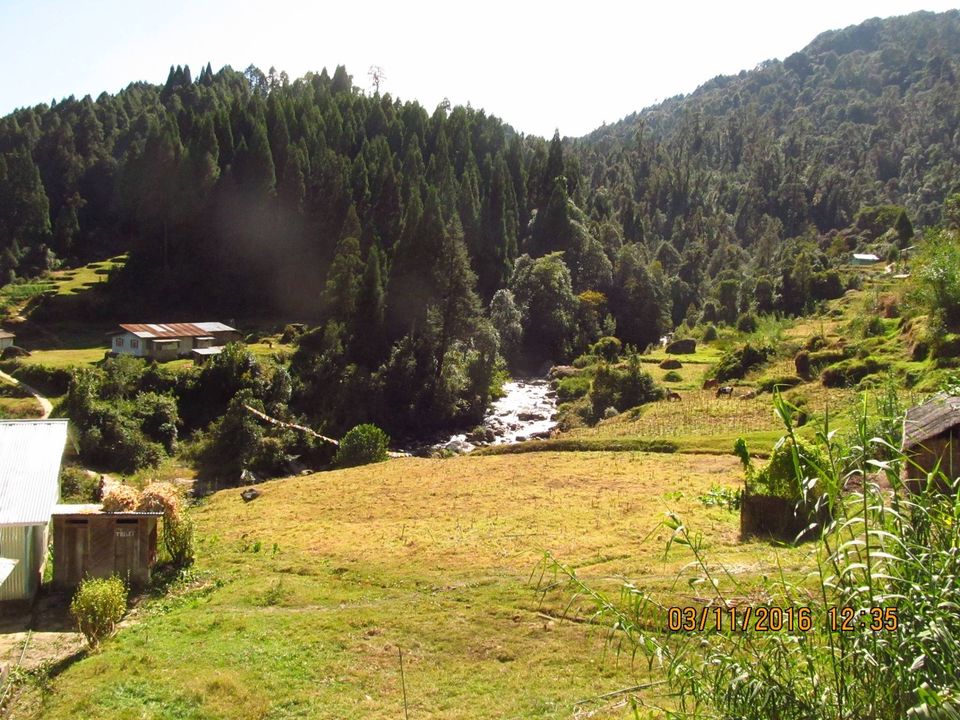 Gorkhey was part of my Sandakphu itinerary. Hence, it was on the 6th day of Trekking when we reached there. The route started from Phalut top through 16 KMs of pine forest downhill walk. Unless one decides to plan from Rammam which would be a short route. Anyways this article is not for route planning but one and only Gorkhey.
When the legs were about to cry out with fatigue and body needed that extra calories during lunch hours, reaching a picturesque valley was like reaching heaven itself. Towards the last 1 km one could see the peaceful village and Gorkhey river flowing through its lush green meadows. The surroundings sent those extra boost to my tired eyes, bones and muscles to ignite the dormant spark within me and I forgot that I was tired. After all my other hunger for serenity was addressed at the right time.
After climbing down, the first thing we did was having a simple yet delicious rice meal made by our Homestay owner. The arrangement was simple and basic where 4 ladies had to accommodate in a single room but when we realised where we have reached all the way down, it felt like a castle later. This was not the place where you can call a taxi for touring, not the place where you can find a shop for all the essentials, even not the place where you can call an Ambulance in case of an emergency. People need to carry things, even patients on their shoulders for logistics and medical requirements. Yet they made their houses with glass windows and all basic amenities which we the city people requires to adjust on this remote environment. Yet, they were simple, smiling people and so approachable!
Post lunch I walked towards the stone beds on the shores of the Gorkhey river. Just wanted to sit and have a quite afternoon with only the sound of the gushing river that was calling the upcoming winter. It was early November with an increasing chill in the air but lucky to have the crystal clear blue sky above. The vicinity was also clearer this time than the rest of the year and tree lines going upwards could give you a thrill that one could experience ahead while reaching towards the next destination.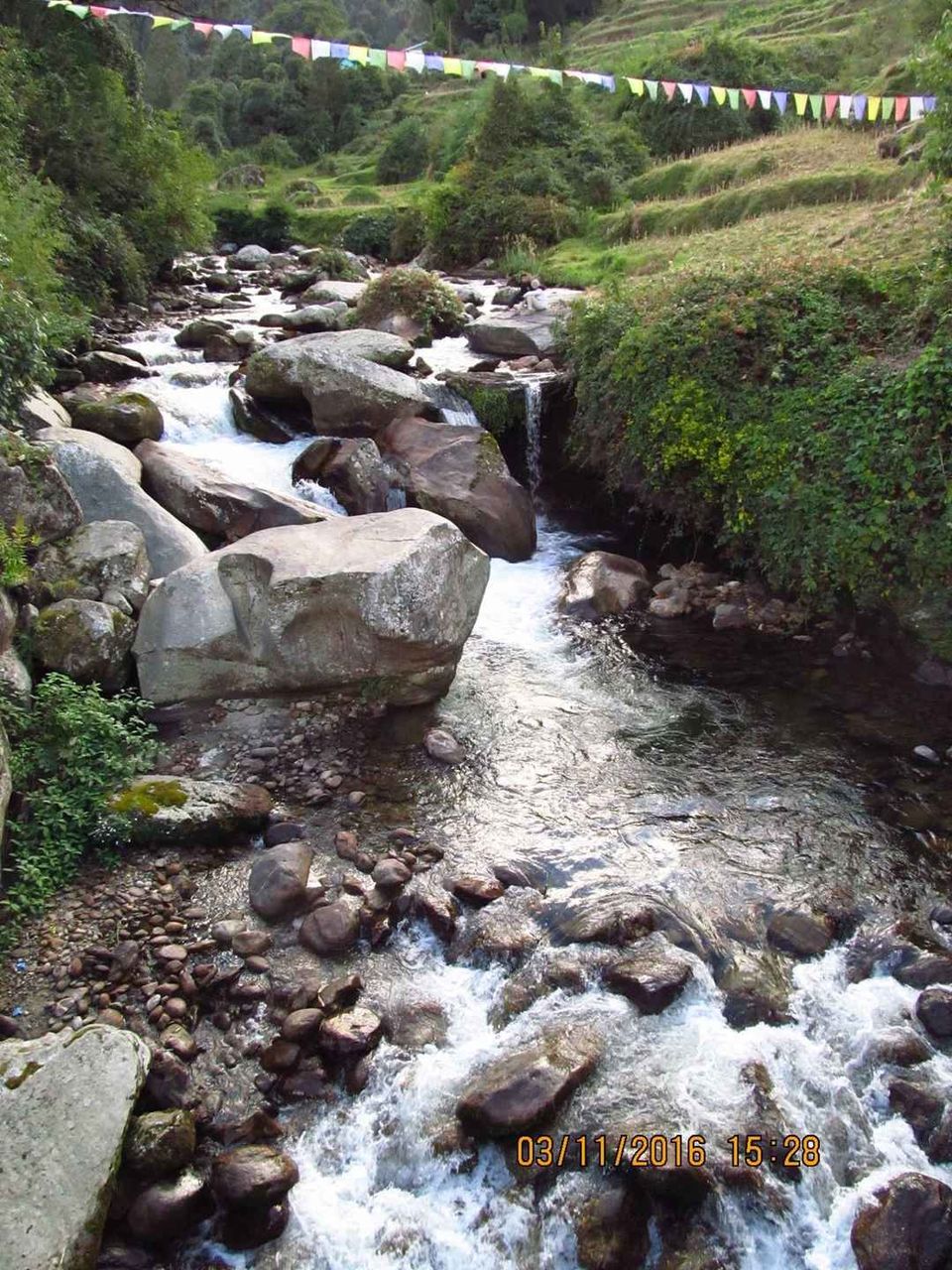 Talking to the local people gave us some ideas about the whereabouts and ways of living at Gorkhey. During winter it would mostly be unreachable. Hence, people would store food that they have grown on their own. Corns were common. They grow their own food and necessities as much as possible and protect their livestocks. People were happy without wifi there as they connect physically outside in the sun or inside their homes in the evening. The land with no modern amenities yet natural, sustainable, renewable, resources protecting the place from all the pollution we try to runaway from. Not to forget the cleanliness and contentment one could seek out there.
The crimson aura of the setting sun brought more teeth chattering sensations and the valley teased us to push ourselves inside the rooms. We thought the day ended and only remaining episode was having dinner but it wasn't. After-all a trekker's group would never call it a day without the Trek special Adda (Bengali word for chitchat sessions). It was another evening under the protective roofs with singing, gossiping and sharing warmth all together. I was happy to have a simple meal knowing that how pure it was and homemade. Felt thankful again towards the host. This is where sense of Gratitude was building inside me. With an accomplished day I went for a much needed peaceful sleep.
The very next day we woke up early and had a sumptuous breakfast of Luchi (Puri) Sabji and Tea. It was another blessed sunny morning with clear horizons reflecting every bit of greenery in the surroundings. The bright day set the right mode and helped us getting ready to begin our yet another long walk towards Samandin.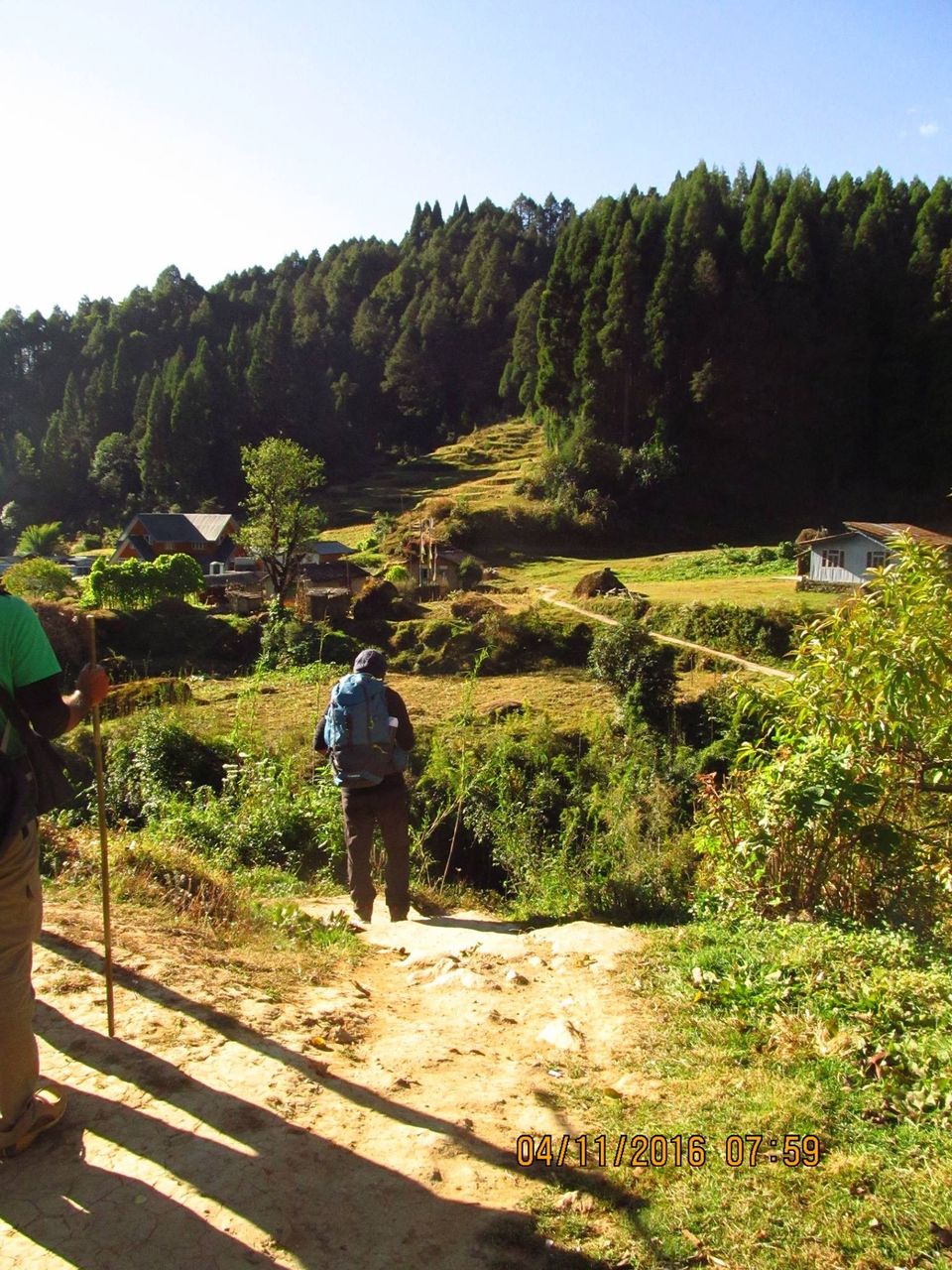 Before leaving the place when I thanked my host he was felt so shy and obliged as if I was over praising him. Such humble human beings! I waved my hand towards the simple people who taught me another lesson of humility. I waved my hand towards the village who showed me the effects of "Slow living" in that difficult environment and how it makes people humble. Then I left with memories in my heart and stories to tell others.
Every remote destinations has given me life lessons and this being one of the most effective one. On this note I would request each of you to give it a thought on the things we have and should be thankful of that are luxury for many people leaving at places like these.
Did I make it sound too serious! No way - Please go and enjoy few days in the lap of the nature and away from hustle bustle. At least the physical efforts would give your mind and body some boosts and your lungs would thank you for sure!! Not to forget keep the places clean when you visit. Give your love back to the Nature by protecting it!
#Gorkhey #Darjeeling #TrekToGorkhey