It's day 1, me and my friends started from Siliguri and reached Manebhanjyang. We had a tight budget so we had to take shared vehicle but the journey was good. It took us around 4 and a half hours to reach Manebhanjyang. Manebhanjyang is the place from where the Sandakphu trek starts. But we had a different plan. We had only 5 days in hand and we wanted to see the best.Hence, we decided to reach Sandakphu in a car and start our journey from Sandakphu. We took a guide(Peter) from Manebhanjyang who was supposed to be with us through the entire trip. It cost us 1000 INR per day for the guide and the guide was supposed to be with us for 4 days.
Me and friends got into small talk with Peter and we acknowledged that Peter had an experience of 26 years as a guide and he has been in multiple expeditions. He also gave us a brief history of the places we were supposed to visit.
We were supposed to start the next day, so we reached our hotel which we had already booked. After having lunch and some refreshments, we went for sight seeing. Maneybhanjang lies in the border of India and Nepal. The place is at an altitude of 1928 mts and is 28 km away from Darjeeling.
The place is a complete beauty for mountain lovers. There isn't much places to view in there. Once done with the sight seeing, we came back to our hotel. Being a hilly region, the temperature drops very fast once the sun is down. It's the month of March, and it is still winter for the people in there.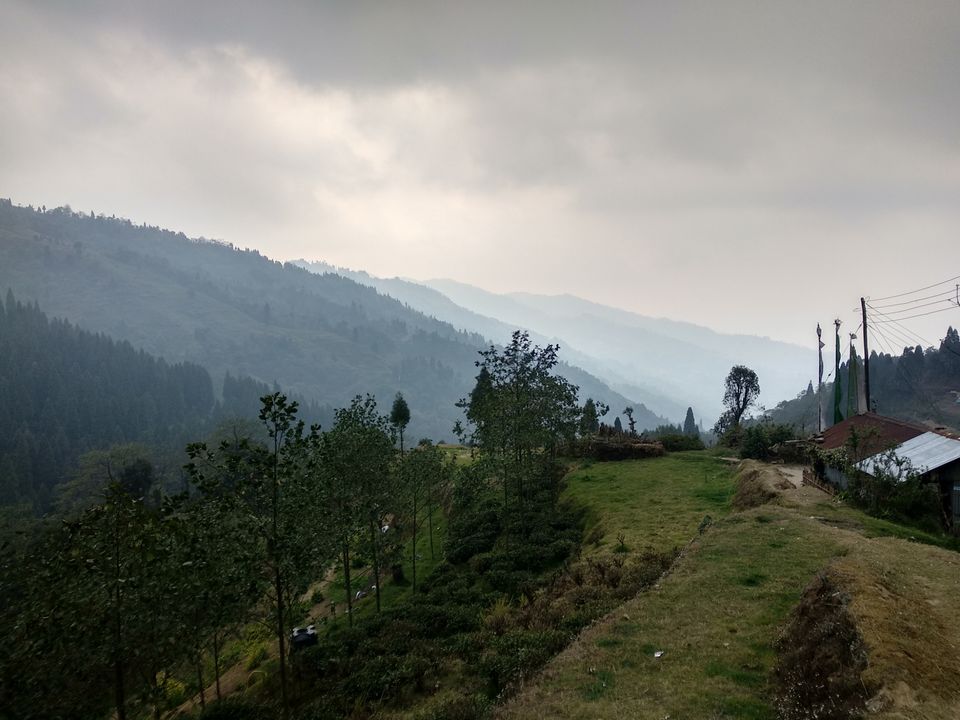 The next day, we woke up early and got ready for our journey. We had our breakfast and then booked a Bolero till Sandakphu which cost 4000 INR. Peter also came in time and he guided us on all the bookings we needed to make. The journey from Maneybhanjang to Sandakphu took around 4 and half hours in Bolero. We had a few halts before reaching Sandakphu where Peter gave us brief description and history of those places. The places would include Tumling, Gairibas, Kalipokhri. These are the places which are the stays for Sandakphu trek. Since we had only 5 days, we decided to skip this part of the trek.
Tumling, Gairibas and Kalipokhri had a great rural beauty and the people over there were very kind.
We reached Sandakphu at around 12.30 pm. We went to our hotel. While my friends were having some rest, I went out with my GoPro to capture some shots for my documentary. The place had experienced heavy snowfall couple of weeks back but we were lucky to still witness snow covered mountains. The outside of our hotel was also covered with snow.
I came back for lunch with my friends and we had only few options for that. We selected noodles for lunch.
Post lunch we went for sight seeing and we had the best view of the mountains. Clouds rolling through us was common. We were 12000 feet above sea level. We were literally above the clouds. As the sun went down, the place grew colder and entire place was gradually getting covered in fog. By 6, the place was totally dark. We again had to have noodles for dinner as we had only noodles or khichdi for dinner. At night the temperature reached below freezing point.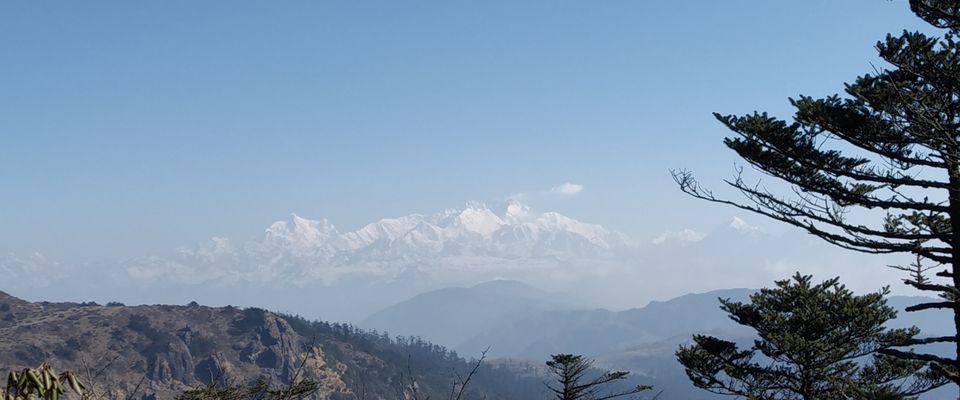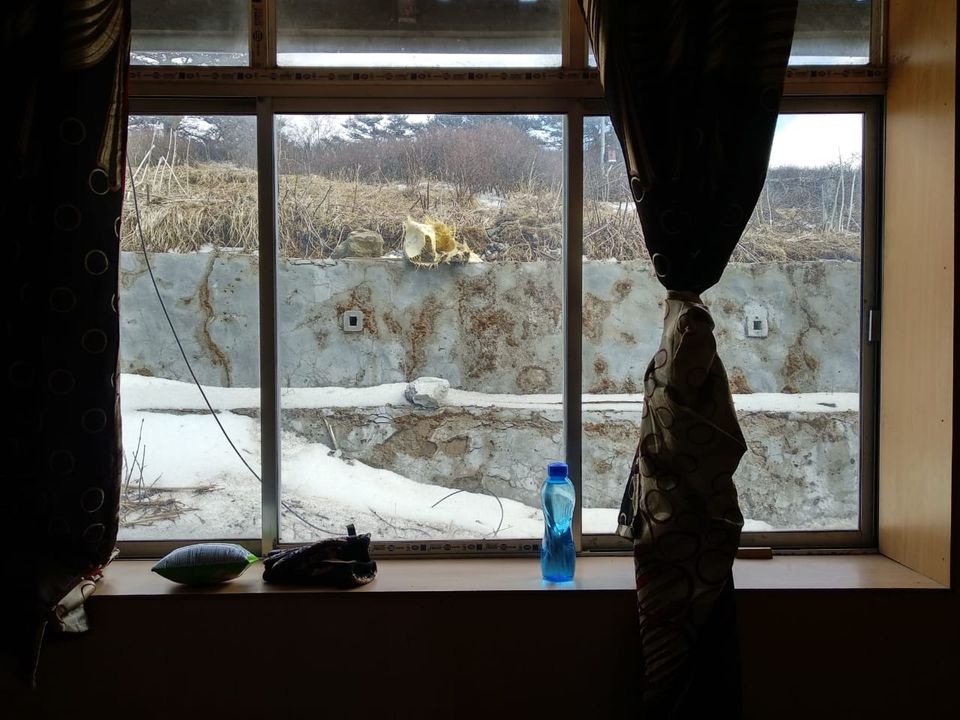 Today we had to wake up early to view the sun rise which attracts most of the tourist. We had an excellent view of the sunrise and the best part was when the first ray of light fell on the mighty Kanchenjunga and peak turned into gold. We had the best view of Kanchenjunga ever. We could also see the entire range of Sleeping Buddhas.
After the breakfast, we had to start. It was the first day of our trek and we had to cover 21 kms. We started at 8.30 am along with Peter. The weather was sunny and temperature was around 9°C, which was perfect for us. We could still view Kanchenjunga and the other mountains at the start of our trek as the sky was clear.
Initially our pace was good and we were full of energy. But we had to take breaks as we were amateurs in trekking. Meanwhile, we had our protein bars since we had to travel 14 kms before we could reach any place where we could have some food. Dry fruits, biscuits and chocolates are must while trekking. We experienced the best of nature during our journey. It was adventurous, walking over the edge of mountains, walking on the snow. Journey from Sandakphu to Phalut has been my best experience of nature. The views were totally mind blowing and I was literally living my dream that day.
At around 1.30 pm after covering 14 kms, we reached Sabar Gram where we had our lunch. As we had no other options, we had noodles. We could see the weather changing. Clouds started rolling over and the entire place got covered in fog. Phalut was still 7 kms away and we had to climb a long way.
Once done with lunch, we started towards our destination. After 3 pm, the place had changed completely. The entire way was covered with fog and nothing could be identified at a distance of 10 mts and beyond. We kept moving towards our destination and we still had a few kilometres to cover. The weather was turning bad for us and made us slow. Peter instructed us to walk faster because it would be very difficult for us to reach our home stays once the sun is down.
It was around 4.30 pm when we were still left with 2 and a half kilometres to cover and one of my friends got ill. He couldn't walk anymore and Peter was a bit tensed as we were already late. We gave him some medicine that we carried with us. I was worrying if we'll be able to reach our place in time or if we'll be in some kind of trouble. After my friend felt a bit better, we started again. He couldn't carry his bag, so Peter carried his bag. We still had to climb a long way and every one of us where completely exhausted and cold. The temperature already touched 0°C and was dropping and the place was getting darker.
We finally made it and we reached our home stays at around 5.30 pm and the place was completely dark and foggy. Everyone of us were cold and shivering. The host took us to their kitchen and we sat in front of the fireplace. After few minutes, we started getting better. Later they gave us ginger soup which made us feel better and we got relieved of the cold.
For dinner, we were very lucky to have the traditional Indian dish( Rice, dal, potato curry, papad and pickle) and not noodles. Nothing could have been better for us. The hosts were very generous and took care of everything we needed.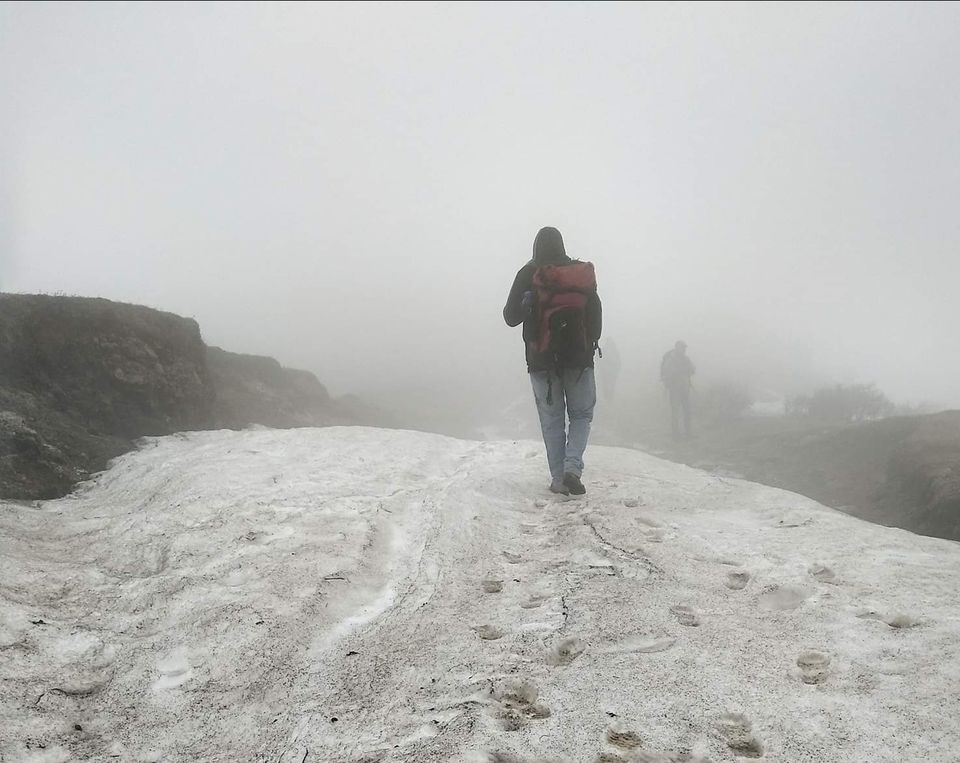 The next day we were supposed to get up early to watch the sunrise and Phalut is considered to be the best place in West Bengal to view Kanchenjunga. But we were poor at luck as the place was covered in fog and nothing could be viewed. The temperature in the morning was around 8°C.
Peter knocked our door and told us that we could sleep few hours more as we won't be able to see sunrise because of the fog. The view point was a kilometre away from our stay. We had Roti and sabzi(veggies) for breakfast and started our journey. We were relieved that day as we had to cover 15 kms and the path was mostly downhill.
This journey was short and we reached our stay in Gorkhey in 5 hours. The trek has been mesmerising as we went across the Himalayan forest. The way was mostly covered in stones or mud. The journey got energised when we started playing music during our trek. We had a great view of the forest and also we saw the iconic flower Magnolia. Peter also made us notice few birds which is not very common for us. Birds included Magpie, Parrotbill and more. In between our journey, we had our protein bars when hungry.
We were 1 km away when we could see the Gorkhey village from the top of the hill and it was a complete beauty. There was small river flowing across the valley which added more to its beauty.
It was around 2 pm, when we reached Gorkhey. We went to our stays and had cup noodles for lunch which we carried with us. After the lunch, I went out for sightseeing and took some shots for my documentary. The greenery of the valley gave me the taste of viewing the nature at its best.
As the sun went down, we went back to our stays and shared our individual experiences of the trek. We went for dinner at 7 and we were lucky again to get the same traditional Indian food (Rice, dal, curry and chutney).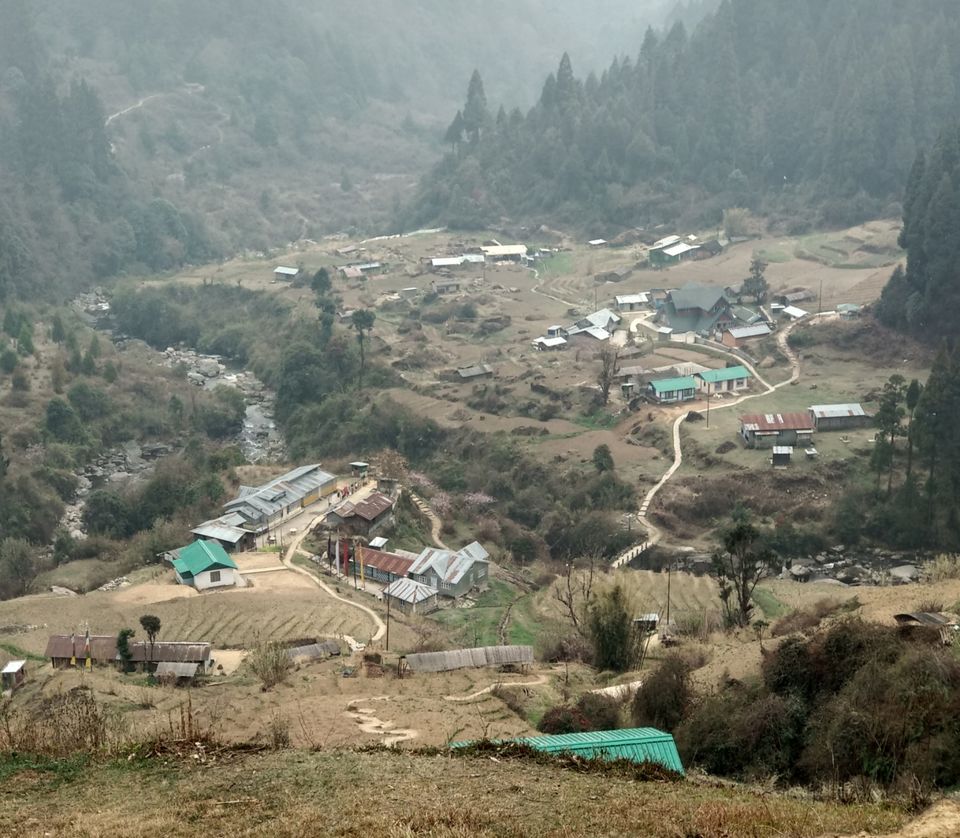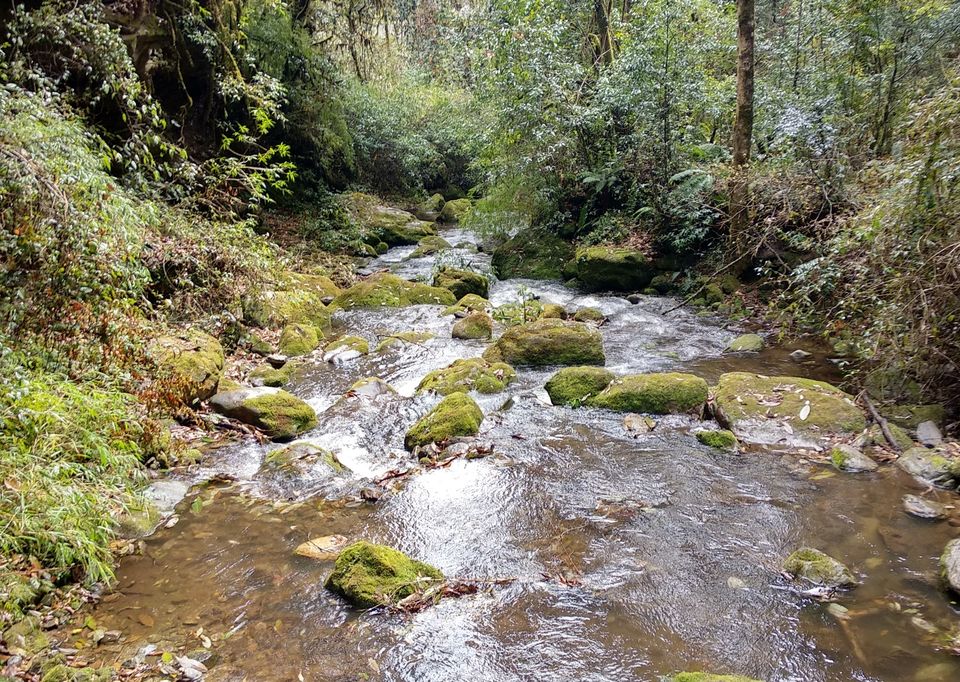 So it's the final day of our trek, and we would be heading towards a village named Srikhola which is 16 kms away from Gorkhey. The journey was expected to be easy as we would be moving downhill.
But nature had separate plans for us. We woke up with the rattling sound of thunder. When I peeked through the window, I could see nothing. This time it was not only the fog, it was accompanied by heavy rain. We wondered, if the rain continued, then we would have to drop our plan for the day, and would have to stay back here. As the rain continued, we still with a hope, got ourselves fresh and ready for the day, headed to the kitchen for the breakfast.
As we had our breakfast, I saw a silver lining to our hope. The rain slowed down and gradually stopped. We asked Peter if we could start our journey. He's always enthusiastic and was ready for the journey. He had experienced so many things, rain was nothing for him. But walking in rain was a big deal for us. Although we had raincoats, we were still worried as it was a hilly terrain with very low temperatures, and that could make us sick.
Taking all the risks, we started our journey after thanking our hosts for their excellent meals and generosity. We had to move through the forest, so the road was wet and muddy. We somehow managed to keep our pace in that condition. Later after an hour we could see the sun, which finally relieved us.
We moved through the forest, enjoying every moment, playing music, recording our memories. After walking for 8 kms we stopped at a place named Rammam. We took rest for almost an hour, and had some tea. After that we started back on our way. Now we had a proper road to walk on. In places, the road was damaged but it was fine for walking. We were also accompanied by some stray dogs who kept following us. We enjoyed that too.
Srikhola was around 3 kms away when it again started raining. It was a mild shower but we didn't take any risks and put on our raincoats. While the shower continued, we went on walking until we reached our destination. We were relieved to finally reach our destination. We were tired of all the hustles we faced throughout our journey.
After reaching the home stay in Srikhola, we just had cup noodles for lunch. There's nothing much for sightseeing in there and since we were tired, we chose to stay back in hotel and finally I was getting some network on my phone since Maneybhanjang. We all got occupied with our phone and just ended our day with an excellent dinner.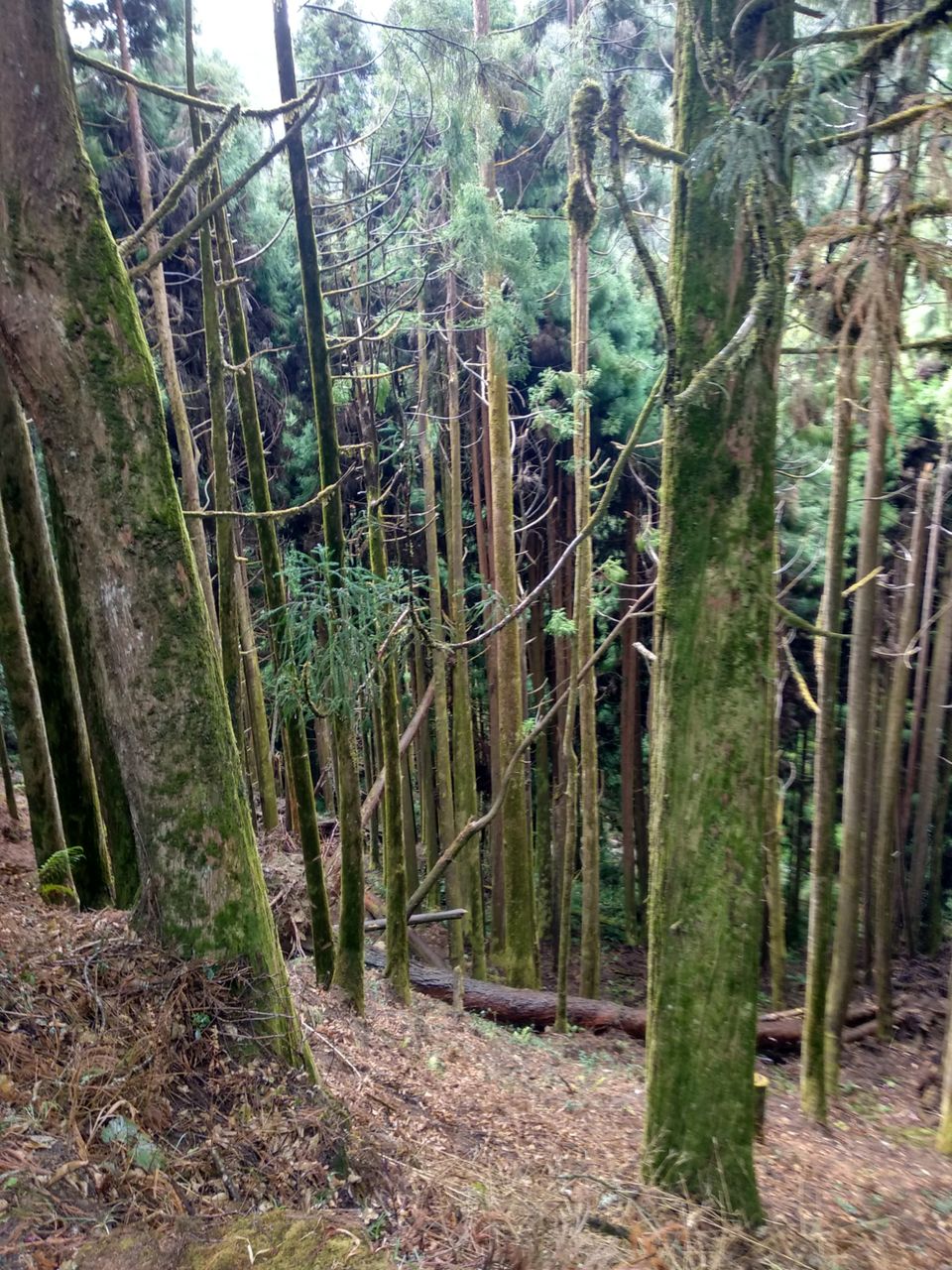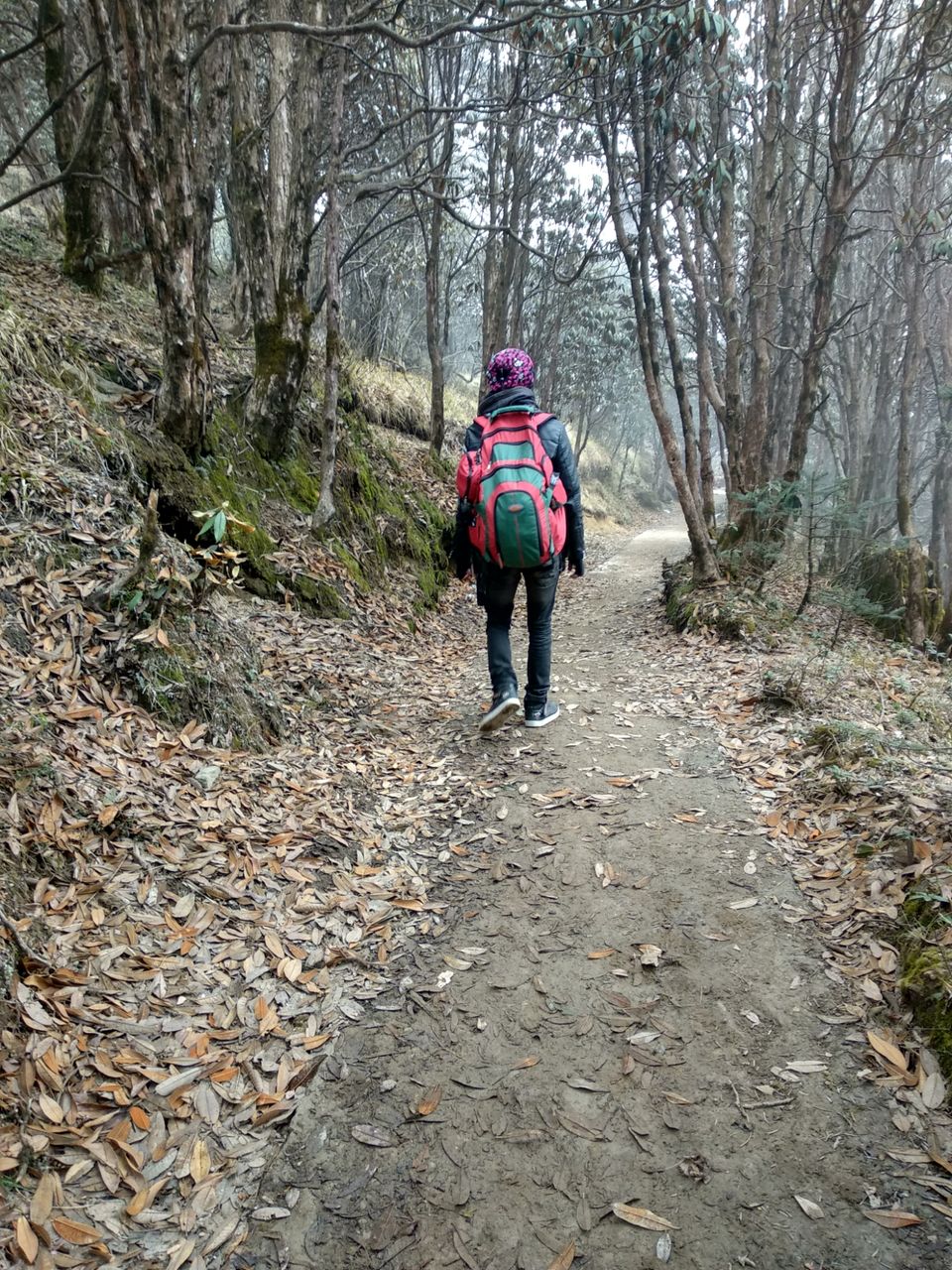 Today, we would be heading back for Siliguri. Peter had already booked a Bolero for us for a direct ride from Srikhola to Siliguri. He had been of great help and has inspired us a lot.
This trip was way better than what we expected. It was a mixture of everything. We enjoyed, we suffered, we had pain but we had gain. We saw some excellent views from Sandakphu and Phalut. We had a great time through the Singalila forest on our journey towards Gorkhey and Srikhola. We experienced nature in the best possible way. Hope to do this again.
Total trip cost per head is around 8000 INR.
Check out my travel video on Sandakphu-Phalut trek on YouTube :
https://youtu.be/3N8T507LpYk