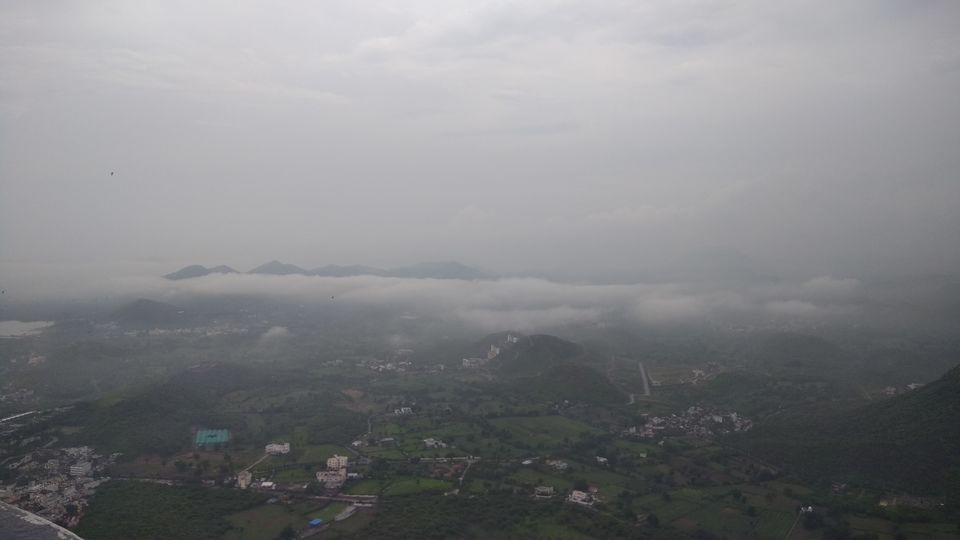 It was the month of July, 2018. My summer vacations at IIT Delhi were to end. Me and my friends didn't want to begin the semester the same as always. We decided first to chill out somewhere and then sign in for campus life. Being July, Himachal wasn't a very good option owing to the frequent landslides happening out there and beaches and monsoons don't quite go together. So, we decided that this time, no mountains, no sea! Although its ironical that we ended up savoring both. After some debate, thought and research we planned to go for Udaipur - City of Lakes and some surrounding tourist attractions. If you think that Udaipur is some area with deserts around and high temperatures, you seriously need a change of mind. It rained all the five days we were there and the temperature never crossed a calm. We got hotel rooms booked for 5 people for 5 days, 4 nights, i.e. 15th July - 19th July at Panaroma Guest House. Then, we booked train tickets in Chetak Express from Delhi - Udaipur for 14th July and tickets in Mewar Express from Udaipur - Delhi for 19th July. Then, we all assembled in our hostel at Delhi and boarded the train. But just before leaving, I received a call from my mother and she told me that I had left my undergarments back at home :p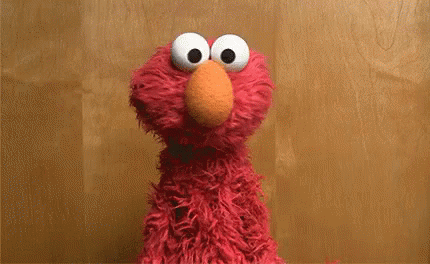 Yeah, I know its weird but that was the truth. I told that I would figure it out at Udaipur itself and left, obviously after a lot of mockery at the hands of my fellow friends.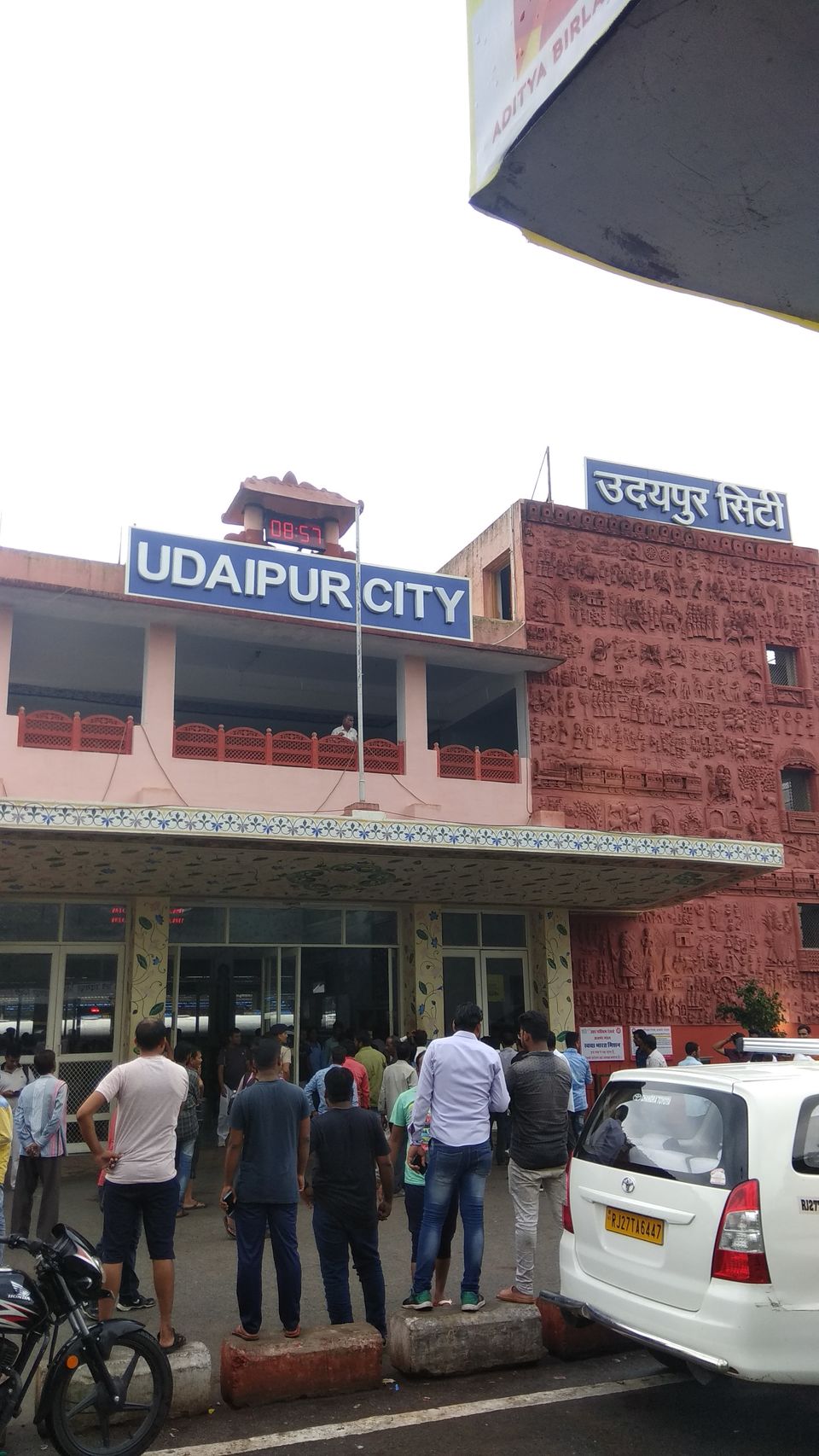 Day 1 | Delhi - Udaipur
After a night long travel, we reached Udaipur at around 9 am. We had talked to Panaroma Guest House, the day before, about our predicted time of travel and they had sent out 2 tempos to fetch us to the hotel. It was a smooth ride and we reached the hotel riding over Lake Pichola. Its quite serene and beautiful. The hotel and even the surrounding hotels mainly had foreign residents. We got fresh, had breakfast at the hotel and then set out for local sightseeing. Situated beside Lake Pichola itself, we visited various ghats around the lake, hanuman ghat, gangour ghat, being some of the famous one.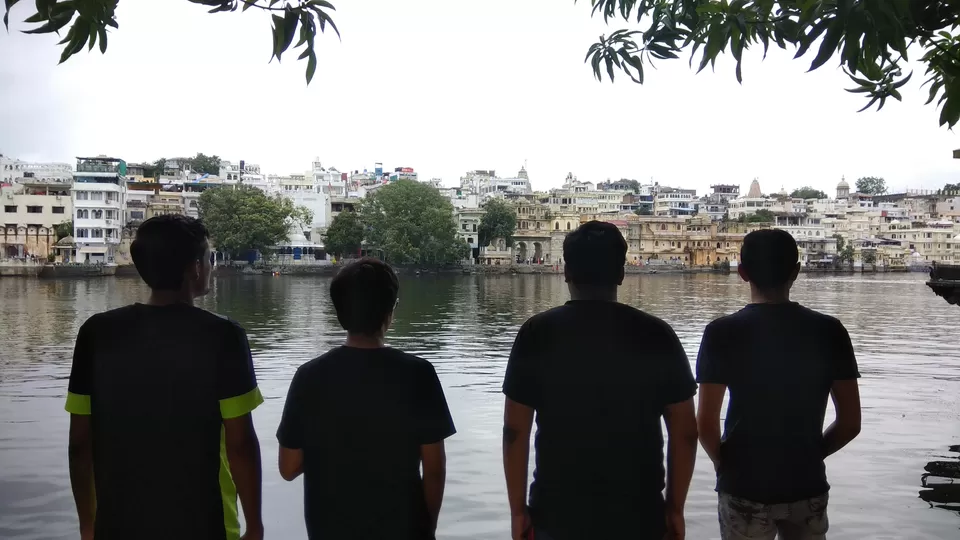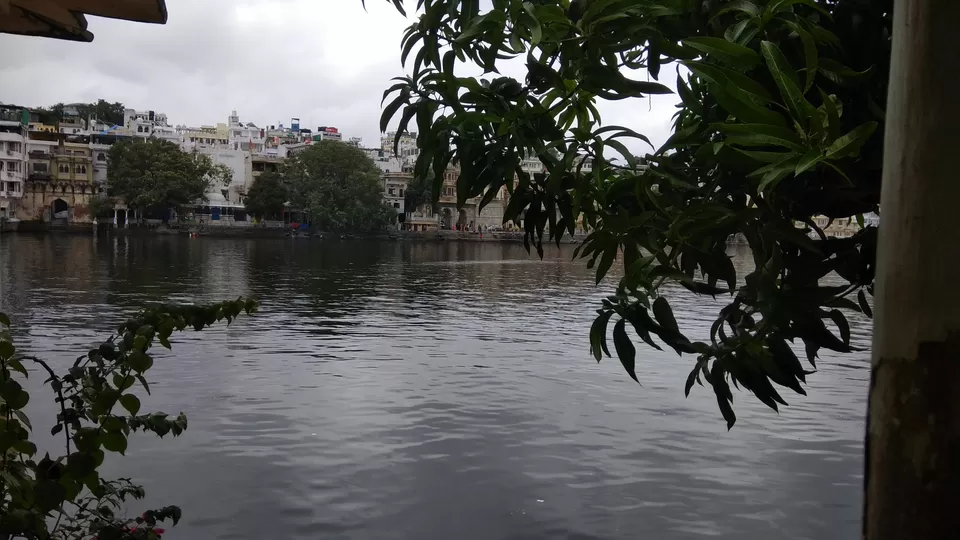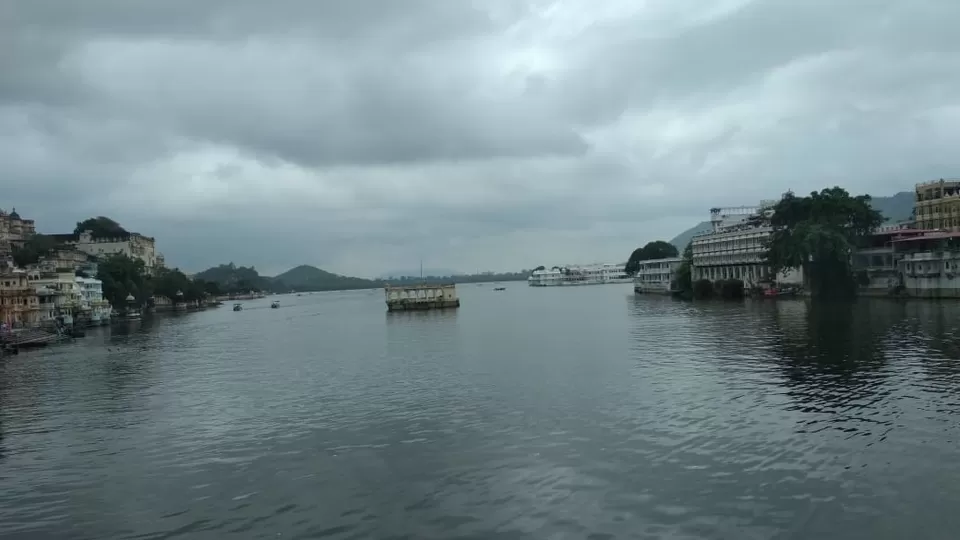 We were welcomed in Udaipur with light showers. The weather forecast already showed heavy/light rains for all the five days of our trip. A little inside the Gangour Ghat is a museum, Bagore ki Haveli, right at the waterfront of Lake Pichola. The palace has over a hundred rooms, with displays of costumes and modern art. The glass and mirrors in the interiors are haveli work. We spent quite some time in the museum because it had starter raining heavily, and just made the scene mesmerizing. The beautifully crafted balconies and passes, which directly looked over the lake gave a wonderful view.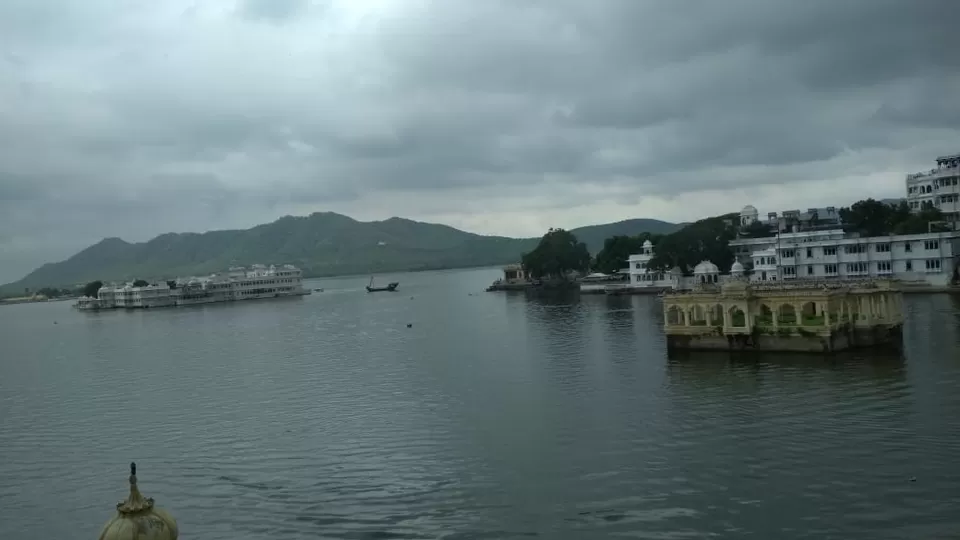 It was already time for lunch and we were unable to decide what to eat. So, we walked a little into the market and saw some cafes and restaurants. We finalized on a small restaurant and ate Dal-Baati-Churma there, a traditional dish of Rajasthan. It was really awesome and warm. The owner greeted us nicely too.
A little far from the Gangour Ghat was a platform for boating. So, we got on a tempo to go for it but the driver suggested that the ropeway was a much better option in Udaipur. So, we changed our minds and changed the route for ropeway, which was quite a good decision.
By the time we reached ropeway, it had rained quite ferociously and there were again light showers. We got our tickets and after a small wait in the waiting area, which was more of a cafeteria, we had our chance. Clouds were looming quite low that day and created a mystic scene.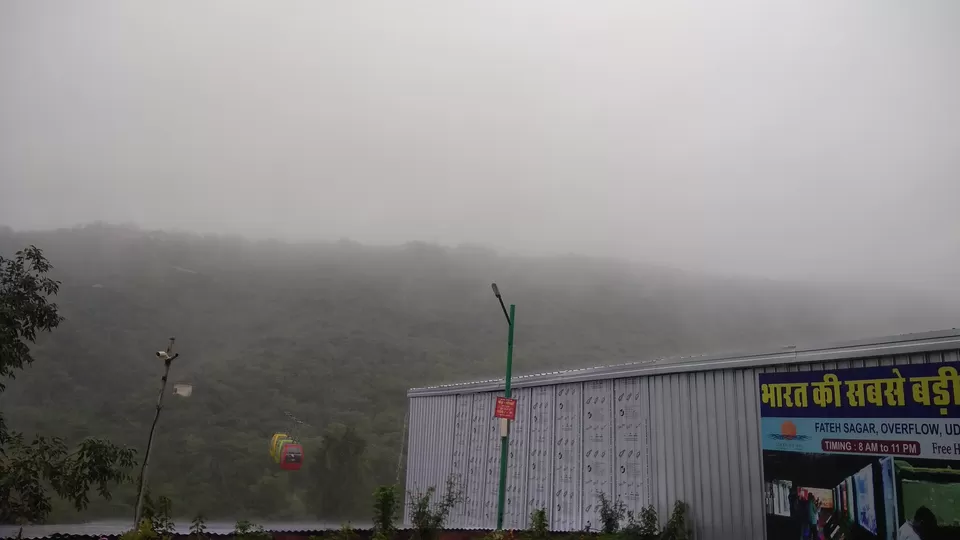 It was thrilling to ride through the clouds. After we reached top, it again started raining heavily, so the ropeway had to be stopped temporarily. I was given one and only one instruction from home - not to get wet, which is something which I had to break every day, because it kept raining all the five days. So, even though it rained, we roamed in and around the temples freely. There was a small tree on top, around which people had built small structures with marble. On asking around, I learnt that it was fabled that whoever wishes to have their own home, constructs a small structure around the tree and the wish is fulfilled. Now, I don't judge rituals and I had a good enough hostel, so I let it be. The scene from top, during the rain was breathtaking though. It wasn't much high but the clouds were all around us. We clicked some photos when the view cleared.
Having spent enough time among the clouds, we decided to leave. Some people were going downhill through stairs which hugged the hill, but we decided we didn't own the strength to do so and boarded the ropeway. We got on a tempo which dropped us to a foot-bridge, just beside our hotel. Well, it was evening and the sun was being set. It had stopped raining. The constant clatter of raindrops were displaced by echoes of bells from the temples all around the lake, as it was time for aarti. Evenings in Udaipur are majestically beautiful. The whole sky and lake turn crimson. Ghats are filled with people, both local and foreign. Chatter of hymns and rings of bell float all around in the air. It is as if serenity reaches you through all ways, air, water, land and the skies. We decided to hang on the foot-bridge for some time and savor the beauty. We left for the hotel when it turned dark and people had started flooding the market.
On reaching the hotel, my friends started to change and prepare for the big night. After all, it was FIFA 18 finals that night. The hotel was screening the finals on the rooftop and we had plans to watch it there. It was then that I realized that I had forgotten some of my clothes back at home :/ . Well, I had to spend the night in a towel, and wait for my clothes to dry. I also had to again put up with my friends' love for my stupidity. We ordered dinner from subway since it was cheap and frankly, the hotel charged too much for not so good food. The night was amazing. Apparently, all the nearby hotel were screening the final and every single incident in the match sent uproars in the whole locality. France played real well and won. No, I won't go into details of the match. That calls for another blog :p !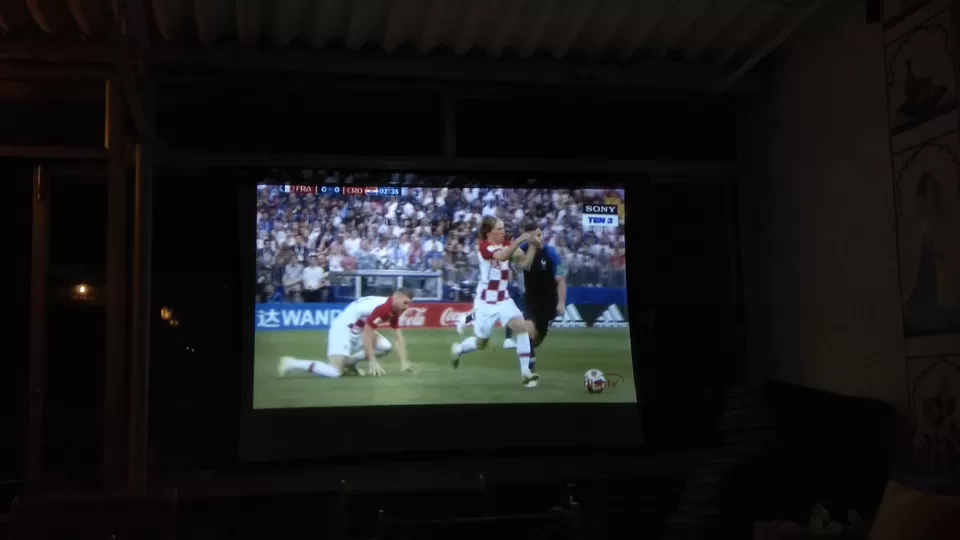 Day 2 | Udaipur
The other day, we decided to visit City Palace, main attraction of Udaipur. The palace is situated on the east bank of Lake Pichola and has various palaces and museums within the complex. We had breakfast at a small street outlet, located on the road to Palace. It was a nice place, with tables in open to eat. We had kachori, samosa and poha at a very just rate, much less and better than the hotel. Then we got tickets for the Palace with a student discount by flaunting our id cards.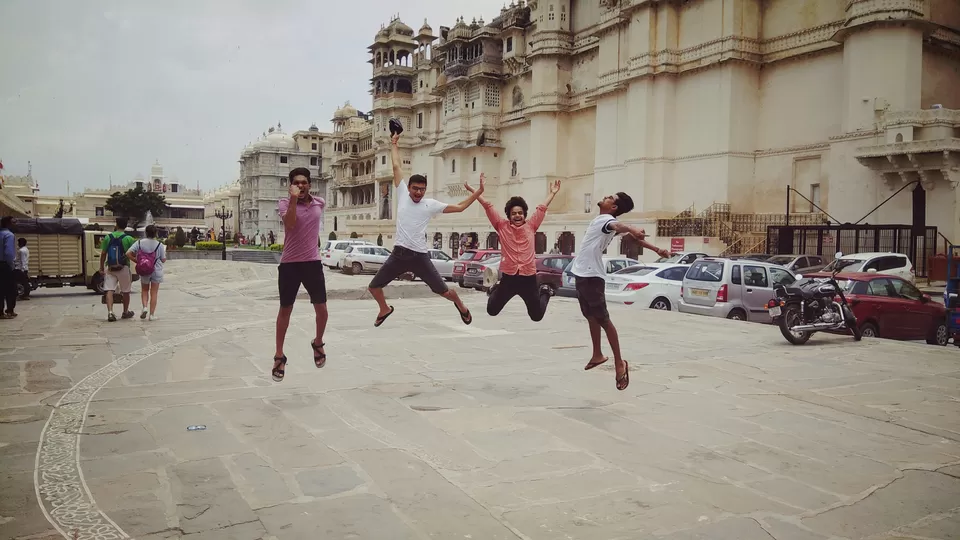 We had a nice time in the Palace. It took more than one hour to just roam in the premises of the complex, other than the gardens. We didn't take a guide because they were apparently in every corner of the palace and one could easily hear over the stories(okay, not so good a thing to do :p). The Palace offered a brilliant show of art, paintings, embroidery, puppet set and complex structure. There were even some statues from a very long time back and some cups won in some British tournaments. Some parts of Palace was made entirely of mirror embroidery.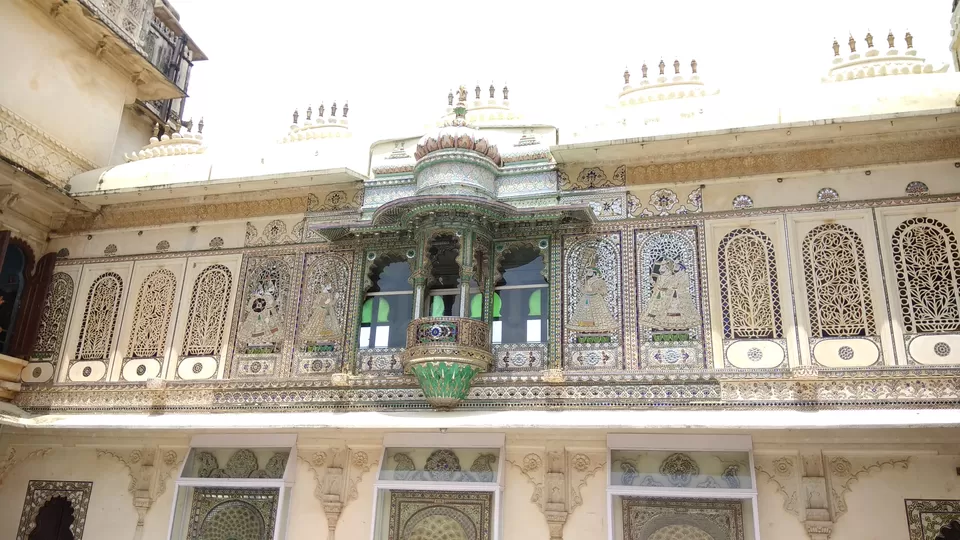 Other than the complex, was a boating house and a stones collection museum which charged more. So, we decided we had seen enough of collection and we would boat in Fateh Sagar Lake, an extension of Lake Pichola, but no less majestic. It took very little time to get to Fateh Sagar Lake. We were in no hurry that day because we had planned to stay in Udaipur for the whole day. So, we went to a Gym Garden where we chilled for some time and had fun. Then we drank famous kulhad coffee and ate kulfis from the shops on the bank. With little more intake of food, we concluded our lunch, since we were already full with breakfast. Then we got on a motor boat which rode us for nearly 6-7 minutes which we didn't realize how soon it ended. There were another types of boats which rode for 15 minutes as well as for 2 minutes(jet steamers). Then, we decide to end the evening by visiting the Monsoon Palace, also known as Sajjan Garh Palace and Sunset View Point.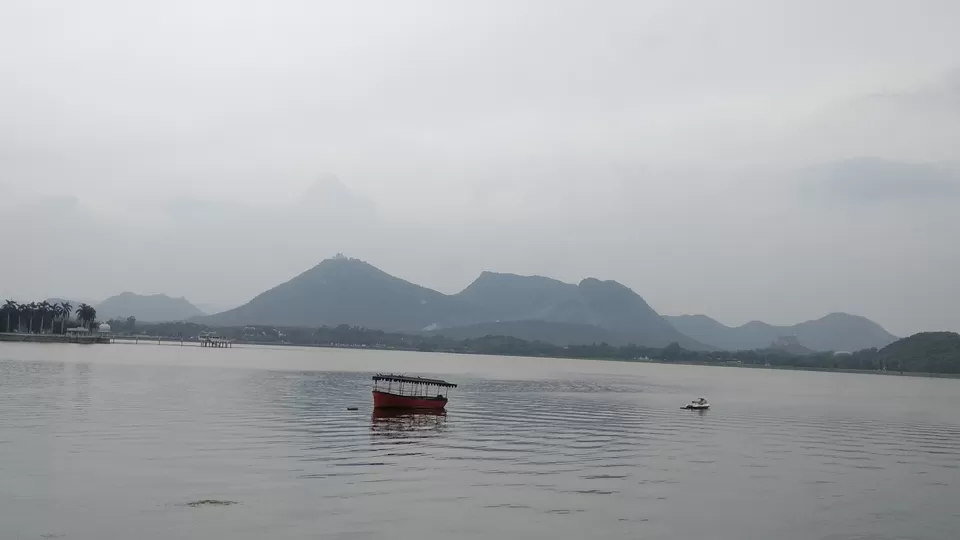 After reaching the foot hill, one can ride oneself to the Palace if one has a proper license, although its not recommended so because of the track but what can be said to modern Schumacher-s. Another way is to get a ticket for a car to take you to the hill top, which we did. But it takes some time for your turn to come to get into a car, so we visited the Biological Reserve, situated at the foothill and viewed many animals, which we consider was a waste of time because it didn't thrill us much but it passed our time.
Since it hadn't rained since morning, it began to do so. We just hoped that the clouds might get clear by the time of sunset. As we got to the top, many groups started to retreat due to the rain which kept on gaining ferocity but we decided to wait. There was some shelter in the Palace but we decided to get wet again, since we wanted to view the beauty of the landscape rather than being packed in a room. After some significant time, rain stopped. By then, we were completely drenched and other than a few groups, foreign and local, other groups had left. We kept waiting as big masses of clouds swept over the Palace and gave chills, in hope of viewing the sunset but it was a day of bad luck and we had to leave just with the slime taste of the clouds.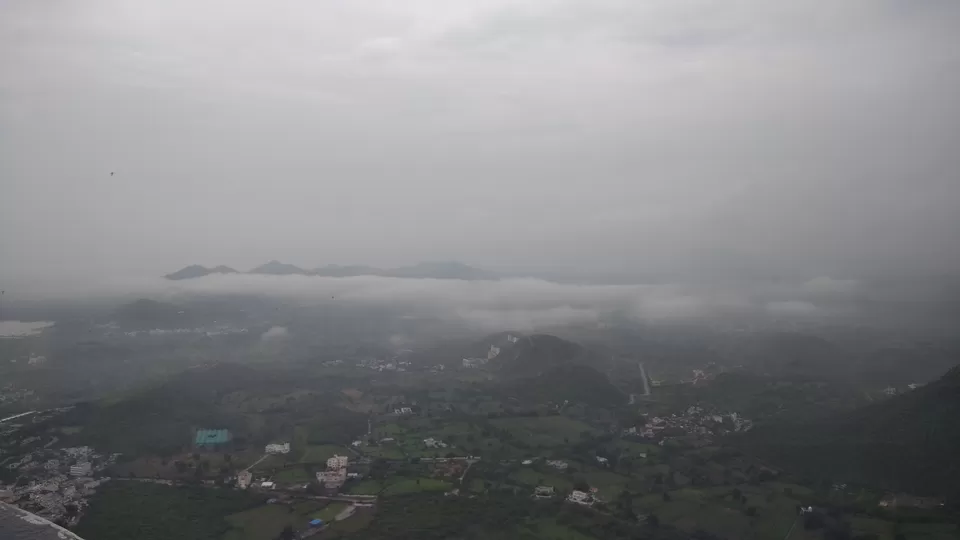 From there we went to the market to do some shopping. I got some artifacts and some undergarments as well and was well relieved :\/ and my other friends got us a car for coming two days. One trip to Kumbalgarh and another trip to Chittorgarh. 2 days, 2 places! We had dinner at a local restaurant in the market place as well, and then called it a day.
Day 3 | Udaipur - Kumbalgarh - Udaipur
We got up early the next morning. Our driver had arrived hotel by 9 am and we got ready and left by 9:30 am. The road trip from Udaipur to Kumbalgarh is worth remembering. It offers various beautiful scenes. the weather then was cloudy with irregular appearances of sun. The road made through rocks and even some valleys takes breath many a times. We paused for breakfast on a restaurant situated between high and low rocks, and had Chola Bhatura there. After a 2.5 hours of travel, we reached Kumbalgarh fort. There's two part of the fort. One is the structure of the fort situated on the mountain and other part consists of temples and a very long wall, which served as border back in past days. Clouds keep kissing the fort structure and the wall gives feel of the Great Wall of China. The scenery around will surely break the image of Rajasthan as dry any desert region.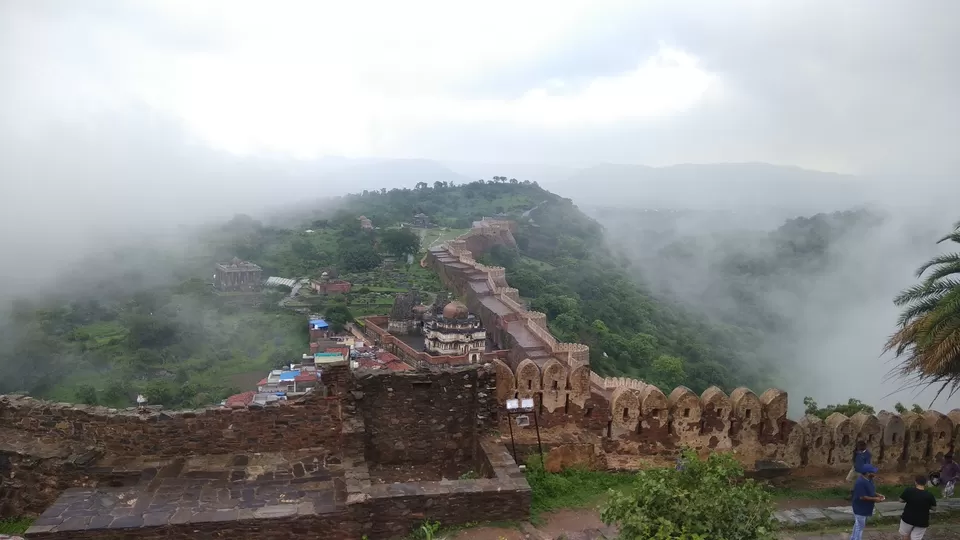 We got the tickets and first decided to climb the fort structure, because apparently our sixth partner was coming to visit us, rain. We literally explored the fort, climbing every apparent stair, even though it didn't lead anywhere, checking every room, even if it was just a brick structure. As we climbed to the top, clouds completely took over the fort. Visibility reduced to almost zero. We could feel the moisture in the clouds. Our clothes got moist as we roamed right through the mists of clouds. There are some temples at the top too. There was some marriage ceremony going on in the verandah of one temple. We visited them, roamed the gardens and climbed over enormous rocks. It started raining not longer than we climbed the roof of the topmost point. We took shelter for some time because we still had to visit places, so getting wet wasn't an option. When rain stopped, we paraded down, creating the effect of a horde of horses by the resonance of our march. People paid their tributes to us for such an effect in their own ways. After much reception of attention, we left the fort structure and started walking on the long wall. We rested when we had walked for long enough.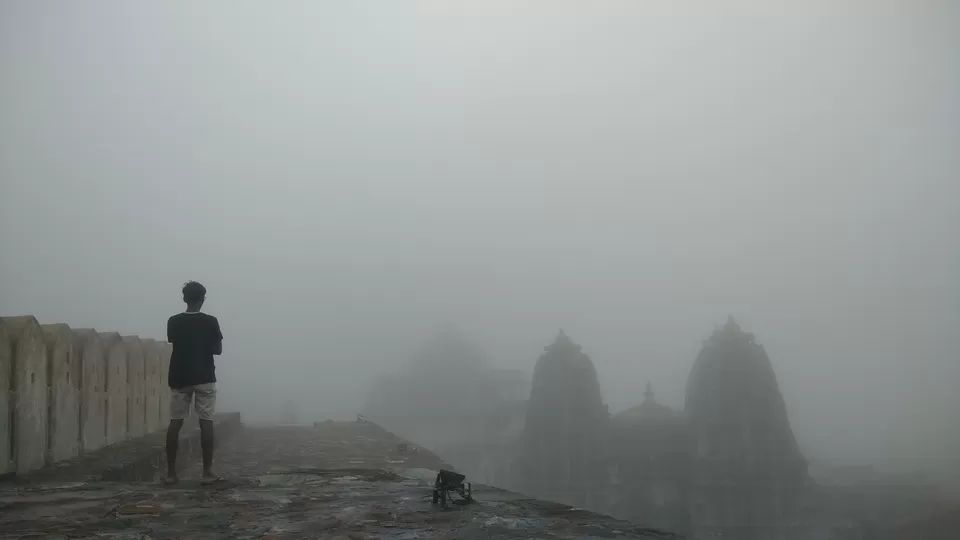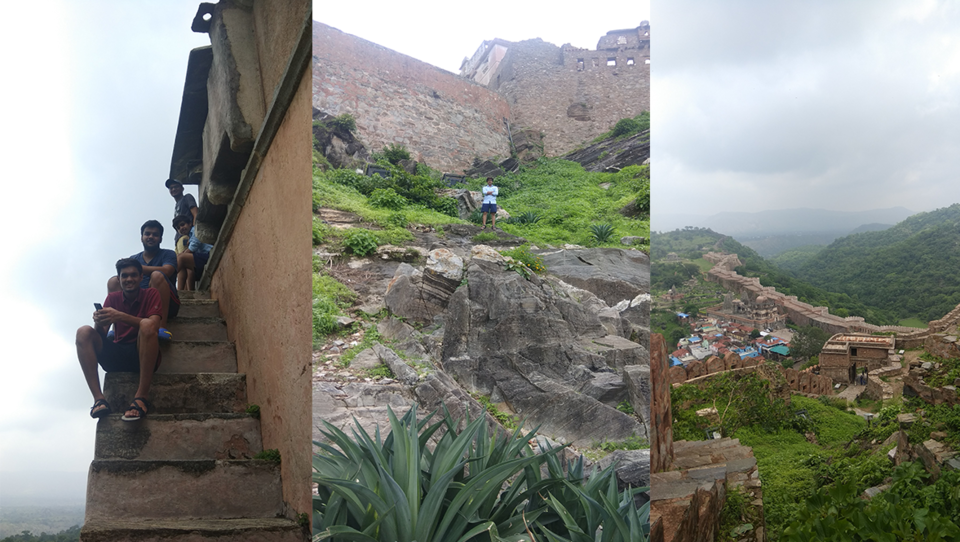 We then left the fort and started to ride for Ranakpur Jain Temple. The road from Kumbalgarh fort to the temple might mislead you to think you are in shimla. We reached the temple after 1.5 hours. Music, landscape and friends didn't let us bore. When we reached the temple, it was almost 5 pm. All of us were in shorts and visiting a Jain temple in shorts is not allowed. So, we got lowers from an office in the temple by depositing some security money and went inside. The structure and minute details of the temple are exquisite. Although, most of us don't own such heavy faith in religion, we visited the temple for one of our friends who is a Jain. Well, we weren't disappointed. The place is serene and calm. We had to return our lowers before 5 pm, so we couldn't linger for long in the temple. We tried having lunch in the lunch room of the temple, but people in shorts were again not welcome. So, we ended up having chai and some snacks in the cafeteria. Then, we drove back to Udaipur. It was already late evening. We spent some time around the lake and then went for dinner. We had taken phone numbers of tempo drivers who had driven us for cheap rates, so we called one and he took us to a nice restaurant. I don't remember its name but the food was brilliant. Then we went to our hotel, played some music, had some chats and then passed out for the night.
Day 4 | Udaipur - Chittorgarh - Udaipur
We were up early even this morning and our driver was at hotel again at 9 am. We got ready and left for Chittorgarh. The road trip to Chittorgarh is no lesser beautiful than the one to Kumbalgarh. The scenic beauties in and around Udaipur have no chill, they just keep flaunting themselves and every other nature marvel seems beating the previous one. We had had our breakfast mid way our journey in a small roadside dhaba. We reached Chittorgarh Fort in nearly 2.5 hours. Chittorgarh Fort is much larger than Kumbalgarh Fort and one has to book a guide if one has to roam the Fort efficiently. We moved in our car and the guide on his scooty. The fort has multiple water reservoirs, many structures and temples of great historical importance. First, we visited the temple where Mira used to pray and devote herself to Lord Krishna. Our guide told us tales of miracles involving her and the place. Then, we visited Vijay Sthambha, Pillar of Victory which was constructed by Mewar king to commemorate his victory over Malwa and Gujarat. We climbed all the way to the top of Pillar, which has a circular stair structure and contains almost all of 3 million gods in Hindu religion carved out in the pillar. But all the structures of God has been damaged by Alauddin Khilji when he defeated King Rawal Ratan Singh in quest of Queen Padmavati.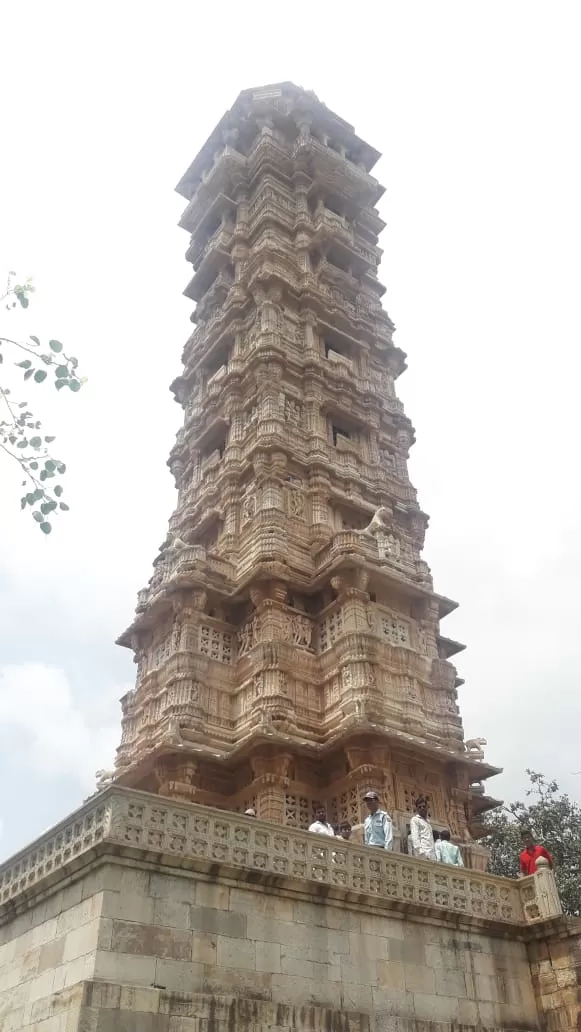 We then witnessed the grounds where famed ritual of Jauhar was performed. Earlier it was a 60 feet deep pit which has now been covered and an annual Hawan takes place over the landfill. We couldn't visit the palace because it was under renovation since some structures were destroyed by some anti-social people in protest of the movie Padmavat. We also viewed some famous reservoirs, some gateways which defended the fort during siege and the lands where war took place.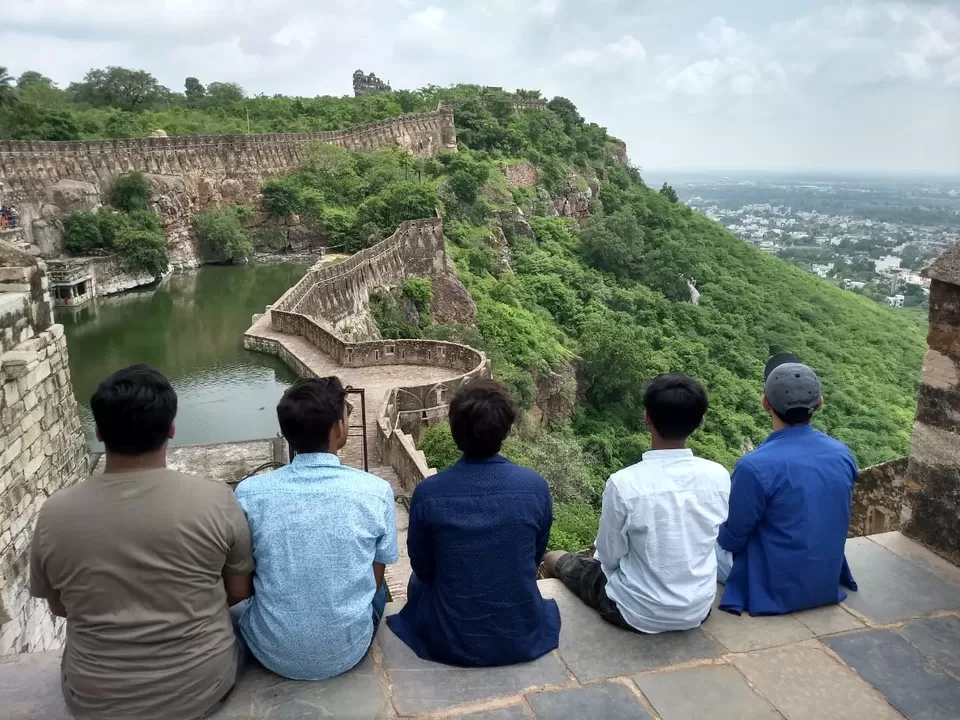 Knowing so many merry and sad historical facts at once filled us with weird feelings. At last, in the name of visiting a museum, our guide ditched us at a shop which sold saris made of special threads and perfume. There were other artifacts too but we had no intention of buying anything so after a proper show of all the important things in the shop, we shamelessly walked out empty-handed. Then we had lunch at restaurant just outside the fort and then drove back to Udaipur. Visiting such a large fort is obviously tiring, although we didn't visit the palace. By the time we reached Udaipur, it was evening. We decided to visit some malls in the market. We visited Lake City Mall where we had some snacks and did some window shopping. Having no other plans for the evening and being Marvel fans, we decided to watch 'Ant-Man and the Wasp' which was released recently. Then we had dinner at Pizza Hut in the mall itself. After some city life, it was already night. Nights are quite safe in Udaipur. We walked around the lake for sometime and also saw some foreign tourists roaming the city at night. We were all tired and finally returned to our rooms.
Day 5 | Udaipur - Delhi
We checked out of the hotel before noon on our last day. We stocked our luggage in the store room of the hotel and set out for the cultural market in Udaipur, in and around Hathi Pole region. We had the most awesome breakfast the last day, cheap and awesome. It was a small shop serving street food. We had regional food, kachori, samosa, poha and lassi, but all of premium quality. We then walked to the market where we bought some memoirs. We returned after some hours and still had time before we left for the railway station. So, we went to our favorite place, the lake and its ghats. It began raining after some time. We took shelter in temples around, from where we viewed the lake in its full youth, churning and roaring. It rained quite heavily as if it wished goodbye to us. We had lunch in a street restaurant and then went to hotel to get our luggage. We waved goodbye to our lovely friend at the hotel, a cute tortoise.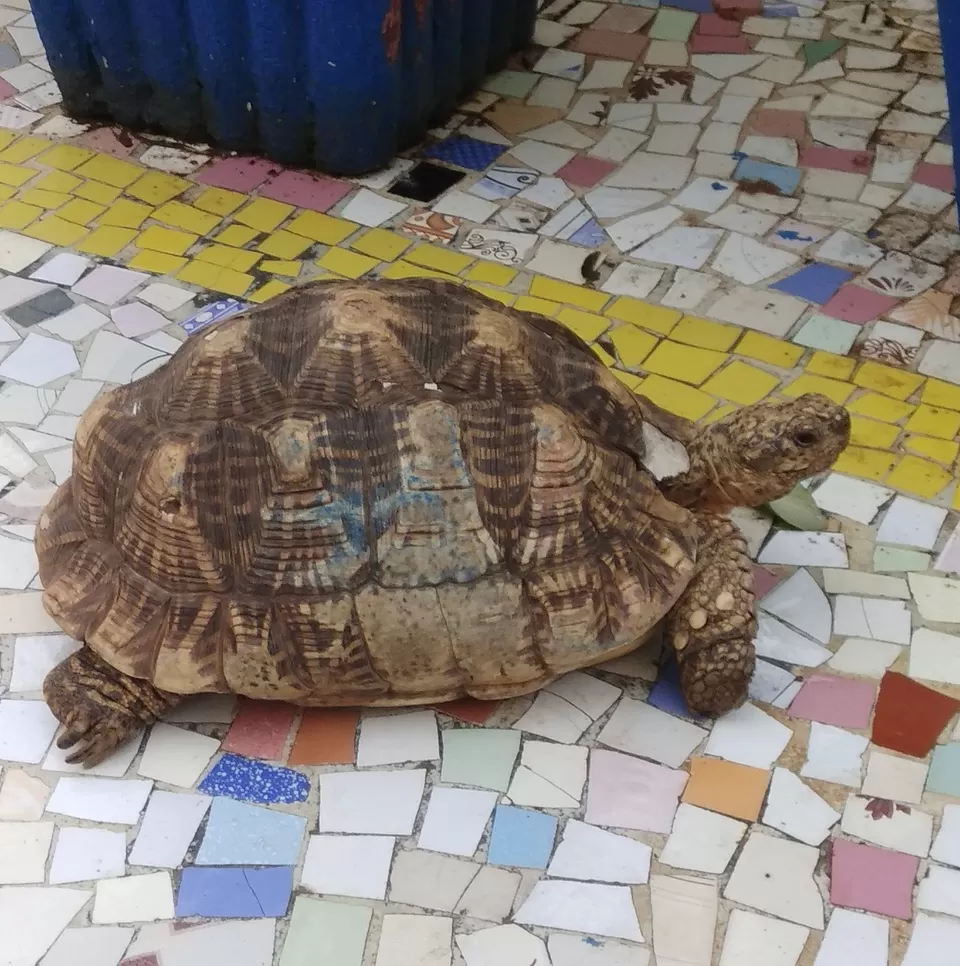 We paid our tributes to the hotel staff and left for the station. After a night long travel, card games, song sessions, long chat and uncomfortable sleep, we reached Delhi in the morning. Although we were physically tired, mentally we were fresh and all charged up. The trip and the place had been lovely. It was as if the trip had hugged us out of all our worries and motivated for a new start.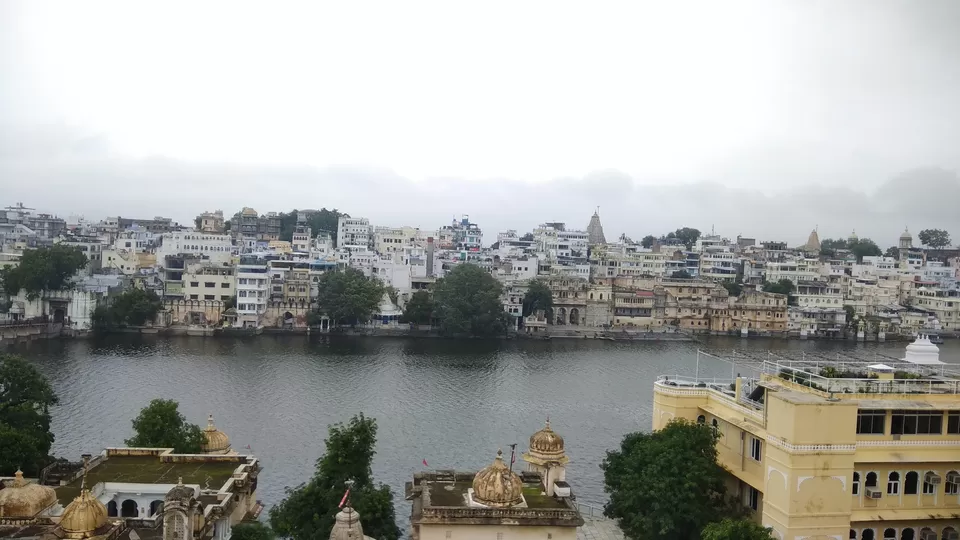 From mountains to lakes, clouds to valleys, rain to hard sun, Udaipur offered us everything altogether. We got more than what we had hoped for and the place is etched in our minds and hearts forever. And yes, a very memorable memoir which I got from Udaipur and which I almost use daily are my wonderful garments :p !
Frequent Searches Leading To This Page:-
udaipur package itinerary, udaipur to goa trip package, Tripoto udaipur package, udaipur tour package from udaipur, udaipur trip packages, adventures trip in udaipur, most expensive hotel in udaipur, places near udaipur within 100 km, nightlife in udaipur, luxury resorts in udaipur