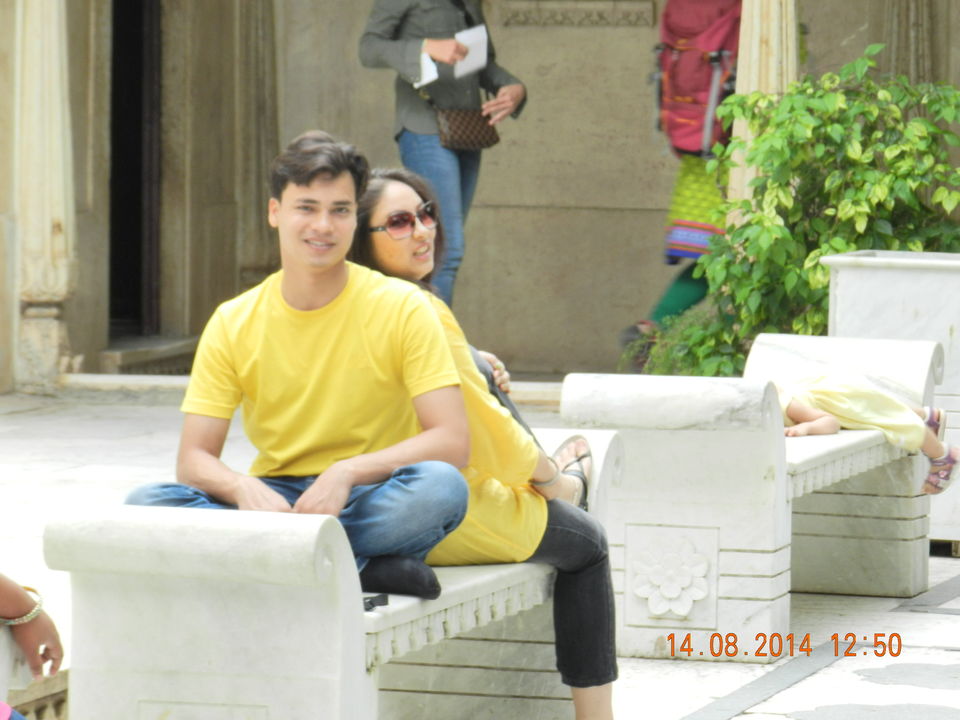 The City of Lake.. !!!! I guess you get an Idea about the Destination. It was 15 Aug 2014 Long Weekend. 13th evening we started our tour to Udaipur and Mount Abu. So here we reached at 14th Morning and got transferred to our hotel. Later we started our Udaipur tour, Starting with Rope way. With the help of rope way we reached the Temple Annapurna Karni Mata. Amazing view of City of Lake, We took some photographs. The weather was perfect that time. 

Later we moved to Pichola lake but could not enjoy boat ride because of Maintenance but i don't know exact reason. I enjoyed camel Ride in Rang de basanti Style the only difference is Aamir khan was sitting on a Horseback and I was sitting on Camel. He he he.. Later we went to visit City Palace. OMG that was amazing architecture of Maharajas of Rajasthan. I just want to write, must visit once in a life if you are an Indian. Just know about your own Country first then visit to abroad. 

There are so many things to explore and I always suggest people to travel which gives you happiness and open your mind too. Now time to share about boat ride at Fateh Sagar lake, Reached Nehru Park which is between a lake, I enjoyed and took some photographs over there. Later we went to see Puppet Show, that was also amazing experience of Live show. I love to Enjoy live music but enjoy that too. Overnight at hotel to visit Kumbhalgarh Next morning. 15 Aug 2014, time to visit Kumbhalgarh, we started to drive to visit Eklingji temple, I did not visit that temple because there was too much crowd and I have a problem with crowded area but as per my sister that was also a example of great architecture. 

After visiting temple we proceed to visit Kumbhalgarh on the way we saw so many beautiful views of that place and Heritage Hotels as I am travel professional. Approx. after 2 hours drive, we reached at Kumbhalgarh, now time to enter the gate. If you look from outside you see a magnificent view of a fort. To reach at the top of the fort you need to walk or i can say little trekking was there. Finally reached at Top, took so many photographs there. Ohh I forget to share lunch time, we had a Rajasthani Roti very big in size with shudh desi ghee. Slept well to drive mount Abu next morning. Amazing Views, Amazing people, Amazing trip and amazing memories.

So guys If planning for weekend, Udaipur is one of the best destination for you. Just make a plan for your next weekend and I am sure you will enjoy your time with your lovable people. Be a Traveller. 10,000 thousand miles to go.. Thank you..