We were all excited for our next adventure. We reached Ras Sudr at about 7pm. After a two-hour bus journey we were all tired and we wanted to take enough rest to be energized for hiking next day. Even after a tiring journey we all sat in a garden after dinner enjoying the famous sheesha and of course shai, the Egyptian tea. The night was low-key but fun. Our group coordinators played flute and guitar and sang some local songs. I did not understand what they meant but it felt really good.I was very excited for the next day. I had never hiked a mountain before. I wanted everything to be perfect so I packed my bag before sleeping charged my phone and speakers and kept everything in one place all set to conquer Mount Sinai. I couldn't sleep all night (which I regretted later) I was excited and scared I thought what if I couldn't do it what if I give up.
Next morning we woke up early and went for breakfast. We were instructed to not eat a lot (hahaha we knew why). After breakfast, we moved into the buses and we left for the base it was a four-hour drive from the hotel where we stayed. We stopped at a small hotel for refreshments. There we were given instructions about the trek and how we needed to work as a team. We reached the base at about 3pm and the view was mesmerizing. I forgot all my fears I just wanted to reach the top and see how the world looked like from there.
At about 4pm after getting our luggage checked we started hiking. We were 50 people divided in 3 small groups. We were told to stick together at all times we were not allowed to take breaks unless the leader asked us to. It was fun in the beginning we were playing music and walking. Everything was going good and I was enjoying it until my nausea kicked in. I couldn't breathe my nose was cold and I felt like my brain would freeze. Luckily, we were on a break when this happened though I wasn't the first one to be sick but I didn't want to bother anybody with my stupid nausea. So I drank some water had a sugary candy (which I kept for such situation) and I felt fine. This `fine' feeling lasted for only ten minutes. When it struck me the second time it was worse, I felt blood coming out of my nose and my body froze I couldn't move for a minute but being the person I am I decided not to tell anybody and deal with my problems on my own. I took out a paper napkin from my bag stuck it up on my nostril and acted as if I was about to sneeze so that nobody could know that I was dying. For a while, I thought it was going to be worse than my worst nightmare. When things started to get out of control I decided to finally seek some help. I told one of my Egyptian friend that was dying and I wanted to go back but he assured me that I would fine in a while as it was common to have such discomforts (as he called my symptoms of death) when one hikes for the first time. He gave me a weird liquid which he proudly mentioned was his recipe that he drank to keep him warm whenever he hiked and surprisingly it worked within ten minutes I was perfectly fine. That was the moment when I decided it was better to just ask someone for help instead of making a complete fool out of yourself. Finally, we reached the point where we were supposed to have dinner. We had to use mother nature to satisfy our nature's call. After waiting for about an hour the dinner was ready. It was dark and we used our mobile's flashlights to see what we were eating. It was basic but delicious (it felt more delicious because we all were dead hungry after walking so much). We were told that we had to 'only' climb 700 stairs to reach the point where we were going to set up a camp or sleep. "700 stairs more", I screamed. "I have already eaten a lot and I just want to rest then and there period" I announced. My group leader and my biggest frenimy reminded me how I was a pampered little princess and wasn't made for adventures and travelling which instigated me (as always he knew how to make me do something). I got angry and started climbing those rocks which they called stairs. We had to stop after 650 stairs because the rest 50 were to be covered in the morning to see the sunrise. I was furious and I was climbing fast. I was the first one to reach at our base. After reaching there I realised I walked too fast and my legs were trembling I lied down on a big rock and saw the sky. It was full of stars, shiny stars I was mesmerised I forgot everything the body ache, tiredness everything was gone what I remembered was the prettiest night sky I had ever seen. The stars were shining bright like actual diamonds placed properly on a blue cloth to make it look so perfect. I had no words and I still have no words to describe how I felt about the night. The next thing I remember was shakshak exclaiming "YOU DID IT AUWIII!"(yes that's how he pronounced my name). I felt happy I did conquer a mountain. It was a proud moment for me. Finally I had achieved something all by myself (and of course the weird liquid). Slowly, everybody reached. It was very cold up there, the temperature was around 6 degree celsius. We all sat there covered in our jackets and blankets, tired yet contented with our achievement. We gave each other massages, searched for our spots to sleep, fought for the bedrolls and blankets. There was a small cafe on the top of the mountain and I'm not lying that old man made the best hot chocolate I had ever had. We smoked cigarettes and drank hot chocolate to keep ourselves warm. Some went to sleep, some started gossiping, some were discussing cliché ghost stories and philosophies of life. After a while, we all slept close to each other like a hand-woven woollen cloth to keep each ourselves warm. Next day, we woke up early in the morning to climb the next fifty stairs and as everybody said to see the most spectacular sunrise. When I reached at the top it was too cold my toes were freezing inside my shoes I couldn't bear it and decided I was going back to the base when someone called my name from the back and said it was time. I turned around to see the most spectacular and beautiful sunrise of my life. The sun rose from behind the St. Katherine mountain the round orange ball of light. I smoked a cigarette while I watched the most beautiful view with some of the best bunch of people. We got down to our base to have breakfast and head back to Ras Sudr. The journey for the top to bottom was comparatively easy (and we took a shorter route too). From 18 th August 2017 to this day I still cannot believe that I conquered the mountain and doing it was the best decision of my life. It made me confident and taught a very important lesson of my life is all about taking risks and dropping every fear.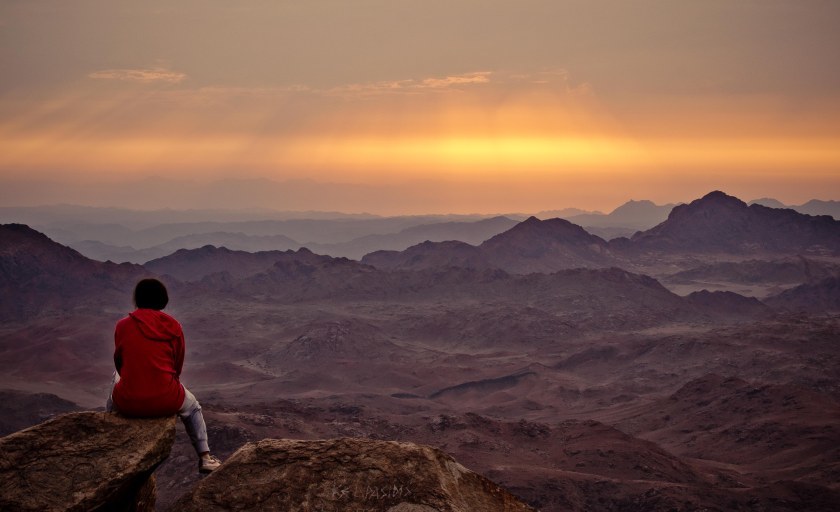 Posted on