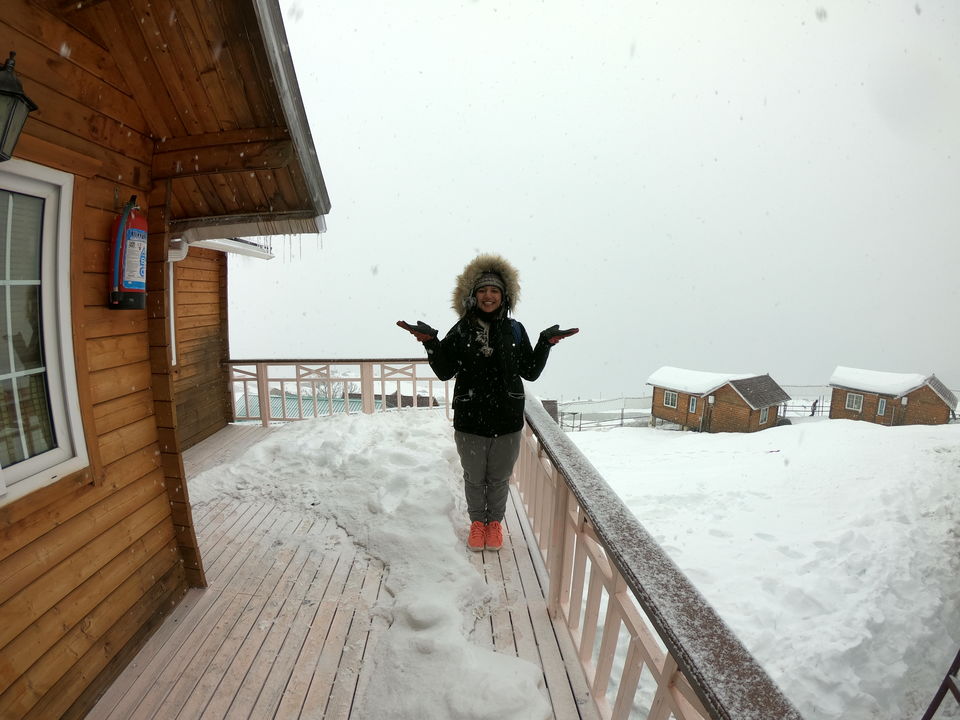 Have you ever planned a trip to a certain place, got the tickets done, started dreaming about exactly how you'd be spending your days, what food you'll be eating, what clothes you'll be wearing only to have it all cancelled in the end?
Yes? Auli was that one trip for me. I was really looking forward to this one since a long long time but it always turned out like one of those jinxed Goa plans until 2019, when one of my friends mentioned he was going to celebrate New year's in the gorgeous mountains of Auli and asked if I would be interested to join his troupe.
Considering the history of my Auli plans, I was a little doubtful if this was going to workout since I was already supposed to be in Delhi at the same time. I still gave it a shot and decided to end my Delhi trip on 28th of December and left for Uttarakhand on the 29th. I took a bus from Delhi to Dehradun at 10.30 am and reached ISBT Dehradun by 5pm where I was picked up by my friend - Anubhav. I was later introduced to 3 other members of his group - Rahul, Richa, and Manish who were doing some last minute shopping at Decathlon before commencing the trip. We met, exchanged hellos, got in the car and left for Auli.
This is how our trip to the wonderland began-
The drive from Dehradun to Joshimath commenced and it took about 10 hours to reach our destination. I think I suffer from highway hypnosis (JK) as I am usually very sleepy in a moving car which means, I slept through the whole journey. Yes! Slept in Dehradun and woke up after 10 hours in what I call - HEAVEN!
I opened my eyes and what do I see...the glistening snowy mountains staring right back at me. It felt like waking up from a dream.
We had now reached Joshimath, which is the base point for Auli.
Let me take few minutes to explain the map of Auli to you.
We have 3 points here, A- Joshimath, B - Lower Auli, C- Upper Auli (Skiing slopes)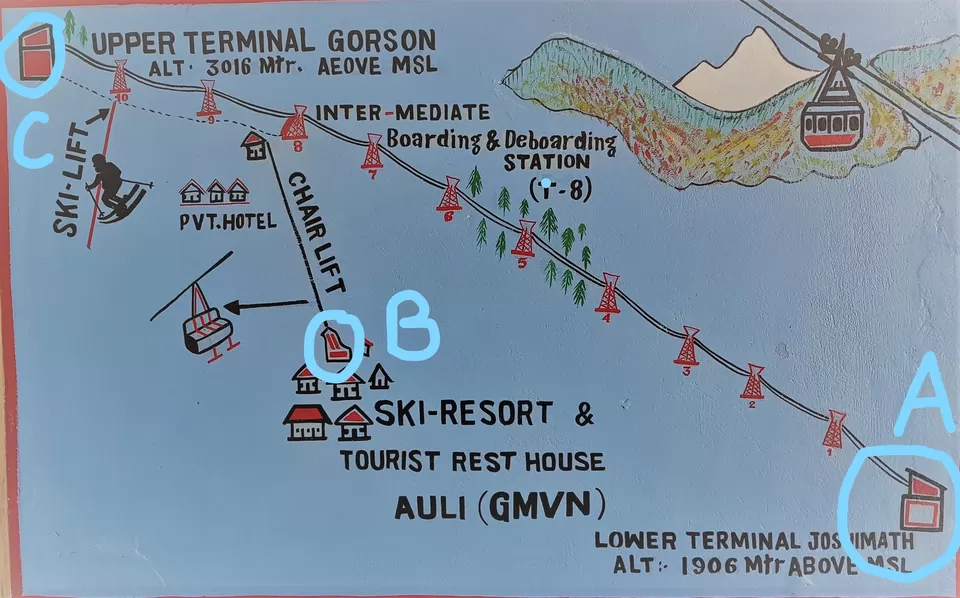 You could plan your stays at either one of them depending on your budget and preferences -
Joshimath - There are good number of hotels available in Joshimath because its basically the main market area. Auli has limited stay options so the ones that you get are a little higher on the price range and if not booked well in advance, you may not get them for the required dates. On the contrary, stays in Joshimath are competitive so you can save good amount of money here. There is a ropeway which has multiple deboarding stations which can take you to both lower Auli and upper Auli. You can plan your visit in the morning and make it back before 5pm in the evening. Best of both worlds!
Lower Auli - GMVN option is available here along with some other stays too. You can also check with travel companies if they can set up a camp for you here. Spend good time doing snow activities, take a cable car and reach the skiing slopes in just 7mins and come back whenever you feel like.
Recommendation - GMVN Ski resort and Blue Poppy resort.
Upper Auli - You can reach here directly via ropeway from Joshimath or chair car from lower Auli. There are limited stays here so ensure that you book yours well before arrival. Also, there is little to no network most of the time so relax and leave the phone behind for a couple of days.
Recommendation - Nandadevi Eco hut cottages and Cloud End.
Since we had our personal vehicle, we drove till the lower region of Auli. The road was slippery because of heavy snowfall so we parked our car 500mts away from the base location and walked the rest of the way.
On our first day in Auli, we stayed at GMVN Ski resort which had an amazing view of the snow mountains.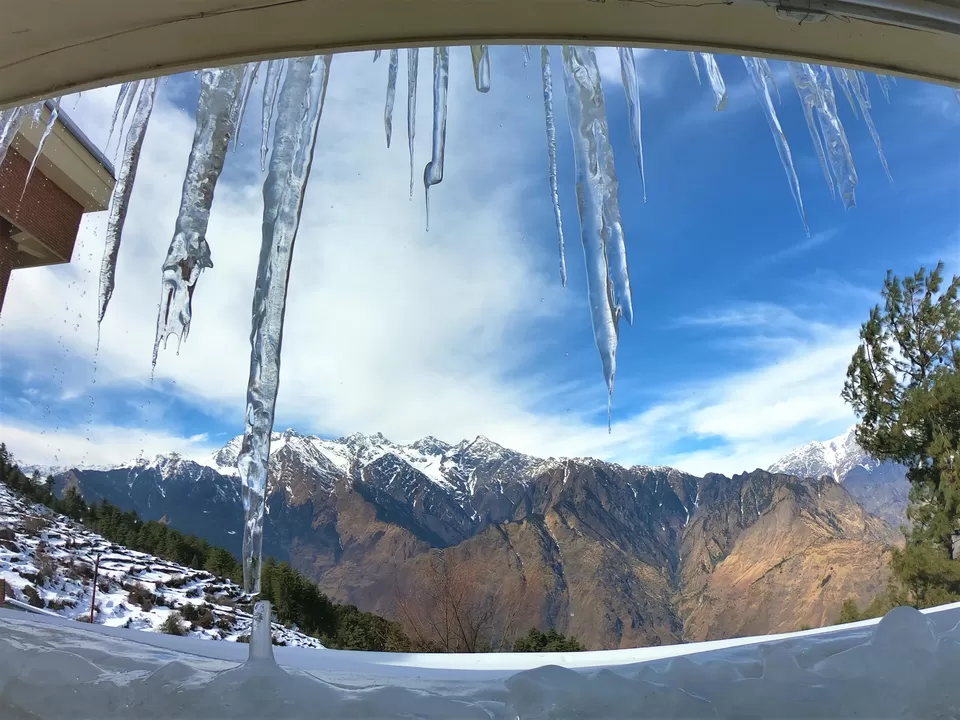 We checked in to our rooms, took a shower and relaxed for a while before leaving to explore the surrounding area.
The first thing we did was find a cute little shop/stall just outside the hotel with the perfect mountain view to have our breakfast. We clearly overate but that word is non-existent when you're on vacation, right?
With our tummies full, we then took a short walk and saw a flight of stairs. We started climbing to see what was there at the end of it. To my surprise, these were a lot more than what I expected and it finally led us to a huge open area at the base of the slopes where multiple snow activities were happening all at once. There were people being pulled down the slopes on tubes, few others were practicing basic skiing, ITBP professionals were gliding down the slope leaving everyone amazed with their skills, people were climbing the slopes, this was also the point from where chair lifts were leaving for the upper Auli region. Naturally, there was a lot happening here. We could hear everyone screaming in joy, it was obvious everyone was having a lot of fun. We couldn't resist ourselves from diving into the activities and ended up spending the rest of the afternoon playing here.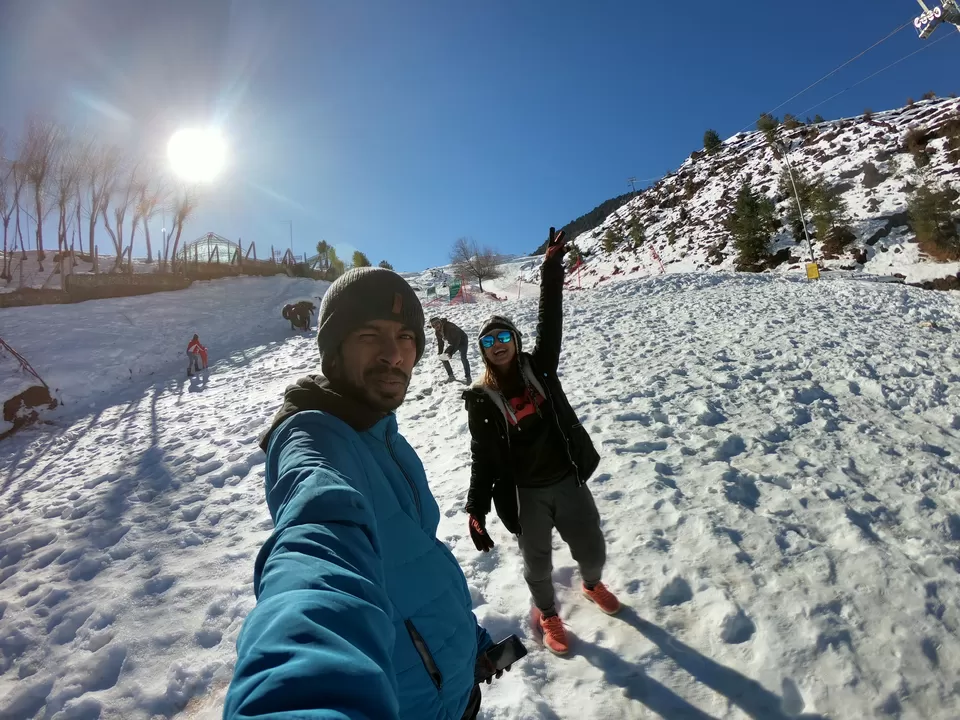 Later, we climbed down the same stairs back to our hotel room and ordered lunch. The hotel had a vast menu and everything was available for ordering.
We ate our lunch and relaxed for sometime. The rest of the evening was spent enjoying peaceful walks around the place and wondering what the whole place would look like in summers. Balconies were shut since the floor was full of snow, tables and chairs frozen, icicles had formed on the ceiling, it was one crazy sight.
If you've ever been to the mountains during winter season, you'd already know evenings are meant to be cozied up in warm blankets. Getting out even to use the loo becomes such a challenging task. So, dinner was done and off to sleep we went because the next day, we were going up the snowy slopes.
We woke up at around 8am and packed our bags because we had to check out by 9am. We picked our bag packs and climbed the stairs again to take the chair lift this time. It costed us 500/- per person both ways since it was peak season, during off season it would've costed around 350/- per person.
3 of us sat on the chair car and off it went! Best part about the chair lift is that it is open, unlike a gondola. What does that mean? You get the complete view of the snow mountains, you can see people appear like minions while you fly above them, you can feel the cold mountain air gently caress your skin, it's noway to be missed!! This joyride covers about 400m and takes 7mins to take you to the skiing slopes. Upon reaching the destination, you are required to de-board the chair as quickly as possible to make way for others.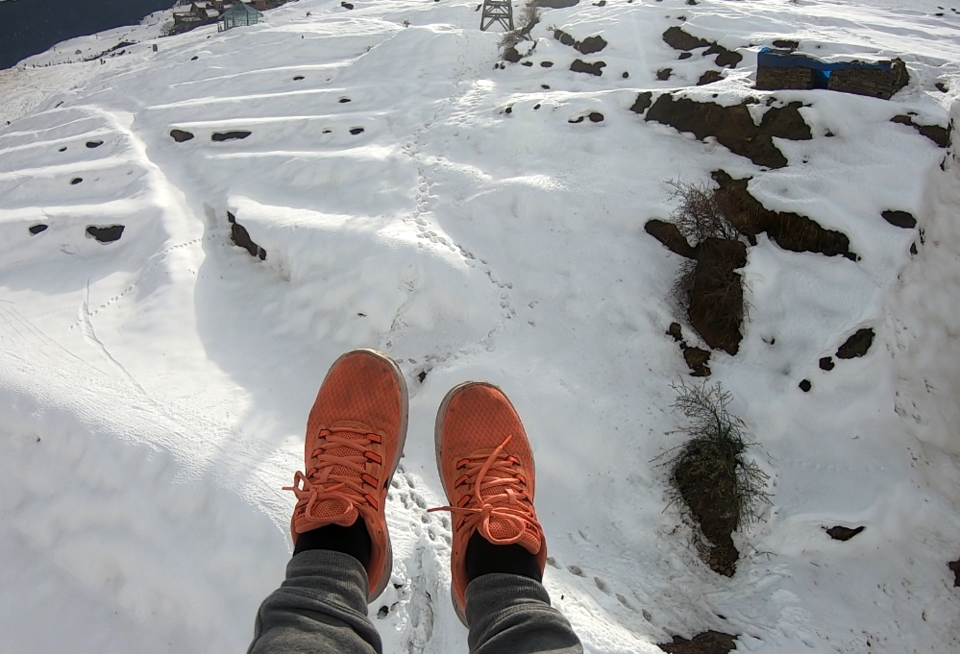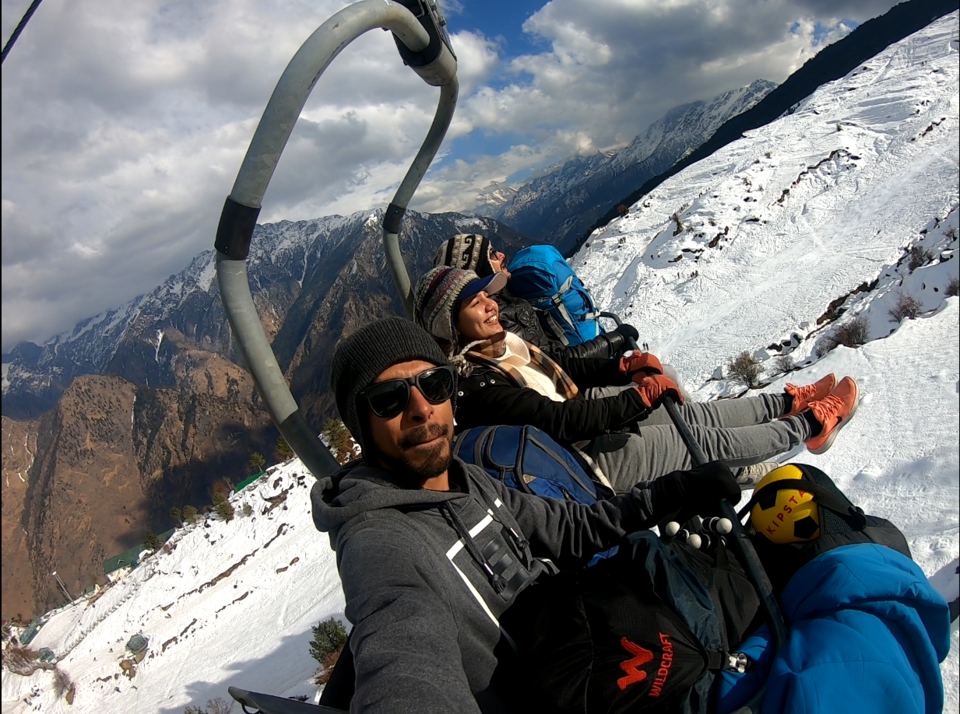 After getting down and regrouping together, we began searching for our hotel for Day-2 which was Cloud End. Since the whole place was covered in snow, everything looked just the same. After good 25mins of walking in heavy snow, we found the newly built hotel - Cloud End. This hotel was freshly constructed and the rooms were HUGE. Additionally, we could now see the mountains from a much higher point than the previous day plus the crowd was so much less here.
We finished our lunch, rented snow boots from the hotel and left to explore. The whole place was literally white and we were almost in knee deep snow.
We walked up a slope thinking it would be a tinnie minnie climb which could be easily done for fun but just after few meters, I realized how difficult walking on snow really was. At the back of my mind, I was thinking about the ITBP groups I had seen casually carrying their heavy bagpacks, ski equipments and climbing the slopes like it was a joke. We made it to the top of the slope then came rolling back down because it was easy and a lot more fun.
All 5 of us walked to a point almost at the edge of the mountain which we had completely to ourselves. The wind was heavy and cold and we could see Nandadevi peak right in front of us. We found a huge rock which could accommodate all 5 of us and sat there staring at those mighty mountains, standing tall, withstanding all these extreme conditions.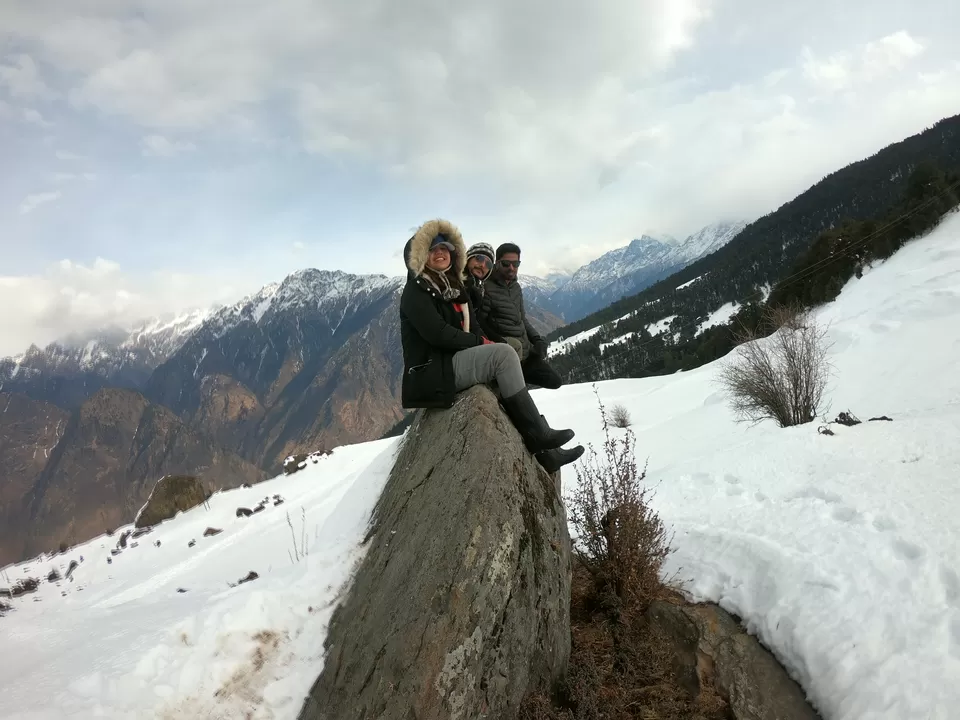 Gradually as the evening progressed, it started getting colder, and the crowd started moving back to the hotels. It became quiet, I was mesmerized and overwhelmed by so much beauty. We now knew, that we had to go back to our room too and so we did. It was the last day of the year so we had big plans to celebrate but looked like it was too cold for a bunch of people to stay outside in the snow at night. So...we brought the party home. We welcomed 2020 (I know what you're thinking) with open arms and danced the night away.
It was the first day of the year and I was beyond happy to start it on such a happy note. Waking up in a place surrounded by mountains, being in laps of the Himalayas and being able to see such marvelous mountain range felt like a dream.
We had a hot cup of tea and aloo parathas at Cloud End (I remember this so very well only because they were delicious!)
After this, we moved to our new temporary house.
Nandadevi Eco hut it was!
If you visit Auli, you MUST stay at this cottage. Booking can only be made from GMVN's official website.
What a beautiful cottage. It had a main room, 2 bedrooms, a kitchen and bathroom. There was a window right next to the bed where we could see the gondola taking people from Auli to Joshimath. This was the best stay so far however, because this place was located at such a height, we had limited water supply and limited food options. Network and power kept fluctuating very often too. Living in the mountains at such a height can and will have its own set of challenges however, one needs to be know what and what not to expect when arriving at a place like this.
We went out - this time we were few meters higher than where we were the previous day. We spent the whole day playing in the snow like puppies, we couldn't get enough of the views, the mountains, it was the best start to the year. We saw the artificial Auli lake which was frozen at the time.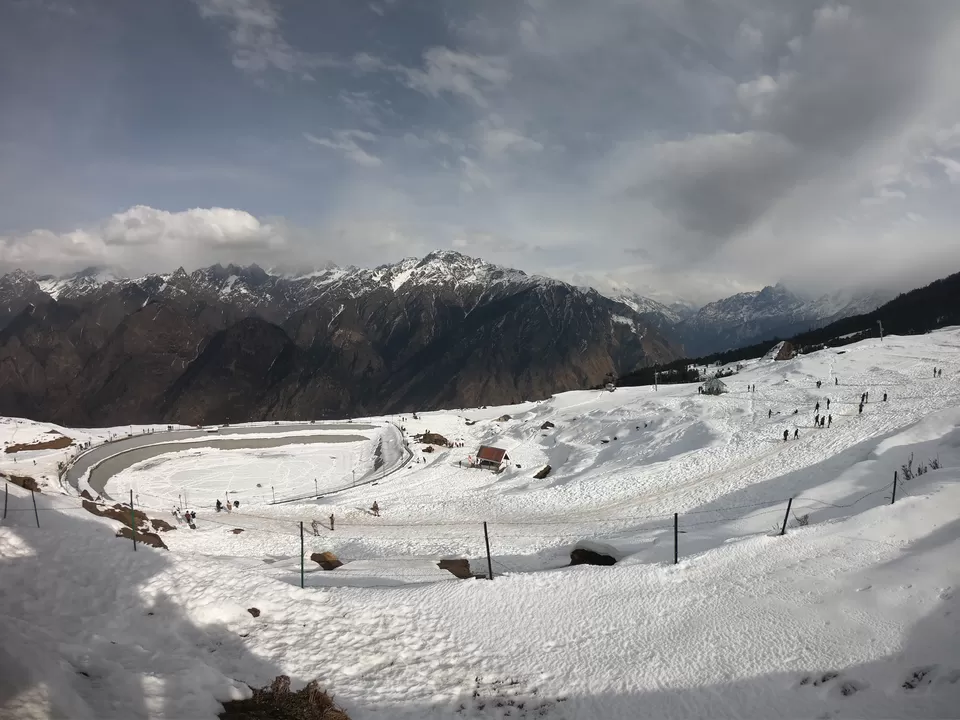 In the evening, it got really cold and we felt colder because a lot of snow got inside our clothes and boots so we changed them quickly, wore warm socks and snuggled inside warm blankets.
We were tired and fell asleep in no time only to wake up to realize it was time to go home. The morning light looked incredibly beautiful but we weren't going to witness it for long. We packed our bags and checked out from the hotel. Just when we were about to exit the place, I saw cottony soft snowflakes falling from the sky.
You know, snow is one thing but witnessing snowfall is a whole different experience. It is pure magic and we were seeing this. Slowly, the snowfall turned the whole place into a winter paradise.
We found out that it had snowed heavily on the roads to Joshimath due to which the road was now blocked. What did this mean for us? We were definitely not leaving!!!
We started walking and looked at groups of people dancing in circles to the left and to the right.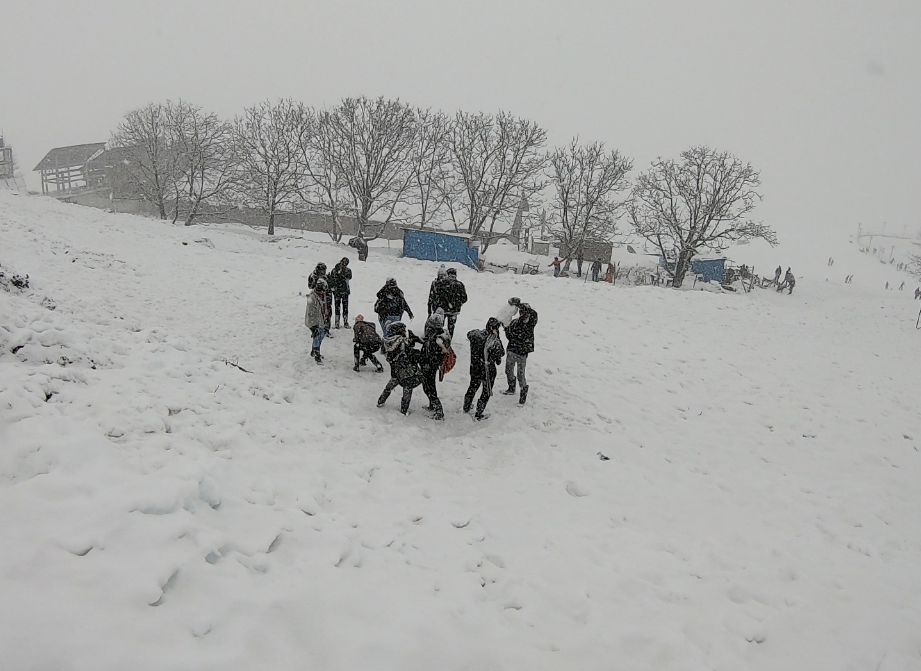 We stopped hotel hunting for a while and started throwing snowballs at each other, made snow angels, jumped, hopscotched, basically everything a 10yr old does upon seeing a playground. The place looked like a scene from Narnia or perhaps from Winterfell. We now, wanted to get inside a comfortable place and got back to checking availability for rooms but one after the other, we started getting 'No' from each hotel we called up. After few hours, we found out, there were no rooms available in entire Auli. This was unexpected. We were stuck in the middle of snowfall with nowhere to go. We then spoke to some locals who said, they could make some arrangements for us and thus, we landed at this place which you can see in the picture below.
It felt like we were in the middle of nowhere. Though we were promised good sleeping bags and wooden logs, none of them helped with the spine chilling cold we experienced at night. I honestly felt like I was part of a survival movie like "Revenant" or "The mountains between us" The night was survived by us somehow (How? That would be a story for another time), we barely slept.
The morning sunlight felt like one sent from heaven to save us. I put my sleeping bag outside and slept under the sunlight for about an hour.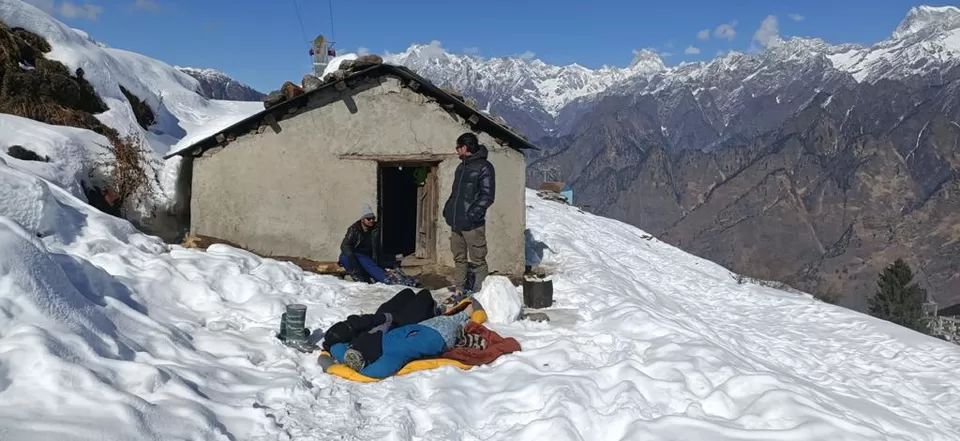 Thankfully, we found a hotel at lower Auli named Blue Poppy and we took a chair lift to reach there. This was one beautiful room with an attic overlooking the valley, and it had everything that we terribly missed the previous night - cozy bed, warm blankets and a heater.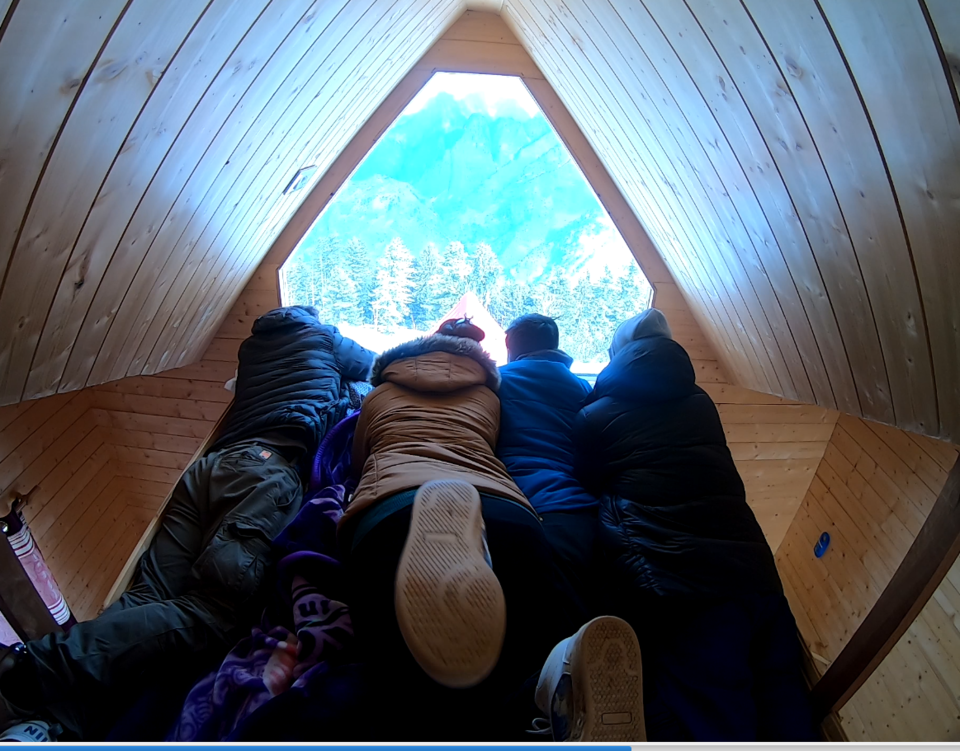 It started snowing again in the evening so we stayed in our room and relaxed because we really needed it. Dinner was served at the buffet hall post which we went off to sleep.
The next morning, we had our breakfast facing the gorgeous Himalayan peaks, one last time before it was finally time to leave for Dehradun. The whole adventure journey was finally coming to an end and I was sad, don't we all are when our trip approaches the end?
We stopped by at many places and went to the forest to soak in all the beauty there was and then hit the road to Dehradun.
It was one hell of a trip, which I started solo but ended with 4 friends and one crazy adventure. I'm glad I went on this one.