Mount Abu is nearly 226 km from Ahmedabad nearly it took us 5 and half hour. We went to sunset point on day one in the evening after reaching immediately. It was totally unplanned getaway so we found difficulty in finding accommodation. We are all family So opted for proper luxurious stay at Hotel Swagat. They charged double the price for spot booking. So of possible pre book. Also there is heavy rush during weekends. Hotels are full you can't find parking for car as well. Go in off season or during week days if you want to enjoy and have hassle free trip.
Sunset point
It was on height we need to climb up and it was crowdy too...take care of your kids if they are little...also you can buy Souvenir there like handicrafts, puppets, artifacts..the view was amazing of sunset..We found heavy traffic jam way back to hotel and it got almost half an hour stuck up...so better park your car and walk to places if possible else keep beeping horns....no option...
Night
It was a a chilling night...that too in summer....reminded of chilling nights at Manali...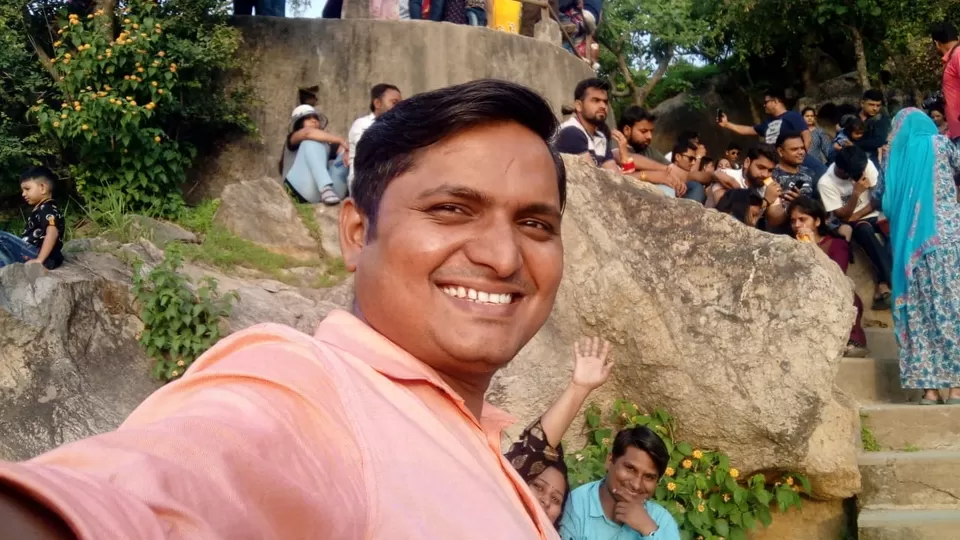 It feels amazing to see sun set from such heights then normal sun set...
Early morning...it was very foggy and very chilled....you can barely see the person next to you..but yes this was in very early morning....as day lengthens it's effect was gone... We had a morning walk in the park near by and then a good breakfast and then heading to Nakki lake... It was of water short as it was under maintenance...but the view was amazing...we didn't went up to toad Rock but yes can be seen from there as well
Yes nakki lake has a majorly shopping area as well where one can buy local and Indian stuffs else you can do window shopping...
Dilwara temple
I was lost in the beauty of architecture and carvings and the history....I did spend a honest and good time viewing those carvings it's beauty and reading boards as well...basically it's about Jain Religion. Pics were not allowed so I don't have any
Somnath temple
It's a Lord Shiva temple a very old one ...here too pics were not allowed but yes very pious clean serene place
One of the member of our group did saw Cobra here. It was really black and long.
Over all it was amazing and stress relieving trip . We intended to enjoy instead of rushing to many places and making it troublesome.
I believe to visit place and enjoi it's beauty, culture, nature, people, moments, stress relief, and to rejuvenate mind and soul...
This was the time last year I had this trip to Mount Abu. This was my experience sharing with my own pics with not so eye catching pics...but yes I wanted to share my experience so used my own pics...that's it from my side..let me know how you felt...Bye tc