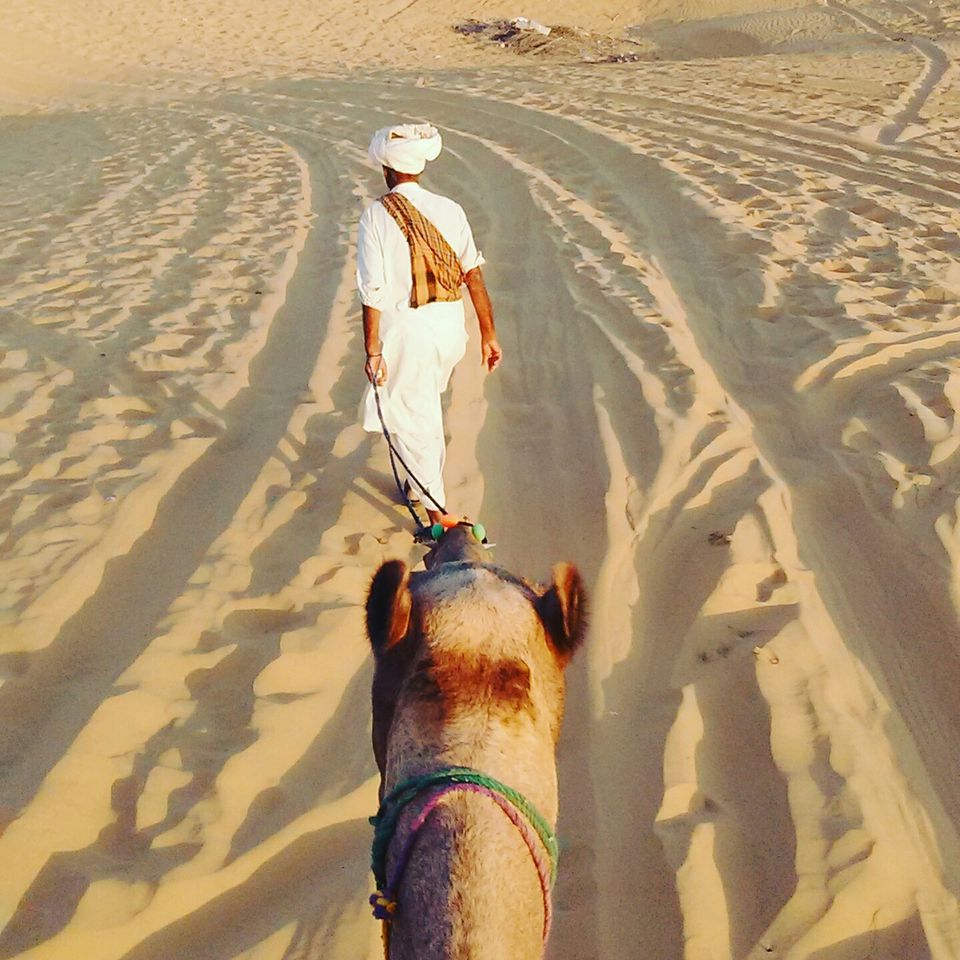 On 23rd October, we boarded our early morning flight to Jaipur from Bangalore for which we spent 2800/- per ticket as we booked it 7 weeks ahead. 6:40 flight reached Jaipur around 8 which was earlier than mentioned. Excited to have arrived early, we rushed out of the airport. We did a mistake of taking the pre-paid taxi. I recommend you to use Ola or Uber services as they cost you less. We reached our hotel which we had pre-booked. Hotel Kalyan near Hathroi fort. They charged us 1600/- for a room for 4. Room was clean and was worth the money. We had breakfast at the hotel's rooftop restaurant and left to explore Jaipur. All through our journey we used Ola cab services which we found were cheap and convenient way to roam around for a family of 4. We first visited the Hawa Mahal. The cool breezy palace was a treat to eyes. Later we went on to see the very famous City palace. We rented the audio tour guide with 4 head phones and enjoyed the history soaked beautiful city palace and museum. This palace is a must visit.
Then we went on to the Jantar Mantar which is pretty amusing. I recommend you to take a guide here because without guide you wouldn't understand those scientific Marvels.
Tired and all sweaty, we planned to have a quick lunch and head to Amer palace. Aah ! This majestic beauty. Amer palace is so wonderful and mystique. Those gardens, high altitude peek-booths. No words can explain their beauty. (The jeepwalas here try you charge you 400/- . beware of it as it is not that far to trek, I suggest you visit this in the morning and trek all the way till the palace)
Evening we went on to catch the Light and Sound show at Amer Fort. This, my friends, is something you SHOULD NOT MISS. The story of Jaipur in Amitabhji's mesmerising voice and Gulzar saab's words will carry you to another world. I was speechless after this show. While coming back, we saw Jal Mahal on the way from the banks and had dinner at the Khandelwals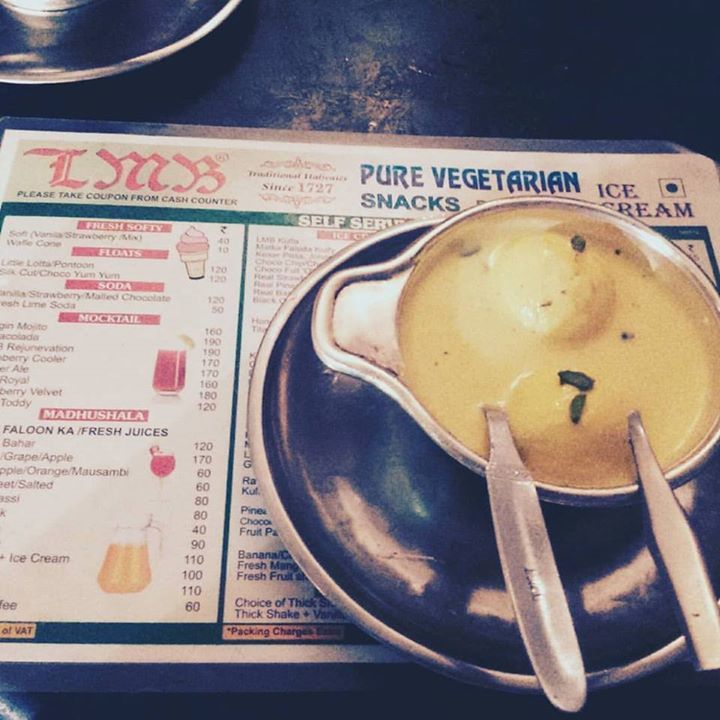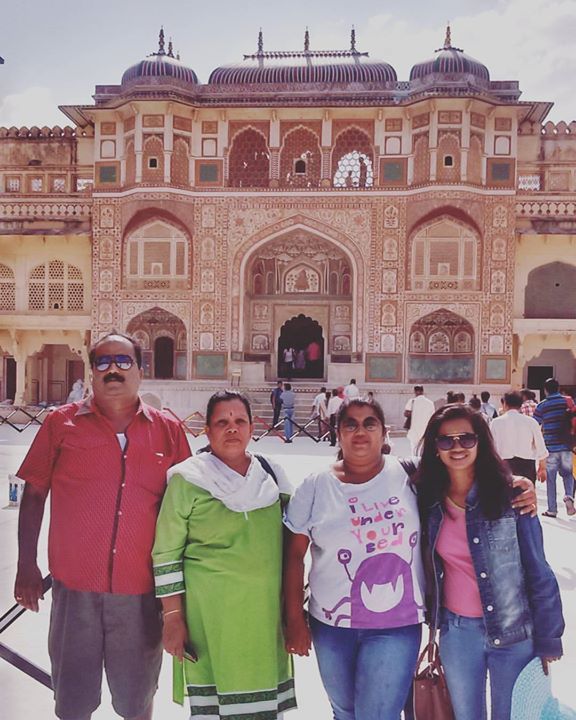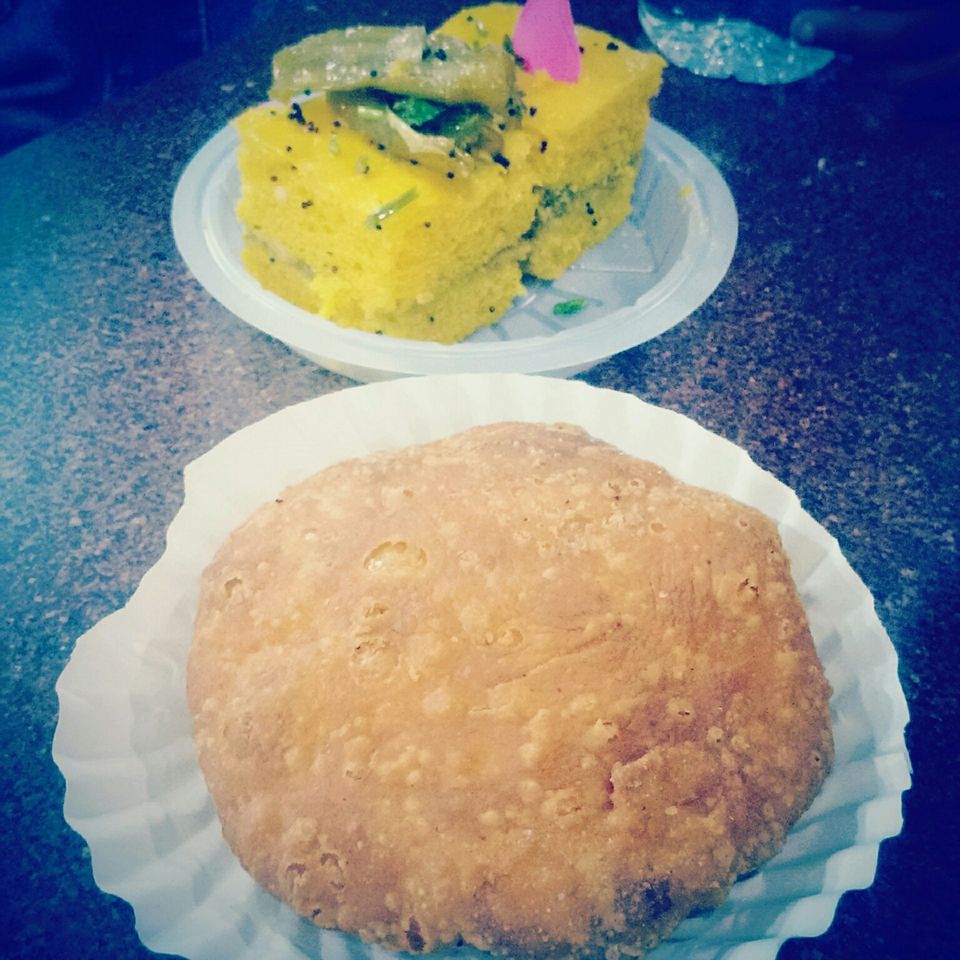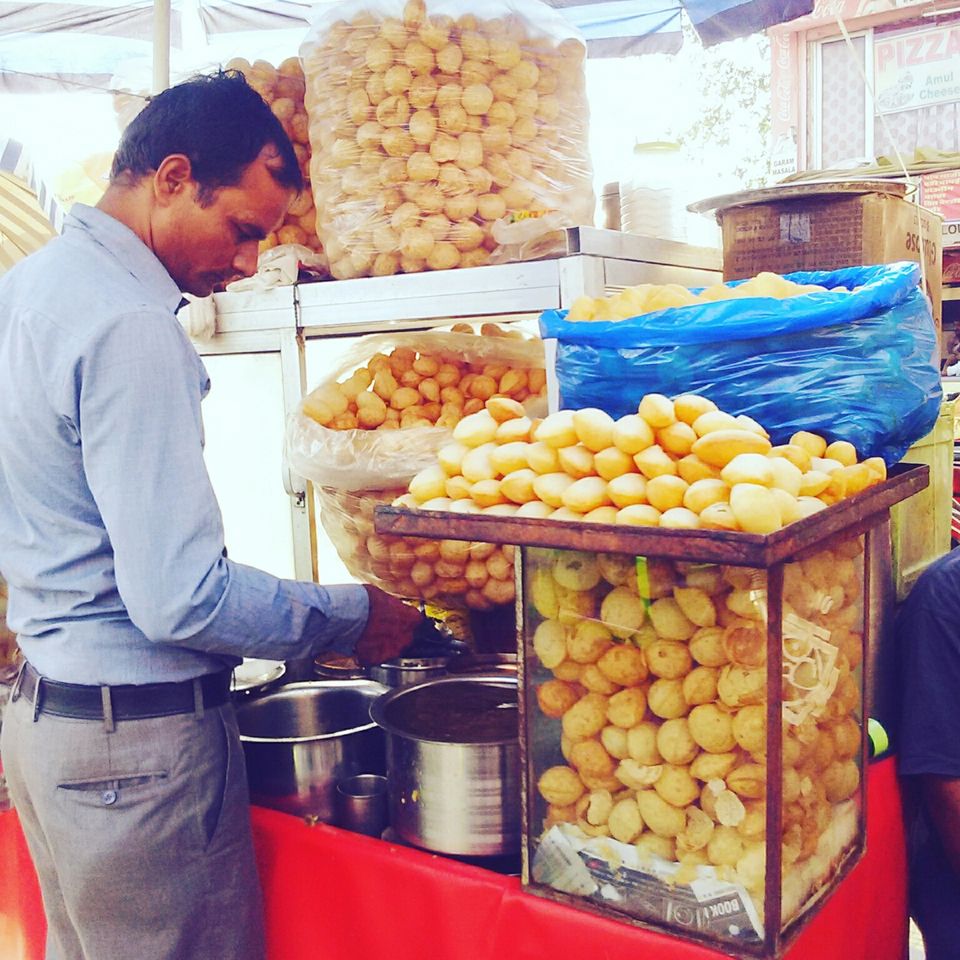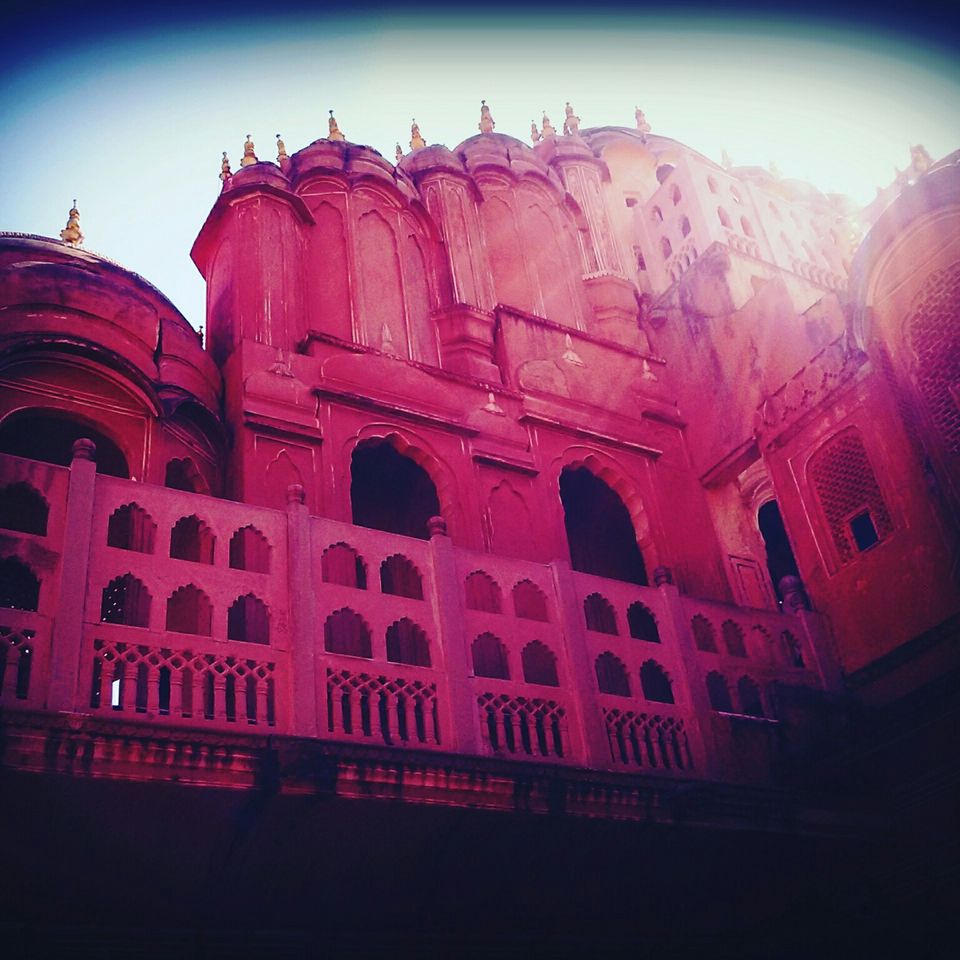 Next day we visited the Albert museum and rest of the day we spent enjoying Jaipur delicacies and shopping till we ran out of money !! :-D Johari Bazar and Bapu Bazar will satisfy your shopping hunger. The Semi precious jewellery, mojaris , jaipuri dresses and sarees list goes on and on. Then we enjoyed the super delicious rasmalai at Lakshmi Mistan Bandar and Pyaz ki kachori at Rawat Mistan Bandar and boarded our train towards Udaipur
Walking out of the Udaipur station, Uber became our friend and dropped us to our hotel Mukund Vilas near Gulab Bhag. After freshening up and breakfast, we went on to see the Udaipur City Palace. They ever royal, ever Majestic Palace. You will be blow away by their Royalty and a guide is must. Hearing the stories of Maharana and his palace, this city became our favourite.
After the city palace, we visited the Saheliyon ki Bari ( Garden of Maidens) and the Udaipur lake. After a short camel ride, we were very hungry and headed to Natraj Dining hall for the best lunch of our lives till date. Their hospitality, the food and the authentic Rajasthani thali awestruck us.
Post heavy lunch, we had a lazy walk in the Gulab Bhag and headed back for a long nap. We spent the evening roaming on the royal Udaipur streets and went back as we had a bus to catch early morning.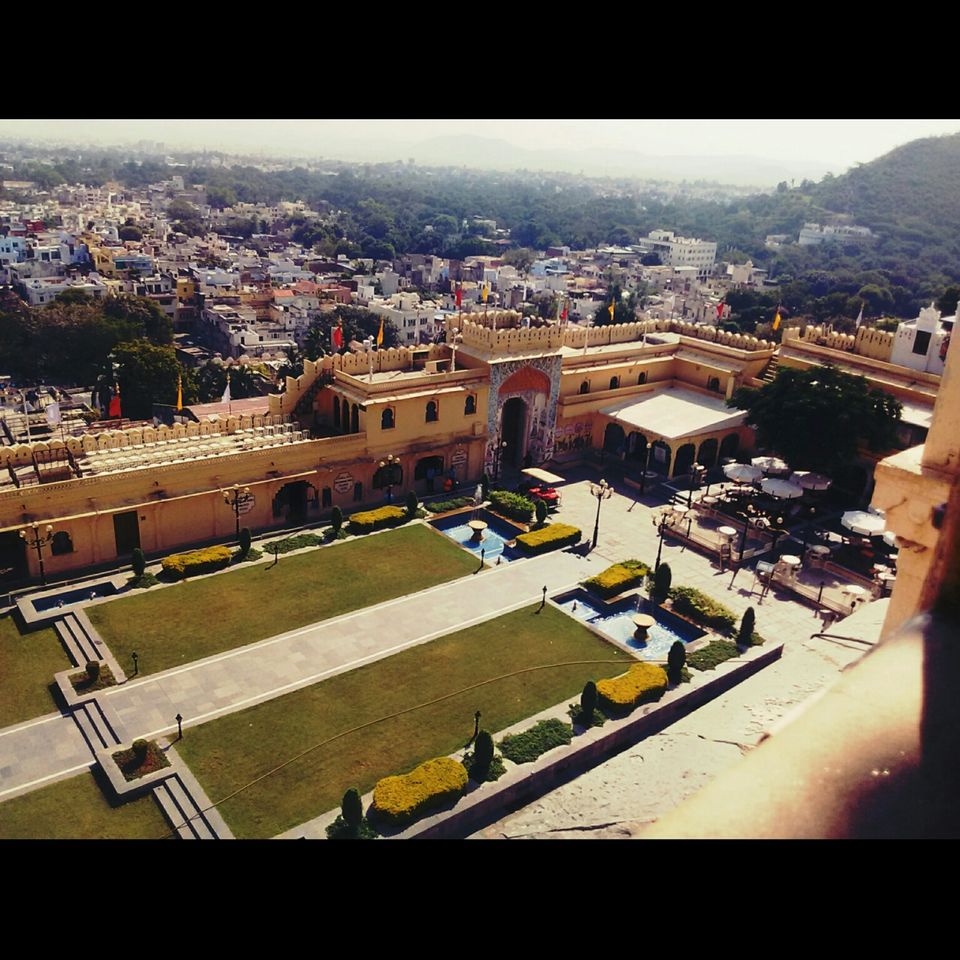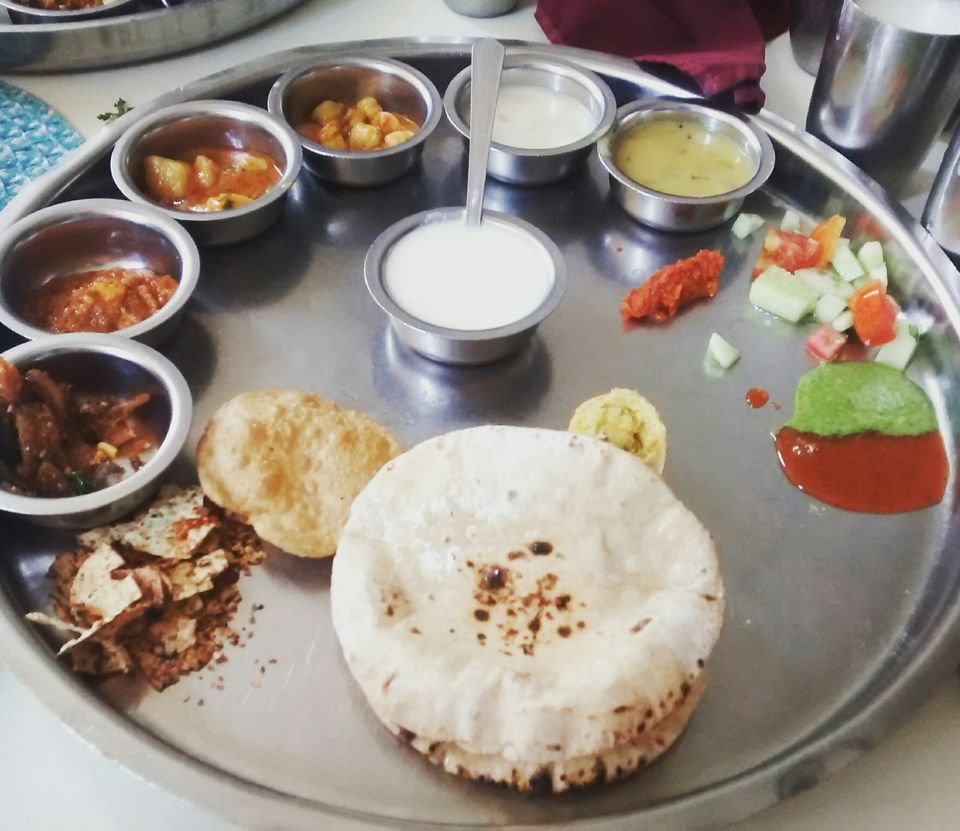 Early morning at 6, we boarded our RSRTC bus to Jodhpur with 4 packs of yummy poha and chai in our hands. Reaching Jodhpur by 11 am, we checked in to Haveli inn ( recommend you to find another one) near Clock tower. We had lunch and headed to the Umaid Bhawan Palace. This is jaw dropping architecture. The vintage car museum, the royal museum and my favourite was the wine list in the museum. Later we roamed in the busy Nai Sadak and saw clock tower. Must try is the rabdi lassi at mishrilal lassi near clock tower and the mirchi bada at Shahi samosa.
Next day was allocated for the Mehranghad (mehranghar) Fort. We visited the huge Fort and the view of the blue city was something I'd never seen before. After 2 hrs of long run through history of Jodhpur, we were tired and amused by the enormity of this Fort palace. We then visited the Jaswanth Thada. Most peaceful place in Jodhpur according to me. The sarang player there was so good and his tunes were making that calm place seem more like heaven.
That night we boarded a train towards Jaisalmer.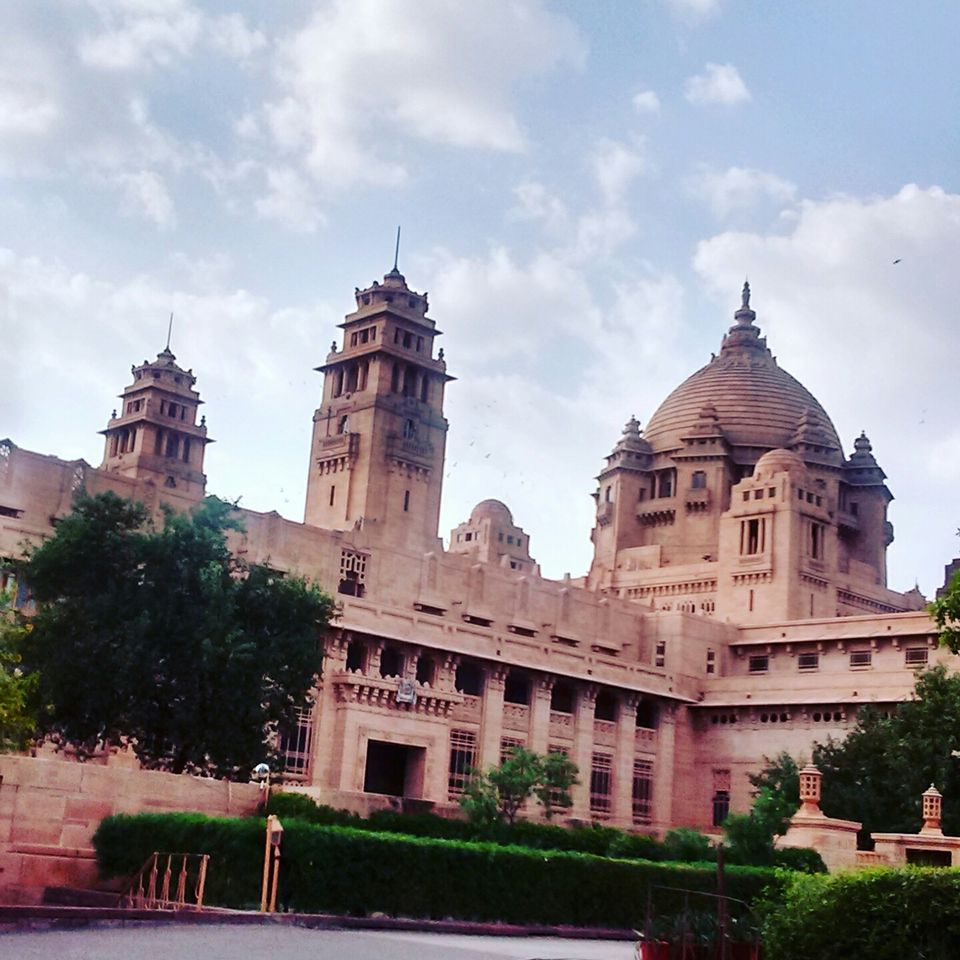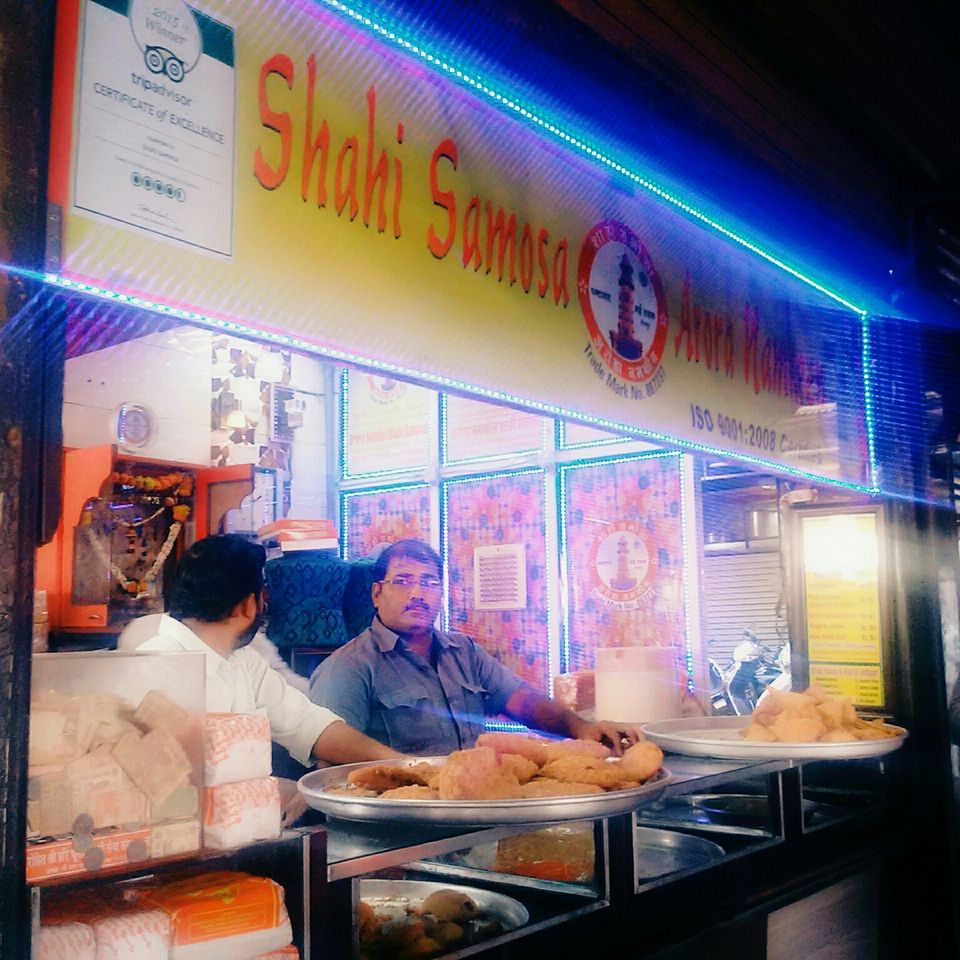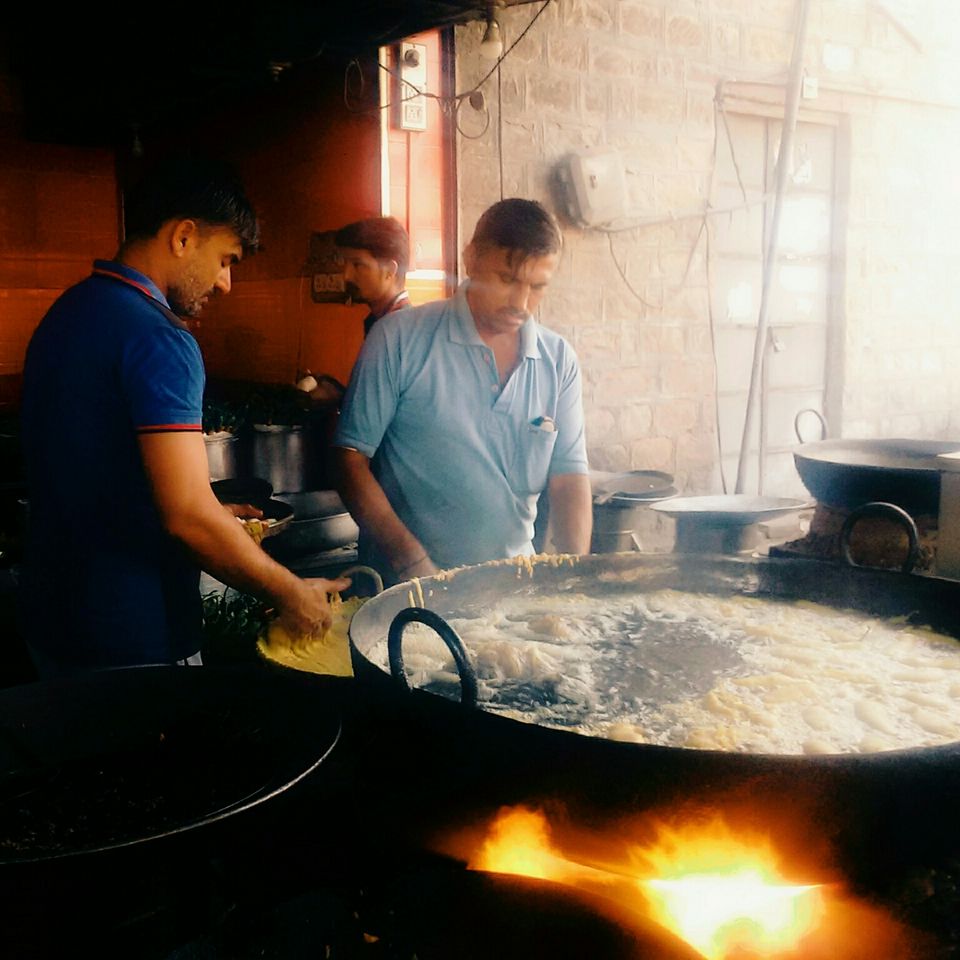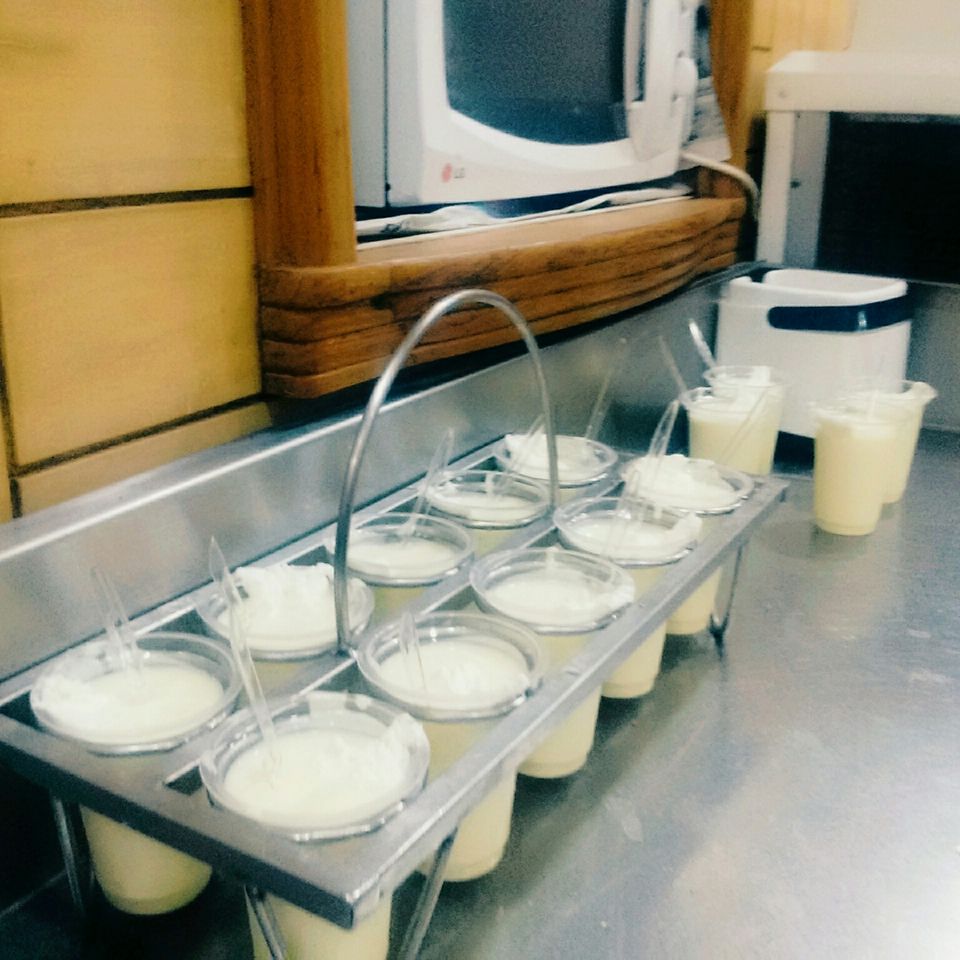 As we went out of Jaisalmer's railway station, we realised that there was no Ola or Uber for our rescue. We had to hire a local taxiwala for our entire trip in Jaisalmer. We got a pretty good deal from our desert safari manager at Jaisalmer. For 2000/- he arranged a taxi that would stay with us whole night in the desert and also would take us around in the town as well. We freshened up at the waiting room and visited the Patwon ki Haveli. Amused me how rich these merchants were. The well-crafted havelis are the authenticity of the city's culture. There is this special museum of pagdi's inside one Haveli which you must visit. After the visit to Havelis , we then went to the most awaited time of our trip. THE THAR DESSERT.
We reached our desert camp near Sam sand dunes by 4 PM and it was still as hot as noon. We then dropped our luggage and went on a Jeep safari to the sand dunes which was about 8 kms from the camp. We were so excited with all the sand in the air and the sight of those sand dunes. We took the camel ride in the desert which is never to miss. ( It was all included in our desert camp package. Do not entertain people there with camels who will do anything to make you shell money). After the mesmerising sunset at the sand dunes, we went back to our desert camp for an evening of Rajasthani entertainment and dinner.
We booked the Limra desert camp via Make My Trip and costed us 8600/- including night stay, desert safari and camel ride. Make sure you get a reasonable amount of attractions included in the package because they will charge a lot extra if you have to buy them outside the package.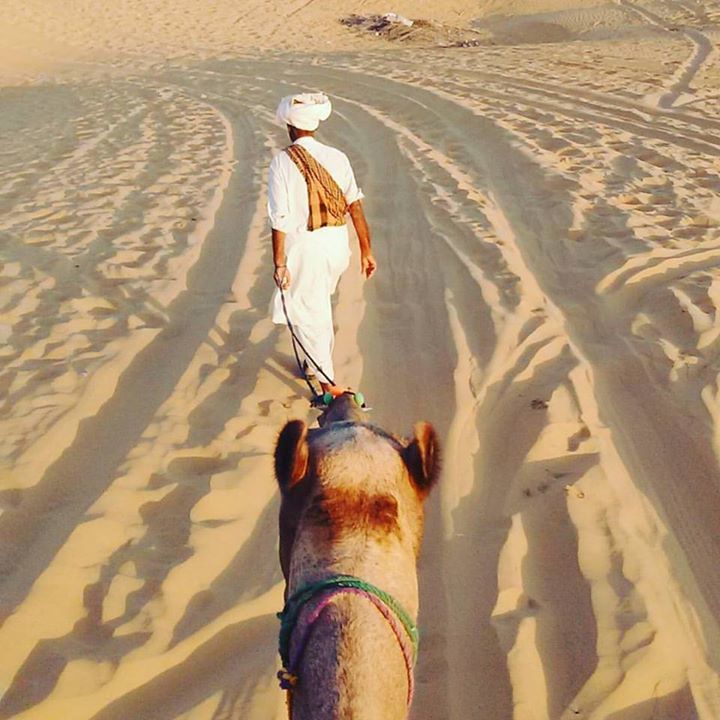 The next day we left the desert camp post breakfast and whole day was for Jaisalmer sight seeing. The main attraction is the Jaisalmer Fort which is the only live Fort in India. Which means there are families still living in this Fort. It takes good 2 hrs to visit the entire Fort with glasses of chaas which will help you beat the heat.
Then we headed to the Gadisaar lake after a tiresome walk and we spent good half hour relaxing by the lake. We the headed back to the railway station to catch our train to Agra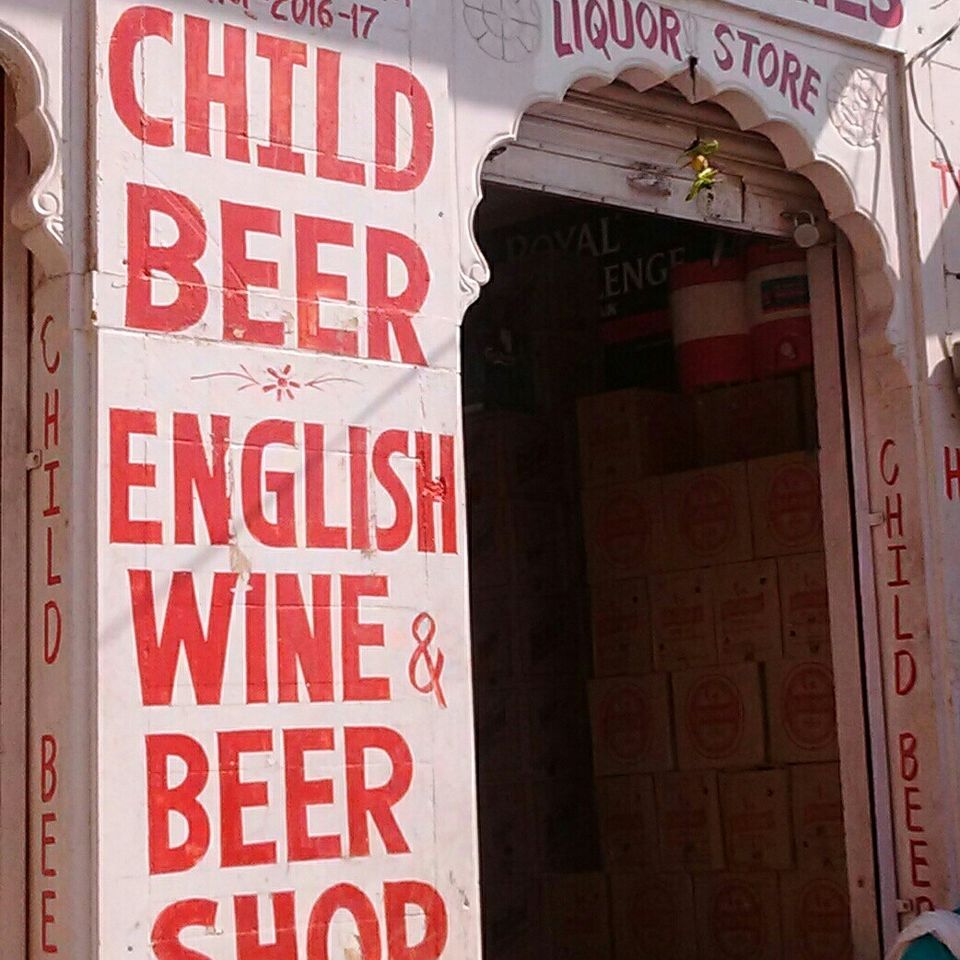 We bid good-bye to Rajasthan with a heavy heart and went on to the northern plains. The uttar pradesh. We reached Agra by 12 pm as our train was delayed. We then checked in and post lunch visited the Agra fort and the evening at The Taj Mahal.
The sight of the Taj Mahal took my breath away and no words can describe it's beauty. We spent entire evening just sitting and gazing at the sunset and Taj Mahal.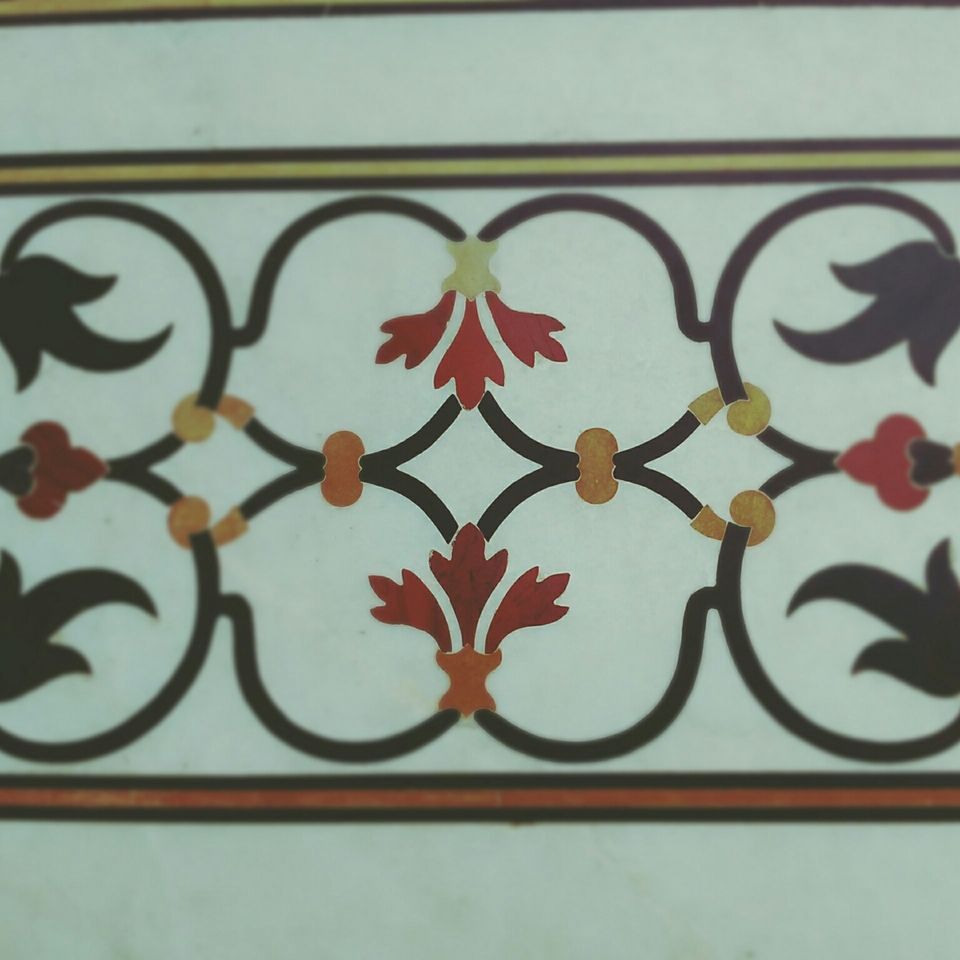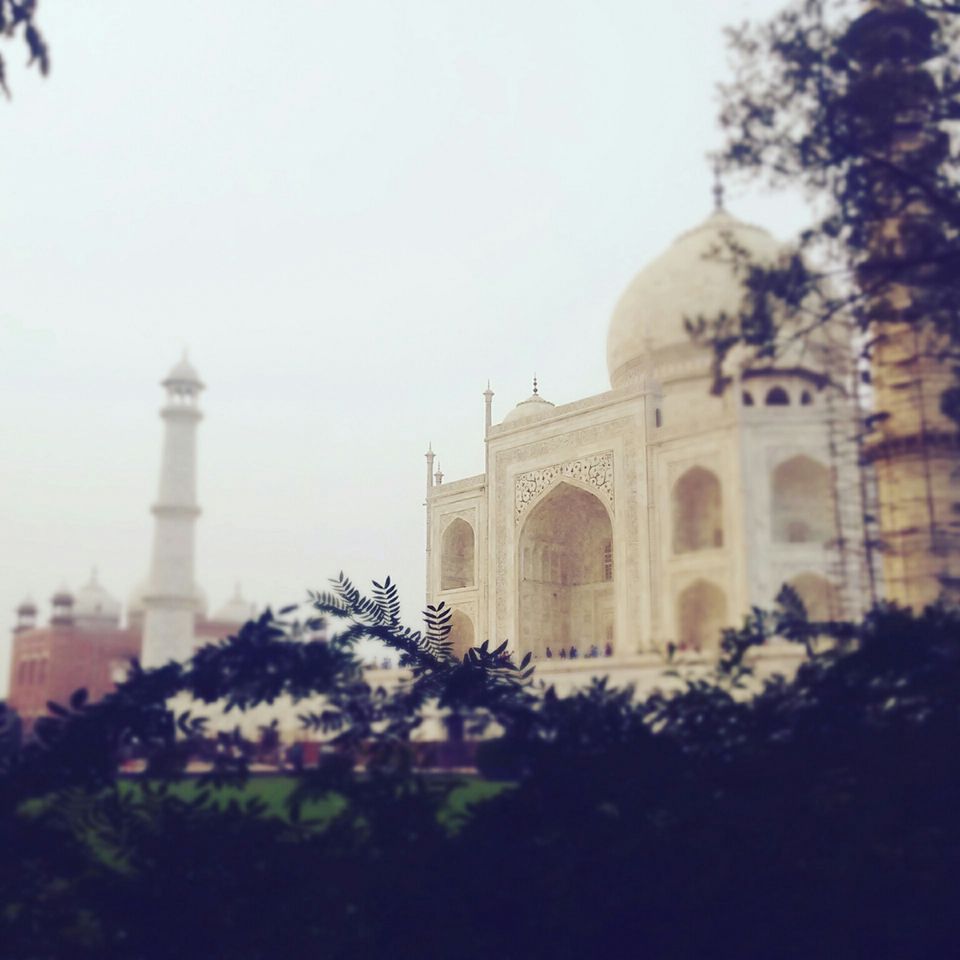 Next day we hired a taxi for 1600/- to Fatehpur Sikhri. We checked out and my father who is a history teacher was excited as it was his dream to visit the Fatehpur Sikhri. We reached there in about an hour and the city soaks with history. DO NOT TAKE A GUIDE here because we cannot distinguish between fake ones. Better buy family audio tour guide and enjoy.
It takes a good 3 hrs to visit the entire city. Then we left to Agra from where we had a train to catch to Dilli.
We then Visited Delhi for 3 whole days which I will.be publishing in a separate story as I have lot to say about the wonderful city. We departed Delhi on 3rd Nov midnight flight